While playing Pokemon GO, you require access to a certain region that isn't reachable. You have to spoof the virtual location you are using to make the game think you're located in a target area. iSpoofer is one of the tools to use for spoofing iOS devices.
However, many individuals lost accounts when the developers of this game found out about the spoofing method. Luckily, there are iSpoofer alternative tools you can use, which are very reliable and safe. This guide brings you the top iSpoofer alternatives you can use today.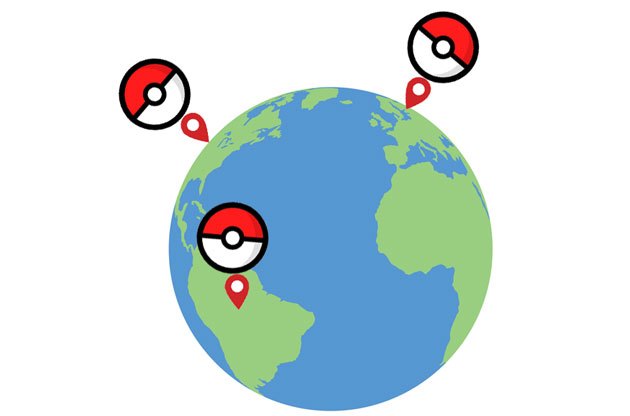 Part 1: What is iSpoofer?
Part 2: Why Do We Need an iSpoofer Alternative?
Part 3: Top iSpoofer Alternative for Android/iOS
Part 4: Must-See FAQs You Might be Interested in
Part 1: What is iSpoofer?
It's a GPS stimulator that operates on Windows and Mac. It supports various iOS gadgets and there is no need to jailbreak the gadget to use it. iSpoofer enables users to change their location easily on any gadget, thus providing users access to the geo-restricted apps and content.
iSpoofer works by the use of fake GPS signals and hence avoids your gadgets from obtaining the actual location of the gadget. It may be possible that some apps may be geo-restricted which you will find out only after you start using iSpoofer.
Part 2: Why Do We Need an iSpoofer Alternative?
iSpoofer depends on iTunes a lot - To use iSpoofer, you should install iTunes latest version on your gadget. More dependence on iTunes may lead to some iTunes errors. So, an iSPoofer alternative is needed.
Not easy to set up - Some iSpoofer settings can be quite hard with many complicated steps as compared to iSpoofer alternatives.
iSpoofer doesn't work on Pokemon Go because it's against the terms of the Pokemon Go.
Part 3: Top iSpoofer Alternative for Android/iOS
If you're in need of a way to mask your real location and access restricted content, then you will have to look no further because here is a list of the top 6 iSpoofer alternatives that shall get you close to your desired location.
1. iMyFone AnyTo
This is one of the most popular iSpoofer alternatives. This tool will let you take back the control of your device and get access to content that you have been denied. Moreover, it is easy to set up and use with no complicated steps. With this, you will be able to access all contents, including movies, apps, and more, on all your gadgets with no extra hassle.
Key Features:
* Fake GPS on Android and iOS devices with a high success rate.
* Allow you to choose any location around the world.
* Enable you to create and save routes.
* Set your movement speed when you play an AR game.
* Compatible with location-based applications like social platforms and AR games.
Pros:
* It can change to many locations at the same time.
* Allows you to change location with just 1 click.
* Supports most iOS and Android devices.
* No jailbreak is needed.
* Easy to use.
Cons:
* You have to use a paid version to access other features.
Download this alternative to iSpoofer below.
How to use this iSpoofer alternative for Pokemon Go?
Step 1: Launch the Program
Install and launch the software on your computer. Then tap Get Started.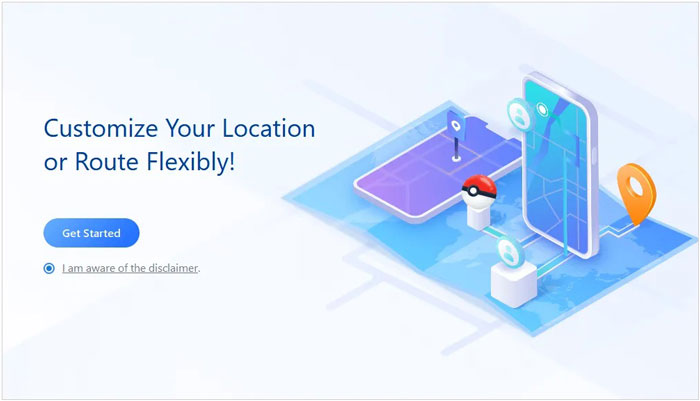 Step 2: Connect the Device
Connect the device to the PC with a working USB cable. Then unlock the phone. Click Trust on your phone when asked to Trust This Computer. Enter the passcode to finish the procedure.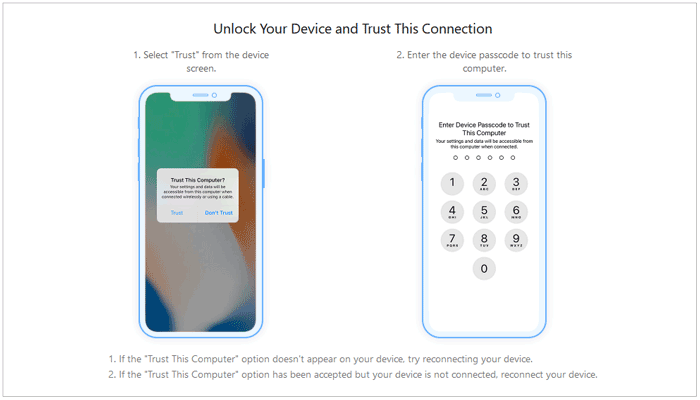 Step 3: Choose the Destination and Change Your GPS on the Map
Immediately, it will start loading the map. After the map has been successfully loaded, you can now find your location. Then select Teleport Mode from the upper right corner. You can also enter the given GPS coordinates found in the upper left corner to search your location.
After choosing the destination, you will see a sidebar showing destination information like coordinates, distance, and the name of the place. Tap Move. Your location will immediately be changed.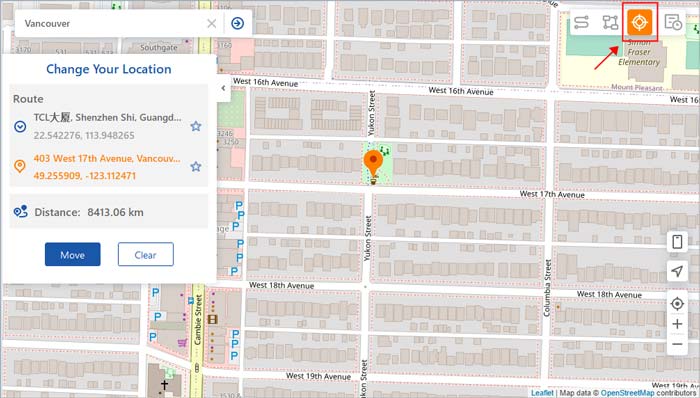 See also:
7 Powerful Moborobo Alternatives: Transfer and Manage Files for Android Devices
Easy Pokemon Go Spoofing on iOS Devices in Top 7 Ways
2. iToolab AnyGo
Bored of accessing geo-restricted apps? Then you have to give iToolab AnyGo a try. It's an easy-to-use application for Mac and Windows users. It can run on Android, Windows, Blackberry, and iOS devices. iToolab AnyGo is a simple app where you just have to go through the instructions given on their website, and you are good to go.
It is powered by Mac and it is used to change the location of a gadget. You can also use it even without jailbreaking your gadget. It is a bit costly though yet it works perfectly.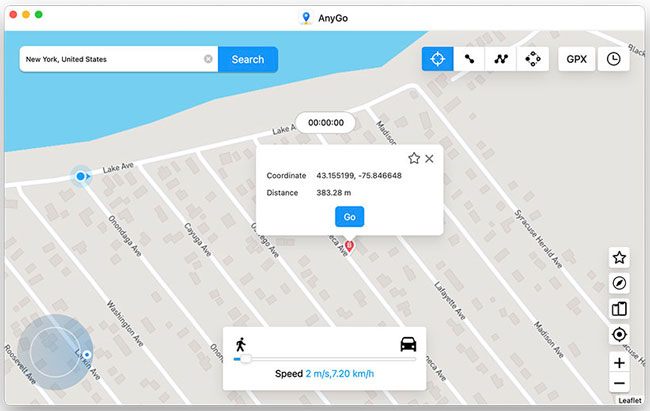 Pros:
* Allow you to change locations for playing Pokemon GO.
* Many modes to fake GPS movement.
* Support you in importing and collecting GPX files.
* Control many devices at the same time.
Cons:
* You can only access all the features in its paid version.
Guess you need: You can change the address on your iPhone with these 5 methods. Let's take a look at them.
3. iTools
This is another Mac-based app, and it has a very simple user interface. It works on the same principle as AnyGo and thus makes it a good iSpoofer alternative. The principle behind iTools World is to give you the option to control the location of your gadget. It is a great app as it can be run on all iOS devices, from iPhones and iPod touch to iPads and iPods and you do not have to jailbreak or root your device while using it.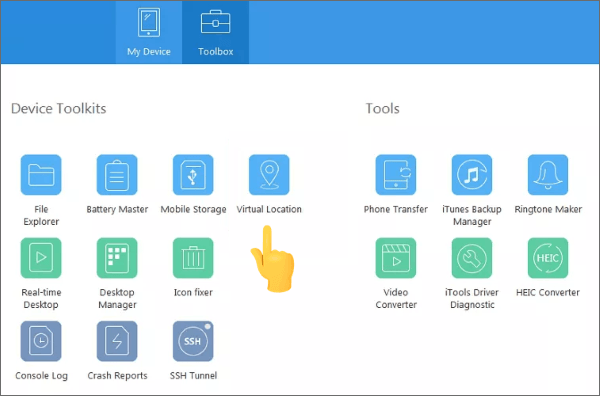 Pros:
* Reliable and stable.
* You can use it without jailbreaking your device.
* No latest version of iTunes is needed.
* Well-designed interface makes it useful even for those who are not tech-savvy.
Cons:
* You will only stimulate your location 3 times in its free version.
Further reading:
How to Recover Deleted Files from Mi Phone in 5 Pragmatic Methods?
7 Viable Ways on How to Transfer Photos from Mac to Android
4. Nord VPN
For the best experience, it is always recommended that you get NordVPN if you are searching for an iSpoofer alternative. It is a great VPN and has many features that you will find in iSpoofer. You can at least use this as a browser extension.
NordVPN works well by masking your IP address, encrypting your connection, and helping you access geo-restricted content in various apps. It is an expensive service but has some good features that are worth the price tag.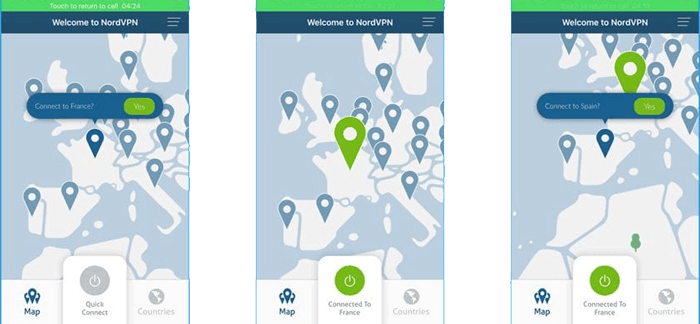 Pros:
* Offer multiple options for different regions.
* No need for jailbreaking.
* You can use it with Windows, Mac, smartphones, and also on browsers.
Cons:
* Contains annoying ads.
* Cannot select a location by typing.
5. Fake GPS Location – GPS JoyStick
This is a toolkit that can change the location of your device. It is one of the best iSpoofer alternatives out there, and it also supports jailbroken iPhones. It works on Mac and Windows and can also be used with some Android devices too.
You will have to root your device if you want to use Fake GPS Location on Android. This app is available for free though you may need to pay for its premium version. If you are looking for an all-around solution for your fake GPS needs, GPS JoyStick is a good alternative to iSpoofer.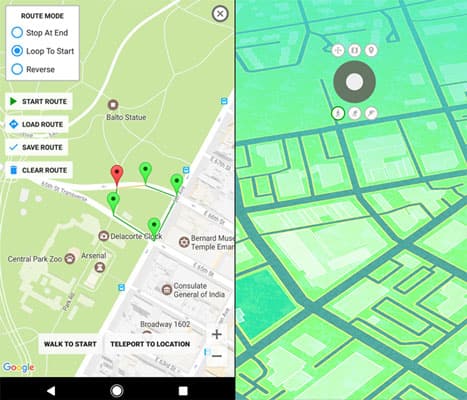 Pros:
* Work on both rooted and non-rooted gadgets.
Cons:
* The last location you used will be locked.
6. Fake GPS by ByteRev
Fake GPS is an Android app that enables you to change location on your smartphone without any need to root it. It supports iOS too though you will have to jailbreak your device. The best part about this app is that it is a free app that can be used by anyone. You can get it from Google Play.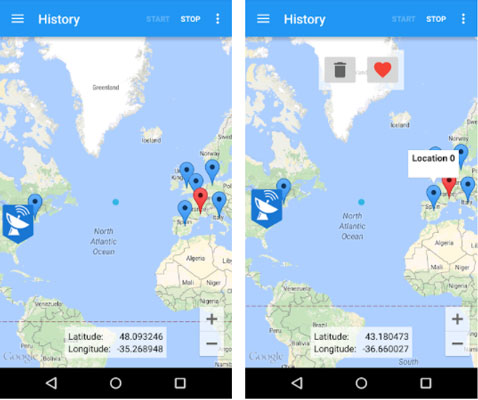 Pros:
* Work on most Android devices.
* A free app.
* No need to root your device for using it.
Cons:
* A lot of requirements needed.
* Not support iOS devices.
You might need: Want to restore the iPhone backup to an Android device? You can click this link to get the guide.
Part 4: Must-See FAQs You Might be Interested in
1. Can I get banned for spoofing Pokemon Go?
There are some methods that are safe to use and prevent your account from getting banned.
2. Can I still spoof Pokemon Go today?
Yes. With iSpoofer alternatives like iMyFone AnyTo, you will be able to spoof Pokemon Go.
3. Is it safe to use iSpoofer Pokemon Go?
Yes. Niantic has been strictly checking the frameworks that fix the GPS.
Conclusion
All the iSpoofer alternatives mentioned above are apps that will allow you to fake your GPS location easily. They work on Mac, Windows, Android, or iOS devices - depending on the platform from which you're downloading them.
Among them, the most recommended tool is iMyFone AnyTo. It has a simple user interface, making it suitable for even the least tech-savvy users. Overall, this software is one of the best iSpoofer alternatives and the number one choice out of all these mentioned above.
Related Articles:
Top 8 Samsung FRP Bypass Tools - Fast Unlock FRP on Samsung
Top 10 iTunes Alternatives for Windows You Can't Miss
10 Best iPhone Manager Software - Manage Your iPhone Data on PC or Mac
10 Ways to Fix the iPhone Migration Not Working Error without Trouble
iPad Backup Software | Full Reviews with Pros and Cons