Kik is one of the oldest instant messaging apps, with a user base of over 275 million worldwide, and is very popular among teenagers and young adults. Unfortunately, losing Kik chats/messages on an Android/iPhone phone is common due to accidental deletion, software failure, or an update to Android 13/iOS 16.
Users of this application often need help finding and viewing their previous chat conversations. This makes Kiki users get curious about how to see old Kik messages. This article will enlighten you on how to get old Kik messages back to your phone.
Part 1. The Meaning of Kik Messaging Application
Kik is a messenger application that has been revolutionizing how we communicate on our mobile phones for more than a decade. It was developed in 2010 by a Canadian company known as Kik Interactive. This free instant messaging application offers many entertaining features that enhance users' experience. Below are some of Kik's cutting-edge features:
1. Supports Group Chats: Kik allows users to be in group conversations with their friends and family.
2. Share Photos, Videos & Stickers: Kik provides an interactive platform where people can share photos, videos, stickers, and other multimedia elements.
3. Play Games Together: Users can play games with their peers while messaging each other.
4. Find random Kik users: The app also allows users to find random Kik users by using its Explore feature.
5. Kik users can watch YouTube videos or listen to music together: This application allows its users to watch videos or listen to music with their friends.
One of the most praised aspects of this app is the anonymity it offers to its users. It stands out because it does not require any personal information such as email or phone number to be connected with. Furthermore, when logging out, all messages are deleted, and users cannot access them upon logging back in. For some, this is a privacy measure, but it's an annoyance for many since they can't retrieve important conversations. Therefore, let's proceed with our mission to retrieve those messages.
Also Read:
Back Up and Restore for Kik Messages on Android Phones
How to Transfer Kik Data from iPhone to Computer
Part 2. How to Retrieve Deleted Kik Messages on iPhone
Although messages are automatically deleted on Kik after reaching a certain limit, they can still be recovered using certain methods. We have listed some ways to recover those messages back to your iPhone. Let's take a look at them now:
Method 1. How to Find Old Kik Messages Using A Third-Party Tool
The most efficient way to find old Kik messages is to use a third-party software program. Many recovery tools are available on the market, but you must choose one that is secure and reliable. iPhone Data Recovery is an excellent example of a reliable third-party tool that can help you recover old Kik messages from your iPhone.
Whether your iDevice was lost, crushed, broken, or wiped during a jailbreak or upgrade, this tool can assist you in quickly restoring data from your iTunes backup. It can even restore deleted data from categories such as Messages, Call logs, Notes, Reminders, Calendars, Safari Bookmarks, and more.
iPhone Data Recovery offers advanced Intel acceleration and hardware configuration, enabling it to recover various data types from iOS devices, as well as iTunes and iCloud backups. Its scanning speed is fast, and the successful recovery rate is high. Compared to similar products on the market, it is a superior choice. It should be your go-to option for iPhone data recovery.
Key Features:
Support all iOS devices, including the latest iPhone versions.
Recover data directly from iOS devices without iTunes and iCloud backups.
Retrieve lost files from iTunes and iCloud backup with ease.
Support contacts, messages, photos, Kik/WhatsApp/Facebook, and more.
It enables you to preview and selectively recover what you want quickly.
Export backup files to the computer easily.
Below is a step-by-step guide on how to see old Kik messages using iPhone Data Recovery:
01Download and install iPhone Data Recovery application on your computer.Launch iPhone Data Recovery on your computer and use a lighting cable to connect the iPhone to the PC.
02Select Recover from iOS Device from the options available and hit the Start Scan button to begin scanning for deleted data. Once the scanning is complete, you will see all the files on your device organized into categories.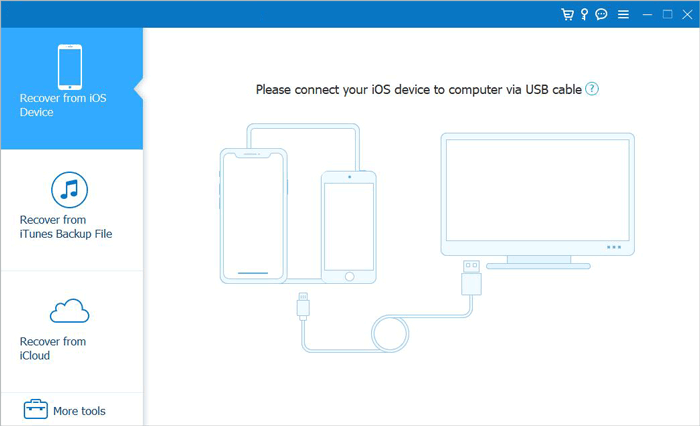 03Select all the Kik you want to retrieve and click the Recover button. All the selected messages will be saved into the PC.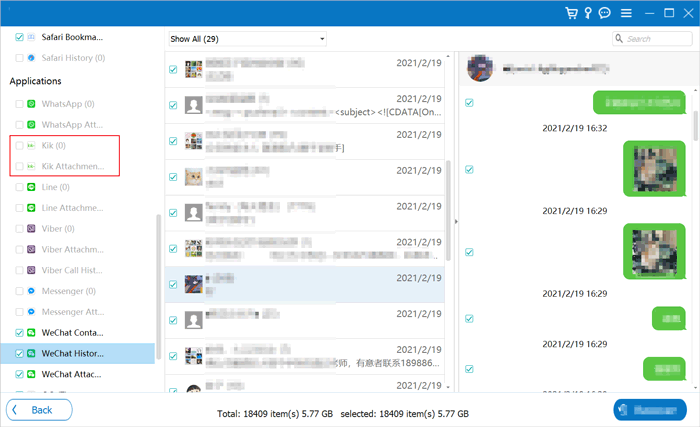 Further Reading:
How to Retrieve WhatsApp Messages from Lost Phone without Backup?
How to Recover Deleted Photos from iPhone without Computer via 5 Methods
Method 2. How to See Old Kik Messages iPhone on Kik's History
Kik allows you to view your chat history from within the app. You can see up to 1000 Kiki's recent messages on your iPhone. Follow the below steps on how to see old Kik messages on your iPhone's history:
Step 1. Open the Kik application on the iPhone.
Step 2. Sign in to the Kik account.
Step 3. Navigate down the application to view up to 1000 Kik messages.
There is a limit to the messages you can see. Older messages become unavailable after 48 hours. Additionally, Kik automatically deletes all messages once a user logs out, so you cannot see any messages once you log out.
Learn More:
How to Recover Deleted iMessage on iPhone? [2023 Tips]
How to Recover Deleted Call History on iPhone Without Computer? [Top Ways]
Method 3. How to Recover Old Kik Messages on iPhone via iTunes Backup
Need to get back some old Kik messages? iTunes backup makes it easy. With just a few simple steps, you can quickly recover data from your iPhone and get back any lost conversations. So don't panic. With iTunes by your side, recovering older Kik messages is a simple task. Follow the below steps on how to see old Kik messages using iTunes backup:
Step 1. Begin the procedure by downloading, installing, and launching the iTunes application on your PC.
Step 2. Use a lighting cable to connect your iPhone to the PC. Enter your iPhone's password and tap the Trust popup when you receive a notification.
Step 3. Click on the Restore Backup button to look for the right backup by examining their dates and selecting the most appropriate backup.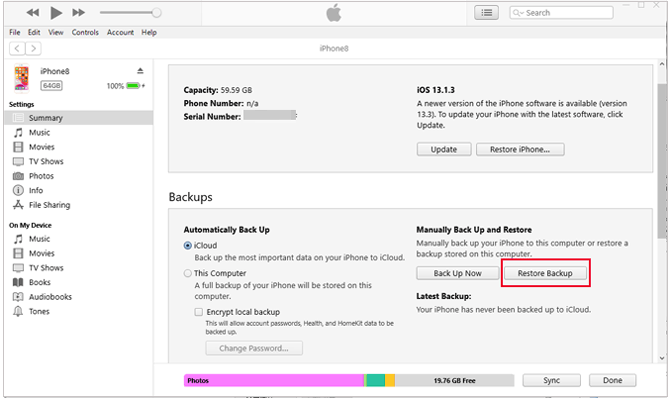 Step 4. Hit the Restore button, enter the backup password when prompted, and wait for the restoration process to complete.
Method 4. How to Recover Old Messages on Kik via iCloud Backup
iCloud allows users to manage their data across all Apple devices and can be used to restore old Kik messages. This makes iCloud a viable option for anyone recovering lost or deleted messages from Kik. Follow the below steps on how to see old Kik messages via iCloud backup:
Step 1. Visit iCloud.com using your iPhone and sign in to your Apple account.
Step 2. Navigate to iCloud's Settings feature.
Step 3. Scroll to the Advanced section and tap the Restore Files button.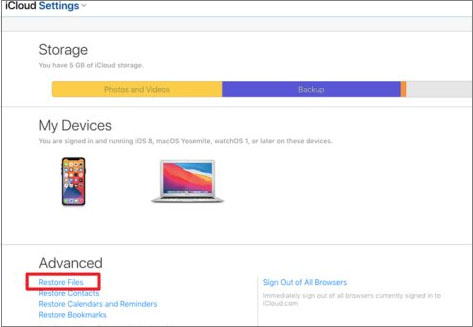 Step 4. Choose the restore points with your Kik messages of interest, and you can access them after the restoration process.
You May Like: How to Restore from iCloud Backup without Reset? (5 Effective Methods)
Part 3. Frequently Asked Questions
Q1. Will Kik's conversation be deleted when I block my friend on the Kik app?
Blocking someone on Kik ensures that all the Kik chat history with them is erased, messages sent by the blocked Kik user are never delivered to you, and they won't know you've blocked them. However, your profile picture will still be seen on the other end.
Q2. Can I recover Kik messages older than 48 hours?
Unfortunately, Kik allows you to view up to 1000 recent chat messages within the app. Messages older than 48 hours can not be seen within the application itself, but you may be able to recover them by using a third-party data recovery tool or via an iTunes or iCloud backup restore.
Q3. Is Using iPhone Data Recovery Safe?
Yes, iPhone Data Recovery is safe and secure. It works by scanning the device or iTunes/iCloud backup to search for recoverable files. The program does not modify any data on the device or backup file while performing recovery. It also keeps your personal information safe and confidential as it does not collect any of your data.
Conclusion
You can use the methods described in this guide to view old Kik messages on your iPhone. However, iPhone Data Recovery is an effective and easy-to-use tool that can help you regain any lost or deleted data from your iOS device, including old Kik conversations. You don't need any technical expertise or special knowledge to use it, just follow the simple instructions discussed in this article, and you'll be able to recover your lost Kik messages in minutes.
Related Articles:
How to Retrieve Deleted Text Messages on iPhone with or without Backup
How to Retrieve Deleted Call Logs on iPhone 14/13/12/11/XS/XR/X Easily and Quickly?
[Fixed] How to Recover Deleted Videos from iPhone 14/13/12/11/X with or without Backup?
How to Recover Deleted Viber Messages on iPhone (with/without Backup)
How to Recover Snapchat Messages on iPhone in Four Hassle-free Ways?
How to Retrieve Deleted Text Messages on iPad? (the New iPad mini and iPad Supported)