You know that dreaded moment when you realize that important data stored on your iPhone is missing. Whether it's an old photo album of a loved one or treasured text conversations, losing your sweet memories can be devastating. Data loss can sometimes be ineludible. Maybe you've accidentally deleted it, or some technical problems caused files to disappear - whatever the case, it can be incredibly nerve-wracking. But never fear; these days, you can recover data from iPhone with easy methods.
If you act fast enough with the right tools and tricks, it might still be possible to recover deleted data from your iPhone. In this blog post, we'll walk through a few simple ways to recover data from your iOS device. Let's get started.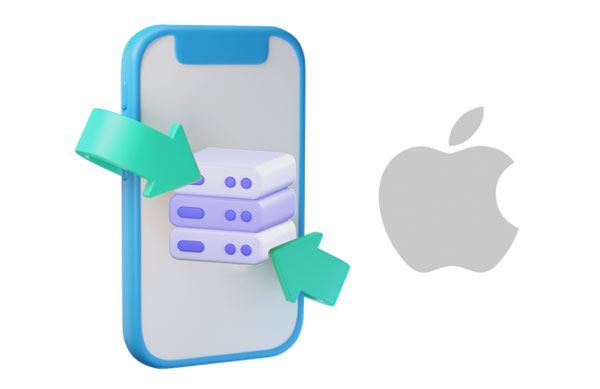 Part 1: Is It Possible to Recover Deleted Data from iPhone?
Yes. Your iPhone is like a mysterious vault; when you delete data from its storage, iOS stores the removed data in a hidden location that can be accessed with professional recovery apps.
As long as the erased documents haven't been overwritten, they may still exist and could potentially be recovered. Therefore, ensure you don't add any new files to your device after deletion.
Part 2: How to Recover Deleted Data from iPhone without Backup
Even if you didn't back up your iPhone data, all hope is not lost. With a few creative strategies, it's possible to recover deleted information from an iPhone. Explore the options to recover from iOS device below and get back your precious files:
2.1 Recover Deleted Data from iOS Device Using Coolmuster iPhone Data Recovery
Data deletion can be a nightmare you don't want to encounter, but with Coolmuster iPhone Data Recovery, you have nothing to fear. This powerful and easy-to-use application allows users to quickly retrieve deleted files from iDevices without backup, and it can restore data from iTunes backup. Thus, you can get back your data with the help of this recovery program.
Furthermore, you can view your iPhone data on a computer, including deleted and existing files, and selectively export your contacts, text messages, photos, calendar, music, and more. Besides, it works on most iPhones and iPads; so no matter the Apple device you use, you know that recovery is within reach.
How the tool helps:
* Restore deleted text messages and contacts from iPhone's storage space without backup.
* Retrieve lost data from iTunes backups without connecting an iPhone.
* Support diverse data types, like camera roll, photos, videos, music, books, voice memos, notes, etc.
* Allows you to preview scanned files and choose the ones to recover.
* The file quality and format won't be changed.
* Compatible with the latest iPhone models.
Download this iPhone data recovery tool.

Free Download for PC
Let's see how to recover data from an iPhone without backup via Coolmuster iPhone Data Recovery:
01Install the software on the computer and launch it. Click on the "Recover from iOS Device" module and connect your iPhone to the computer with a USB cord. Then click "Trust" as prompted.
02When the phone gets detected by the software, all iPhone data will be shown on the primary interface. Select those files to retrieve and press the "Start Scan" button. After scanning, you can preview the detailed data from the screen. Choose a folder from the left sidebar, and open it to show the content on the right section.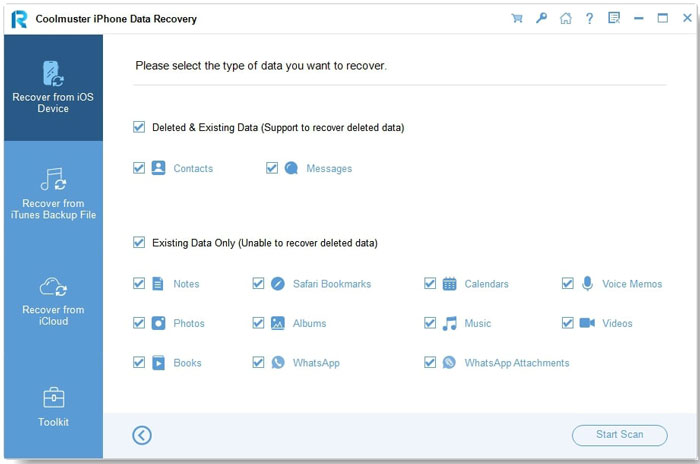 03Now recover the lost files by choosing specific data and hit "Recover to Computer" to restore them.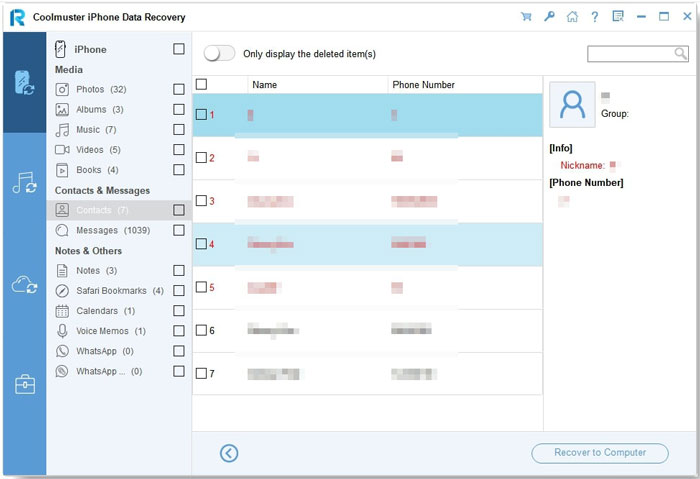 Learn more: [Fixed] How to Recover Deleted Videos from iPhone 13/12/11/X with or without Backup?
2.2 Recover iPhone Data from Recently Deleted Folder
Usually, there is a Recently Deleted folder for apps like Notes and Photos that is in-built to keep your data safe. In case of accidental deletion, the files are kept in the folder for 30 days, after which they'll be deleted permanently. Therefore, before you try any technical methods, you can check the folders first to see if the files still exist.
Here's how to restore iPhone data from the recently deleted folder:
Step 1: Head to the Files application on your iPhone and look for "Locations".
Step 2: Tap on the "Recently Deleted" option.
Step 3: Hold on to the file or tap "Choose" from the upper right corner. Now choose the file to recover and hit "Recover".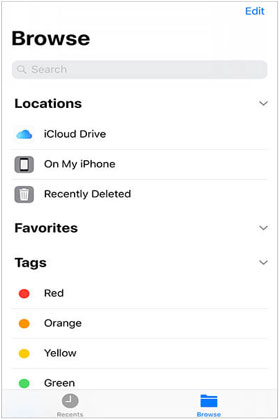 See also: Does it work to recover photos from an locked iPhone? In fact, it is not difficult. You can open the post to get approaches.
Part 3: How to Recover Deleted Data from iPhone with Backup
Restoring deleted files will be very easy if you have a backup at hand. However, you must have done the backup before the data got deleted. Below are ways to restore iPhone data with a backup:
3.1 Recover Deleted Data from iTunes Backup
If you have ever backed up your iPhone on a computer with iTunes, relief is here! You can restore the previously stored data in an iTunes backup; even if it was lost due to a factory reset, a damaged phone, or stolen. To access all available backups, simply navigate to preferences in the devices option under your account's settings in iTunes.
Here is how to restore your data from iTunes backup to your iPhone:
Step 1: Launch iTunes on the computer and connect the iPhone.
Step 2: Choose the iPhone's icon in iTunes, and click "Restore Backup" from the "Summary" section.
Step 3: Pick your desired backup and press "Restore".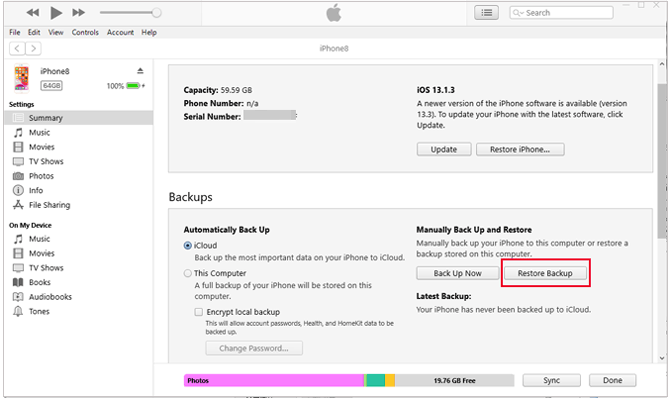 Guess you need: How to Recover Data from iPhone Internal Memory? Top 3 Ways
3.2 Recover Deleted Data from iCloud Backup
iCloud is an essential cloud storage service for iOS users since it allows your device to be backed up in the cloud. Did you know iCloud can also help you get back deleted files? Yes, that's right. You can restore the data from iCloud since you already have a backup. You simply have a backup enabled and follow these easy steps: restoring your iPhone from iCloud will quickly return any lost file.
Restore iCloud backup to your iPhone:
Step 1: Open Settings on your iPhone and hit "General".
Step 2: Go to "Reset" to "Erase all Contents & Settings".
Step 3: Proceed to "Apps & Data" using the steps on the screen. Now, look for the option for "Restore from iCloud Backup". Tap on it to start the recovery process.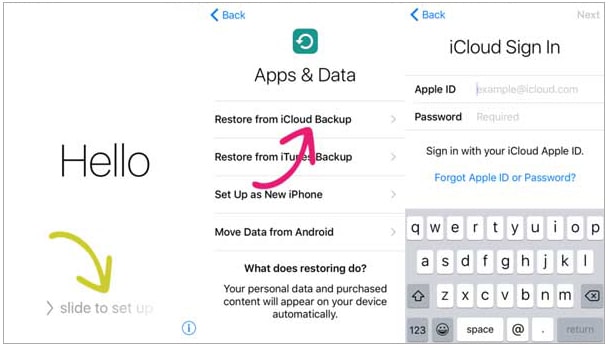 Concluding Words
There you have it. Restoring lost data on an iPhone is actually straightforward when you know the right procedure. The approaches mentioned here will help you successfully retrieve the information you may have accidentally lost. Nonetheless, Coolmuster iPhone Data Recovery stands out as an efficient way of recovering deleted files even if there's no backup. So why wait? Get started with restoring lost data today.
Related Articles:
How to Recover Deleted Viber Messages on iPhone [Easy]
How to Transfer Music from iPhone to Computer Effectively? (4 Tips)
How to AirDrop from iPhone to PC Windows 11/10/8/7 in Six Practical Ways?
How to Transfer from HTC to iPhone Effortlessly (7 Effective Ways)
How to Move Photos to Album on iPhone 14 Pro/14/13/12/11 in 2 Effortless Methods