LINE is among the most popular instant messaging services, with over 600 million monthly active users. Nevertheless, users can sometimes delete their chat history without knowing. When this happens, you'll find your chat history invisible and not accessed. The good news is that you can still make LINE chat recovery to get back your chat history on your iPhone or Android phone.
Part 1: Can Deleted LINE History Be Recovered?
The answer is yes. You can still recover LINE chat history even if you deleted it. Provided you had already performed a backup for your LINE chat history, recovering it will be easier. Several ways of backing up LINE chat history exist for Android and iOS devices.
To be safe, it is always prudent to ensure that all your LINE chat history is backed up frequently so that if you accidentally delete your LINE data, you can rely on the backup to recover LINE chat history.
You may like:
Full Guide on How to Recover WeChat Media on iPad
How to Recover Deleted iMessages on iPhone
Part 2: How to Restore LINE Chat on Android Devices
Are you an Android user who accidentally deleted your LINE chat history and would like to restore it? Don't worry, as it is possible to restore chat history on LINE app from Android. The LINE chat backup tool lets users create backups of any conversations stored in their LINE account. All messages are automatically backed up at scheduled intervals or manually whenever they are modified. It is always easier to retrieve LINE chat history that is backed up on Android devices using Google Drive. Use the below ways to get back your deleted LINE chat history.
How to recover deleted LINE messages on Android Using Google Drive:
Google Drive is one of the best ways of storing and retrieving data from Android devices. The best part is that your data can be backed up and restored in case it is accidentally deleted.
You will need an account on Google Drive, which is free. There are two ways of backing up and restoring your LINE chat history. You can backup by allowing sync or manually backup by creating a file without the synchronization option enabled.
Before backing up, ensure that your google drive has enough space to accommodate all your LINE Chat History data. LINE chat data will occupy a lot of storage, so be sure you have enough space for your LINE chat history. Follow the below step-by-step guide to learn how to backup and restore LINE Chat history using Google drive on an Android device.
How to back up LINE chats on Google Drive
1. Launch the LINE application, navigate to "Chats," then select the "Backup & Restore chat history" feature.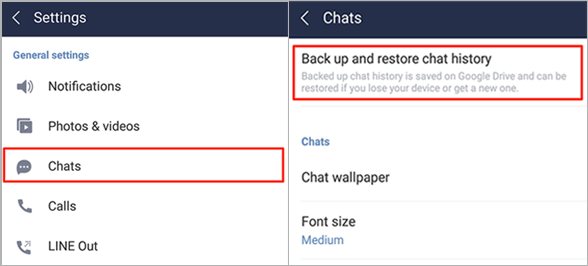 2. Tap the "backup to Google Drive" option.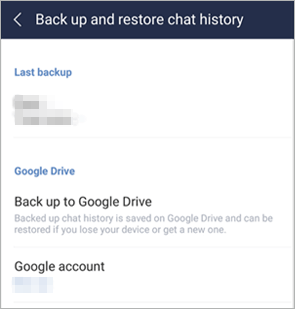 3. Wait for some time for the LINE chats history backup to complete on your Android device.
4. The LINE chats are backed up into the google drive account attached to the LINE application.
How to restore LINE backup from Google Drive
1. Launch the LINE application.
2. Click on "Settings."
3. Then navigate to the "Backup & Restore settings" option.
4. Tap on the "Restore" button to restore deleted LINE chat.
See more:
3 Proven Ways to Recover Data from iPhone that Won't Turn On (with Troubleshooting)
How to Recover Data from Broken iPhone with or without Backup
Part 3: How to Recover Deleted LINE Chat on iPhone
Are you an iPhone user who lost all your LINE chat history? If yes, you should not panic, as there is still a way to recover your chats. Below are some techniques that you can use to recover LINE Chats History on an iPhone.
Way 1. Restore LINE Chat History on iPhone using iPhone Data Recovery
How to recover LINE chat history without backup? iPhone Data Recovery is a software that was designed to extract and recover data from iPhone, iPad and iPod touch, without backup. The program can be used to recover different kinds of data, like photos and text messages. The Software also has a function that allows one to extract and restore the LINE chat history from iPhone.
Key Features of iPhone Data Recovery
* Recovers iMessages, Photos, call history, contact, etc. from iPhones, iPods and iPads.
* Easily and securely recover lost files from iCloud, iTunes, and iPhone.
* Easy and safe data recovery.
* High-speed data recovery
* Recover data from all iOS devices, including the latest iPhone 14/14 Plus/14 Pro, iPhone 13/12, etc.
So, how does the LINE chat recovery process work? Follow the steps below!
01 Before you use this Software, you must download and install it on your computer. Connect your iPhone to the computer using a USB cable after you launch the application. You will have to unlock the device for iOS 11 or above and tap on the "Trust" this device pop-up that appears.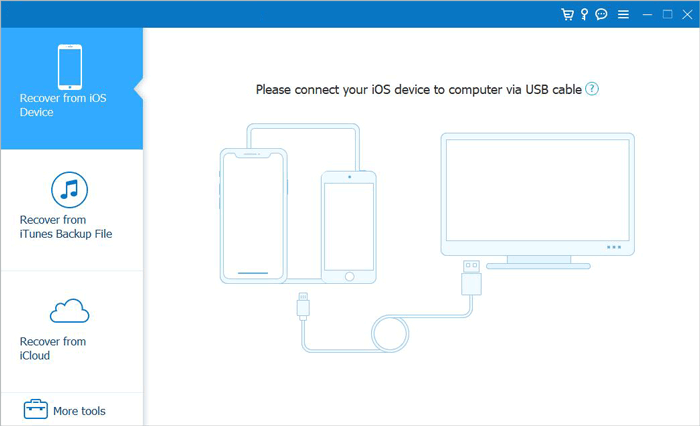 02 Choose the "Recover from iOS Device" option and then click on the "Start Scan" option. After that, the program will start scanning for the deleted data. Click on "Messages" in the left column, which will contain all LINE chat history data. You can preview the detailed message content in the main interface.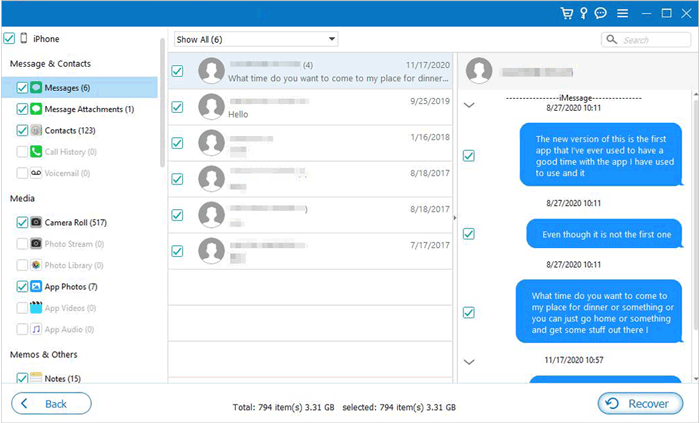 03 Select all the LINE free calls & messages that you need and click on the "Recover" button. All the selected LINE Chat History will be exported and saved to your computer.
Way 2. Restore LINE chat history on iOS using iCloud
If you are an iOS user, you can restore your chats through iCloud. All you need to do is to ensure you have linked your LINE application to an iCloud account. iCloud can save your iPhone's chat history, and it is easy to restore them. You should ensure that you have enough space on your iCloud before performing a backup so that you can save all your LINE history data. Follow the below steps to learn how to back up and restore your LINE chat history on your iPhone.
Step 1. Backing up LINE chat history on iCloud
1. Launch the LINE application on your iPhone
2. Navigate to the Setting, Chats, Chat Backup History, and then click on the "Back Up Now" button.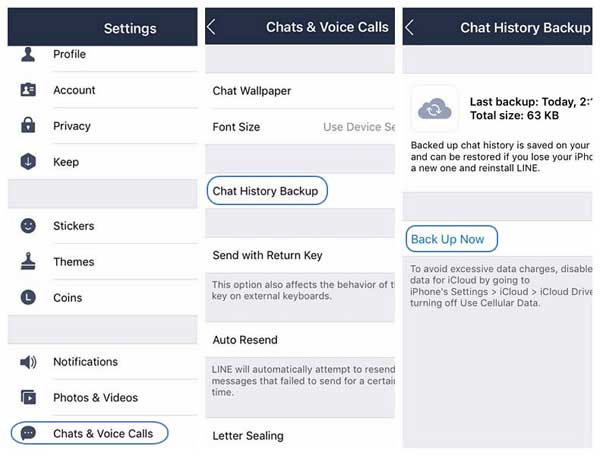 3. Ensure that your LINE application is linked to an active iCloud account and connected to an active internet connection.
Step 2. Restoring LINE chat history on iCloud
1. Launch the LINE application on your iPhone
2. Navigate to the settings
3. Tap on the "Restore Chat History"
Way 3. Recover deleted LINE messages on iPhone through iTunes
Another method of restoring LINE chat history on your iPhone is using iTunes. Follow the steps below to learn how to recover deleted LINE chat history from iPhone using iTunes.
1. Launch the iTunes application on your computer.
2. Connect your device with your personal computer to start the LINE chat history recovery process.
3. On the left menu bar, click on your iPhone's name.
4. Then single click on Summary and then tap on the "Restore Backup" option.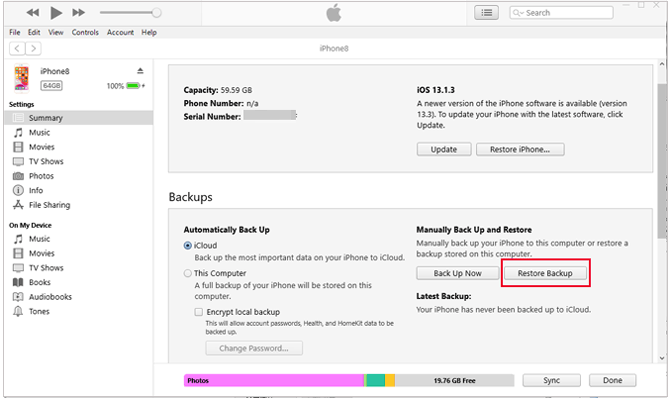 5. Select all the information you want to retrieve and choose the "Restore" option.
Final Words
In a nutshell, FoneLab is a safer and more comfortable option for restoring LINE chat history. It is advisable to back up your LINE chat history regularly so that you can use the backup to restore your LINE chat history in case you accidentally delete them. FoneLab is capable of restoring LINE chat history on an iPhone device even when there is no existing backup. Hopefully, you are now able to restore LINE chat history with ease after reading this guide.
Related Articles:
How to Retrieve Deleted Kik Messages on iPhone Successfully in 3 Methods?
How to Recover Data from iPhone after Factory Reset? (4 Ways Available)
[Full Guide] Where Are WhatsApp Messages Stored On Your Device?
3 Methods to Recover Deleted WhatsApp Messages on Android?
2 Ways to Recover Deleted Snapchat Messages on Android
How to Recover Deleted Files on Android without Computer and Root