Backup and Restore for Kik Messages on Android Phones
Kik Messenger is a popular instant messaging tool that can be used on Android, iPhone and Windows phones. You can use it to share messages, pictures, videos, news, sketches and more with your friends as soon as you register your username. Therefore, to some extent, Kik data is very important to the user and it is essential to learn how to backup and restore for Kik messages.
You may experience problems with missing Kik chats, including messages, photos or other content, due to accidental deletions, software upgrades or other reasons. (Learn how to backup and restore Android data to avoid data loss.) So you often see such sound for help on the Internet:
"Does anybody use Kik Messenger? I accidentally deleted all the Kik messages this morning on my phone. Anyone know how to get them back? This is very urgent, I will wait for your answer online!"
"Is there any way to retrieve deleted Kik messages from my Android phone? I didn't delete them intentionally, I need them back!"
Don't worry if you have a similar problem. Follow the instructions below to learn how to back up and restore Kik messages and images from your Android phone and tablet. By the way, if you use WhatsApp often than Viber and delete important conversations accidentally, please refer to WhatsApp Recovery for Android.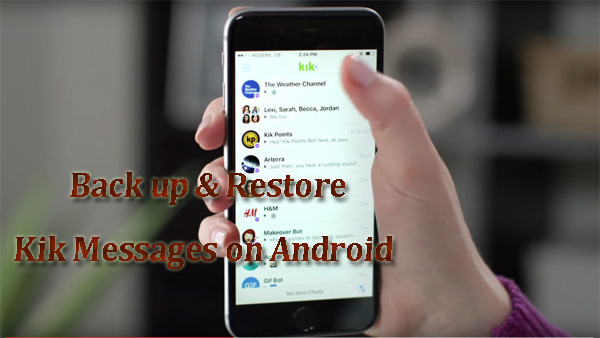 Part 1: How to Back up Kik Chat History on Android
Part 2: How to Restore Deleted Kik Messages on Android
Part 3: Other Tips for Android Data Backup & Restore
Part 1: How to Back up Kik Chat History on Android
Kik will "auto-save" the last 600 messages in the conversation, where the messages indicate the messages you sent and the messages you received. Therefore, you cannot check more than 600 chats. And it has a time limit of up to 48 hours, after 48 hours, these automatic backup messages will disappear. So if these messages are important to you, you need to be ready to back them up. Here, I will give you some small tips to manually back up Kik chat history on your Android phone.
Way 1. Take screenshot or photos of the screen of the Kik chat logs
You can take screenshot of the Kik messages you need to back up or use other devices to take photos of these chat pages. This is a more traditional but very simple way to back up your Kik chat history from your Android phone. The downside is that this may take you some time, especially if you have a large number of Kik chats that need to be saved. Because you need to operate from these interfaces one by one.
Way 2. Record videos for the Kik chat history you want to save
In addition to screenshots and photos, you can also record videos for these Kik chats. You can create a video of your chat history page from your camera or other photographic device. However, in order to ensure the picture quality and make it convenient to check the Kik chat record in the video in the future, please take care to shoot, try not to shake the camera.
More Similar Guides:
Recover Text Messages from Android with Black Screen
Recover Lost Files from Broken Samsung
Part 2: How to Restore Deleted Kik Messages on Android
Way 1. Recover old Kik messages/photos on Android from Kik backups
As I said above, Kik Messenger allows to back up 600 messages you sent and received in the last 48 hours. For old chats, you can only see the last 200 messages. Fortunately, if you have created backup files for Kik on your Android phone, you can restore them directly from your backup. You don't need to install other tools here, just use the built-in "backup & restore" feature in Android device.
1. Open your Android phone and go to "Settings".
2. Go to "Account" and log in.
3. Click "Backup & Restore".
4. Tap "Restore".
Way 2. Get your Kik message from your friends
Your friends will probably still have your chat history, so you can ask them to send you the screenshots of your chat conversation. This method does not require any technical skills, it just helps you to view your chat history from your friend's mobile phone or the screenshots they have provided to you, and you can't restore your Kik message to Kik Messenger on your phone by this method. If your friends didn't save your Kik message, don't worry, you can try the third method.
Way 3. Use GT Recovery to recover Kik messages on Android
If you want to retrieve deleted Kik chats without a computer, there are some Kik recovery apps in the Google Play Store that can help you. You can search and find an app you like. Here, we recommend GT Recovery. It allows you to restore lost Kik messages to your Kik app on your Android phone.
1. Search for "GT Recovery" in the Google Play Store, find the application called "GT Recovery- Undelete, Restore" and click "Install".
2. After the installation is complete, open the application and select "Recover Kik" from "Recover File" to start scanning your Android phone.
3. After the scan is complete, you can start to restore the deleted and lost Kik message on your Android phone.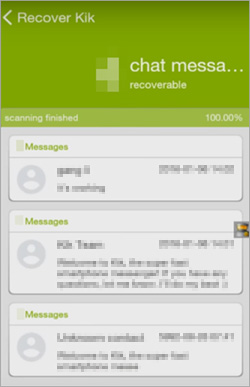 It's important to note that before installing this software, you need to root your Android phone to make sure the steps go smoothly. If you don't know how to do that, you can read the guide: How to root your Android phone.
Part 3: Other Tips for Android Data Backup & Restore
Actually we have an one stop solution for you to back up and restore your Android data. The Coolmuster Android Assistant or Coolmuster Android Assistant for Mac is specially designed for Android users to transfer everything from Android phone to computer for backup, including apps, contacts, SMS, call logs, photos, videos, music, etc., and restore these backup files from computer to your Android phone with just one click.
It supports overall Android models, such as Samsung, HTC, LG, ZTE, HUAWEI, Sony, etc. Read the following tutorial to see how to use it to perform one-click Android data backup and restore.
Step by Step Guide to Backup and Restore Android with Android Assistant
Step 1. Connect Android phone to computer
To backup Android phone with the Android Assistant, you need to download and install it on your computer. Launch the program and connect your Android phone to this computer with a USB cable. Follow the instructions to enable USB debugging on your phone beforehand.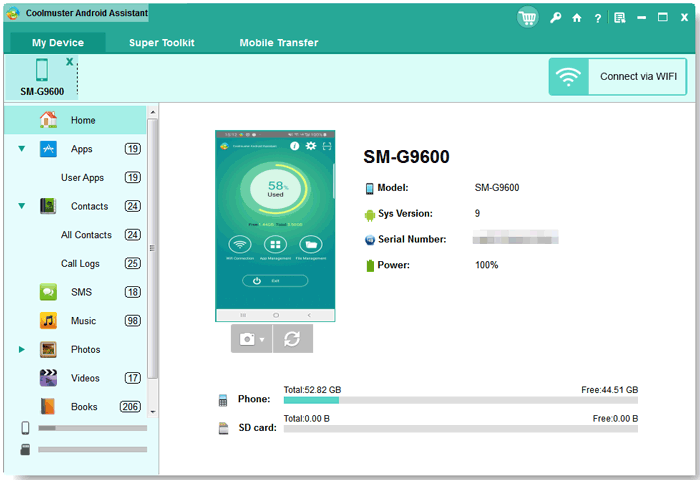 Step 2. Back up Android data to computer
Go to the top menu to click the tab of "Super Toolkit". Then you'll see an interface like below. Choose the option labeled "Backup" from the interface to bring out the back up dialog.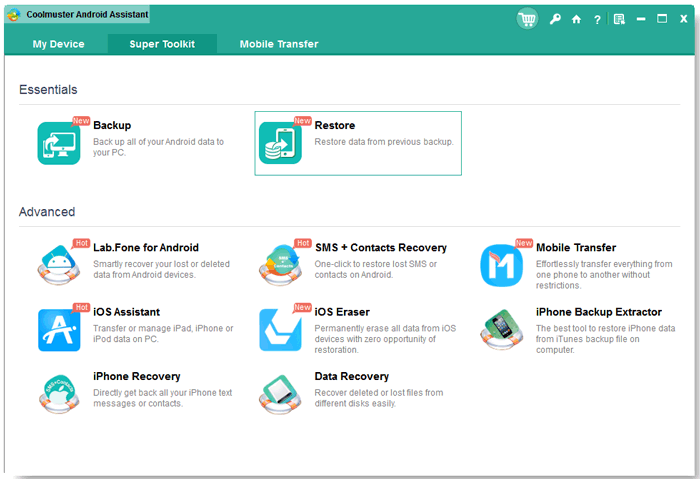 Tick off the file types you want to backup, such as contacts, SMS, call logs, photos, videos, music, apps, etc., specify an output location and click "Back Up" to backup your Android data to computer.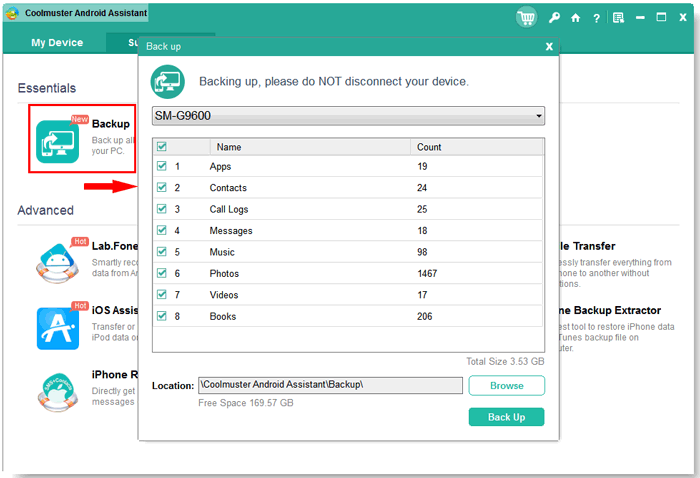 Step 3. Restore backup files from computer to Android
Choose the backup record you need and select the file types you wish to restore, then click on "Restore" button to start restoring your selected files to the linked Android device.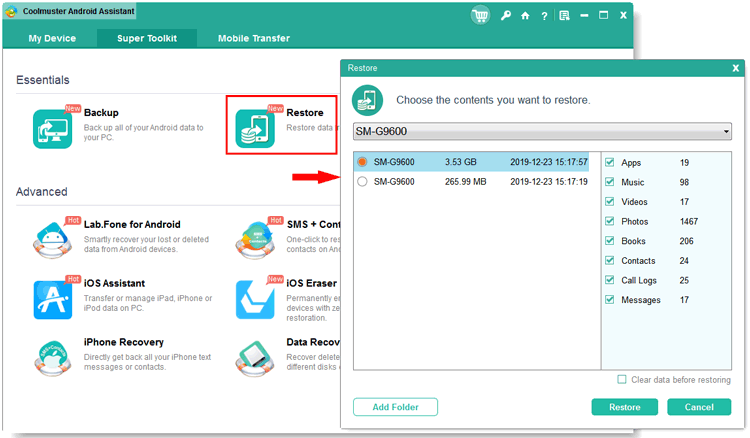 Related Articles:
How to Backup Data from Broken Samsung Galaxy
Best Broken Samsung Data Recovery Software
Top 5 Android Photo Recovery Software