Kik has become one of the most common messaging applications for iOS and Android devices. Kik is used by the majority of people to connect with their family, friends, and new people across the globe. Though Kik is a common platform for chatting, it has some shortcomings. One of these shortcomings is the recovery of deleted Kik chat memories. The chat history gets lost when a user mistakenly uninstalls the Kik application. This article will provide a comprehensive guide on retrieving Kik pictures/messages after uninstalling the application on Android.
Part 1. Reasons Behind Kik Message Loss on Android?
There are various reasons why Kik pictures and messages might be removed on Android. Some of these causes include:
Factory Reset - When you mistakenly reset your device into factory settings, it will delete all your data, including Kik messages.
Incorrect handling of the SD card - Kik messages may get deleted when you use the same SD card on several smartphones.
Human error - Mistakenly formatting your files, i.e., notes, videos, messages, audio, photos, contacts, etcetera, from your Android smartphone's SD card or internal storage.
Accidental deletion - Using the Android phone incorrectly, mistakenly delete Kik messages from your phone.
Other scenarios include virus infection and an update of the Android operating system.
Thus, these are common reasons why you may experience data loss on your Android smartphone.
You may like:
How to Retrieve Deleted Kik Messages on iPhone Successfully in 3 Methods?
How to Transfer Text Messages from Android to Computer (Windows/Mac)
Part 2. Is It Possible to Recover Kik Messages from Android?
It is possible to retrieve deleted Kik messages on Android smartphone. However, contrary to other messaging applications, Kik does not offer its users a backup. This implies that all memories you deliberately or mistakenly format cannot be restored through the Kik application.
Furthermore, there is a specific restriction to the number of messages that you can view in your recent chat history. For Android users, Kik saves an utmost of 600 messages that the user has sent or received within 48 hours. Because Kik does not provide a built-in backup, restoring the formatted Kik messages can be pretty challenging. Nevertheless, the following strategies will simplify the process of retrieving old Kik messages on Android.
Part 3. How to Retrieve Deleted Kik Messages on Android?
Kik messenger is a popular and convenient messaging application that is free of charge. Kik is compatible with Windows, iOS, and Android smartphones. The application enables you to share videos, photos, messages, etc. Nevertheless, there are a lot of users who lose valuable data and are desperate to recover it. Below are the respective steps for recovering deleted Kik messages:
Way 1. How to recover deleted Kik messages from Android Backup
A lot of Kik users create a backup on their Android smartphones. You can retrieve your data easily without Kik recovery tool if you have made a backup for Kik memories on your Android smartphone. The process below will help you regain your Kik data from your smartphone's backup.
Step 1. Access your phone's "Settings" and click "Account."
Step 2. Enter your passcode and sign in, then click "OK."
Step 3. Click "Backup & Restore," then click "Restore."
Step 4. You will find the Kik backup. Select and retrieve all the data to your Android smartphone.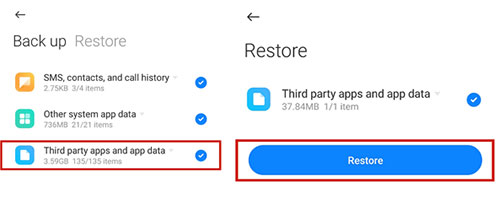 The two strategies articulated above will help you to restore your lost Kik chats through Kik backup & restore. Nevertheless, the process can be complicated if you do not have a backup. If you find yourself in such a situation, the methods listed in this article will help you restore the data even after you log out.
Way 2. How to recover Kik messages on Android from Google Drive
The foremost strategy for retrieving Kik chats on your Android smartphone is by using Google Drive. It is an ideal strategy because Google Drive offers 15 GB free storage space, sufficient to back up your Kik chats, among other valuable data. Thus, if you've lost or mistakenly formatted your Kik chat data, you can retrieve them from Google Drive by following the process listed below.
Step 1. Sign in to your Google account.
Step 2. The data that you've backed up on your Google Drive will appear.
Step 3. Select the respective Kik chats you wish to recover.
Step 4. Click "Restore" and restore your Kik chat data on your Android smartphone.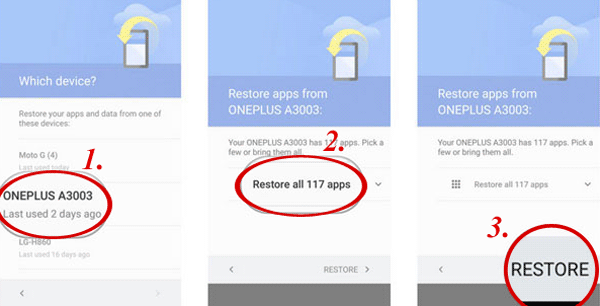 Way 3. How to restore Kik messages on Android from Cloud Account
This is the most secure method of restoring deleted Kik chat data on your Android device. The Cloud account provides storage of 5GB to back up your Android data. Follow the process below to get Kik messages back.
Step 1: Firstly, open Settings on your device.
Step 2: Click on "Account" and sign in to the Cloud account.
Step 3: Click on "Backup & Restore."
Step 4: Select the respective Kik chat that you want to restore.
Step 5:Finally, click "Restore" and retrieve your Kik data to your Android smartphone.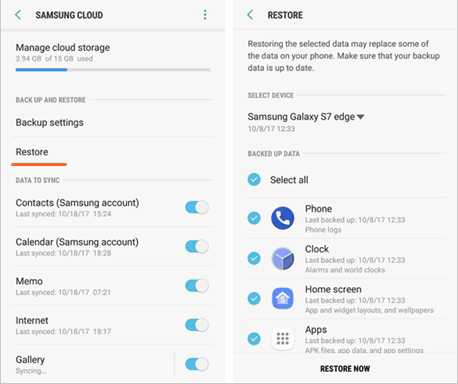 Way 4. How to get Kik messages back from your friends
If you want to retrieve specific Kik chats, you can request your friends to forward the respective screenshots to you. This strategy is relatively simple because it does not necessitate any particular skills. The process helps you to conveniently view the Kik chats on your friends' devices or through the screenshots sent to you. Moreover, this strategy enables you to restore the conversations to your device.
See more:
How to View Text Messages on Computer for Android Phone Users? (Solved)
How to Recover Deleted Photos from Android Phone [Top 6 ways]
Bonus Tip: Backup Kik Messages on your Android
The Kik application is specially programmed to store the recent 600 chats automatically. These particular messages consist of the sent and received conversations. Hence, you can't view any previous chats. Kik offers a brief time restriction of 2 days, which is 48 hours, and the chats will vanish afterward. If these respective chats are valuable to you, you need to back them up on your Android device. Below are some tricks that can help you manually save your Kik data on your Android device.
Tip 1. Take screenshots or photos of the screen of the Kik chat logs
This is quite a simple strategy for saving your Kik data on your Android devices. All you are required to do is to capture screenshots or photos of the respective Kik chats. It is a conventional and easy strategy for backing up your chat data on your Android device. The con is that this process is time intensive, especially if you have a lot of chats to back up.
Tip 2. Record Videos for the Kik chat history you want to save
Other than capturing photos and screenshots, you can capture videos for the Kik messages. Create a backup video that records your valuable Kik chats. However, it is essential to ensure that the quality of the video is high and easy for you to view.
Conclusion
Deleting your valuable Kik messages can be pretty stressful. The situation is more stressful when you do not have a backup where you can restore the data. The strategies articulated above will enable you to recover old Kik chats on your Android device. The methods are also effective for those who do not have a Kik, Android, or Cloud backup. If none of the strategies works for you, a final alternative is requesting your friends to send you screenshots of the Kik messages.
Related Articles:
Back Up Text Messages from Android to PC or New Phone [Full Guide]
Top 11 Android SMS Manager Apps - Manage Messages for Android Easily
Ultimate Guide on How to Recover Deleted Camera Photos from Android
[Proven] How to Transfer WhatsApp to New Phone Easily? (Android & iPhone)
How to Transfer Kik Data from iPhone to Computer
[3 Solutions] How to Transfer WhatsApp Chats from Android to Android