We all know how it is crucial to set up a password in Motorola phone to safeguard our data and privacy. However, people sometimes forget things, and you can find yourself denied access to your phone just because you forgot your password. This can be annoying, especially if you don't want to factory reset your Motorola phone and lose all your data.
If you're locked out of your Motorola phone and want to regain access, you can still achieve that. Besides, it is not that challenging to unlock a Motorola device without a password, all thanks to technological advancements. This article will guide you on how to unlock Motorola phone password without factory reset.
Part 1. Benefits of Setting a Lock Screen on Motorola
There are several benefits of setting up a lock screen on your phone. This includes:
Protect data - One of the main reasons why most people set up phone locks on their phones is to protect their data. With data breaches and identity theft becoming too common, it is very important to safeguard your data. By setting up a phone lock pin, no unauthorized person can access your sensitive data in your phone.
Prevent unauthorized purchases - If your payment information, such as credit card numbers, is saved on your Motorola device, setting up a fingerprint or password can prevent illegal purchases through your phone. This is important, especially if you have children or friends who may intentionally or accidentally purchase without your authorization.
Increase security - Setting a fingerprint or a lock screen password to your device will enhance overall security. Without a fingerprint or code, someone can gain access to your Motorola phone, steal your data and use it for malicious activities.
Part 2. How to Unlock Motorola Phone Password Without Factory Reset
If you want to unlock your Android phone without resetting it, here are some methods you can use:
2.1 How to Get Into a Motorola Phone That Is Locked Using Android Unlock
If you want a fast and efficient way, you should consider using a third-party tool like Android Unlock. It is a fast and reliable app that enables users to unlock their Android device's password without factory resetting. This app can remove PIN, password, fingerprint, pattern, and other phone lock techniques from your Android device.
This app unlocks main Android brands, including Motorola, Nokia, OnePlus, Huawei, Samsung, etc. So, this application will easily unlock your phone if you forgot your PIN code, lost your Google account, or just bought a used phone from another user. It is an excellent app for users who cannot remember their password or pattern and want to regain phone access without data loss.
Key features:
Remove fingerprints, PINs, patterns, and passwords.
Unlock most Android brands such as Xiaomi, LG, Huawei, Samsung, etc.
Very easy to use.

Free Download for PC
Here are steps on how to unlock a Motorola phone without the password with Android Unlock:
01Download and then install this application on your PC. Launch the program and click "Screen Unlock". Then connect your Motorola device to the computer via a USB cable. Once connected, click "Unlock Android Screen".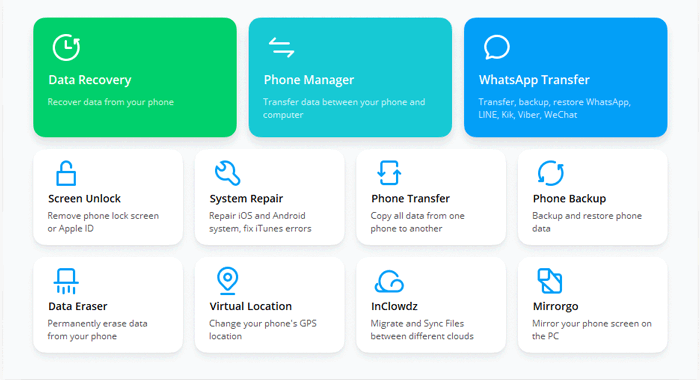 02Select your phone brand and click "Next".
03Your phone will enter into Download mode with the on-screen instructions.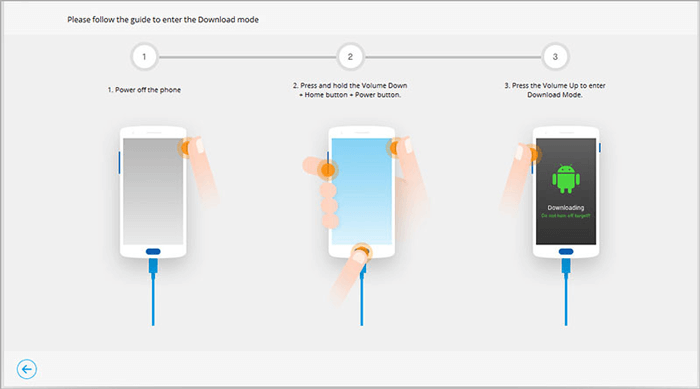 04Wait until the unlocking process is complete. Once the process is completed, you can use your smartphone without a password and access all your data without limitations.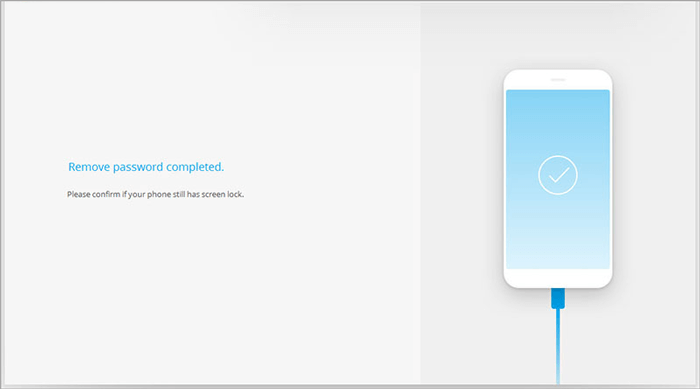 Read More:
[2023] How to Reset a Motorola Phone that Is Locked Yourself?
[Fixed] How to Unlock Locked Android Phone without Losing Data
2.2 How to Bypass Pattern Lock on Motorola Without Factory Reset by Android Device Manager
Android Device Manager is a Google service that enables you to manage your phone remotely using the Find My Device feature. You can use ADM to track, lock and wipe your Motorola phone remotely. It also lets you bypass your locked screen by logging in to your Google account. To use this technique, you need to have previously logged into your Gmail account on your Motorola phone. Here are the steps for Motorola password bypass with Android Device Manager.
Step 1. On your computer or any Android device, visit Google's Find My Device website.
Step 2. Login into your Google account using your credentials (username and password).
Step 3. After signing in, you will see all the devices connected to your account. Then select the Motorola phone that has a screen lock.
Step 4. Press on the "SET UP SECURE & ERASE" option to unlock the screen.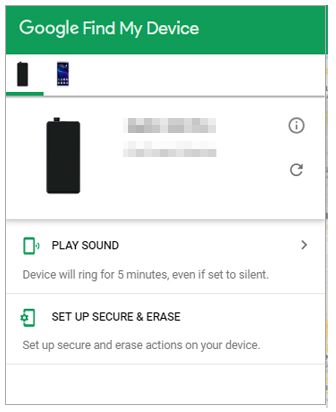 Step 5. You will see a pop-up window prompting you to change your device password. Then enter a new password.
Now you will have to set a new password that you can use to unlock your phone.
Can't Miss:
Android Unlockers: Top 8 Android Phone Unlocking Software in 2023
How to Unlock Samsung PIN Code Step by Step? [New Ideas]
2.3 How to Unlock Pattern Lock on Motorola Without Data Reset via Forgot Pattern
This method is perfect for you if you're using Android 4.4 or an earlier version. It allows you to unlock your phone screen and continue to use it without losing your content. It is a great and useful feature on Android devices, especially if you forget your phone pattern or password.
Here are the steps on how to unlock PIN lock on Motorola without data reset:
Step 1. After several unsuccessful attempts to enter your phone pattern, you will see a question on the screen" Forgot pattern?" and tap on it.
Step 2. You will find two ways to unlock your phone. Pick "Enter Google account details".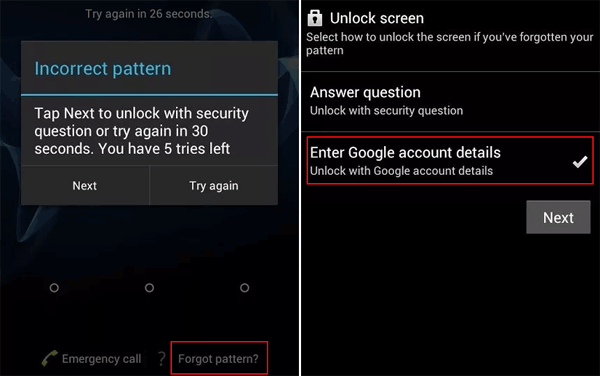 Step 3. Enter your Google account details- email and password. Your device will be unlocked.
To prevent repeating this process each time you need to unlock your device, set a new password that you can easily remember.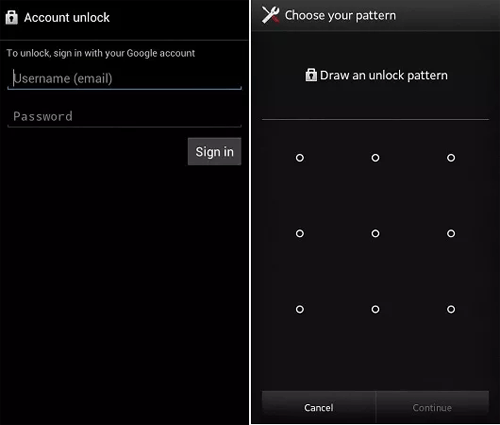 May Like:
5 Ways to Unlock Android Phone if You Forgot the Password
What if You Locked out of Android Phone? 7 Easy Ways May Help (2023)
Part 3. Frequently Asked Questions on Unlocking Motorola Phone Without Factory Reset
Q1. Will a factory reset delete all the data held on my Motorola phone?
Yes. If you factory reset your phone, you will delete all the stored data in your phone, including applications and files.
Q2. How do you factory reset your Motorola phone when locked?
Here are steps to follow to factory reset your Motorola phone:
Step 1. Switch on your Motorola device.
Step 2. Press the "Volume Up", "Power", and "Home" button together. The phone will enter recovery mode.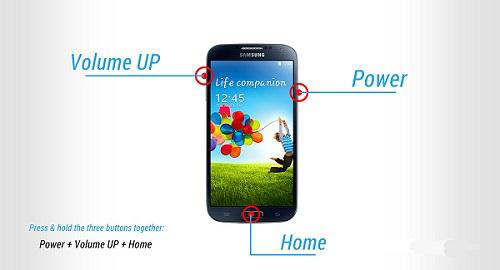 Step 3. Click on "wipe data/factory reset".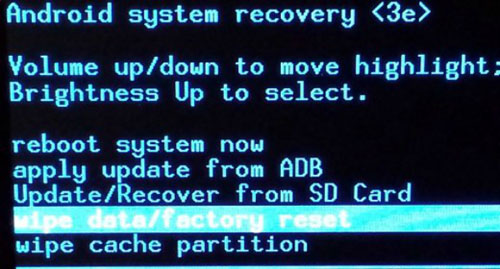 Step 4. Next, confirm factory reset, and your phone will reset.
Q3. What is Motorola default PIN code?
There is no universal unlock pin for Motorola Android. In other words, Motorola does not have a universal default PIN code. Users set their own PIN during setup or receive it from their mobile network operator. Default PINs for unlocking Motorola devices are typically "0000" or "1234", but they are often changed by users. For assistance with unlocking your device, contact Motorola or your service provider.
Conclusion
How to get into a locked Motorola phone? If you have forgotten your Motorola phone password, there is no need to factory reset it to regain access. We have already given you efficient techniques to unlock your Android phone without a factory reset. You can effortlessly bypass Motorola PIN lock and access your device again.
We recommend you use Android Unlock. It is an easy-to-use app that helps you to unlock a locked screen without struggling. It removes all types of screen locks from Android devices quickly.
Related Articles:
The Ultimate Guide to Motorola Backup Software [Easy & Safe]
How to Reset Android Phone when Locked? Top 6 Reliable Ways in 2023
How to Get into A Locked Phone with or without A Password? (Full Guide)
Best Samsung Unlock Tools to Unlock Your Samsung Phone in 2023
How to Transfer Text Messages from Motorola Phone to Computer (4 Ways)
How to Transfer SMS from Motorola to Motorola Quickly? [Solved]