I'm sorry to hear that your phone screen is broken. You might think it is difficult to access your Android phone with a broken screen because there are no professionals to guide you. In fact, it is easy to unlock a phone with a broken screen, and you can even do it yourself. Read this article on how to unlock a phone with a broken screen carefully, and you will get more than one useful answer.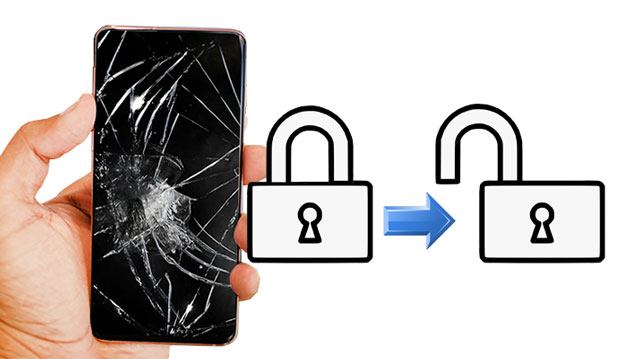 Part 1. How to Unlock Samsung Galaxy with Broken Screen using a Samsung Account
Recently, some readers commented on my article, "My Samsung screen is broken, and I can't unlock it. What should I do?" Suppose you have registered your Samsung phone with a Samsung account. In that case, you can unlock the phone without a screen using the same Samsung account remotely.
How do I unlock my Samsung with a broken screen?
1. Open findmymobile.samsung.com from a computer browser and sign in with the same Samsung account details you activated on your phone.
2. Choose your broken phone associated with the Samsung account on the left side and click Unlock my screen.
3. Follow the on-screen instructions to unlock your Samsung phone.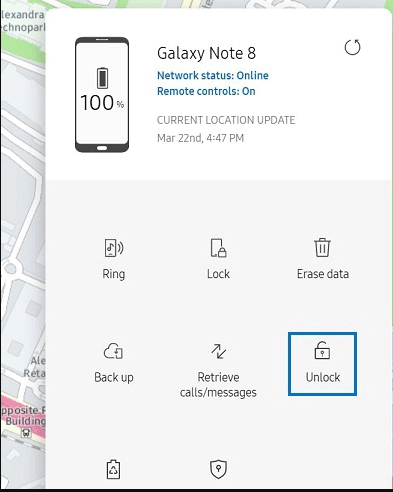 When your Samsung phone is locked and you forget the password, how can you reset it? If you encounter this issue, follow this guide to get 8 practical methods.
How to reset a locked Samsung phone?
Part 2. How to Unlock & Access Android Phone with Broken Cracked Screen via a Mouse and OTG Adapter
You can also unlock your broken phone using a USB mouse and OTG adapter. However, this only works if you have previously enabled USB debugging on your phone and the device supports the OTG feature. Otherwise, try other ways out.
The phone screen is broken. How to unlock it with a mouse and OTG adapter?
1. Connect the OTG adapter's micro USB side to your phone and another side to a USB mouse.
2. Once connected successfully, you will see a pointer on the phone screen. Use the USB mouse to maneuver the pointer and enter the lock screen password.
3. If successfully, you can access the data or back up with the USB mouse.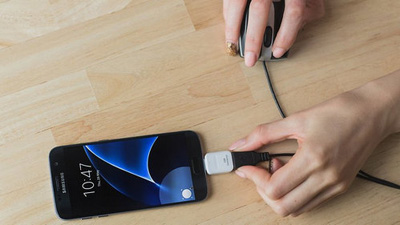 Guess you like: This guide will help you remove the pattern lock on your ZTE phone without losing data. Let's read it.
Part 3. How to Unlock Android Phone with Broken Screen with ADB
ADB uses commands from the computer to execute developer-like changes. Assume you have enabled USB debugging on your Android device before breaking it. You can connect it to your computer via USB and unlock the phone with ADB commands.
The Android screen is not working. How to unlock it with ADB commands?
1. Download the Android SDK package on your computer and extract the ZIP file. Next, download Android USB drivers from your phone manufacturer's website.
2. Open the Command Prompt on your PC and connect your Android device to the computer using a USB cable.
3. Enter the following commands on the Command Prompt and press the Enter key on the keyboard.
cd C:/android/platform-tools
adb device
4. You will see numbers on the Command Prompt if it recognizes your phone.
5. Continue to enter the following commands and replace 1234 with your password. (For pattern lock, use the following instead: adb shell rm /data/system/gesture.key)
ADB shell input text 1234
Shell input key event 66
6. Your phone should be unlocked. Now you can back up the device data to the computer.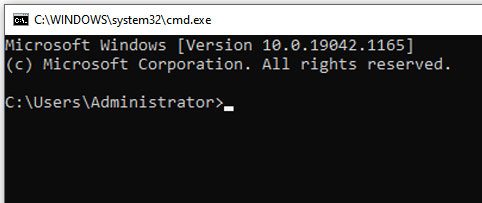 Learn more: Want a piece of software to unlock your Android phone? You can select one from this list.
Part 4. How to Open a Phone with a Broken Screen via Android Control Apps
Android control apps let you easily access your locked phone from a computer. There are many control apps for Android in the application store. If you are interested in them, search the internet for more details. Like the above, it also requires ADB and USB debugging enabled on your computer and Android. What's worse, it may have security issues.
Part 5. How to Unlock Phone Broken Screen Remotely via Google's Find My Device
Find My Device is a built-in feature on all Android devices to locate, ring, and erase your device when lost or stolen most of the time. But it also remotely unlocks your Android phone when the screen is broken. To use this method, you must enable the Find My Device feature on your phone before it's broken.
If you have done that before, proceed with these steps:
How do you unlock my phone when the screen is broken?
1. Visit google.com/android/find from your computer and log in with the same Google account you use on your broken Android.
2. It will display all devices linked with the Google account. Select the broken phone under All Devices and tap the Erase button on the popup.
3. Confirm the operation to erase the device data and unlock it remotely.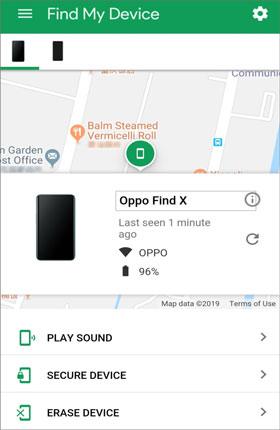 You might need: How can you bypass FRP lock on a Samsung phone? Open this guide, and learn the solution.
Part 6. How to Unlock Android with Broken Screen via Android Unlock (Recommended)
As you can see, the above methods have prerequisites and limits. Thus, we highly recommend you try Android Unlock to remove any types of screen locks on Android with a broken screen.
Here are the main features:
Unlock screen locks on Android with a broken screen: Pattern, password, PIN, fingerprints, and Face ID.
Bypass some old Samsung or LG phones without data loss.
Remove Samsung FRP lock without Google account or PIN.
Easy to handle.
Widely compatible with Android models running Android 2.1 to Android 13, such as Samsung Galaxy S23/S22 Ultra/S22+/S22, Google Pixel 6/6 Pro, Sony, LG, HTC, Xiaomi, OPPO, etc.

Free Download for PC
How to unlock a phone with a broken screen for Android users?
01Install and open Android Unlock on your PC. Next, select Screen Unlock and connect your Android phone to the PC via a USB cable.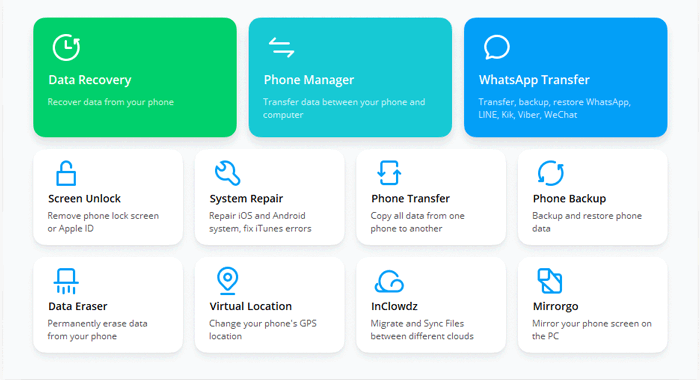 02Click Unlock Android Screen to proceed and choose the device information from the lists before tapping Next.
03Get your phone into Download mode with the on-screen instructions. After that, it will download the recovery package for your device.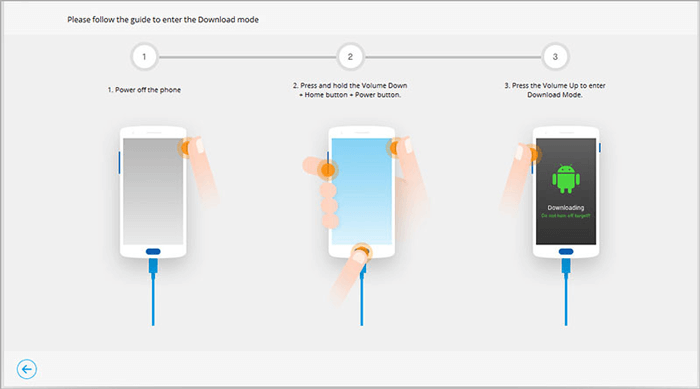 04After downloading the recovery package, it will automatically unlock your broken Android phone.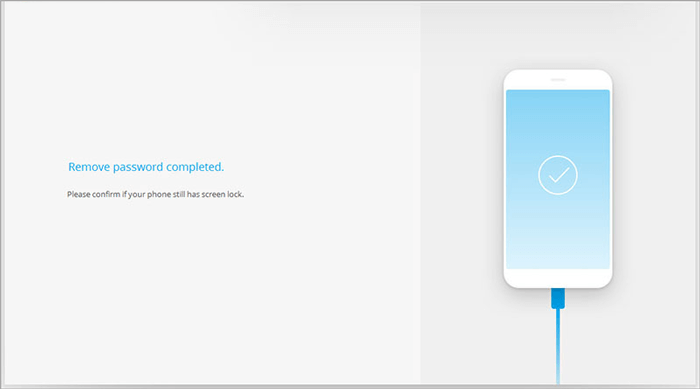 Further reading:
How to Bypass LG Lock Screen without Reset? (Solved)
How to Bypass Android Lock Screen without Google Account in Top 6 Ways? (Proven)
Closure
That's how to unlock a phone with a broken screen. After reading the above content, you can easily find Android Unlock is the easiest and most suitable way to unlock a broken Android phone. It works well with all Android smartphones and requires no password at all. Therefore, I strongly recommend you give it a try.
If you have any queries, please leave a comment below.
Related Articles:
How to Control iPhone with Broken Screen Effortlessly? (6 Proven Ways)
How to Unlock iPhone with Broken Screen? (2023 Updated)
How to Recover Data from Android Phone with Broken Screen? (Solved)
How to Recover Data from Broken or Dead Samsung Galaxy S/Note?
How to Fix Android Touch Screen Not Working - Can't Unlock Issue In Minutes? (15 DIY Tips)
[2023] How to Recover Data from Locked Android Phone with Broken Screen?