iPhones are designed in a way that when you try to restart the device or remove the SIM card, the SIM card gets locked automatically. The locked SIM card prevents the phone from connecting to a different carrier's network. This happens when the device is asked to verify your SIM card, and if it doesn't find one on your phone, it will lock itself.
That's why most people first think that unlocking an iPhone without SIM card is impossible, but in reality, you can do it. So, you might be wondering how you can achieve that. Follow the post to know how to unlock iPhone without a SIM card.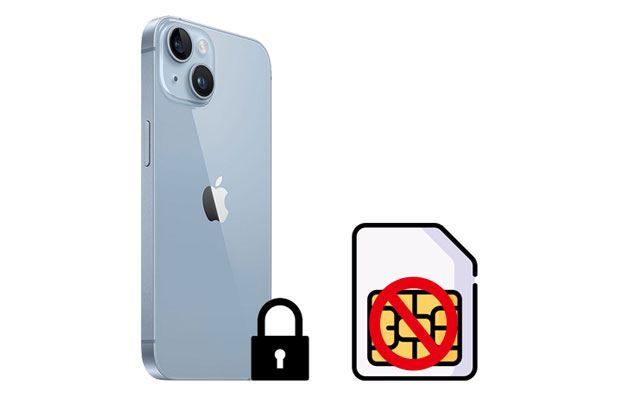 Part 1: Is it Possible to Unlock an iPhone Without SIM Card?
Yes. You can unlock your iPhone 15 Pro/15/14 Pro/14/13/12/11/X/8/7 without SIM card by performing a carrier unlock procedure on the device. This unlocks all the locked and restricted features on your iOS device.
When your iPhone is attached to a carrier, and you want to change another carrier to use a different network, you need to unlock the SIM lock on the device first. Continue reading to know how to unlock iPhone without using a SIM card in detail.
Part 2: How to Unlock iPhone Using Another SIM Card
The easiest way to unlock your locked iOS device without SIM card is to use your friend's SIM card. If you can get your friend's SIM card, you can activate your iPhone quickly. But you must find someone who uses the SIM card of the same carrier as yours.
Moreover, you must have a Wi-Fi network for the operation to go through. After ensuring everything is set, you can now start activating the iPhone using these steps:
Step 1: Remove your SIM card from your iPhone, and insert your friend's SIM card in your iPhone. Then power it on.
Step 2: When asked to choose an option for the connection, choose Wi-Fi network and sign in with the right password.
Step 3: Follow the setup options and wait for some time for the device to activate and remove SIM card from your iPhone.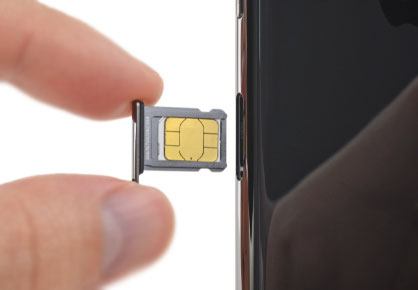 After activating, you can only use the iPhone for Wi-Fi and access apps. However, you can't send SMS messages or make calls.
You may read: 3 Easy Ways to Remove Swipe Screen to Unlock Samsung Phone
Part 3: How to Unlock iPhone Without SIM Card Using iTunes
Another good technique for unlocking an iPhone without SIM card is using iTunes. If you can't find the SIM card from the same carrier or your friend isn't willing to lend you their SIM card, you can resort to using this method. You may activate the iPhone by setting the network and country, which will remove the carrier lock.
However, your iTunes must be up-to-date. You can find the version on Apple's site. Install it on the computer and start activating your iPhone. The best part is that, when using iTunes, there is no need for Wi-Fi access. However, for this method to work, your device shouldn't be locked to a specific carrier.
Here is how you can unlock your iPhone via iTunes:
Step 1: Install the latest version of iTunes on the computer.
Step 2: Use a USB cable to connect the iPhone to the computer. If you get a message that says SIM card not installed, it implies the device is locked to the carrier.
Step 3: If it's locked, please click the iPhone icon on iTunes, and go to Summary > Restore. Then tap the Restore icon again to confirm your operation. Once done, insert another SIM card into your iPhone and finish the setup, and check if you can surf the Internet.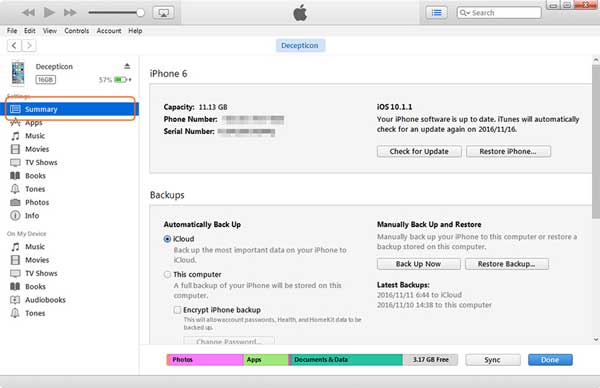 Learn more: If you want to unlock an Android phone without password, you can utilize these 5 ways.
Part 4: How to Unlock iPhone Without SIM card by Dismissing SIM Card Notification
When you reset your iPhone into factory settings and reboot it, you must set it up again. And once it gets connected to the Wi-Fi network, you'll see a pop-up saying "SIM card needed" or "There's No SIM card installed." If you're using new iPhone devices with iOS 14 or later, it's easier to ignore the pop-up, and the setup process will be complete without installing the SIM card.
Do this to unlock iPhone without a SIM card:
Step 1: Start an iPhone by pressing the power icon and swiping to the right to choose Language > Country, and click the option for Setup Manually.
Step 2: Select your Wi-Fi network and proceed to enter the password. Once done, click OK to ignore the message on the screen saying No SIM Card Available.
Step 3: From the phone's screen, select Continue to agree to Data and Privacy terms. Then click on the Set Up the Touch ID/Setup Later option and continue to Set Up Lock Screen Password.
Step 4: Go to Apps & Data on the iPhone, choose Setup as a New iPhone, and enter your Apple ID with its password. Agree to Terms & Conditions and click Continue. Finish the setup procedure by following the instructions displayed.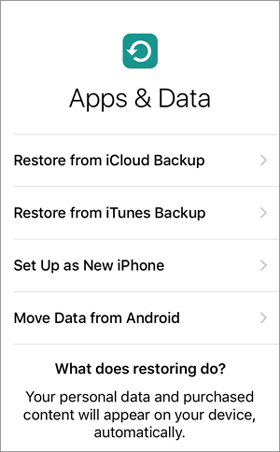 Read more:
Want to remove the lock from an unresponsive iPhone? Then you can follow this guide.
Unlock AT&T iPhone? One Passage to Answer Your Questions!
Part 5: How to Unlock iPhone Without SIM Card Via R-SIM/X-SIM
If you have an iPhone 15 that is locked to the carrier but doesn't want to perform any of the above methods, then you can try this other method. You need an R-SIM/X-SIM, a very small, thin chip with a length of 0.2mm. The chip is inserted into an iPhone together with the SIM card. This chip is designed in such a way that an iPhone can believe it is working with a SIM card, even if it's locked.
It is a miniature electronic chip that can read and write data onto the SIM card, making it possible to use your iPhone as if it is unlocked. This device works on almost all iPhones, making it easier to unlock iPhone without the help of a SIM card. R-SIM bypasses network lock enabling you to use any network you want. So, when you insert an R-SIM into your iPhone, you can unlock it without a SIM card. Here is how to do that:
Step 1: Insert R-SIM into your iPhone to see all available networks. Choose your cellular network provider by selecting the Input IMSI option from the drop-down menu.
Step 2: Enter the carrier code when requested (you can find IMSI codes online). After that, choose the device model from the drop-down menu.
Step 3: Choose the unlocking method you want to use and wait for some time for the device to process your request. Click Accept from the setup prompt.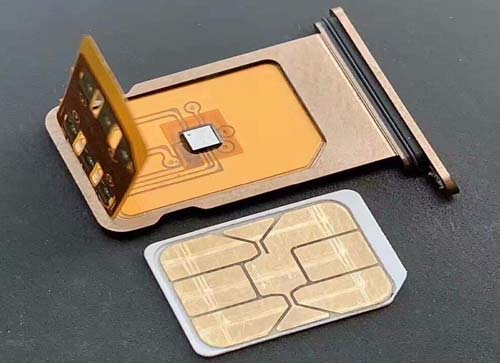 You might like:
How to Bypass iPod touch Activation Lock Easily? 4 Ways You Cannot Miss
How to Fix the iTunes/App Store Keeps Asking for Password Issue on iPhone/iPad?
Part 6: How to Unlock iPhone With iOS Unlock (Recommended)
If you want an easier, quicker and smarter way of unlocking an iPhone 15/14/13/12, you should definitely use Dr.Fone Screen Unlock (iOS). It is the best program for you if you're looking for a tool that can unlock an iPhone without using a SIM card. The program can unlock any type of lock screen set on an iPhone. If an iPhone is locked to a carrier or a network, you can easily unlock it. The program is capable of doing that because it bypasses the carrier lock.
What iOS Unlock does:
* Remove all types of lock screens like Face ID, Touch ID and more.
* Fast bypass Apple ID and iCloud activation.
* Help you remove the screen lock from iOS devices without skills.
* Support many generation of iOS, like iOS 17, iOS 16, iOS 15, iOS 14, iOS 13, iOS 12, and more.
Download this iOS unlock software.
Here is how to unlock iPhone without a SIM card via the iPhone unlocking program:
01Install the iOS unlock program on your computer and choose Screen unlock > Remove SIM Locked from the primary interface. Once done, connect your iPhone to the same computer and hit the Start button.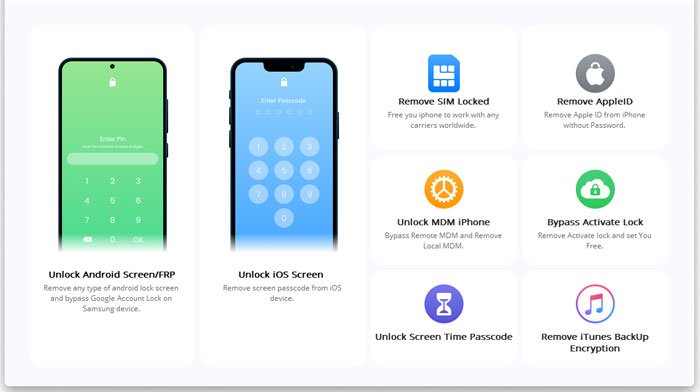 02Click the Confirmed and Next icons to go on. Then close the pop-up window on your iPhone, click Settings > Profile Downloaded > Install, and enter your screen passcode to install the configuration profile.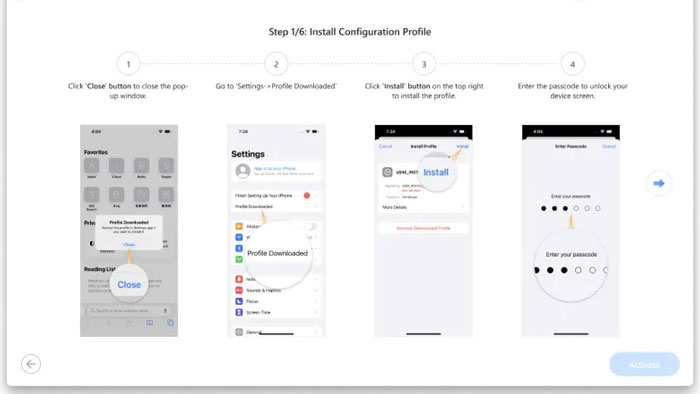 03Go to General settings on your iPhone, choose About > Certificate Trust Settings, turn on SIMHUB, and hit on Continue. After that, go to Wi-Fi settings, click i > Configure Proxy, and choose Manual.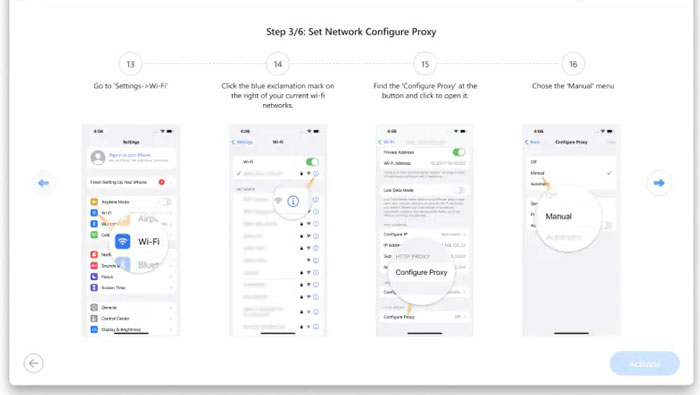 04Please type the info and click the Save icon. Next, navigate to Cellular and opt for Add Cellular Plan. Once done, tap Activate.
05Scan the QR code on the interface, and click the words in blue to enter the activation code. Then choose Add Cellular Plan and click Dismiss. Then enter to tool according to the guide. After that, open General > About > Carrier Lock.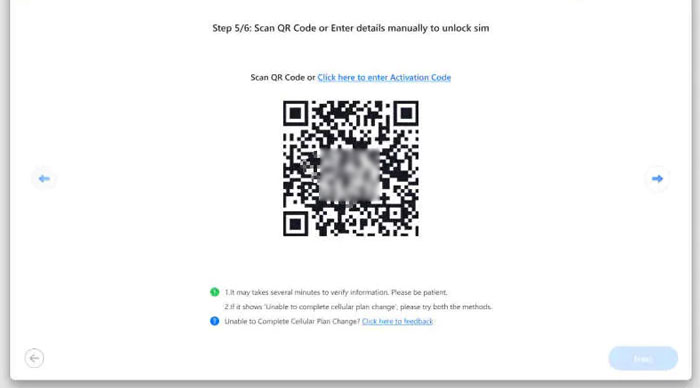 06Pleae restart your iPhone if you see SIM locked. As you see No SIM restrictions, go to Settings, and choose Cellular. Open the plan that you added, select Turn on This Line, and tap Next to finish the procedure.
07Now, click Done and Remove Settings, go to Wi-Fi settings, choose Configure Proxy, and turn it off. Finally, follow the guide to remove the profile you added.
Conclusion
We've shared a few methods you can use to unlock an iPhone without a SIM card. Hopefully, you can now unlock your device without any issues. But, if you want the best way to unlock iPhone, iOS Screen Unlock is here for you. This tool is effective and convenient; it will save you time and effort.
Related Articles:
How to Transfer Photos/Videos from iPhone to Dell PC Windows 11/10/8/7?
How to Deftly Control iPhone from PC with/without USB Cable?
14 Amazing Tricks to Fix iPhone Contacts Missing Names (Comprehensive Guide)
9 Ways to Fix the Bookmarks on iPhone Disappeared Issue (iOS 17 Supported)
Transfer Viber Messages to New iPhone [Including iPhone 15 Pro/15]
How to Transfer Files from Android to iPhone [Full Solutions]