It's crucial to set passwords on our devices since they protect the data from prying eyes and hackers. Similarly, if you don't want to lose all your information, you must back up your iPhone regularly. When backing up iPhone data in iTunes, you should encrypt the data with a password. And when you want to access the files you had backed up, you should first enter the password to unlock your iPhone backup.
But, no need to fret. We are here to help you! Read this article till the end to know what to do if you forgot iTunes/iPhone backup password.
Part 1. What's The Use of iTunes Backup Password?
iTunes put a password on my backup. The iTunes backup passcode, also known as iPhone backup passcode, isn't the same passcode you normally use for Apple ID. It's a kind of password used when backing up iOS data in iTunes. The main work of passwords is to encrypt sensitive files you saved in iTunes, like call history, password, website history, messages, and many more.
When backing up data in iTunes, there's an option for "Encrypt iPhone backup" when you click on it, you'll be asked to set the passcode in iTunes. Once you do that, your backup will be encrypted instantly. This will auto-apply to each backup you make on this device after that. Subsequently, when you want to access the files saved on iTunes, you will be asked to enter the password to unlock the content.
However, when you forgot encrypted backup password on iTunes/iPhone, you won't be allowed to unlock the backup anymore. Moreover, iTunes doesn't provide a way to solve it. So, you are now helpless, and the urgency to get the file from the backup isn't helping either. But, don't despair, if you can't remember iTunes encrypted backup password, we'll take you through practical solutions to fix it.
You may like:
How to Easily Bypass iCloud Activation
How to Check if iPhone Is Unlocked without SIM Card [Proven Guide]
Part 2. How to Fix Forgot iPhone Backup Password
Even though setting a password is the only way to prevent your files from being accessed by unauthorized people, we sometimes tend to forget it, or your iPhone backup password incorrect, leaving us helpless, . We've created this article to help you from such situations. Since you're here reading this, we presume you've forgotten your iTunes backup password and want to regain access to it. So, here are the best solutions for you:
Method 1. Remove iTunes Backup Password without Data Loss
Can't remember iTunes encrypted backup password? No need to worry; there is a great solution to that. Most iOS users know that it's of utmost importance to do data backup on their devices via iTunes. It's the only way to keep those valuable files safe. But the worst scenario is when we forget the backup encryption password. This can be a threat to the privacy and security of our data.
Fortunately, we have a powerful tool that can bypass forgotten iTunes backup passwords. And that tool is none other than the iOS Unlock. This tool is specially designed to solve problems such as system breakdowns, removal of iTunes backup password if you forgot, and more. What's more, no data loss is involved. You can rely on this tool to recover the iPhone backup password in no time.
What's more? Even unskilled people can use it very well. So, if you want to easily bypass your iPhone backup password, then iOS Unlock is the best tool for you!
Key Features of iOS Unlock:
* It can help you fix iPhone forgot password problem.
* It can remove screen locks instantly, including face ID, passcodes, Touch ID, etc..
* Bypasses iCloud activation lock as well as Apple ID.
* No technical skills are required when using this tool.
* Compatible with different versions of iPhone, iPad and iPod touch.
Want to know how to remove iTunes backup password with iOS Unlock? Check the steps below;
01 Launch the program on the computer after downloading and installing it. Then click on the "Screen Unlock" option from the primary interface.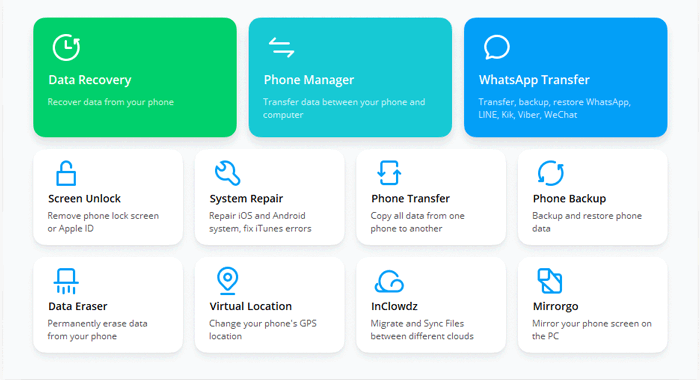 02 From the screen, click on the "Remove iTunes Back Up Encryption" feature at the bottom right part of the screen to proceed.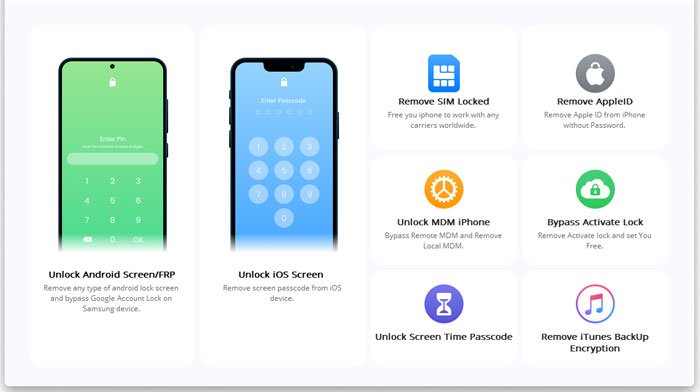 03 Now, connect the iPhone device to the computer via a lightning cable. Wait for the program to detect your device. Once detected, hit the "Remove Now" option on the screen. Before clicking the Remove Now button, make sure you've disabled the Find My iPhone Feature and iTunes shouldn't be open.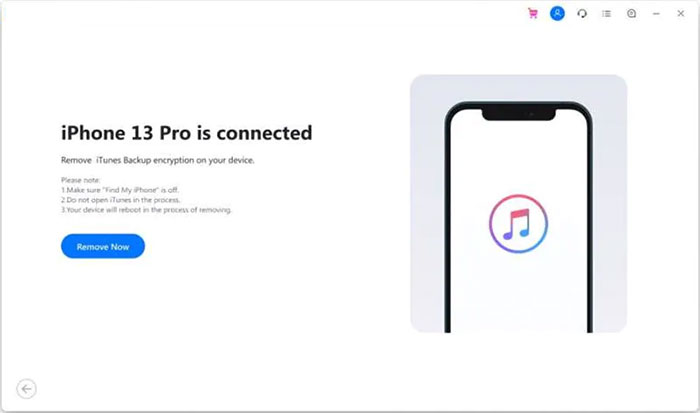 04 The app will check your device and remove the password. Wait for the progress to reach 100% and you'll see the encryption removed.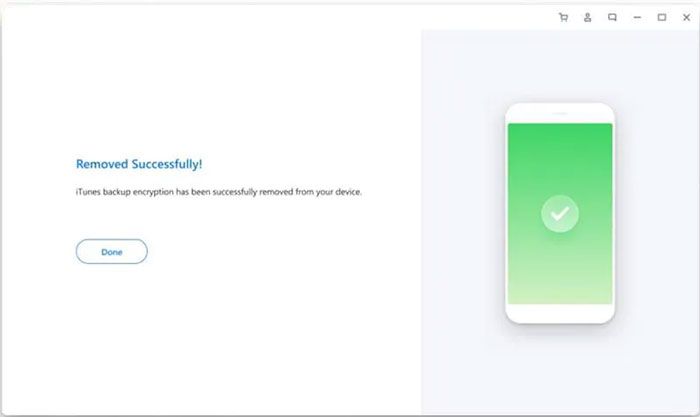 Method 2. Try Other iPhone Backup Passwords You Remember
It will be best if you try other passwords you have used to unlock backup password on iPhone. The good thing is that there is no penalty if you try several passcodes in iTunes, but you can only check each at a time. You never know; there's one that may work. Try the password for your Apple ID, iTunes Store, Computer password, and iPhone screen password.
Method 3. Look in the macOS keychain
How do I find my encrypted backup password? You can try checking in the macOS keychain. A keychain securely holds passwords and other small pieces of information. It's designed to protect the system from malware and spyware.
Maybe you saved the iPhone backup passcode to the Keychain on your Mac computer. If so, you'll be lucky as you may easily find the password by checking all the Keychain passwords. Even if you aren't sure, you can try and see if the encrypted password is saved there. Here are steps to check the password to unlock iPhone backup in Keychain on Mac;
Step 1: Start the "Keychain Access" app by opening the Spotlight with "cmd + space," then type in "Keychain Access" and press the Enter key.
Step 2: Tap on the "Passwords" option on the left part of the sidebar.
Step 3: Type "Backup" in the screen's search box in the upper right corner.
Step 4: Check all the saved passcodes by double-clicking on the iOS Backup option.
Step 5: Tick the "Show password" box to display all passwords.
Method 4. Reset iPhone Backup Password
If you can't find the password for iPhone backup in iTunes or Keychain, you can try resetting it.
Step 1: Head to the Settings page on your iPhone. Choose "General," click on "Reset," and proceed to "Reset All Settings."
Step 2: Next, input the iPhone passcode, which will reset the display, wallpaper, and brightness and encrypt the iPhone backup passcode.
Step 3: Now connect the device to iTunes and create a new password for your backup.
See more:
How to Unlock iPhone with Unresponsive Screen? [Full Guide]
iCloud Unlock Service: Bypass iCloud Lock with Legit Methods
Part 3. How FAQs About iPhone/iTunes Backup Password
Q1. Is it necessary to protect backups with a password?
Setting a password on your iPhone is great since it helps protect the data. The same is true for backups. If you want to restore the backup, later on, you just have to enter the password and access the files.
Q2. What's the default passcode for iTunes backup?
Normally, the default iTunes backup password is a four-digit code which can be 1234 or 0000.
Conclusion
So, that's all on what to do if you forgot iTunes backup password. Hopefully, everything will go smoothly. Besides, if you want to remove your iPhone backup passcode easily without data loss, Dr.Fone - Screen Unlock (iOS) is the best tool you should get. You can use it to unlock the iOS backup password in few clicks.
Related Articles:
How to Unlock iPhone without SIM Card? [Updated Tutorial]
Fast Factory Reset iPad without Passcode with 3 Solutions
How to Get into a Locked iPhone without the Password or Face ID? [Solved]
iPhone Unavailable Lock Screen? Here're 4 Solutions to Fix It!
How to Unlock SIM Card on iPhone with Easy Steps [3 Solutions]