Is it possible to unlock iPhone using Emergency call hack? Forgetting your device's passcode and not having a way to unlock it can be a nightmare. We mostly forget our device's passwords when we keep different account passwords.
For instance, remember passwords for your social media accounts, emails, and mobile devices. However, you don't have to worry if you can't remember your device's passcode. There are several tricks that you can use to unlock your iPhone. In this article, you'll learn how to use an emergency call hack to unlock your device. Read on to learn more!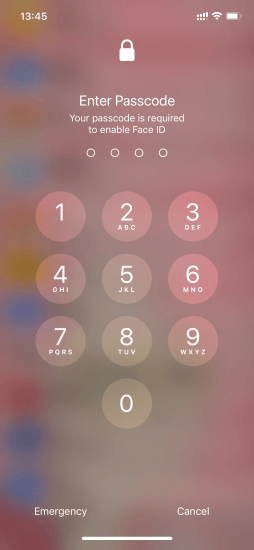 Part 1. How to Unlock iPhone with Emergency Call Screen [Low Successful Rate]
The hack for unlocking an iPhone using an emergency call screen only works for devices with older iOS versions. It may not work for gadgets with iOS 14 and newer models. Try to call some iPhone emergency dialer codes to unlock the device. The trick requires you to dial the numbers repeatedly before it can work.
Below are some steps for unlocking iPhone with the emergency call hack:
Step 1. Turn your iPhone on and proceed to the Emergency call screen. Ensure you don't attempt to enter any passcode but go straight to the emergency call screen.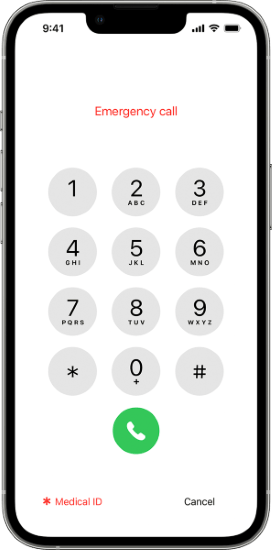 Step 2. Call any number repeatedly, and cancel immediately after every call. It can be a random number or an emergency contact.
Step 3. After repeatedly calling the number, press the Home button. This will take you to your phone's home screen, meaning the process is successful.
Since you don't know the correct password, you're only left to try the wrong ones. If the steps above don't work, try to use the following steps to unlock your iPhone using this method:
Step 1. Restart your iPhone, enter an incorrect passcode, and press Cancel.
Step 2. Your device will not recognize the password you just entered. Therefore, you can cancel it and tap the Emergency call button.
Step 3. Press and hold the Power button until the slide for turning the device off appears.
Step 4. When the turn-off screen appears, cancel it and dial the wrong number. After this, you'll notice a blue taskbar on the iPhone's screen. When that happens, dial the wrong number and cancel it immediately.
Step 5. Next, quickly turn the screen on and off.
Step 6. Press and hold the Power button, then press the Emergency call icon as fast as possible before the turn-off slider appears.
There you have it. You have unlocked your iPhone without a password. However, the hack will only give you access to the dialer, contacts, and photos. If you attempt to unlock other features, the phone returns to screen lock.
See more:
How to Bypass Apple ID on iPhone/iPad in 5 Ways? [Updated and Proven]
How to Remove Forgot iPhone Passcode without Restore? (3 Simple Ways)
Part 2. How to Unlock iPhone with Alternative Ways [High Successful Rate]
If the methods above did not work on your phone, below are other reliable ways of unlocking your iPhone's screen:
Way 1. How to Unlock an iPhone Using a Professional Tool [Recommened]
The most reliable way of unlocking your iPhone is using a professional iOS device's unlocking tool. There are many such tools in the market, each with unique features, pros, cons, and prices. As a result, selecting the right tool can be daunting. However, this iOS Unlock application is the best tool for bypassing iOS devices' screen locks.
With the iOS Unlock application, you can effortlessly remove your iPhone's 6-digit/4-digit passcode, Touch ID, Face ID, Fingerprints, Patterns, MDM, SIM lock, and more. It is a go-to option for anyone who wants to remove their device's screen locks. The application has been used by millions of satisfied users across the world due to its potent features, such as:
Bypass iOS device's screen locks.
Remove Apple ID and iCloud activation locks without requiring a password.
Remove screen time and MDM without losing data.
Work natively with almost all iOS devices, including the latest ones.
Below is how to unlock an iPhone using the iOS Unlock application:
01Begin by downloading, installing, and launching the application on your PC. Link your iPhone to the computer using a working USB cord and tap on the Trust button under the Trust This Computer pop-up message.
02Tap on the Unlock > Unlock iOS Screen and then the Start button of the next screen to continue.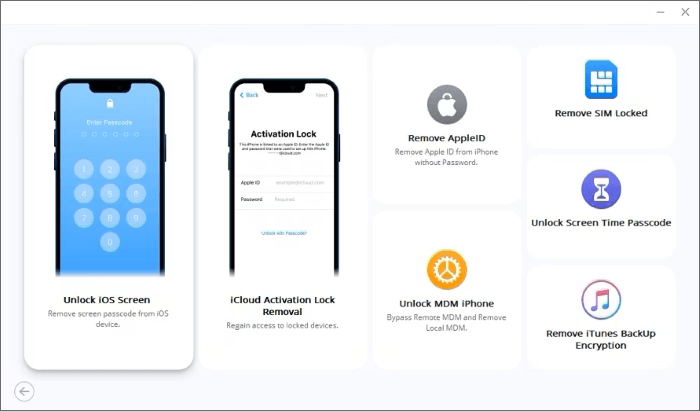 03After that, choose the type of your iPhone and put your iPhone into DFU mode by following the steps on the computer screen.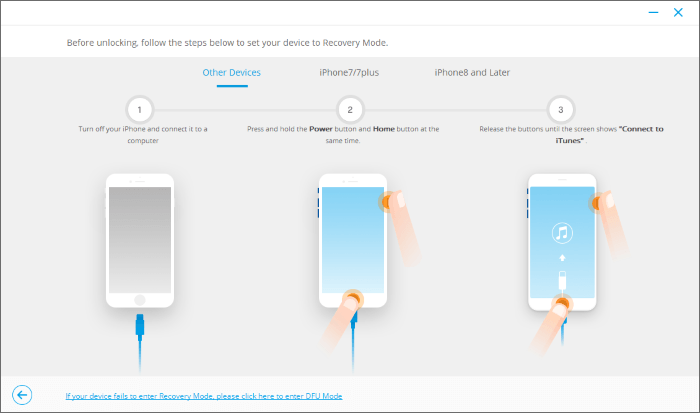 04When you've successfully put your iPhone into DFU Mode, the tool will detect the Device Model automatically. Select the right System Version. Once done, click Start to proceed.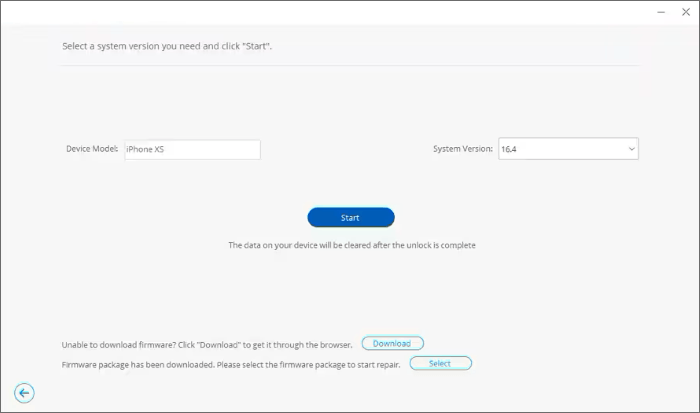 05You will see the progress of the iOS firmware downloaded on the progress bar. After downloading it successfully, select the Unlock Now button to start the unlocking process.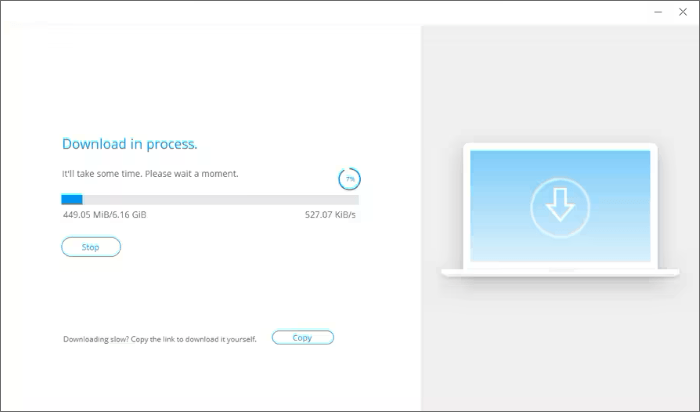 06Confirm the unlocking action by keying 000000 on the application's interface and clicking the Unlock button. Wait for the process to complete and click on the Done button.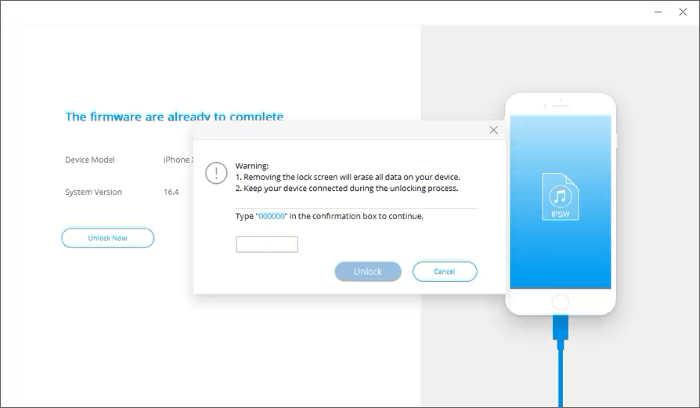 Way 2. How to Use Apple ID and Password to Erase the iPhone
If you cannot use an emergency code to unlock the iPhone, try using the Apple ID and password to erase the phone. The method is available for devices updated to iOS 15.2 or later. The trick lets you erase and reset all your iPhone's data and settings:
Step 1. Turn on your iPhone and try to enter your password repeatedly until an Erase iPhone option appears at the bottom of the screen.
Step 2. Select the Erase iPhone option and tap it again to confirm the action.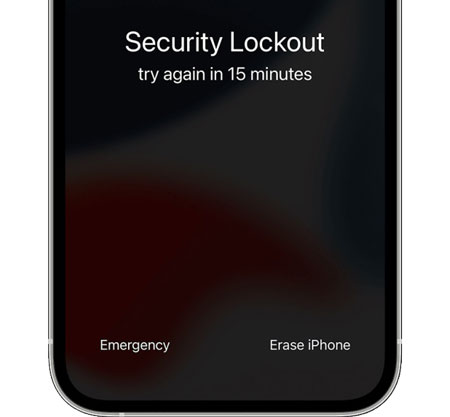 Step 3. Enter your Apple ID and password to sign out of your Apple ID on the iPhone.
Step 4. Next, click on Erase iPhone. The action will delete all the settings and data on your device, including the passcode.
Step 5. Restart your Apple device and follow the on-screen prompts to help you set up the iPhone again using a new password.
Way 3. How to Unlock the iPhone Using the Find My iPhone Feature of iCloud
iCloud comes in handy in helping you back up data on your iPhone. It can also help you unlock the device if you cannot remember your password. Use the Find My iPhone feature to erase your iPhone data using iCloud and set it up again.
Below is how to unlock an iPhone using iCloud:
Step 1. Use another device to visit the official iCloud website. Input your Apple ID and password. This will help you log in to iCloud.
Step 2. When logged in, select Find My iPhone and click All Devices.
Step 3. Select your iPhone and the Erase iPhone option. Follow the on-screen prompts to help you erase the data on your device, such as the old password.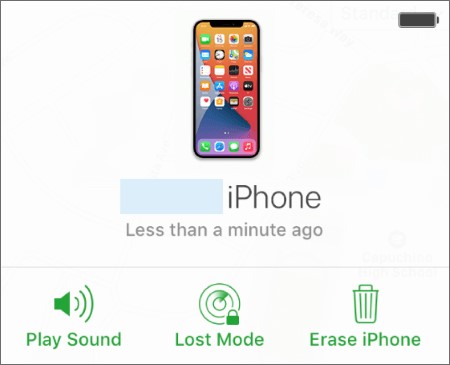 Step 4. Once you finish the process, set up the phone again, and input a new passcode.
Way 4. How to Unlock an iPhone Using the Restore iPhone Feature of iTunes
Use the following steps to unlock your iPhone using iTunes:
Step 1. Connect your Apple device to a Mac or PC and put it in recovery mode.
Step 2. Next, launch iTunes and find your iPhone on the left side of the iTunes interface.
Step 3. If you've not backed up your device, click the Back Up Now to back it up first using iTunes.
Step 4. Select the Restore iPhone option and hit the Restore button.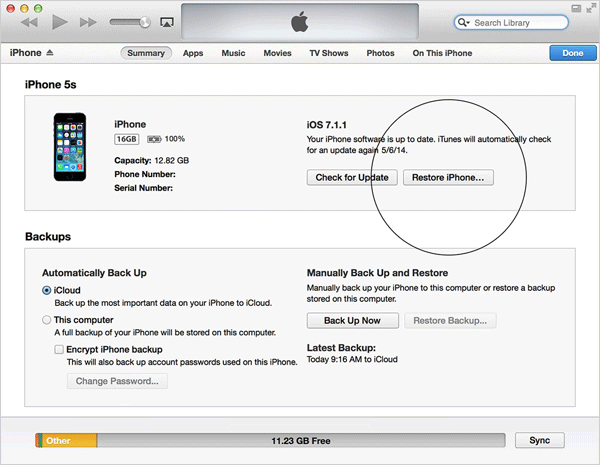 Step 5. Wait for the restore process to complete. Then, you can set up your iPhone again and input a new passcode.
Way 5. How to Bypass iPhone Password with Siri
Another trick you can try if you've forgotten your phone's password is using Siri. The hack is available for iPhones running on iOS 10 and above. To use this method, you must enable the Siri application and connect your iPhone to a reliable internet connection.
Step 1. Hold the iPhone's Home button for some time till Siri activates. Then ask Siri what's the time. You'll see a clock displayed on the screen.
Step 2. Click on it and press the + sign in its upper-right corner to access the clock.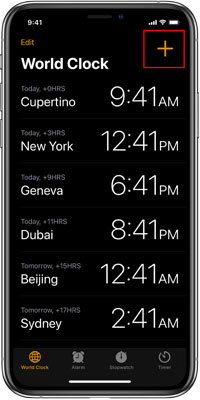 Step 3. Type the desired city in the search box and watch as it is highlighted for you to easily identify. After your selection appears from the new options presented, simply click on Share.
Step 4. Pick the Message option, enter a name or contact in the To field, then press the Enter key. The words you enter will show in green. Hit the + symbol to its right and select Create a New Contact.
Step 5. Now choose an additional photo when you head to the gallery and hit the Home key. This will bypass iPhone's password protection.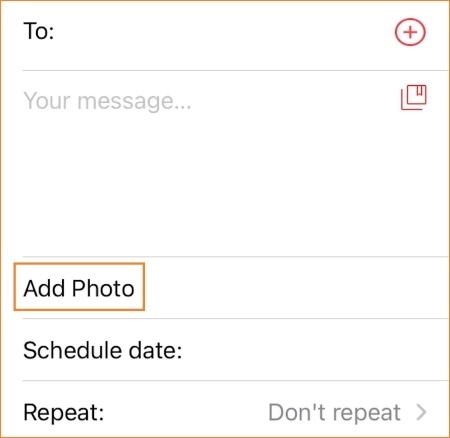 More relevant articles:
How to Bypass iCloud DNS Locks Easily? [2 Methods Offered]
How to Bypass Remote Management on iPhone/iPad? [Ultimate Guide]
Conclusion
Forgetting your iPhone's password can be frustrating. However, you can use the methods discussed above to unlock an iPhone. We recommend you use a professional tool such as iOS Unlock to simplify the process. iOS Unlock is a powerful application that removes all iOS device's locks quickly.
Related Articles:
4 Methods to Remove Apple ID from iPad without password (Easy & Quick)
Top 5 iCloud Bypass Tools to Easily Bypass iCloud Activation
How to Unlock Samsung Phone Pattern in 10 Simple Ways?
Best Samsung Unlock Tools to Unlock Your Samsung Phone in 2023
[Fixed] How to Unlock Locked Android Phone without Losing Data