Apple has earned a good reputation for its dependable data protection techniques. If you set up a Face ID, Touch ID, or password, other people can't gain access to your locked device without the password. That would be a great way of protecting your iPhone from getting hacked. However, this also means that you cannot unlock your iPhone if you forget your password.
Unexpectedly, the "Forgot password" issues occur more often. Perhaps, that is why you want to learn how to unlock iPhone without passcode or Face ID now. If you intend to access your locked iOS device without your password, read on to learn practicable methods to unlock iPhone without password.
Part 1. Can You Unlock An iPhone Without the Password?
Yes, it is possible. You can achieve that by erasing or resetting your device to wipe out all settings and content, which will remove the passcode and Face ID. This is the ideal way many know to regain access to their iPhone/iPad.
Note that you can't unlock your iPhone without a password or Face ID and still have your data in tact. You will lose it during the process. So, it is ideal for you to back up your data beforehand. Next, you will learn ways to unlock iPhone without passcode.
Part 2. How to Get Into iPhone Without Passcode or Face ID?
We will introduce five effective ways on how to unlock iPhone without passcode or Face ID in this part. Once you master them, you can easily open iPhone without passcode. Let's explore together.
Way 1. How to Unlock iPhone Without Face ID or Passcode in 1 Click
iOS Unlock is a great software to help you unlock your iOS device without a password. iOS Unlock is an easy-to-use app that can bypass your iPhone lock screen with only a few easy steps. It can assist you in resetting your device to its original settings, enabling you to set it up again. Thus, you shouldn't worry anymore as you have a robust tool to unlock any iOS device.
Key Features:
Unlock all lock screens on an iPhone/iPad/iPod touch.
Unlock Apple ID, Face ID, Touch ID without a password.
Bypass MDM profile and lock without data loss.
Here is how to unlock iPhone 14/13/12 without passcode or Face ID:
01Install and open the iOS Unlock on a computer. Next, select Screen Unlock from the options on the home page. Connect iPhone to PC with a USB cord. Select the Unlock iOS Screen option from your screen.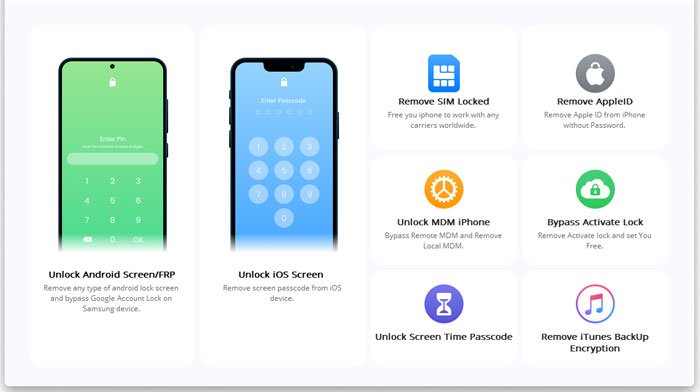 02Next, boot the iPhone to Recovery Mode which allows you to unlock your iPhone lock screen.
03Once you enter the DFU mode, iOS Unlock will show your iPhone's info, including the Version and Model of the device. If this info is not correct, select the correct information from the available menu. Next, select the Download option, which will download the firmware on your device.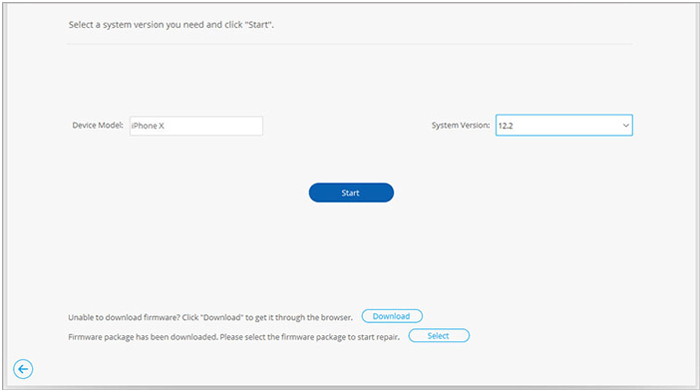 04After downloading the firmware, select the Unlock Now to unlock the device.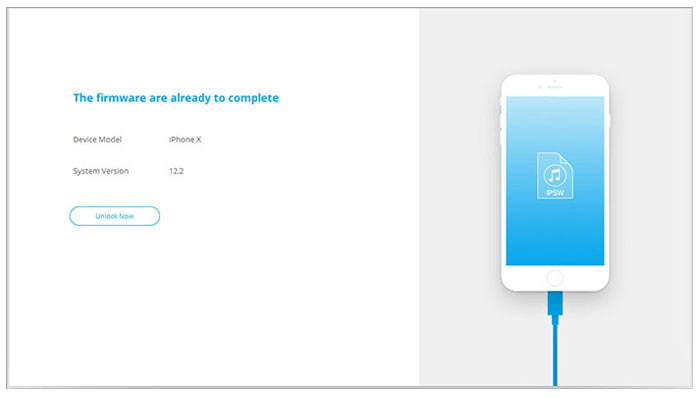 Your iOS device will soon be unlocked, but please note that this operation will wipe out all your data.
Further Reading:
How to Unlock iPhone with Broken Screen
How to Unlock iPad without Passcode?
Way 2. How to Bypass Face ID and Passcode Using Erase Button
With changes in iPhone/iPad software, Apple introduced new ways to handle your locked iOS device. This technique will only work if your device runs on iOS version 15.2 and above and has an Apple ID. Here's how to unlock iPhone without code:
Step 1. Enter the incorrect password multiple times, and after 10 wrong passcode attempts, an option Erase iPhone will appear. Click on it.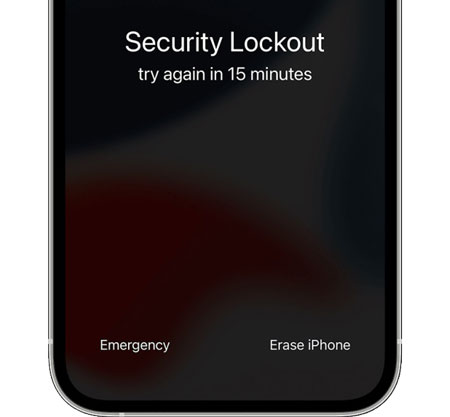 Step 2. The iPhone will allow you to input the password for the Apple ID to proceed to erase it.
Step 3. Once you have entered the passcode and erased the device, it will reset, allowing you to use it after making changes to your Settings.
Note that this operation will delete all your settings and data from the device. Ensure you have backed up your device before you start. If you don't know how to do it, click here to learn about how to back up and restore your iPhone?
Way 3. How to Unlock An iPhone Without the Password via iCloud
How to unlock a child's iPhone without passcode? iCloud is an excellent choice to do that. You can wipe all data and unlock your device directly from iCloud. Here's how to enter iPhone without password via iCloud:
Step 1. First, open the iCloud official website in a browser. Input your Apple ID and the password to sign in.
Step 2. Select Find iPhone on iCloud menu.
Step 3. Tap on All Devices, then look for the locked device.
Step 4. Select the Erase iPhone tab to wipe the iPhone. Confirm the process by entering the passcode of your Apple ID.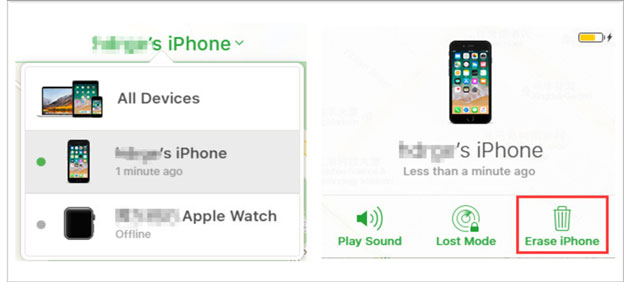 You May Like:
How to Bypass iPhone Passcode Without Losing Data [Full Guide]
Unlock iPhone Online: Four Simple and Fast Solutions
Way 4. How to Break Into iPhone Without Passcode with iTunes
Besides using "Find My iPhone", you can remove your iPhone password by putting it in its Recovery Mode through iTunes. This is the official way of removing your iPhone lock screen when you forget or lose your password. Here's how to unlock iPhone without passcode or Face ID with iTunes:
Step 1. Plug your iOS device into a computer through your USB cable.
Step 2. Install and open the iTunes app on the computer. You should have already installed the newer version of iTunes.
Step 3. Select Restore from the window that pops up, and you'll receive a notification warning that your device content will be wiped away. This is the price for regaining access to your device without your Face ID or password.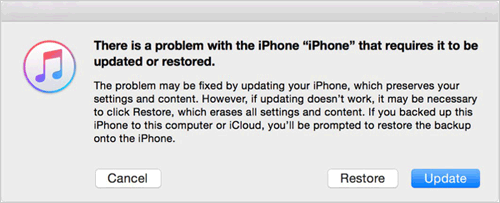 Step 4. Follow the on-screen guidelines to reset your device to its original factory settings. Once you are done, your iPhone will now be unlocked.
However, this operation will remove all your data from the iPhone. If the device has hardware issues, using iTunes might cause it to become stuck in the Recovery Mode.
Also Read:
4 Best Methods to Factory Reset iPhone without Password/Passcode
How to Access a Locked Android Phone via USB? [Solved]
Way 5. How to Unlock iPhone Without Passcode or Face ID via Find My
If you've another device like an iPad or iPhone, you can use the Find My application to reset iPhone without a password and your computer. Here's how to unlock iPhone without passcode or Face ID via Find My:
Step 1. To begin, open the Find My application on another iOS device. Sign in with your Apple account ID and passcode. Simply enter your login info and tap on sign in.
Sep 2. You'll see all the devices linked to this account on a map. Next, select your locked iPhone by tapping on it.
Step 3. Now, from the menu, select the Remove This Device option, then hit Continue. Click on Erase.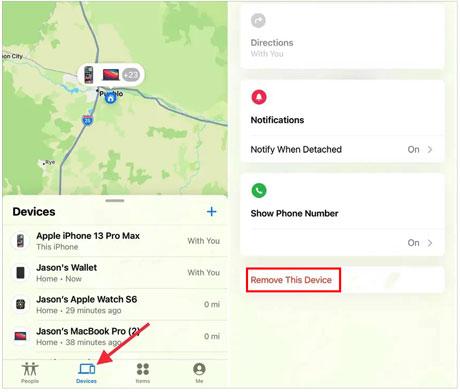 Step 4. Once you have wiped out your device, you must do a setup afresh, then select Restore from iCloud Backup. To restore your backup, input your iCloud login credentials.
Learn More:
How to Bypass LG Lock Screen without Reset? [Solved]
5 Ways to Unlock Android Phone if You Forgot the Password
Part 3. FAQs on New iPhone Unlock
Q1. Will I lose data if I unlock my iPhone without a Face ID?
Almost certainly, you are going to lose all your data, but it will depend on the technique you use. Thus, it is recommended to create a backup for your files before you begin the unlock process.
Q2. Can you unlock Face ID with a picture?
Wondering how to unlock iPhone without passcode using camera? You cannot bypass the Face ID with a picture since the security feature uses depth info to match, which is not found in 2D or printed digital photos.
Bonus: Major Reasons Why iPhone May Fail to Unlock
Unlocking your iOS device can be frustrating, particularly when you only want to regain access. There are various reasons why your iPhone may fail to unlock. Before seeking the services of a qualified technician, read on to learn the major causes of your iPhone's failure to unlock.
1. Enter a wrong password many times
If you enter a wrong password many times, the iOS device will be locked and disabled. To unlock it, you will have to input the right password. If you do not recall the password, you can reset the device through the recovery mode.
2. Password stolen by others
When somebody else happens to have your iPhone password, they can effortlessly reset your device. And you may not know why you can't access your device, which is a common problem.
3. With a broken screen
If the device screen is cracked, it might be impossible or difficult to unlock it. If, you should visit an approved service provider or the nearest Apple store to have your screen fixed.
Conclusion
Is it possible to unlock iPhone without password? As you can see, it is possible through various techniques. However, the best way is to use iOS Unlock since it has proved to be the easiest and fastest of all techniques.
Related Articles:
How to Unlock iPhone without Passcode (Updated in 2023)
How to Unlock iPhone Passcode without Computer (Fixed)
How to Bypass iPhone Passcode Step by Step? (5 Amazing Ways)
Top 8 iPhone Password Unlocker Software: Detailed Reviews
How to Unlock a Stolen iPhone without Passcode in 3 Ways?
How to Erase iPhone without Passcode in 7 Simple Ways? (Step-by-step)