The use of a password is the most reliable and best way to protect your iPhone. Not only this, but it's also an excellent security measure against prying eyes. But, what happens if you forget the password, the screen isn't working, or the iPhone is disabled? You'll surely be unable to access the phone anymore. But don't worry. Although you can't access the iPhone, there is still a way to reset it and make it work again. So, don't fret; just follow this guide closely to learn how to reset iPhone without password.
Part 1. When Do You Need to Reset An iPhone?
Before we begin, it's good you know what a factory reset is. Factory resetting deletes all your information on your iPhone, like contacts, settings, and emails. Even though you may recover the data from iCloud backup, you can't access your iPhone's data if you haven't enabled it. So, it's highly recommended that you back up your iPhone data before proceeding.
Now that you already know what a factory reset is. Here are some situations that can drive you to reset your iPhone;
* You entered the password many times, and now your iPhone is disabled.
* You want to sell your iPhone but don't want your data to be compromised.
* The iPhone is stuck on the Apple logo.
* You purchased a Phone, but it's locked with a passcode set by the previous owner
* iPhone keeps shutting down and restarting
You may like:
How to Free Up WhatsApp Storage on iPhone 14/13/12/Xs/X/8/7?
iPhone Won't Update? Here's How to Fix!
Part 2. How to Factory Reset iPhone without Password Simply
Now let's head to the main part. There are various methods available to restore iPhone without passcode, and we're going to share with you the top methods which will bring your device back to life.
Method 1. Reset iPhone to factory settings without password via Recovery Mode
iTunes not only downloads and plays files from the media but also has the Restore feature to reset an iPhone and erase all settings and data. But before using this function, you must first put your device into Recovery mode. The Recovery mode is a basic troubleshooting function for iPhones, allowing users to use Finder or iTunes through the computer to fix iPhone problems. With your iPhone in Recovery mode, you may use the Restore feature on iTunes to factory reset an iPhone without the password.
Step 1. Power off your device first by doing this;
- Long press the Side and Volume Down buttons till you see the power off slider (iPhone 8/8 Plus/X and later)
- Long press the Side button till you see the power off slider (iPhone 7/7 Plus/6s/6)
- Press and hold the Top button and release it when you see the power off slider.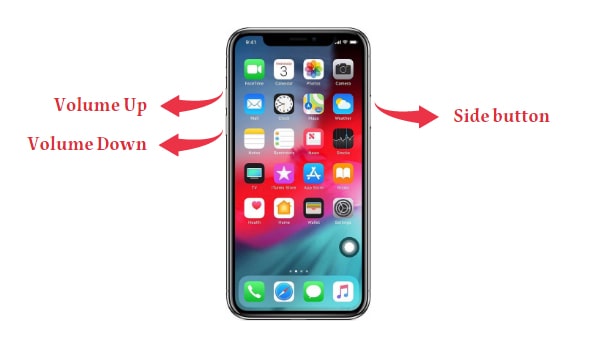 Step 2. Put the iPhone into Recovery Mode by;
Long press the side button for iPhone 8 and later, long press the Volume down button for iPhone 7 and later, and for Generation 1 iPhones, long press the Home button. Keep holding the right buttons and release when you see the Recovery Mode screen.
Step 3. Restore the device
1. Launch iTunes on your computer, and a pop-up notification will appear notifying your device has an issue that needs to be restored or updated. Tap the "Restore" button.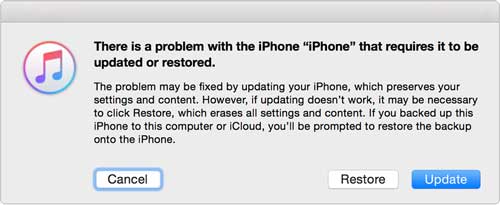 2. Once done, hit "Restore & Update."
3. A window showing "iPhone Software Update" will appear. Tap "Next," then Agree to terms.
4. After downloading the software, tap the "Restore" button to install the latest version of iOS on the device.
5. Then iTunes will extract the software and prepare to restore the phone.
6. The device will automatically restart after the process is completed.
Method 2. Restore iPhone to factory settings without password Using Find My iPhone
Find My iPhone is an in-built service that enables users to remotely access their devices. Still, this feature comes in handy in case your iPhone is stolen or lost. But this is also the most convenient way for you to reset your iPhone to erase the password. You'll be required to log into your iCloud account to perform this activity. But, you should have your iCloud account credentials and the Find My iPhone feature enabled on your iPhone.
Do this to hard reset iPhone without password via the Find My iPhone feature;
1. Use your preferred browser, go to iCloud.com, and sign in with the correct Apple ID and Password.
2. After signing in, click the "Find My iPhone" button and sign in again.
3. Click the tab showing "All Devices" and choose the device to reset.
4. Tap "Erase iPhone," then confirm by clicking "Erase" from the pop-up window. Again you have to enter your ID and password.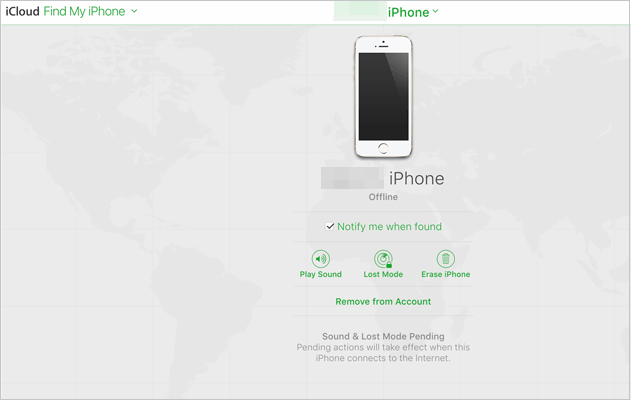 5. You'll get a verification code which you should enter on iCloud. Enter the phone number to the iCloud account and hit "Next" to proceed.
6. The process of resetting your device will start immediately. Click the "OK" button, and the erasing progress will be shown.
7. After the resetting process is done, your iPhone will restart. Just swipe up to get to set up the screen.
See more:
How to Manage and Free Up Storage Space on iOS 11?
Failed to Export or Delete iPhone Photos with iCloud Photo Library Enabled? [Solved]
Method 3. Reset an iPhone Without a Password With Erase iPhone Feature
If your iPhone is of version iOS 15.2 and above, you'll see the Security Lockout or iPhone Unavailable notification instead of iPhone Disabled after entering the wrong password.
Also, this feature will be available if your device is in the Recovery mode or you have downloaded the iOS update to version 15.2 or higher. To use this feature, follow these steps to wipe an iPhone without passcode;
1. You'll see an interface with "Security Lockout try again in 15 minutes" on the screen after entering the wrong password 7 times continually.
2. Click the "Erase iPhone" button on the iPhone's screen at the bottom right section.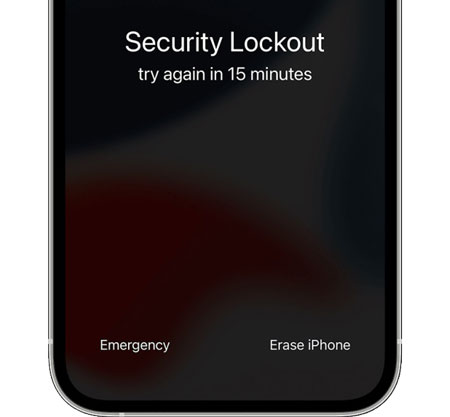 3. Click "Erase iPhone" again and log out of your account with the password.
4. The resetting procedure will start with Apple logo on the screen. The device will then restart automatically.
Part 3. How to Factory Reset iPhone without Passcode Using iOS Unlock
Have you forgotten your iPhone password or locked your device accidentally? This can't be a big problem for you if you have the iOS Unlock. This software will assist you in unlocking your phone and bypassing the password. The software is specially designed to help those who locked their iPhones accidentally and can't seem to remember the password. iOS Unlock will be able to unlock your iPhone without any hassle. You will get access to your iPhone in no time as it unlocks the device swiftly.
Highlights of the iOS Unlock:
* Removes all types of screen locks like face ID, passcodes, Touch ID, etc..
* Bypasses iCloud activation lock as well as Apple ID.
* No skills needed to carry out the process.
* Compatible with different versions of iPhone, iPad and iPod touch.
Here is how to use the iOS Unlock to reset iPhone without password;
01 Launch the program on your computer and choose "Screen Unlock" from the available tools.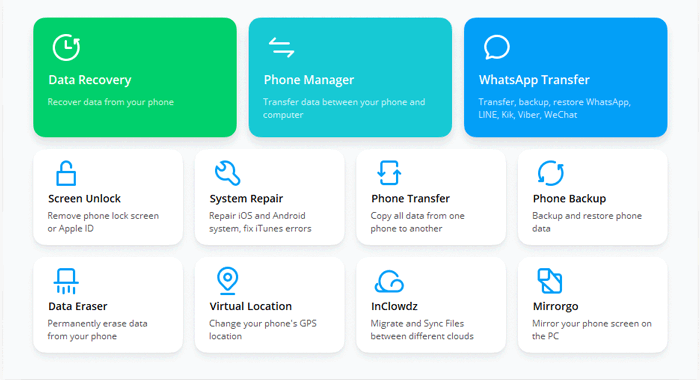 02 Connect the iOS device to your computer using a working USB cable. Once done, tap "Unlock iOS Screen" from the tool.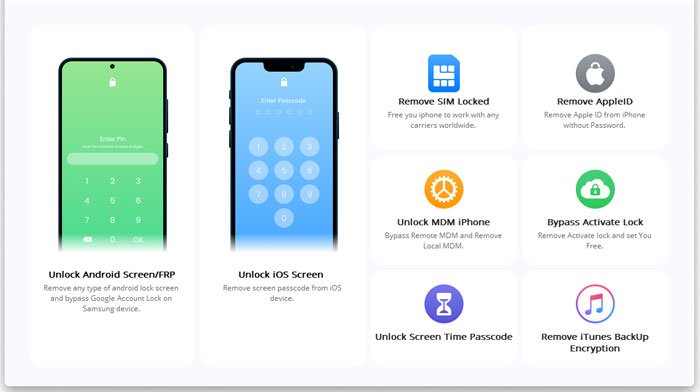 03 You have to boot the device into DFU or Recovery mode first. You should use the Recovery mode to remove the iOS lock screen.
04 The program will show the information of your iPhone after you've booted it in Recovery mode. Choose the correct information about your devices, like the system version and model. Tap on "Download" to proceed to download the firmware.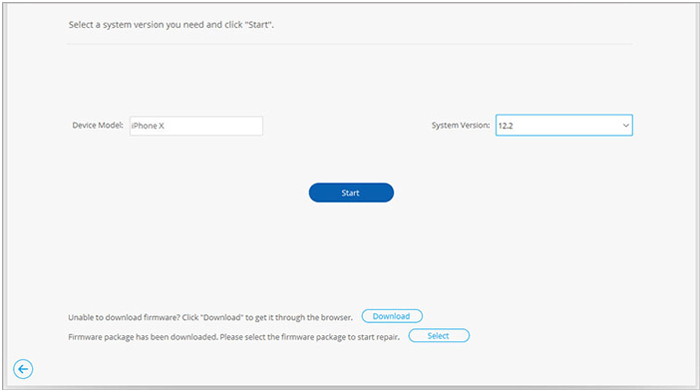 05 Tap "Unlock Now" to begin unlocking the device. Wait for some time, and your device will be unlocked and reset.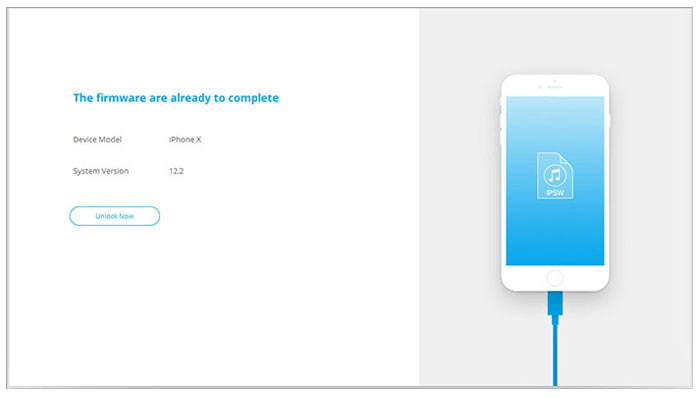 Part 4. FAQs on Factory Resetting Your iPhone Without Password
Q1. Do I only have the reset option when I forget my iPhone password?
Once you forget your iPhone's password, you only have to reset it to delete all files, which will erase the passcode too. Then you can set settings and recover data again.
Q2. Why you should Factory reset your iPhone when you forgot the Password?
Apple has set security protocols on iPhone devices to hinder hackers from accessing the device's data without the owner's permission. That's why when you forget the password and try entering the wrong one continuously; your phone gets disabled. To do away with the set password, you have to hard reset it.
Conclusion
We often forget passwords on our phones, but that doesn't mean it's the end of the world. There are great ways to handle the situation and get our iPhones working again. All methods listed above are capable of resetting and erasing iPhone without password. iOS Unlock is the best tool to unlock an iOS device as it's faster and easier than other methods.
Related Articles:
iPhone "Save Image" Not Working, How to Fix?
How to Clear WhatsApp Documents and Data on iPhone?
iPhone Internal Storage DCIM Folder Is Empty on Windows 10/11? Fix It Here
3 Methods to Manage WeChat Storage on iPhone [Fixed]
Not Enough iCloud Storage? Fix This Issue with This Full Guide