TikTok is the rave today if you need a social media application that provides informative and entertaining short-form videos. It is the most used social media platform and has been downloaded by billions of people.
Importing TikTok videos is easy. But, if you want to share perfect videos, you must crop and edit them first. Normally, TikTok videos should have an aspect ratio size of 9:16. If your video does not fit the standard ratio, you must crop it. You may wonder how to crop a video on TikTok. Read this guide to learn everything about cropping videos on TikTok and if it's achievable.
Part 1. FAQs on How to Crop a TikTok Video
Q1. Can you crop a video on TikTok?
Unluckily, TikTok does not provide any cropping feature. But, you can utilize the third-party apps or in-built cropping feature on your mobile phones to crop videos for TikTok.
Q2. Why crop video for TikTok?
An aspect ratio of 9:16 works best for TikTok videos since it will show a full screen on the phone. But, if your videos are in landscape mode with an aspect ratio of 16:9, they will leave a disturbing black bar at the top and bottom of the screen. Besides, if you want to share a TikTok video on other platforms, it is ideal that you edit them to an aspect ratio of 16:9 which is best suited for TikTok.
Part 2. How Do You Crop a Video on TikTok?
Generally, the acceptable aspect ratio of a TikTok video is 9:16. But if your video is in landscape mode, you must crop it to remove the black bars on the sides. Here are methods on how to crop TikTok videos:
Method 1. How to Crop Video on TikTok by Video Converter Ultimate
If you want to crop TikTok videos without a hassle, Video Converter Ultimate is the best tool to use. It is an awesome desktop application that does a lot more than just cropping videos. Video Converter Ultimate is empowered with advanced features for compressing, editing, and converting video files.
So, if you wish to remove unwanted edges from a video, just use its crop feature to get rid of them. It is an all-in-one solution that can help you crop TikTok videos effectively. This application has no lagging, no quality loss, and you are not limited to the number of videos to crop.
Top highlights of Video Converter Ultimate:
Here is how to crop TikTok videos with Video Converter Ultimate:
01Install the software on the PC and register for an account.
02Drag and drop your videos into the app interface or use the "Add Files" button.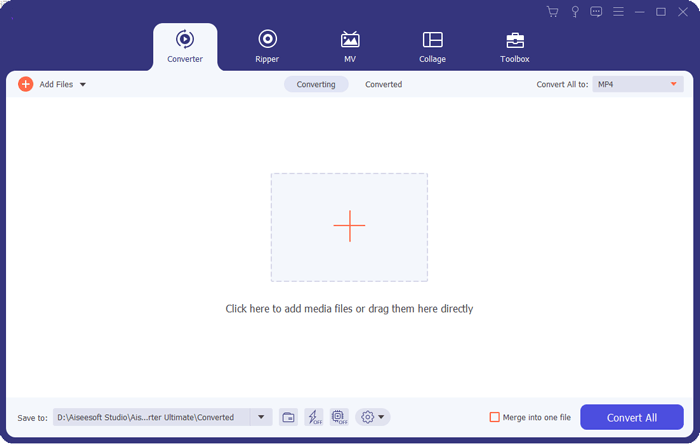 03Tap on the "Edit" icon and look for the "Rotate and Crop" feature in the window that pops up. Flip your video vertically, then horizontally, rotate to 90, 180, or 270 degrees, and check the results.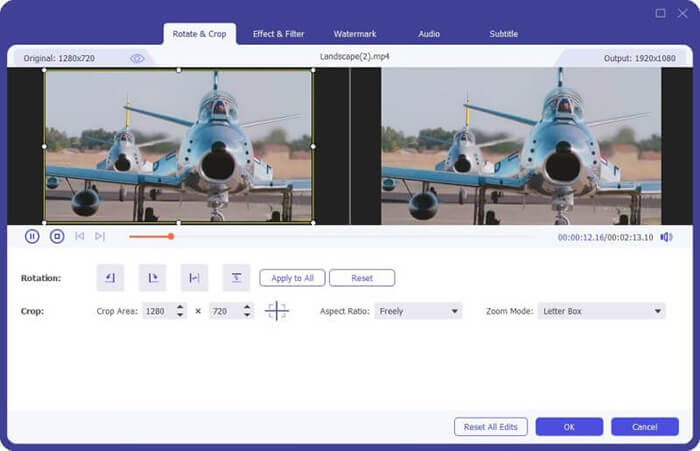 04Find the "Crop" option below the "Rotate" option. You'll find various aspect ratios such as "1:1", "16:9", "4:3", and "9:16". Choose "9:16", which is TikTok's recommended video ratio. After that, hit "OK" to save your changes.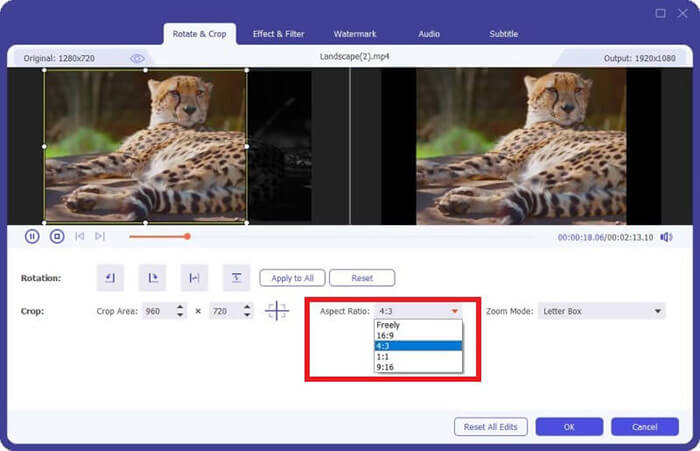 Read More:
[2023] How to Recover Deleted TikTok Videos on iPhone/Android/PC?
How to Change TikTok Region Safely and Quickly? [New Guide]
Method 2. How to Crop TikTok Video via InShot Application
This application is one of the most commonly used video editors for iPhone and Android phones. Since it is designed to make videos for most social media sites like TikTok and YouTube, you can crop TikTok videos with it.
Its intuitive interface and rich video editing features make it a great and easier tool to edit your TikTok videos. However, the application is full of ads which may cause a crash or freeze as video processing is underway. Steps on how to crop video on TikTok via InShot on a mobile phone:
Step 1. Download and install the InShot application. Launch the application and upload the video to crop. Click on "Select" to choose editing tools. Hit the "Canvas" option to get to settings and aspect ratio.
Step 2. Choose a ratio of 9:16, best suited for TikTok videos. Your video will now be cropped with the best aspect ratio.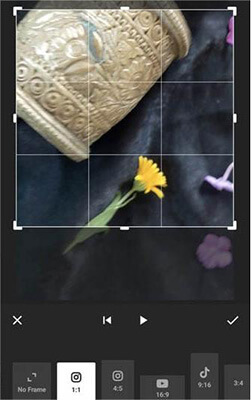 Step 3. Hit on the "Export" button to export the video.
Can't Miss:
The Ultimate Guide: How to Remove TikTok Watermark in Easy Steps
How to Convert 4K Video to 1080P Without Losing Quality
Method 3. How to Crop TikTok Videos Through FlexClip
FlexClip is a reliable online-based video editor to help when you want to crop videos. Its flexibility in video editing allows users to crop videos for TikTok easily. You don't have to install the tool before using it. Everything is entirely online; just open a browser and head to the FlexClip website. Here are steps to do TikTok crop size with FlexClip:
Step 1. On your browser, head on to the FlexClip website and click on "Create a Video", and hit "Browse" on the import media window to upload your TikTok video. Drag the videos to the storyboard.
Step 2. Go to the "More" panel and choose the best aspect ratio for TikTok, which is 9:16.
Step 3. Once editing is completed, hit the "Export" button located in the upper right corner to download it to your device.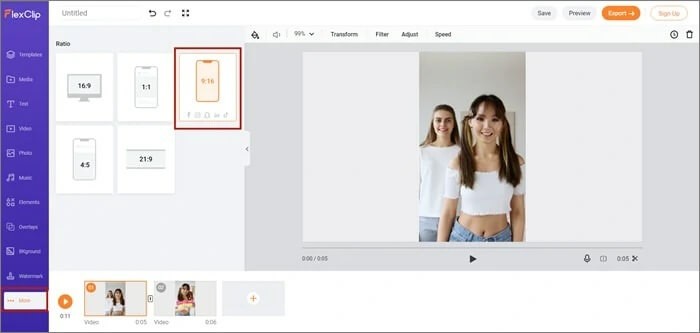 Method 4. How to Crop Videos on TikTok Using Clideo Tool
This tool can be used to edit your videos online, and it supports all video formats. All it takes is uploading the video to the site on a browser, and the tool does the cropping task. Also, it supports exporting the modified video to the smartphone. You can easily change the size of your videos with this tool, including the size needed by the TikTok app. Here are steps to crop a TikTok video:
Step 1. Add your videos to the Clideo tool. You can add files by dragging and dropping them to the computer, using the "Choose file" icon to choose the videos, or using the "download" button to choose them from Google Drive, Google Photos, or Dropbox.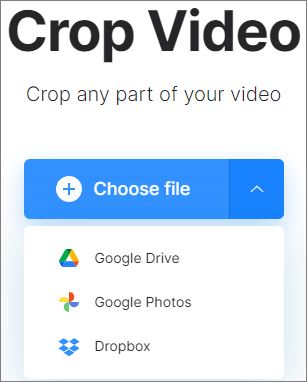 Step 2. Once done adding files, you should choose the "Crop" option. Select the "9:16" ratio from the provided options. The output should be in MP4 format.
Step 3. After that, hit the "Create" button, then wait for the video to be cropped.
See Also:
Practical Video Lighting Editor List: Make Video Brighter in Easy Steps
How to Convert AVI File to MP4? Solved in 5 Effective Ways
Method 5. How to Crop TikTok Videos with Kaping Video Editor
Kapwing is a reliable video editing tool trusted by many. It will make video editing and content creation smart. You can crop videos on TikTok and other platforms. It features many cropping and resting options. Additionally, you may seamlessly use this tool on your own without any difficulty.
Here are steps to crop TikTok videos:
Step 1. Tap the "Upload" option and choose the files to add to the tool.
Step 2. Click "Output Size" and resize the video how you want. Choose a file size from the common size that matches TikTok (9:16).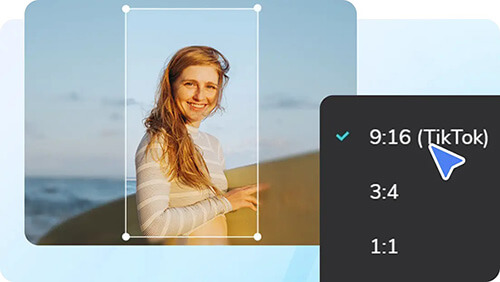 Step 3. After the video is set to the correct dimension, tap "Eport", the content will be created in just a few clicks. You may now watch or download your video and share it on social media.
May Like:
Kapwing Video Editor: A Complete Review and Powerful Alternative
How to Convert MP4 to MKV Effortlessly? [Apps & Online Tools]
Method 6. How to Crop TikTok Videos via Google Photos on Android
If you are an Android user, you can also use Google Photos to crop TikTok videos. Google Photos can help crop out the 9:16 video ratio, making it a suitable app for this app. Moreover, it is freely available on Android phones. Follow the steps below on how to crop video on TikTok via Google Photos:
Step 1. Launch the Google Photos application. Go to the video to be cropped. Hit the "Edit" button at the bottom of your screen to open the in-app editor. Now choose the "Crop" option.
Step 2. Hit "Edit" to get more editing options. Tap "Crop", choose a suitable aspect ratio for TikTok videos, and save your video. Remember, the video ratio is 9:16.
Step 3. Now you can adjust cropping sliders manually as you resize your video to whatever aspect ratio you prefer. After that, click the "Save copy" button at the lower part of the screen.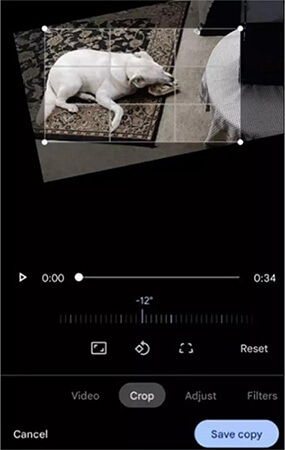 Conclusion
That is it. You now know how to crop videos on TikTok. We have shown you different methods to crop your videos hassle free. But a better solution is the Video Converter Ultimate app. It is incredibly fast and crops TikTok videos without losing quality.
Related Articles:
Top 14 Best AVI Video Editors | Easily Eidt Your AVI Files
How to Send Long Videos on Android? Solved in 11 Amazing Ways
Top 8 Apps to Merge Videos on iOS and Android
How to Transfer Videos from iPhone to Computer? 9 Ways You Can't Miss
Select the Best GoPro Editing Software - 10 Excellent Options
[Vlog Software] 11 Best Vlog Editing Software for Vlog Lovers