An MP4 video file is an MPEG-4 video file which is a multimedia file format containing audio, video, and subtitles. It is a popular video format used by smartphones, PCs, and video-streaming platforms like YouTube. Why should I compress MP4 video files? While an MP4 has a balance between video quality and file size, compressing MP4 files reduces the file size by as much as 90%.Reducing the size of an MP4 file allows for easier shareability on multiple platforms, including email attachments and Discord chats. Learn how to compress MP4 manually or with the help of a reliable online video compressor.

Part 1. FAQs About How to Compress a MP4 Video
Does MP4 provide lossless compression?
MP4 is commonly known as a container format, a format allowing you to package video and audio files into smaller file sizes. Unfortunately, when you compress audio and video files, some formats get rid of some data to reduce its size. This is commonly known as a lossy format.
MP4 is commonly used since it's a universal file format readable by all operating systems. In addition, MP4 yields a smaller file size than alternative formats. It also allows you to attach metadata to your video file.
However, MP4 is a lossy format. As such, every time you save the same video file as an MP4, you may lose some data, and subsequently, some video quality. Therefore, if you want to compress MP4 files without losing quality, you need the best possible approach.
How are MP4 files compressed?
As with any lossy compressed file, size savings are made by deleting some data that a computer views as redundant and that the user may not likely consider important. MP4 file compression cuts down a video size by spitting the images in each video frame into a smaller box of pixels.
It then:
Stores important data for blocks that have changed from one frame to another
Recognizes where a pixel box has changed locations but remains the same
Reduces the level of detail in a pixel box.
Therefore, when compressing MP4 video files, it is crucial to strike a balance between the video quality and the overall file size. The more aggressively you compress the MP4 file to reduce its size, the poorer the video quality. A reliable video compressor can help you avoid losing much of the video quality when compressing your MP4 file.
Also see:
How to Convert 4K Video to 1080P Without Losing Quality
[Vlog Software] 11 Best Vlog Editing Software for Vlog Lovers
Part 2. How to Compress an MP4 File [7 Methods Included]
In the second section, we will cover a range of techniques. Each method will be explained in detail, accompanied by step-by-step instructions, enabling you to follow along with ease. Keep reading.
Way 1. How to Compress MP4 Without Losing Quality Using Video Compressor
Video Compressor is a popular video compressing tool that you can use to compress an MP4 without losing quality.
Features that make the Video Compressor the most popular MP4 compressing tool include:
Compress your MP4 files in a quicker time even if you're not tech-savvy.
Work with multiple video formats and compress them in MP4 formats. It can also compress a wide range of video resolutions (8K, 4K, 480p, etc.)
Compress multiple MP4 files at once using Video Compressor without losing file quality.
Compress large MP4 files one by one or simultaneously.
Allow you to compress MP4 files for free, unless you opt for the premium options with better and more enhanced features.
Easy-to-use user interface, making it beginner friendly.
Here are the detailed steps to compress MP4 video files using Video Compressor.
01Download and install Video Compressor for your Windows or Mac device. Once the app is running, select Video Compressor from the toolbox and add MP4 files you wish to compress to the tool.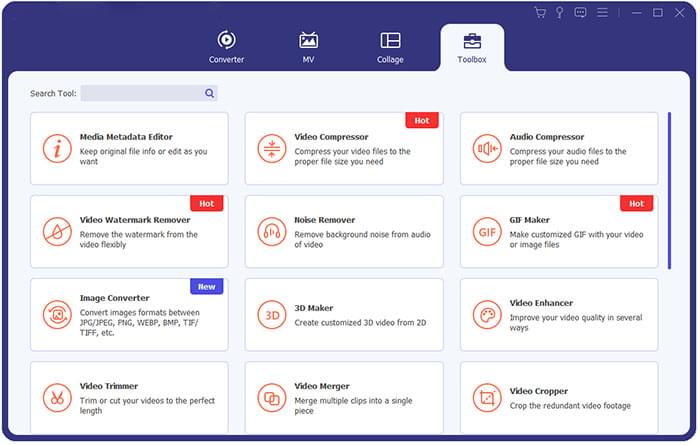 02Set your video output preferences, including its quality settings and the destination folder for the compressed file. Click the Compress button and let the compressor handle the MP4 file compression in less than a few minutes.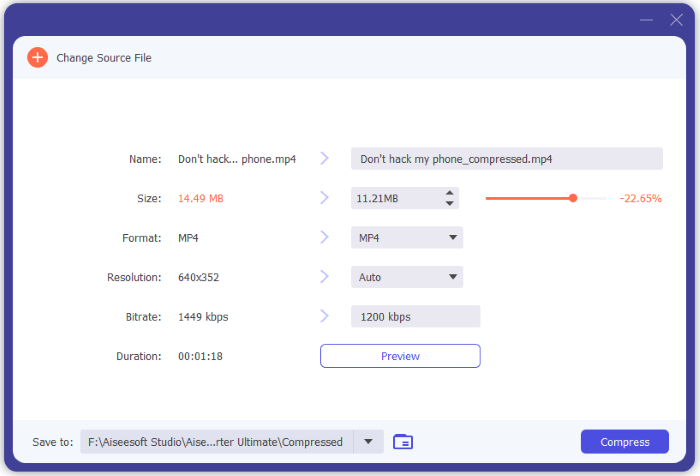 Compared to other video compression methods, using Video Compressor safeguards your data, meaning you don't have to worry about data security or privacy breach.
Way 2. How to Compress MP4 Video Files Online Using Clideo
Clideo is an online free MP4 compressor with additional video editing features. Unfortunately, it caps MP4 compressions to 500MB files, unless you upgrade your account to premium.
Here is how to compress an MP4 using Clideo's MP4 Compressor.
Step 1: Head over to the MP4 video compressor page. Click Choose files to add MP4 files from either your Google Drive, Google Photos, or Dropbox.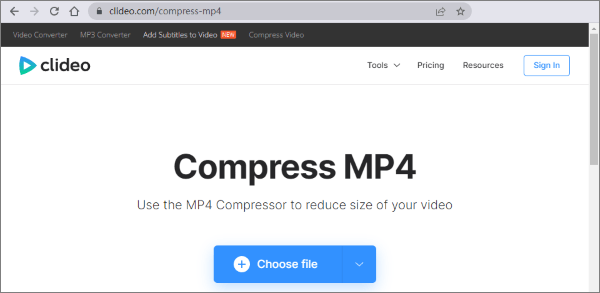 Step 2: Wait for the tool to process your MP4 compression. This may take a while depending on the MP4 file size.
Step 3: Download the compressed MP4. Clideo provides a video preview of the compressed video. You can click the Remove Watermark to get rid of the watermark of the compressed file. However, since you're compressing your MP4 using a free account, you will get the MP4 compression with a watermark. Click Download to save the compressed MP4 to your device or cloud storage.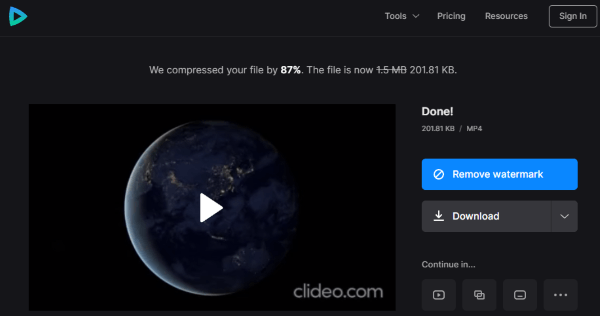 Way 3. How to Compress MP4 Files Online Using You Compress
You Compress is a free online video compressor to help you compress your MP4 without losing quality. Below are steps to compress MP4 files using You Compress for free.
Step 1: Open You Compress web page. Click Select file to add your MP4 files, then click Upload File & Compress to start processing.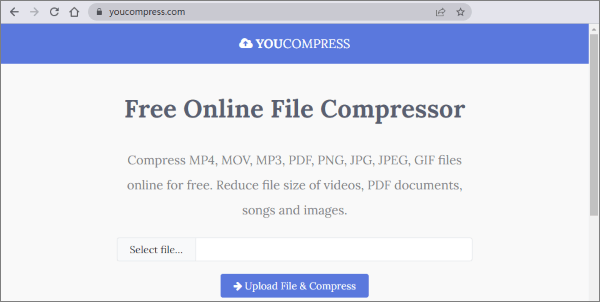 Step 2: Once the compression is complete, you can download the newly compressed MP4 in good quality.
Way 4. How to Compress An MP4 File Using Windows Movie Maker
Windows Movie Maker was born in Windows 7 as a simple and free video editor. Fortunately, it's available on Windows 10 and 8, and can help you convert or compress MP4 files in the app's export settings. Simply skip the video editing process and export the MP4 with a lower bitrate of audio and video.
Note: Windows Movie Maker has been discontinued for several years. As such, it doesn't feature the latest efficient codecs, such as VP9 and HEVC. This means that it can't compress as much MP4 size as other professional video compression tools.
Follow these steps to compress MP4 files using Windows Movie Maker on Windows 7,8, and 10.
Step 1: Download and install the Movie Maker app to your Windows Computer. Run the app and add the MP4 files you wish to compress, then wait for the app to prep the files.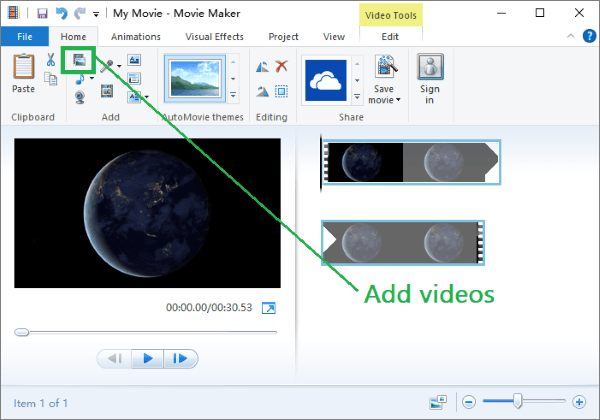 Step 2: Click Edit, then Split, to remove any redundant footage from your video.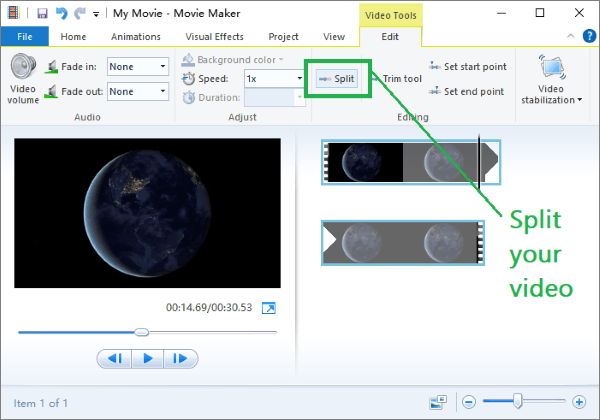 Step 3: Head back to the homepage, then click Save movie, then Create custom settings.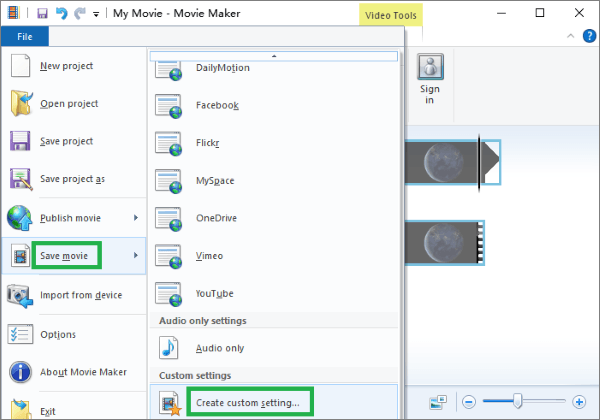 Step 4: Reduce the audio bitrate, video bitrate, and audio sample rate.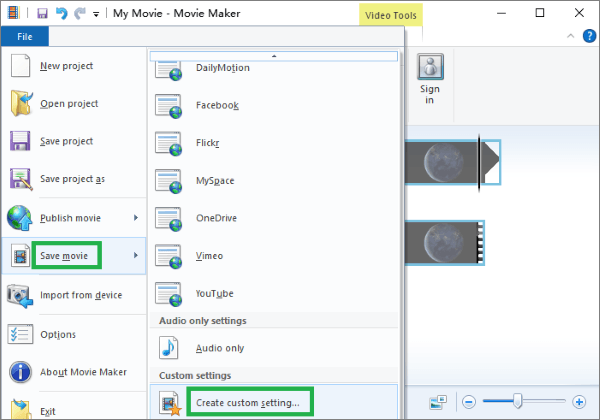 Check at the bottom of the small pop-up window for an estimate of the file reduced. If you're satisfied with the compression results, enter an alias for the custom settings. Click Save movie again then select the settings just created. Finally, export the compressed MP4 file from Movie Maker and use it as intended.
Way 5. How to Compress MP4 Video Files by Choosing the Right Format
Your MP4 file format can greatly impact its size. Some video formats are more efficient, and may lead to smaller MP4 file sizes. The most common video formats are MP4, WMV, AVI, and MKV.
MP4 is the most popular video format since it strikes a proper balance between quality and file size. However, if your video is already in an MP4 format and you still want to compress it, you can try a different video format. If you're unsure of the ideal video format, try exporting the MP4 in multiple varying formats to determine which one gives the best result without losing quality.
Way 6. How to Compress MP4 Video Files by Adjusting the Bitrate
The bitrate is the amount of data encoded into an MP4 per second. High bitrates result in higher-quality videos and larger file sizes. If you want to reduce an MP4 file size, you can try lowering the bitrate. Be careful to avoid losing much of the video quality. To adjust the bitrate, open the MP4 file in a video editor then export it using a lower bitrate setting.
Way 7. How to Compress an MP4 File by Zipping on Windows 10
Zip archives can help you compress and combine your files for easier sharing. You can create file archives (such as a 7Zip or Zip file) for your MP4 file. This is a reliable way to compress an MP4 video on Windows 10.
Follow these steps to compress MP4 video files by zipping:
Step 1: To compress multiple MP4 files, add them all into a single folder on your computer.
Step 2: Open the folder, then select all the videos you want to compress. Right-click on any of the MP4 file, then select Send to, then Compressed (zipped) folder to compress the file.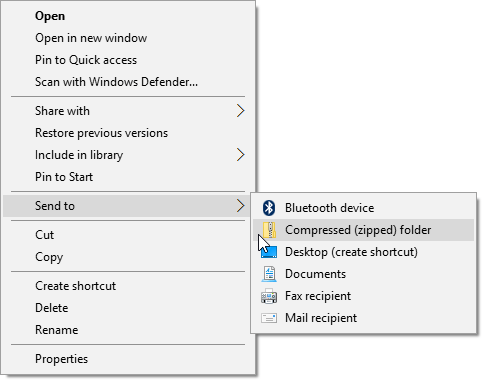 Windows will compress the files and create a new archive, then same it in the folder as your MP4 files. Note that the archive's size will be significantly smaller than the size of your original MP4 files. This is applicable on most standard file types, for example, if you wanted to compress an MP4 file on Windows 10 and above.
More relevant articles:
How to Convert iPhone Video to MP4 without Quality Loss in 7 Ways?
10 Amazing MP4 Screen Recorder Options: Record MP4 Videos Easily
The Bottom Line
There are many varying ways to reduce MP4 file size without losing quality. You can use in-built tools and apps, such as VLC to compress MP4 files. Alternatively, you can reduce MP4 file size by trimming the video or adjusting the bitrate.
However, by using dedicated video compression tools, you can significantly reduce MP4 file sizes without losing video quality. Download and install Video Compressor to get the most out of our free MP4 compression tool.
Related Articles:
12 Best Video Converter Software for Windows 11/10/8/7 (Free & Paid)
How to Convert MP4 to MKV Effortlessly? [Apps & Online Tools]
How to Convert AVI File to MP4? Solved in 5 Effective Ways
How to Convert Video to MP3 on iPhone? This One Might Help!
How to Convert 4K Video to 1080P Without Losing Quality