Do you have audio files with poor sound quality or unwanted background noises and want to improve their quality? Improving the quality of your audio files will certainly enrich them and make them more pleasant. But do you know how to edit audio files to meet your requirements? This article will enlighten you on all that you should know. Read to learn.
Part 1. What Is Audio Editing?
Audio editing refers to the process of altering sound recordings. This can include music, dialogue, sound effects, etc. The process involves deleting, copying, pasting, replacing, and cutting to achieve a particular goal. It is the same as editing written work. The only difference is that you'll be altering sounds instead of working on words. As such, you can look at audio editing as a way of enhancing an audio piece to improve its quality or meet your specific goals.
There are two types of audio editing: destructive and non-destructive. Destructive editing involves permanently changing the original audio file, while non-destructive helps create a new audio file version while maintaining the original file. Destructive editing is fast, but it'd be difficult to undo any mistakes. On the other hand, non-destructive editing allows you to edit an audio file in real-time and requires more processing power.
Part 2. How to Edit Sound Recordings with Ease
You can edit audio files using various methods. Below are some of the best audio editing methods:
Method 1. How to Edit Audio Clips by Video Converter Ultimate
Want to enhance your audio files' quality but don't know where to begin? A professional audio editor application will help you enhance your low-quality audio files according to your preference. From the available tools, Video Converter Ultimate has set a precedent with its peerless audio editing capabilities. It is an all-in-one audio/video processing tool that enables users to edit, convert and compress audio and video files effortlessly.
More than 10 million worldwide editors trust Video Converter Ultimate for its near-perfect performance. Besides excelling as an audio and video editor, it offers basic video editing functions and employs top-notch encoding technology, resulting in unmatched audio and video files. Supporting over 1000 formats, including MP3, MP4, WMA, FLAC, AVI, etc., it works seamlessly on Windows and Mac, boasting an intuitive user interface for an unmatched experience. A go-to option for many, thanks to its cutting-edge features. Some of these features include:
Allow users to customize audio and video files with easy cropping, trimming, rotating, and merging options.
Enable users to add basic filters and effects.
Apply 3D effects to a video.
Use artificial intelligence to improve audio and video file quality.
Below is how to edit sound clips using the Video Converter Ultimate application:
01Navigate to the Video Converter Ultimate application's official website, download the application, install and launch it on your computer.
02Add the audio file you want to edit by clicking the "Add File" button and selecting the "Add Files or Add Folders" option. Alternatively, you can drag and drop the files into the program.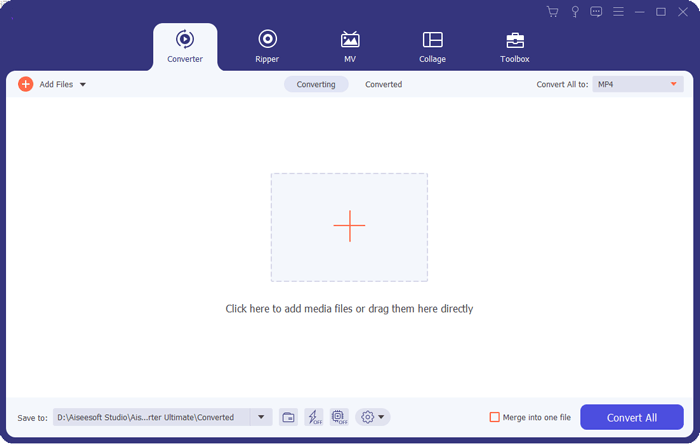 03You can now see the uploaded audio files on the application's interface. Select the audio clip, and hit the "Cut" button to remove unwanted parts.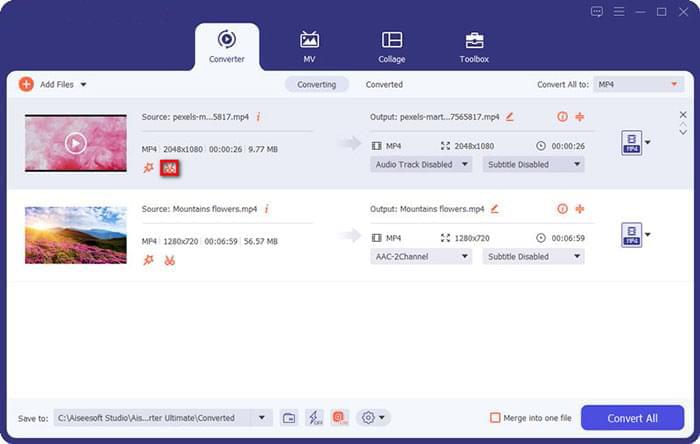 04You can do that by either setting the audio clip's start and end time or dragging the clipper at the progress bar. Click on the "Add Segment" button to create more segments.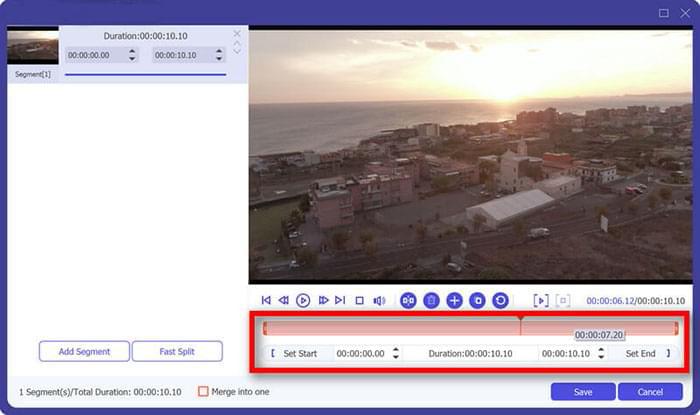 05After editing the audio file, click the "Save" button at the bottom right corner. Now preview the audio file by hitting on its thumbnail. If you are satisfied with the output, you can convert it to your format of choice by clicking on the "Convert All" button.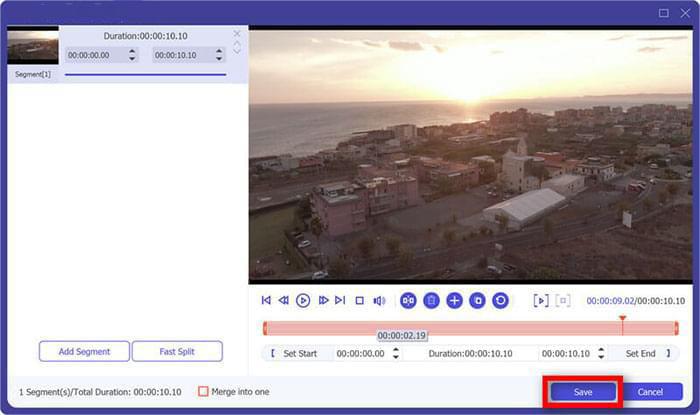 Read More:
How to Recover Audio Files from WhatsApp on Android in 3 Ways?
Android Audio Rescue: How to Recover Deleted Audio Files from Android Phone
Method 2. How to Edit Sound Clips with Windows Media Player
Windows Media Player is a Windows program that allows users to edit audio and video files efficiently. You can also download and install some plugins to add advanced editing features. Below is how to edit videos using Windows Media Player:
Step 1. Launch the "Windows Media Player" application on your computer.
Step 2. Navigate to the left side of the application's interface and click on the "Music" button. This will help you open a list of all the MP3 files on your computer.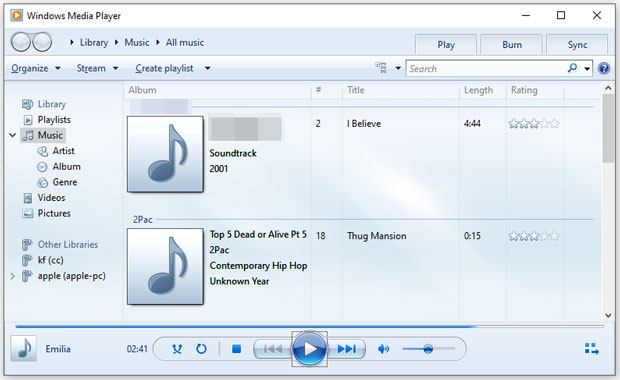 Step 3. Next, search through the list of MP3 files and identify the one you want to edit. After that, right-click on the file and choose the "Edit" option.
Step 4. With that, you can edit various aspects of the song, such as the name of the artist, the song's genre, etc. If you wish to do other advanced editing, such as cutting portions of the file, download extra plugins.
Step 5. When you're done editing your file, click on the "OK" button to save the changes.
You can also trim audio files on your computer with Windows Media Player using the following steps:
Step 1. Start by downloading and installing the SolveigMM WMP plugin on your computer and open the Windows Media Player software.
Step 2. Go to the Windows Media Player's interface and select the "Tools" option on the top menu bar. Next, select the "Plug-ins" option, and choose the "SolveigMM WMP Trimmer Plugin" option.

Step 3. Afterward, go to the Windows Media Player and click the "Music" button to open a list of available MP3 files. Choose the audio clip you wish to edit and select the "Edit File" option.
Step 4. Use the slider to mark the portion you wish to trim. Move it to the starting point and hit the "Add Maker" button. Move the slider again to mark the end position of the audio clip.
Step 5. After trimming the audio clip, hit the "File" button to export it. Next, select the "Save As" option and choose the folder in which you want to save the file.
Can't Miss:
How to Send Large Audio Files from iPhone to Android, Computer and Cloud
Top 6 Online File Compressors for Quick and Easy Compression
Method 3. How to Edit Audio Files Through MyEdit
MyEdit is a free online audio editing tool that allows users to edit their audio files online. This application has a straightforward user interface and artificial intelligence video editing tools that make audio editing a breeze. This online audio editing platform has potent features, such as a voice changer, vocal remover, audio trimmer, BPM finder, and wind/background noise remover.
MyEdit is the best free online audio editing application that will enable you to accomplish complex audio editing tasks. The steps below will guide you on how to edit an audio file using MyEdit:
Step 1. Visit the MyEdit official website. Select the audio feature you want to add, remove or change. Here you can choose features such as vocal remover, voice changer, wind remover, pitch changer, and more.
Step 2. Upload an audio file to the platform by clicking the "Choose a file" button.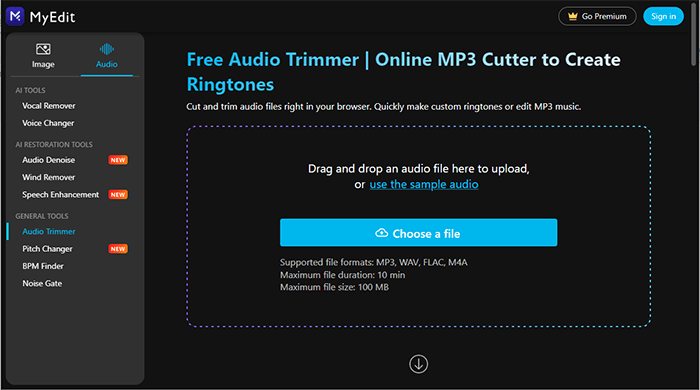 Step 3. Now edit the video to meet your requirements. Select the format you want to use and hit the "Download" button to download the edited audio file into your computer.
See Also:
10 Best MOV Editor Options - Edit MOV Files Easily [Updated Guide]
What Are the Best Vertical Video Editors? This One Tells
Method 4. How to Edit Sound Recordings Using Ocenaudio
Ocenaudio is the best single-track audio editor application, which is highly reliable in making destructive audio file edits. Its intuitive user interface makes it stand out from its peers. With this powerful application, you can add watermarks to an audio file, manipulate the audio file's metadata, edit specific channels, carry out various clipboard operations, trim the videos, remove the background noise, adjust the audio's pitch, etc.
It is an outstanding audio editor, perfect for all users, including novice computer users. Interestingly, the application is available for free despite its unmatched capabilities. Below is how to use this potent audio editor application to edit sound clips:
Step 1. Move to the application's official website, download, install, and launch the application on your computer.
Step 2. Create a new project by clicking the "File" button and hitting the "New" option.
Step 3. Choose a microphone by navigating to the "Controls", tapping on the "Record Mixer Config", and selecting a microphone.
Step 4. Hit on the "red" circle button at the upper left corner, and select a channel and sample rate that fits your project.
Step 5. To edit the files, stop the recording, highlight an area you want to edit, and apply the effects using the tool.
Step 6. Save the edited file to your device by clicking the "File" button, hitting the "Save" button, and selecting a file location and format.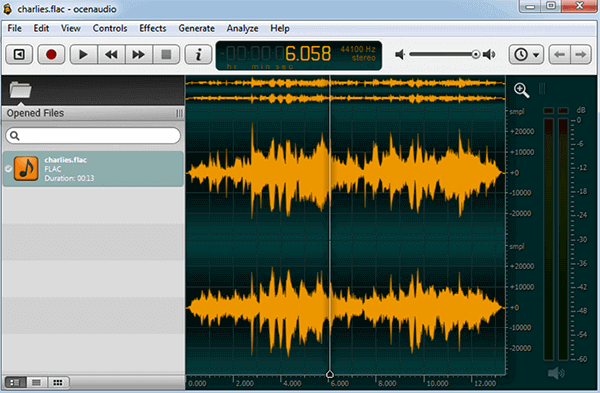 May Like:
11 Best MP4 Splitter Options to Split MP4 Easily and Quickly
How to Zoom in on a Video with Ease: A Step-by-Step Guide
Conclusion
The above article has expounded on how to edit audio files using the various methods discussed in this article. Choose a method that suits you best. However, we recommend using the Video Converter Ultimate application as it is easily usable, fast, and reliable.
Related Articles:
Comparative Study of Video Speed Controller for Seamless Playback
How to Add Your Own Sound to TikTok [Can't Miss in 2023]
Effortless Editing: How to Crop a Video on TikTok in Just a Few Steps
Unleash Creative Potential with the Ultimate Snapchat Video Editor App
Top 14 Best AVI Video Editors | Easily Eidt Your AVI Files
Select the Best GoPro Editing Software - 10 Excellent Options