Are you looking for a way of reducing the size of a video without affecting the quality of the video? Do you know the best video compressor? Videos require a lot of storage space, and we need a way of compressing them to reduce their memory storage space.
You must be aware of the memory space occupied by a simple video clip if you are a video content producer. Whether creating a video backup or uploading the videos to platforms such as YouTube, Facebook, etc., you will require a lot of storage. As a result, we require a technique for reducing the amount of space occupied by video files.
Using a video compress software is a great technique for reducing the size of a video without compromising its quality. Video compressor tools have made content creation and video storage easier than ever before. In this article, we will enlighten you about the best video compressor.
Part 1. What Is Video Compression Software?
A video compressor is a tool used to manipulate video file format, size, and resolution to reduce the video size. Users utilize this tool to enable them to make economic use of the storage space available on their devices. Additionally, the tool enables users to convert videos to the output format of their choice, such as MP3,4K, FLV, or MP4. Lately, the consumption of video content has greatly risen. More video content must be processed using video compressing tools to meet the current demand. This has made video compression tools fundamental, leading to the mushrooming of many advanced video compression tools.
The use of video compressors benefits users in the following ways:
1. Storage
By reducing the size of video files, video compressors enable users to save the video's storage memory space.
2. Quick transfer
Compared to large uncompressed video files, the files resulting from video compression are small-sized and can be transferred faster using a variety of sharing platforms.
3. Quality
Some video compressors have the capacity to reduce the size of video files without altering their original quality, while others provide the option of controlling video quality, thus improving it.
4. Video format
Video compressors also enable users to convert video files from one format to another without compromising their quality.
5. Fast loading
Video compressors reduce video sizes before they are added to websites. Websites containing such compressed videos load fast since they are small-sized.
You May Like:
12 Best Video Converter Software for Windows 11/10/8/7 (Free & Paid)
How to Convert iPhone Video to MP4 without Quality Loss in 7 Ways?
Part 2. The Best Video Compression Software
Below are some of the best video file compressor software that you should use to compress your videos:
1. Video Converter Ultimate - The Best Video Compressor
Looking for the best video compressor software? Video Converter Ultimate is the go-to option. It is equipped with the latest technologies that simplify compressing and converting videos while maintaining the video's original quality. Video Converter Ultimate is an all-in-one tool for editing, converting, and compressing audio and video files. This popular video-compressing tool is used by more than 10 million users around the globe.
It is a perfect tool that offers video-compressing features and allows users to edit ID3 info, add video effects, and create GIFs with aplomb. It has set a precedent in video compression by using cutting-edge Blu-Hyper technology, such as Video encoding/decoding and Graphic card images based on the CPU level.
Video Converter Ultimate is the fastest video-compressing application, especially for converting 4K, 5K, 8K, and HD videos. Compared to other video converters, it is 30 times faster. The other advantage of using this app is that it allows you to work on multiple videos simultaneously.
Key Features:
Support video compression with ease.
Has powerful video editing features.
Add basic effects and features.
Adjust and add audio tracks and subtitles.
Make adding 3D effects on a video easy.
Improve the quality of their videos using AI.
Below are a few steps for using Video Converter Ultimate to compress your videos:
01To begin, access the top menu and locate the Toolbox option. From there, choose the Video Compressor feature. To add a video for compression, simply click on the rectangular area designated for this purpose.
02Inside the Video Compressor window, you have the ability to modify various aspects of the video. This includes editing the video's name, size, output format, resolution, and bitrate.
03To preview the video prior to compression, click on the Preview button. Once you are satisfied with the preview, initiate the compression process by clicking on the Compress button.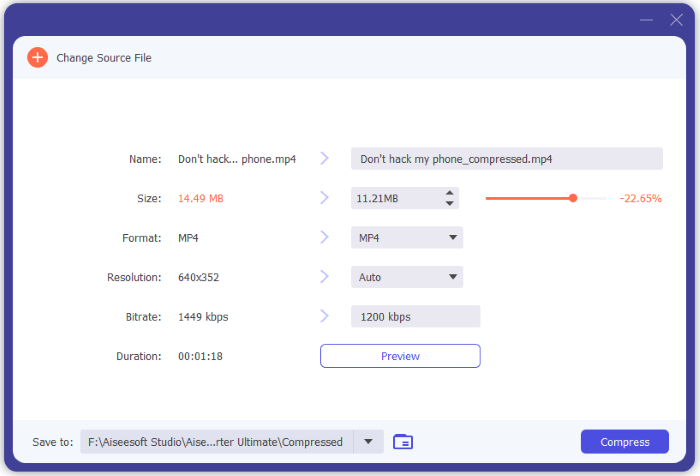 Pros
* Faster way of compressing your videos.
* An outstanding video editing tool.
* Users can create split-screen videos.
* Allow users to add watermarks on videos.
Cons
The tool has not received any negative reviews so far.
Pricing
$ 23.20 one-month license per PC.
$ 49.96-lifetime license per PC.
$ 119-lifetime license for 5 PC (Business plan).
Further Reading:
[Vlog Software] 11 Best Vlog Editing Software for Vlog Lovers
How to Convert HEIC to PNG Online or Offline? (6 Simple Methods)
2. VideoProc
VideoProc converter is a reputable video compressor application. This tool compresses 1080p, 8K, 4K, 360-degree, high FPS, and HDR videos. VideoProc compresses your videos by 90%, compromising only 2% of video quality. It has several cutting-edge mechanisms for reducing the size of a video, such as adjusting the video GOP, bitrate, format, and FPS, or you can use its toolbox to reduce the video file size according to your desired quality ratio.
Key Features:
Compress their video files into more than 420 formats.
Allow real-time preview, estimation of the file sizes, and batch compression.
Add subtitles to the video, record the screen and extract music from a video.
Support popular video and audio encoder formats such as MPG4, MP4, OGA, MOV, and more.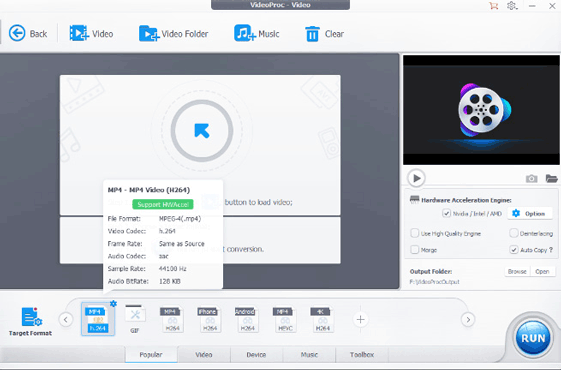 Pros
* It is an easy, stable and quick way of compressing a video.
* It is lightweight and does not crash or freeze when compressing videos.
* It is affordable when compared to other tools.
Cons
* Its download speed fluctuates quite often.
* It lacks user guide tutorials, hence making it time-consuming for new users.
Pricing
$29.95 a year license per computer.
$37.95-lifetime license per computer.
$57.95-lifetime license per 2-5 computers.
3. Wondershare UniConverter
It is a popular video-compressing tool that has gained popularity due to its outstanding features. Moreover, Wondershare UniConverter also enables its users to edit, convert and burn their videos on a DVS. The best thing about this video compressing tool is that it has a free version that allows its users to convert and compress videos of less than 100 MB. You can try their free version and upgrade to the paid version once you are content with its services.
Key Features:
It's a platform-independent tool that has no file upload limit.
Require a single click to convert and compress video files.
Support over 1000 formats such as AVI, MP3, WMV, MP4, MOV, and more.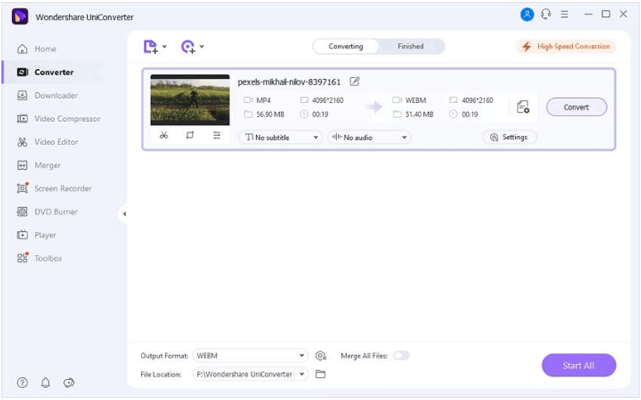 Pros
* It is known for its excellent quality.
* Allow video compression to any format.
* Its intuitive interface creates a wonderful user experience, even for new users.
Cons
Quite expensive.
Pricing
$29.99 Quarterly plan per individual.
$49.99 Annual plan per individual.
$55.99 Perpetual plan per individual.
Start at $55.99 Annual plan for Team and Business.
Start at $7.99 per PC for the Students plan.
Also Read:
Practical Video Lighting Editor List: Make Video Brighter in Easy Steps
10 Hot MP4 Video Editors - Edit MP4 Videos with Powerful Features
4. VLC Media Player
You must have heard of VLC Media Player and even used it. It is a popular media player that is used around the globe. However, many people do not know that they can use the VLC Media Player to compress their videos. Yes, you can use your best media player to reduce the size of your video without compromising its quality.
Using this free video compression software to reduce the size of your video files is very easy. You only need to launch the VLC application, hit the menu tab, and choose the "convert/save" option. After that, choose the video file you want to compress, choose the profile to which you want to convert the video and begin the compression process by hitting the "start" button.
You can also compress the size of your video files by resizing them. To do that, you need to tap on the "Settings" button, choose the video codec option, and change the width and height of the video.
Key Features:
Allow users to compress the videos.
Audio codec support.
Allow users to add subtitles to the videos.
It is a multimedia player.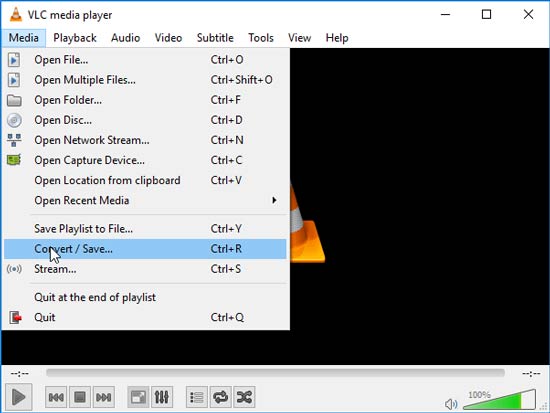 Pros
* It is a highly customizable video compression application.
* Support almost all video file formats.
* VLC media player can be expanded via plugins.
Cons
Editing metadata is quite complicated.
Pricing
It is a free application.
5. HitPaw Video Converter
HitPaw Video Converter is a video compression software that supports video converting, editing, and compression. This converter can compress video files to the desired quality level and size. Additionally, HitPaw Video Converter supports batch processing of videos and has a user-friendly user interface.
Key Features:
Facilitate batch processing of videos.
Support Video editing.
Has a Hardware Acceleration feature which boosts processing speed.
Support a wide range of output formats.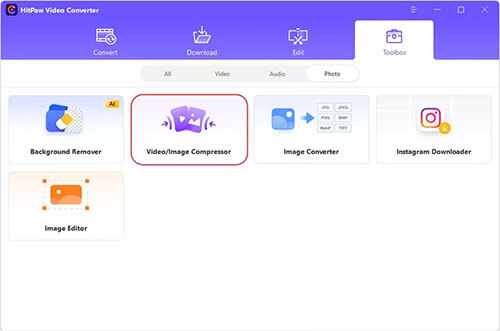 Pros
* It is designed with beginners in mind.
* Support the conversion of bulk videos.
* Support downloading videos, thumbnails and audio files from over 1000 websites.
* It has a 90X faster GPU acceleration feature.
Cons
Users cannot adjust the video's output quality.
Pricing
$19.5 per month.
Learn More:
[Easy Guide] How to Save Instagram Videos to PC/Mac?
Top 14 Best AVI Video Editors | Easily Eidt Your AVI Files
6. Final Cut Pro X
This is an Apple-designed video compressor that is specifically designed for Mac users. It offers various video editing features and supports high-resolution video formats such as HEVC, HDR, etc.
Key Features:
Ease of exportation and compression of high-quality video formats such as 360 degrees, HDR, HEVC, and 4k.
Support Multi-cam.
Support 3D video processing since it comes with 360-degree processing features.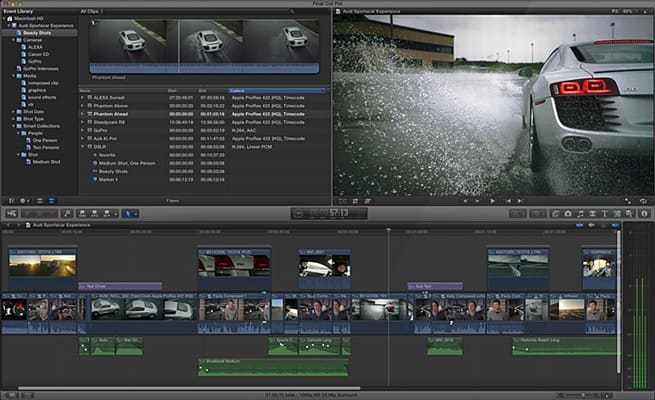 Pros
* Allow editing of a 360-degrees video.
* Support high-quality compression, transitions and effects.
* Support fast operations.
* A great tool for youtube vloggers.
Cons
It is only available for MacOS users.
Pricing
It cost $299.99.
7. Zamzar
This video compressor can convert and compress audio, video, image, document, archive, and ebook files. Users only need to add videos by adding a link or dragging the video into the interface to use this video compressor. This video compressor has an ads-free interface that is easy to navigate. Videos less than 50MB are compressed free of charge, while users who need to compress large videos must purchase paid plans.
Key Features:
Compresses videos, pictures, audio, and document files.
Enjoy a great user experience.
Work on various platforms like iOS, Android, Mac, PC, and more.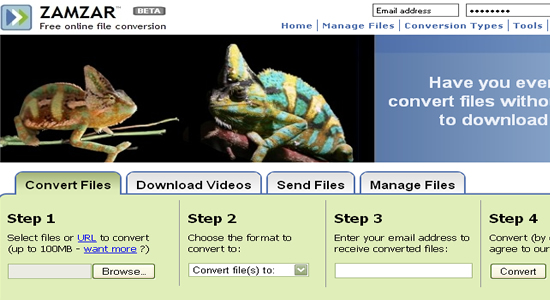 Pros
* No need to install the app.
* Offer free video compression for up to 50 MBs.
* Send an email to the users when the conversion task is finished.
Cons
* It has a slow conversion time.
* The video download link is only valid for 24 hours.
Pricing
It has a free plan.
$25 per month for a Startup plan.
$99 per month for the Growth plan.
$299 per month for the Scale plan.
Part 3. Frequently Asked Questions
1. How do Video Compressors operate?
Video compressors analyze the number of pixels a single video frame carries and process it by bunching similar pixels. Compressed videos carry less information due to pixel bunching, reducing the amount of space occupied by the video.
2. What is the best Video Compression Software?
The best Video compressor for PC is Video Converter Ultimate. It is developed using the latest technologies to provide unmatched video compression services. It is 30 times faster than an average Video Compressor.
Conclusion
Memory space is an invaluable computing resource that is very scarce. However, we all need a way of using this resource maximumly. Video compression is a great technique for reducing the amount of space occupied by a video without downgrading the quality of the video. Make use of the Video compression tools discussed in this article to maximize the use of your limited memory space. Different video compressor applications have different capabilities. The better the video compressor you choose, the better the video compression experience you will have. An unmatched example of a popular video compression tool is Video Converter Ultimate.
Related Articles:
Top 6 Apps to Rotate Videos for Android
Top 8 Apps to Merge Videos on iOS and Android
[4 Aspects] How to Save Videos from WeChat on iPhone?
How to Back Up WhatsApp Photos/Videos? (Proven Tips for iPhone & Android)
How to Transfer Videos from Computer to iPhone with/without iTunes
[Fixed] How to Recover Deleted Videos from iPhone 14/13/12/11/X?