Sometimes, you may want to slow down or speed up the video you watch online. For instance, you may be watching a long and boring video and want to speed it up. You could also be watching a presentation, tutorial, or instructional video that is too fast, and you want to slow it down. This is where video speed controller extensions come in handy. These browser extensions enable you to adjust the speed of the video to suit your preferred viewing experience. This article will discuss the best video speed controllers available today for Chrome, Safari, and Firefox browsers. Pick up the suitable one now.
Part 1. Best Video Speed Controller Extensions for Chrome
Chrome browser does not allow you to change video speed on Facebook or Twitter. Thankfully, several available playback speed extensions enable you to adjust the speed of the videos. Below are some of the best video speed manager extensions for Chrome.
1.1 Video Speed Controller
This fantastic video speed up extension for Chrome is designed for platforms like PrimeVideo, Hotstar, and Netflix. If you find it hard to change or adjust the speed of the videos on these platforms, then this extension can assist. It allows you to slow down, speed up, repeat videos with hotkeys, etc. Whether you want to play your educational videos 50x slower or 4x faster, you can do it effortlessly with this extension.
Once you have installed it on your Chrome browser, you will be able to see it at the top left corner of your video player. You must tap the "-" and "+" buttons to decrease or increase video speed quality. This Chrome extension has received an average of 4.6 out of 5 ratings and over 2 million users.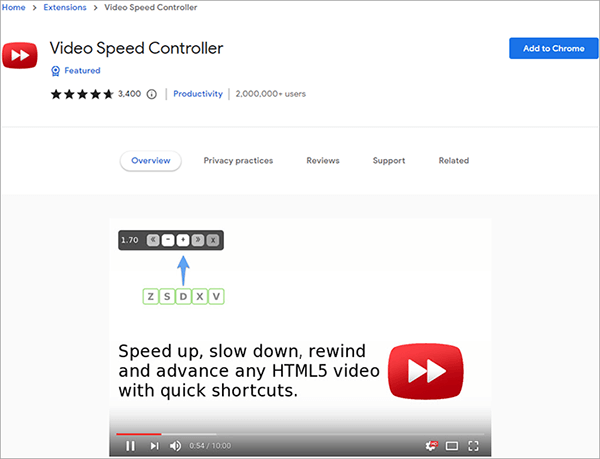 Features
Rewind, advance, slow down, and speed up any HTML5 video.
Adjust video speed with the keyboard shortcut.
Available on Firefox and Chrome.
Support watching videos in 4x, 2x, 1.5x, and 0.5x speed.
Pros
* Multiple shortcuts are available.
* Come with an easy-to-use slider controller.
* Shortcut customization is available.
* Precise speed control.
* Perfect for video playback speed change of OTT platforms.
Cons
After a system update, you must modify the controls again.
Pricing
Free.
1.2 Transpose
Transpose is known for controlling the speed of videos and also changing the pitch. You can dial a playback speed with a percentage and change the speed of a video online. Its loop feature provides more controls to mark when the video starts and ends. This is handy when watching tutorials, learning to sing, and much more. It is said to be a good tool for the musicians.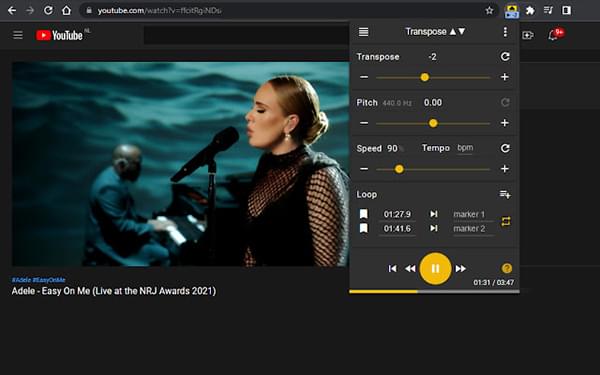 Features
Control video speed.
Loop function for controls.
Rewind the button for fast/back forward.
Change the pitch of the video.
Pros
* Great for musicians.
* Easy to use tool.
Cons
Don't work well for embedded videos.
Pricing
Free.
Read More:
Unleash Creative Potential with the Ultimate Snapchat Video Editor App
The Best MP4 to MP3 Converter: 13 Hot Software You Can't Miss
1.3 YouTube Playback Speed Control
This faster YouTube extension is designed to modify the speed of YouTube videos. You can press the "-" and "+" buttons to decrease or increase the video playback rate. If you do not love the assigned keyboard buttons, you can reassign them with other hotkeys to easily control the speed. With this Chrome extension, you can change the playback rate from 0.25 to the increment of your choice. Besides, it works well with some HTML5 YouTube players.
Apart from changing videos uploaded on YouTube, this extension supports YouTube videos embedded in other web pages. You will find the controller at the top right center of the player once you enable this extension.
Features
Very easy to use.
Work for HTML5 YouTube videos integrated into other websites.
Allow decreasing and increasing of videos currently being watched.
Pros
* Configurable keyboard buttons.
* Over ten years of dedicated service to the online web community.
* Enable to adjust the playback rate in increments.
Cons
The control may not appear after you update the extension.
Pricing
Free.
1.4 HTML5 Video Speed Control for Google Chrome
This video speed controller Chrome works seamlessly on any HTML5 video, either on the platform or embedded videos. It has a handy user UI that allows users to quickly assign keys for assigning keys for various controls, such as preferred speed, advance, hide controller, rewind, etc.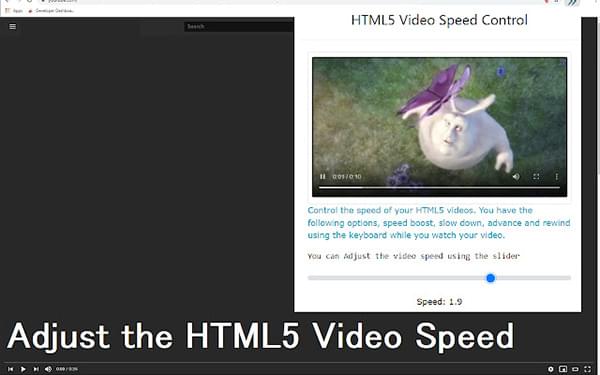 Features
Use a keyboard or speed indicator to control video speed.
Rewind, slow down, speed up, and advance quickly or videos.
Work with Google Drive.
Pros
* No limits or standards on usage.
* Speed up or slow down any video.
* Available in multiple languages.
Cons
Some users complain about its latest update.
Pricing
Free.
Can't Miss:
12 Best Video Converter Software for Windows 11/10/8/7 (Free & Paid)
Practical Video Lighting Editor List: Make Video Brighter in Easy Steps
Part 2. Best Playback Speed Extension for Firefox
If you love using Firefox to play your online videos, here are some of the best video speed controller extensions you can use.
2.1 Playback Speed for Firefox
This playback speed extension can change the pace of YouTube videos with a simple keyboard shortcut or mouse click. It is a popular Mozilla extension that allows you to adjust the video speed with steps such as 0.1, 0.3, 0.7, etc. You can customize the popup windows by deleting or adding elements to be displayed.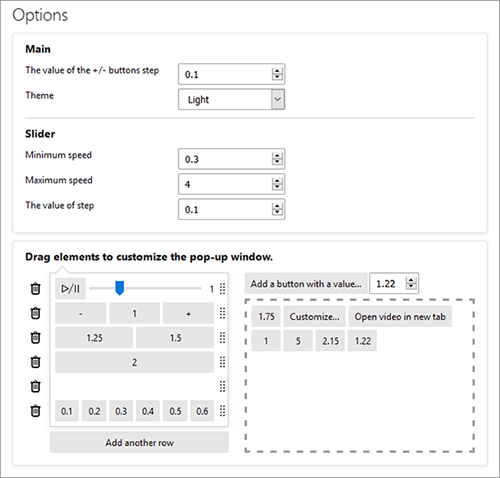 Features
Create customized keyboard shortcuts.
Play HTML5 videos at different speeds.
Personalize the controllers.
Pros
* Have a neat and friendly controlling interface.
* Easy to use.
Cons
Using hotkeys may mix up the control.
Pricing
Free.
2.2 Global Speed
Global Speed is another vastly used video speed-up extension on the Firefox browser. It works seamlessly with a lot of video and audio streaming sites and platforms such as YouTube, PrimeVideo, Netflix, and Spotify. This extension also has optional keys for rewinding/forwarding, adjusting speed, frame-by-frame analysis, etc.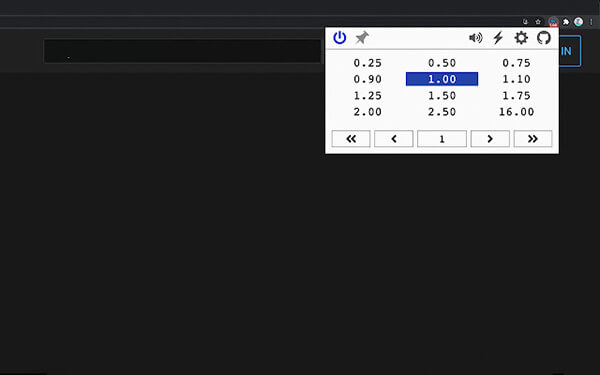 Features
Work perfectly with all video and audio sites.
Hotkey for speed adjustment.
Easy to use tool.
Pros
* Filters like grayscale, mirroring, etc. are available.
* Own custom speed for pinned tabs.
Cons
Limited info and reviews are available.
Pricing
Free.
Part 3. Best Video Speed-Up Extensions for Safari Browser
In this part, we will introduce several video speed controllers for Safari browser.
3.1 Accelerate for Safari
Accelerate is a professional online video speed controller extension for a safari that allows you to increase or decrease the speed of the video. It has proven its name because of how it quickly adjusts the video's speed. This extension supports numerous websites that premiere exciting and stunning video clips. It allows users to personalize their hotkeys by right-clicking the mouse control or by using a toolbar item.
Features
The playback speed ranges from 0.07x to 16x.
Change the HTML5 video speed using the toolbar popup.
Customizable keyboard shortcuts.
Support AirPlay and Picture-in-Picture.
Pros
* Personalize video playback controls.
* Better shortcut option visibility.
Cons
Little confusing for first-time users.
Pricing
Free.
See Also:
[Vlog Software] 11 Best Vlog Editing Software for Vlog Lovers
Top 6 MP4 Compressor: Reduce File Size without Compromising Quality
3.2 Dynamo
This is another great speed video extension for the Safari browser. With simple keyboard shortcuts, users can adjust the speed of a video. Moreover, this extension works flawlessly with various video-streaming websites. This video controller can slow down any clip, skip the advertisements, or set video speed to its default settings.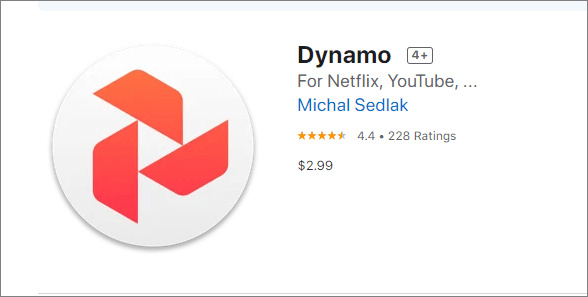 Features
Work on all desired websites.
Allow customizing the hotkeys.
Safari video stream controller.
Skip video advertisements.
Pros
* Never gather any personal information.
* Permit you to alter the hotkeys.
Cons
You need to quit Safari to upgrade it.
Pricing
Free.
3.3 Speed Player for Safari
With this Safari video speed controller, you can easily change the playback speed of any video from any website. You can use simple keyboard shortcuts on your PC to decrease or increase the playback rate. Moreover, this extension allows you to create a preferred playback speed that will be automatically applied to all videos.

Features
The installation process is secure, quick, and hassle-free.
Improved compatibility of keyboard shortcuts.
Pros
* Allow setting a default playback speed.
* The user interface is top-notch, making it easy to use.
Cons
Available only in the English language.
Pricing
Free.
May Like:
Top 9 Best & Free Video Compressor Tools You Should NEVER Miss
How to Convert iPhone Video to MP4 without Quality Loss in 7 Ways?
Part 4. Best Video Speed Controller Tool of All Time
If you are looking for a tool that will enable you to slow down or speed up videos on your PC, then Video Converter Ultimate is the best choice for you. This software not only allows you to modify the speed of videos but also enables you to edit videos. It is an all-in-one tool that allows you to enhance videos, trim, compress, merge, crop videos, etc. You can also use it to edit ID3 info, compress video, edit video effects, and make GIFs with aplomb.
This software will bring you the fastest converting speed and maintain perfect sound and image quality. Moreover, it can convert video/audio to 1000+ formats, including FLAC, MP3, MOV, MP4, etc. Whether you want to convert videos from 4K to 1080p or 4K formats, Video Converter Ultimate is the best choice. What is remarkable about this software is that users have control over their video's resolution, format, quality, encoder, frame rate, and even zoom mode.
Features
Allow users to edit, convert and compress audio/videos in 1,000 formats.
Add subtitles to the movie.
Upscale low-quality videos to a higher resolution.
Create professional split screen videos.
Here is a step-by-step guide on how to use Video Converter Ultimate to control the speed of a video:
01Download the software and install it on your computer. Open it and click on "Toolbox" on the menu. Tap "Video Speed Controller" and then upload your video.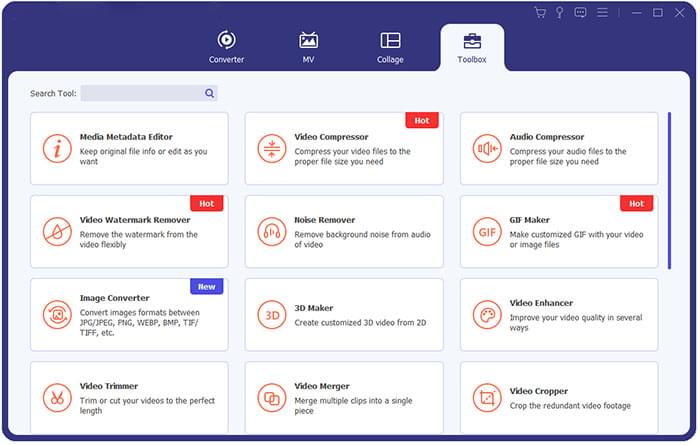 02After uploading the video, you will see the speed controller. Then choose the speed that you want your video to play. If you are unsure which speed to play at, you can preview the video to see the speed that suits your needs.
03After slowing down or speeding up the video, edit the name and destination folder for the new file. To export the video with the new playback speed, click the "Export" button.
Pros
* Very easy to use.
* Additional editing tools to add filters, subtitles, effects, etc., to the videos.
* Import and export more than 1000 audio and video formats.
Cons
It is not free.
Pricing
* $14.50 for a one-month license.
* $49.96 for a lifetime license.
* $79.96 for a business license.
Conclusion
This article lists the 10 most effective video speed managers for Chrome, Safari, and Firefox. If you want to permanently change the speed of the videos, Video Converter Ultimate should always be the best choice.
Related Articles:
How to Transfer Videos from Android to Android Quickly?
Kapwing Video Editor: A Complete Review and Powerful Alternative
How to Transfer Videos from iPhone to iPad in 5 Ways
How to Transfer Videos from iPhone to USB Stick with or without a Computer?
10 Best MOV Editor Options - Edit MOV Files Easily [Updated Guide]