Are you looking for a focused YouTube video compressor? This article will explain the different methods to compress videos for YouTube, ensuring smooth streaming for your viewers.
YouTube, a leading video-sharing platform, allows users to upload, share, and view a variety of video content. However, the size of the video files often poses a challenge. For an optimal viewing experience on YouTube, the recommended size for a standard video is 1080p or 1280x720 pixels.
If you're uploading a video, the YouTube maximum file size limit is 256GB or 12 hours, which is less. While you're unlikely to upload large videos to such large size extents, you still need a YouTube video compression tool to make your video sizes manageable.

Part 1: Why Is Compressing Videos for YouTube Necessary?
Creating a high-quality video is just the first step. The next challenge is uploading it to YouTube. Large video files may take long to upload and cause buffering during playback.
Compressing videos can help reduce bandwidth usage, speed up the upload process, and provide smoother streaming for viewers. The key is to compress the video without compromising its quality.
Part 2: How to Compress Video Before Uploading to YouTube [Offline]
There are numerous tools available to compress videos for YouTube. Here are the top methods offline:
Method 1: Compress YouTube Video Using Video Converter Ultimate [Effective]
Video Converter Ultimate takes YouTube video compression a notch higher. It is also a reliable YouTube audio compressor that can convert and compress audio and video files in multiple formats.
Video Converter Ultimate can help you compress YouTube video files fast without losing video quality. It is available as a downloadable software available for free but with an option to access more enhanced premium features.
Features of Video Converter Ultimate
Support batch compression and conversion.
Compress and convert videos and audio files suitable for multiple platforms.
Compress large YouTube videos fast, using enhanced AI technology.
Edit your videos with a wide range of video-editing tools.
Remove watermarks from videos completely.
Preview your YouTube video file before compression.
Here is a general guide on how to use Video Converter Ultimate to compress a video before uploading it to YouTube.
01Download, install, and run Video Converter Ultimate on your device.
02Hit the Toolbox button on the top menu, then choose Video Compressor. Click Add File or the rectangular file drop section to add YouTube videos for compression.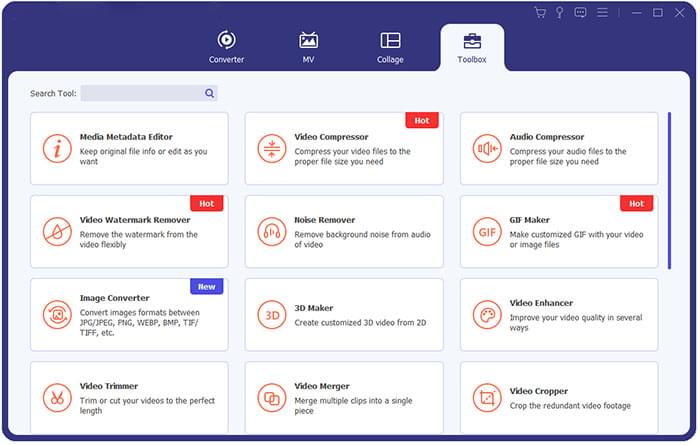 03Access the Video Compressor window to edit your file's name, resolution, bitrate, output format, and size. Click Preview to check your video before compression. Once satisfied with the settings, click Compress to compress your YouTube video.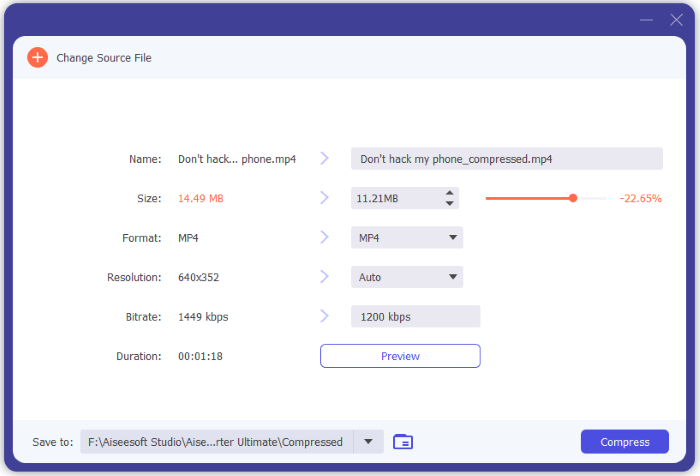 Video Converter Ultimate compresses videos significantly, making it the best tool to bypass the maximum YouTube file size.
Method 2: Compress YouTube Video Using VLC
VLC Media Player is a popular, versatile media player that can also convert videos to smaller-sized formats. It is available for Mac, Windows, and Linux users.
As a free, open-source, cross-platform media player, VLC is one of the commonly used YouTube video compressor tools to beat the YouTube maximum file size.
Here's how to compress a video for YouTube using VLC:
Step 1: Download, install, and launch VLC Media Player on your computer. Click Media, then Convert/Save.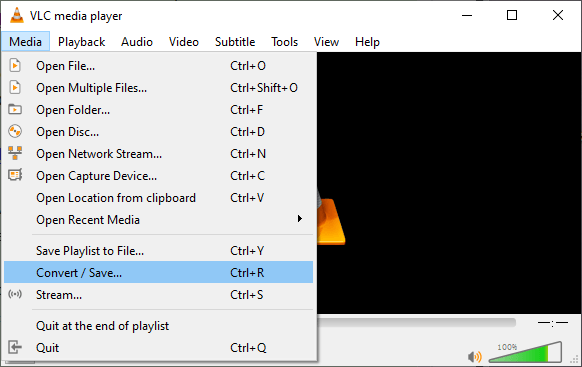 Step 2: Click Add to select your video file. Click Convert/Save to bring up conversion options.
Step 3: Select your preferred conversion option. Click Save, select your destination folder, then click Start to compress the video for YouTube.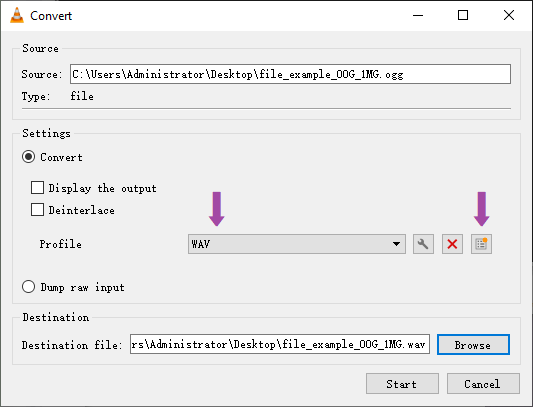 VLC's enhanced capabilities and features make it easy to compress video for YouTube without losing quality. Though not as fast as Video Converter Ultimate, VLC ensures a relatively good compression process.
Also read:
How to Compress a Video on Android? 6 Quick Ways You Can't Miss
How to Compress a Video on iPhone? Solved in 7 Effective Ways
Part 3: How to Compress Video Files for YouTube Upload [Online]
Here're some of the best video compressors online:
Method 1: Compress YouTube Video Online with Clideo
Clideo is an online tool that can compress videos quickly and safely. Do you have large videos surpassing the YouTube max file size? According to their website, Clideo can compress YouTube, Instagram, Facebook, and email videos without losing file quality.
It has a user-friendly interface, making it an easy-to-use online YouTube video compressor. You can also use the Clideo video compressor app to compress videos for YouTube on your iPhone.
Here is how to compress video for YouTube without losing quality using Clideo.
Step 1: Go to the official website of Clideo and click on Choose file button to add a video. The tool will upload and start compressing the video automatically.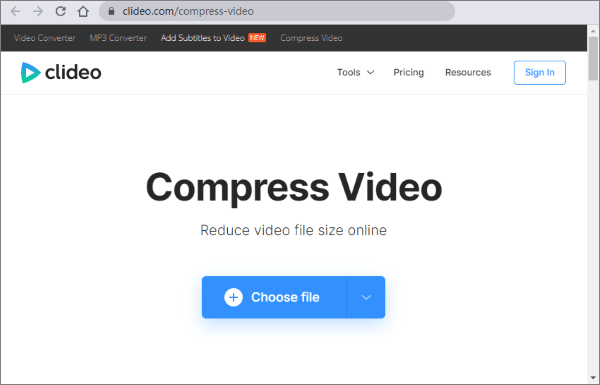 Step 2: Click the Download button to save the video to your device or download it to Google Drive or Dropbox.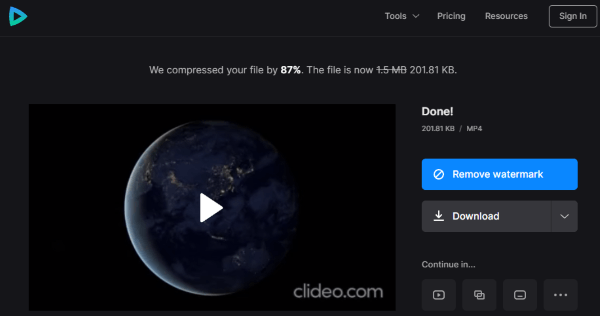 Method 2: Compress YouTube Video using VideoSmaller
VideoSmaller is a free video compressor tool that allows you to reduce video file sizes online. It is a web-based YouTube video compressor that supports multiple video file formats.
It also allows you to upload video files of up to 500MB, making it less ideal for large YouTube videos. VideoSmaller can compress 4K videos for YouTube and other platforms. One of VideoSmaller's greatest features is removing uploaded files after a few hours once you've compressed them.
Here is how to compress a video for YouTube using VideoSmaller.
Step 1: Launch VideoSmaller on any web browser.
Step 2: Click Browse to add the YouTube file you wish to compress. Set the preferred video width and click Upload video.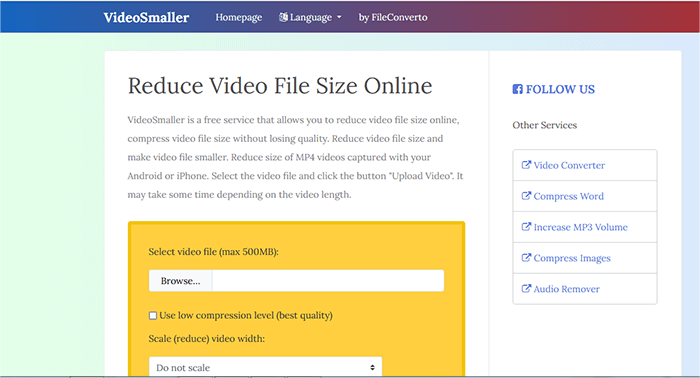 Step 3: Click the Download File link to access the compressed YouTube file on your computer.
Method 3: Compress YouTube Video with Compress2Go
Compress2Go is an online free file compressor that can compress images, documents, and videos. Compress2Go can also help you create archive files and zip files.
It is web-based, meaning you don't have to download external compression software to compress videos for YouTube. However, since it's web-based, this also means you may not access the compression feature and functionalities unless you have an active Internet connection.
Here is how to compress a video for YouTube using Compress2Go.
Step 1: Launch Compress2Go on any web browser on your computer.
Step 2: Click Choose File or from the drop-down section to add the YouTube video from your computer, Dropbox, or Google Drive.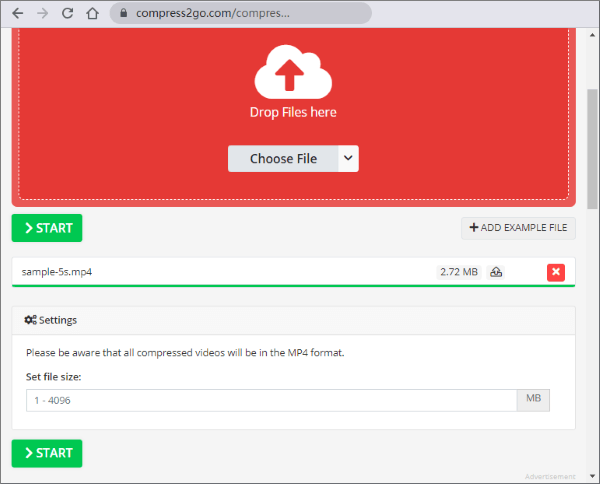 Step 3: Set the preferred file size. Click START to start compressing your video. Click Download to save the compressed file. The compressed video may also start downloading automatically.
Method 4: Compress a YouTube Video with FreeConvert
FreeConvert is also a reliable online to help you bypass the max YouTube file size when uploading. It allows you to compress videos online for free without compromising file quality.
Unlike some online video compressors, FreeConvert allows you a sizable upload limit of 1GB. This can only pose a challenge if you're compressing larger videos.
However, other reliable features that balance FreeConvert's limited capabilities include:
High-quality compression.
Fast processing.
Batch compression.
Simple user interface.
Here is how to compress videos for YouTube using FreeConvert.
Step 1: Open FreeConvert's online compressor page.
Step 2: Click Choose Files to add YouTube videos for compression.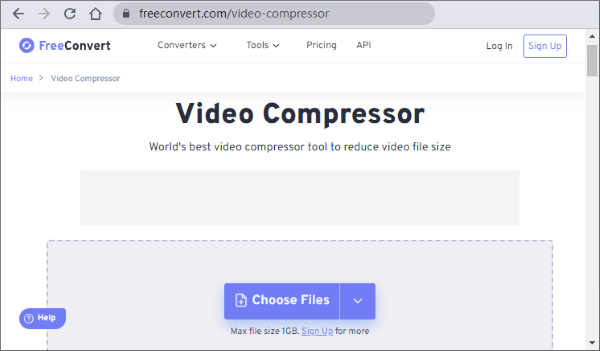 Step 3: Click the settings gear icon to set the video size and quality. Click Apply settings to save the settings, then hit the Compress Now button to compress your video.
Method 5: Compress YouTube Video with VideoCandy
VideoCandy is an alternative YouTube video compressor available online and a free online video editor. You can use VideoCandy to compress videos and perform other video-editing functions like:
Crop video.
Rotate video.
Its simple user interface makes it easy to compress videos for YouTube. Here is how to compress YouTube videos using VideoCandy.
Step 1: Find VideoCandy website on your web browser. Choose Compress video in the Tools page.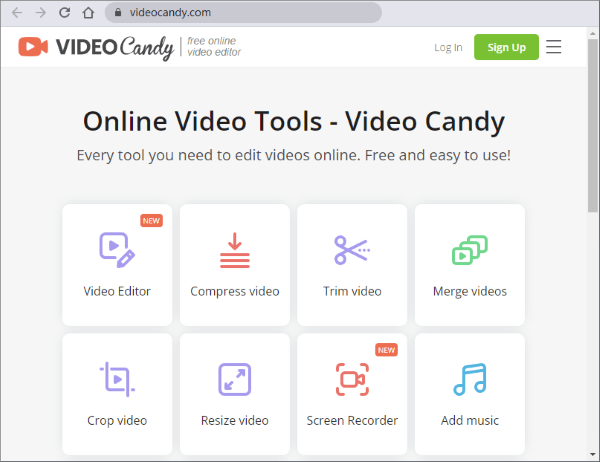 Step 2: Click ADD FILE to add your YouTube videos for compressing.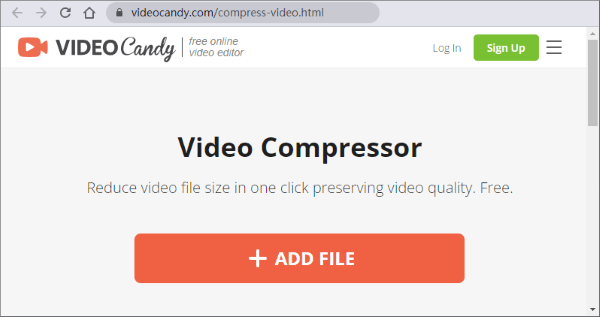 Step 3: Click Download File to save the compressed file to your device.
Though free, Video Candy has a premium plan with improved features and functionalities to help you edit, improve, and compress your YouTube videos better and faster.
More useful guides:
What Does Compressing a File Do? How to Compress a Video File?
Full Guide - How to Make File Size Smaller Without Losing Quality
Part 4: FAQs About How to Compress Videos for YouTube
Should you compress your videos for YouTube?
Yes. Google recommends compressing videos larger than 256GB before uploading them to YouTube. This reduces the video file size while keeping the video quality high.
Can you upload a compressed video to YouTube?
Yes, you can upload compressed videos to YouTube. Compressed videos have smaller file sizes, which means faster upload times, less bandwidth consumption, and lower storage costs. They also play more smoothly, with less buffering and fewer interruptions.
Conclusion
When compressing videos for YouTube, it's important to use high-quality compression tools. A dedicated YouTube video compressor can help you avoid the hassle of looking for different compression features from multiple options.
You can compress videos for YouTube online using tools like Clideo, FreeConvert, Compress2Go, etc. These online YouTube video compressors don't require you to download third-party software or programs. However, they may be limited in features and maintaining data quality after compression.
A dedicated and comprehensive compressor tool like Video Converter Ultimate handles your YouTube video compression like a pro. Video Converter Ultimate also doubles as a YouTube audio compressor since it is compatible with multiple video and audio formats.
These tools offer quality results and support a variety of file formats. Remember to consider compatibility and file format support when choosing a tool. Download Video Converter Ultimate to compress YouTube videos and bypass the max file size for YouTube now.
Related Articles:
11 Ways to Convert DAT File to MP4 Without Losing File Quality
How to Convert MOV to MP3 for Free [8 Ways Offline & Online]
Convert VOB to MP4 in Just a Few Clicks [Expert Tips and Tricks]
Unlock Ultimate Sound Experience: Discover the Best MP3 Converter for Mac
Convert M4V to MP4 in 6 Easy Online & Offline Methods [Hot]
Windows Conversion Made Easy: How to Convert MP4 to MP3 on Windows