The fun that comes with spoofing your location is unimaginable. The only word that could describe this experience may be "unique". We know that you have heard a lot about spoofing your location but never really got to experience it. Honestly, you are missing out on a lot. GPS spoofers come in handy these days, and for a good reason. You can use a spoofing application like MockGo to fake your location and trick your device into thinking it's in a new location.
In this Mock Go review, we will discuss all details related to this application and guide you through the steps required to spoof your device's location. So, let's begin.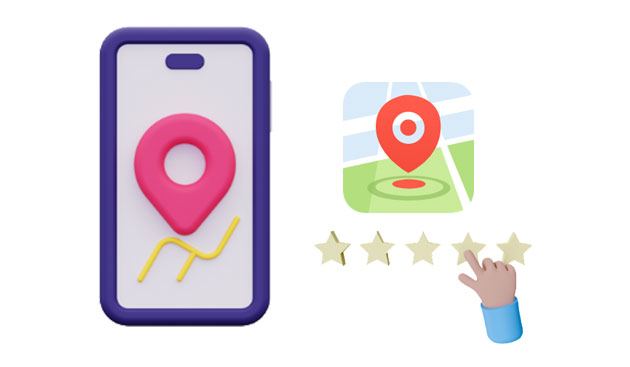 Part 1: All to Know About MockGo
1.1 What's MockGo?
MockGo is a very useful tool developed by Foneazy with the main aim of spoofing locations on iOS devices. This fantastic app simulates natural movement on a planned route without lag issues. Due to this, it's a wonderful utility if you want to hide your location to play AF games such as Mobile Legends.
As you already know, iPhones come with a feature that allows them to detect the device's current location and share it with other apps. This feature can be easily manipulated by the MockGo app and change the location instantly.
It operates by connecting your iPhone to the computer and changing the location of your device. With an interface like Google Maps, MockGo lets you select a specific location for your device. You tap on the teleport button to move to the chosen location.
You can easily fake locations on applications like Pokemon Go and play the way you want. Moreover, you can also use MockGo to troll your friends. Some of its features include:
Some of its features include:
Joystick features: This is the most amazing feature that helps users set and change their iPhones' location very easily.
Change GPS: MockGo app can change the GPS of your phone instantly.
Maximum of 5 devices: You can easily connect your 5 iOS devices simultaneously and change locations.
You might like: Do you desire an alternative to AirDrop and share files on Windows computers without a hitch? Then read this guide to get 12 different options.
1.2 Who Should Use MockGo?
Why would you wish to falsify your phone's location? You may want to fake your phone's location for many reasons. Some reasons for faking your phone's location include privacy, application testing, location-based gaming, and many other reasons. As you have seen, location spoofing is an excellent technique that can enable you to go beyond your boundaries.
Foneazy MockGo is a great spoofing tool that works by switching iOS devices' GPS locations. It is used by people who want to fake their GPS locations on iOS devices. MockGo helps iOS device users fake their locations while using applications such as Snapchat, Pokemon GO, and more.
1.3 Is MockGo Free?
You can download MockGo from their official website for free, but it is not free to use. You will be able to find Windows and Mac versions on their website. iOS device users can use the application with macOS 10.10 and above computers, while Android users can use the application with Windows 10, Windows 7, and Windows 8. But you will be able to use the free version for a limited period. During this free period, the user is supposed to learn how the application works.
The one-stop and multi-stop modes of MockGo can only be used once on the free version, while the joystick and teleport features are limited to only three bearings. All the features of the Foneazy MockGo application will be unlocked once you upgrade from the free version.
MockGo Pricing plan allows maximum use of 5 iOS devices and one Mac or PC. Below are some of the subscription options that you can choose from:
Lifetime - $59.95
Annual - $39.95
Quarterly - $19.95
Monthly - $9.95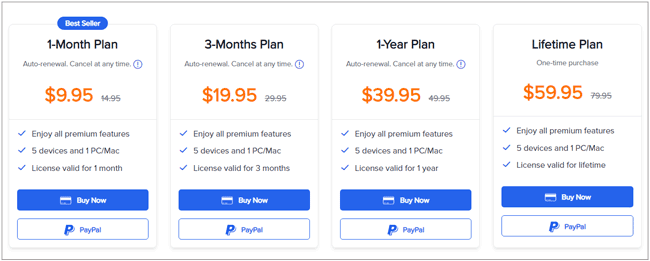 The best thing about MockGo plans is that they come with a 30-day money-back guarantee in case they do not meet your expectations.
Maybe you need: Titanium Backup can back up apps and app data on an Android phone. If you want more tools to back up your Android files, please don't miss these tricks and Titanium Backup replacements.
1.4 Is MockGo Safe?
Yes, MockGo is a safe tool for iPhone GPS spoofing, so you don't worry about data leakage when using it.
Part 2: How to Use MockGo for Pokemon Go to Fake Location
Being able to fake your location easily feels very cool. Follow the below step-by-step guide to use this spoofer for an iPhone and change the location:
Step 1: Download MockGo
Begin the process by downloading the application. Once done, it will load. Click on the Start button and connect your device to the computer.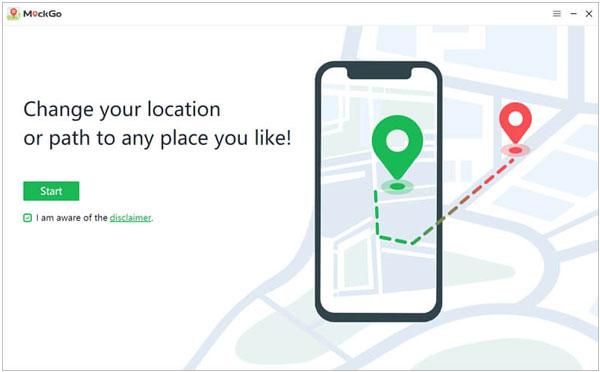 Step 2: Switch to the Teleport Mode
When the map loads, click on the icon on the upper right to switch to teleport mode. Now you can begin to change the location.
Step 3: Enter the Coordinates
Enter the coordinates and the addresses of your desired place to connect to your desired location. A pop-up window appears. Click the Move Here button to connect to a new location.
Step 4: Confirm Your New Location
After you have connected to a new location, you can confirm if you are at a new location by using other applications. Use Google Maps to confirm your new location.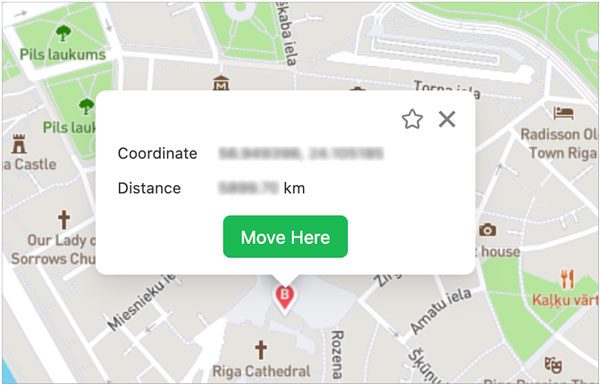 You might like:
Excellent iTools Virtual Location Alternatives for Android and iOS Devices
7 Powerful Moborobo Alternatives: Transfer and Manage Files for Android Devices
Part 3: Best iPhone Location Spoofer - An Ideal Alternative to MockGo
Are you facing problems when using MockGo? You can avoid these troubles by using an alternative application. This iOS Location Spoofer is an advanced tool for most iOS devices. You don't need to know what is Mockgen Golang, because this software can help you change the location on your iPhone with simple taps. With it, you can play Pokemon Go smoothly.
It stands out from other tools due to its excellent speed and versatility. This software can also fake GPS on Android devices. Plus, you can play AR games at home with it, and set up your movement speed. Furthermore, you can design your favorite routes and save them as a file.
Key features of this alternative spoofer:
* Can change more than one iPhone's locations simultaneously.
* Export/Import GPX files to save your best routes.
* Control your movement direction flexibility using a GPS joystick.
* Natively works with other location-based applications such as social platforms and AR games.
* Fakes Android and iOS GPS locations instantly.
* It is compatible with all Android and iOS versions.
Directly download it and have a try.
Follow the below step-by-step guide to learn how to use this iPhone spoofer:
01Begin by downloading, installing, and launching the application on your computer and click on Get started.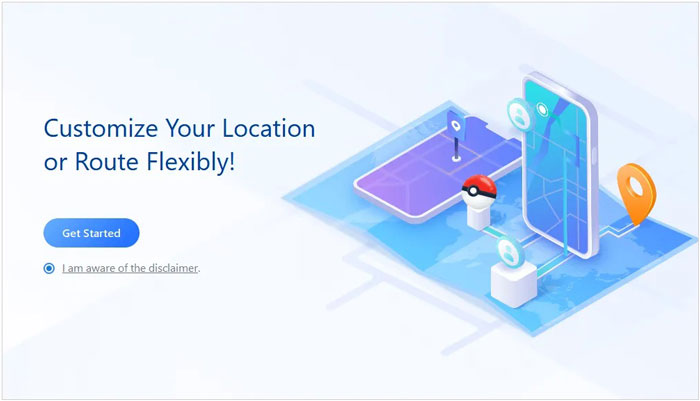 02With the help of a USB cable, connect your iOS device to your computer. Then unlock the device, click on Trust, and enter your screen password to complete the connection process.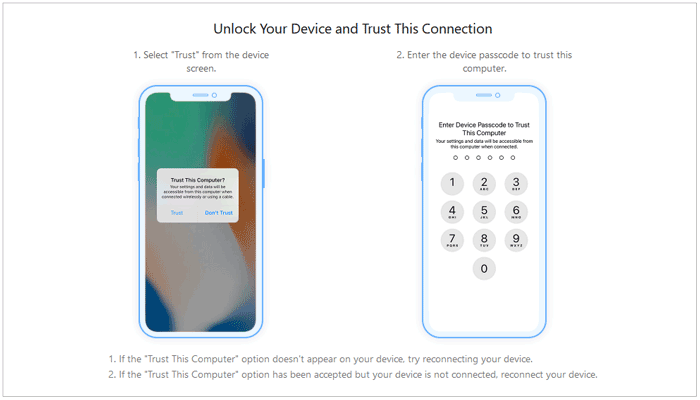 03The program will start to load the map. You can now find your location after the map loads. At the upper right corner of the interface, choose Teleport Mode (the third one). Use the mouse to scroll in and out of the map and then select a destination. You can also enter the GPS coordinates of your location of choice.
04When selecting the GPS location, a sidebar pops up showing you the destination information, such as destination coordinates, distance, and name. Click on Move to change your location to the new location.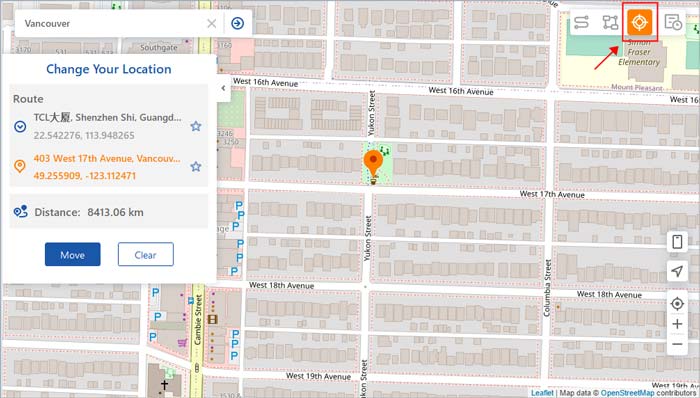 Conclusion
Although MockGo is a well-known location spoofing application, many people reported some problems. iOS Location Spoofer has turned out to be better in many aspects. You enjoy more flexibility while using this software compared to MockGo. In addition, it keeps updating its compatibility to continue offering high-quality services.
Related Articles:
Top 12 SHAREit Alternatives for Android, iOS & Windows PC
Top 9 iExplorer Alternatives to Manage and Transfer iOS Data Freely
How to Control iPhone with Broken Screen Effortlessly? (6 Proven Ways)
[Fixed] How to Recover Deleted Videos from iPhone 14/13/12/11 with or without Backup?
CopyTrans HEIC Review: Is CopyTrans HEIC Safe, Free, and Best to Use?
Top 5 ZTE Recovery Tools: How to Realize ZTE Data Recovery Effortlessly