Pokemon Go remains the most popular and engaging gaming application. It enables players to travel around the world and catch Pokemon in different places while socializing and competing against other players. However, you'll find some Pokemon listed as blanks in the Pokedex, meaning they are regional types that are restricted to only specific areas. This is one way for Niantic to stress that players can only obtain such Pokemons by going to specific regions and popular sites. Wondering how to get Regional Pokemon without traveling? It is very easy to catch Regional Pokemon even without moving an inch, and this article will show you how. Read on.

Part 1. What Is Regional Pokemon?
Regional Pokemon or Regionals are rare Pokemon players who can only get by visiting particular regions worldwide. They can be found in the wild as group raids and research tasks designed for those regions.
You can find such rare Pokemon in over 35 locations globally. The good thing is that Regional Pokemon can be traded with others. International players can trade with those Regional Pokemon available in your place. The only downside is that your place may only have common ones.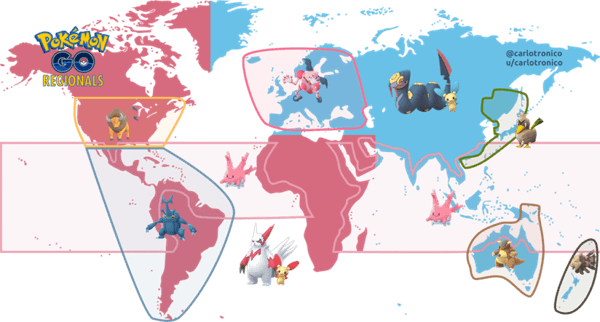 Part 2. What Are Regional Pokemon That Have Been Introduced & Where to Find Them?
Every generation has a set of regional-exclusive Pokemon introduced to the game. Even though regions may not be real borders, they're divided as per the type of Pokemon available and places they're highly likely to spawn. These locations may be specific to countries like the US.
But these Pokemon aren't necessarily rare spawn types. If you're moving in the regions they are located in, they can pop up frequently. They particularly spawn in the wild only, but you can still get them through eggs in specific regions. Additionally, there are exceptions in the Regionals too. For instance, they sometimes swap spawn locations, or they can drop out of their regional exclusivities like the likes of Seviper, Zangoose, etc. Some of the Regional Pokemon can also be found during in-game events.
If you don't travel frequently or don't have someone willing to trade Regional Pokemon, you'll need to wait, then follow a few extra steps to catch these rare Pokemon. Currently, more than 40 Regional Pokemon are available and are divided into generations. You can capture or hatch them in specific places in the world. Of course, there are occasional overlaps where Pokemon move from their regions into others.
Below is a list of all Regional Pokemon in Pokemon Go and their regional variants and where to get them in the world:
1st Gen: Kanto Pokemon
Tauros: North America
Farfetch'd: Eastern Asia
Mr. Mime: Europe
Kangaskhan: Australia/Pacific
2nd Gen: Johto Pokemon
Heracross: South America
Corsola: Near Equator
3rd Gen: Hoenn Pokemon
Tropius: The Middle East, Africa, Mediterranean
Torkoal: Southeast Asia
Relicanth: The Pacific Islands, New Zealand
Solrock: America & Africa
Lunastone: Europe & Asia
Volbeat: Europe, Australia, Asia
Illumise: America & Africa
Zangoose: Europe, Australia & Asia
Seviper: America & Africa
4th Gen: Sinnoh Pokemon
Chatot: Southern Hemisphere
Carnivine: Southeastern United States
Shellos: Pink Variant – Western Hemisphere
Uxie: Asia & Pacific
Pachirisu: Alaska, Russia, Canada,
Azelf: America
Mesprit: Middle East, Africa
5th Gen: Unova Pokemon
Pansage: Pacific & Asia
Durant: Eastern Hemisphere
Heatmor: Western Hemisphere
Panpour: The Americas, Greenland
Read more useful guides:
Pokemon Go Cooldown Chart | What Is it? How Does It Work? [Ultra Guide]
The Best Place to Play Pokemon Go: Unleash Your Adventure!
Part 3. How to Get Regional Pokemon Without Travelling
Several ways exist to help you catch Regional Pokemon without traveling to that particular location. Below are the main ways:
Method 1. Trade for Regionals
Another solution to get Regional Pokemon without moving is to trade for the Regional Pokemon. So, if you can't travel or don't want to use fake location apps, this is a viable option. This is a special kind of trade, and it'll cost you some stardust if these Regional Pokemon are entirely new.
Depending on the degree of your friendship, the stardust amount you may spend on the trade is as follows:
Friend - There aren't Special Trades permitted.
Good Friend - Pay 20,000 Stardust.
Great Friend - Pay 16,000 Stardust.
Ultra Friend - Pay 1,600 Stardust.
Best Friend - Pay 800 Stardust.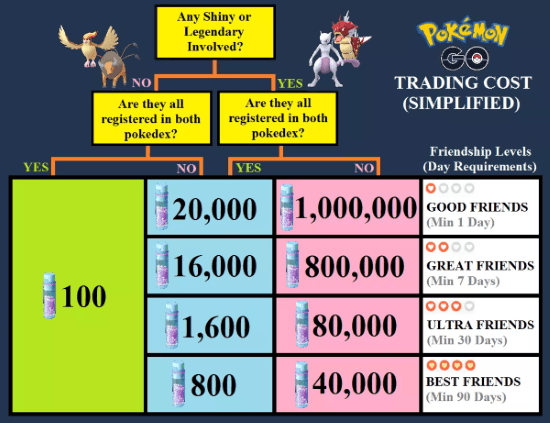 Method 2. Fake Your Location on Android with Fake GPS Location App
You can also use the Fake GPS Location app to fake your location on Android and play Pokemon. The apps allow you to teleport to a specific region where there are Regional Pokemon you want to catch.
How to fake location on Android using the Fake GPS Location app:
Step 1. Download the Fake GPS Location application from Play Store.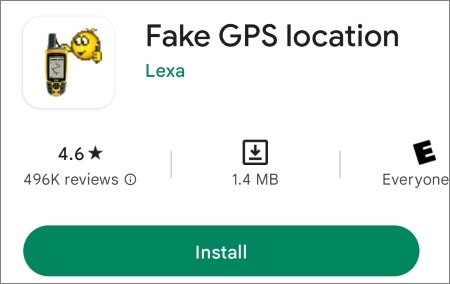 Step 2. Enable the developer Options on the phone. Head to Settings > About Phone > Build Number and click on it seven times until the You're now a developer words appears.
Step 3. From there, proceed to Select mock location app by heading to System and Developer options. Choose Fake GPS.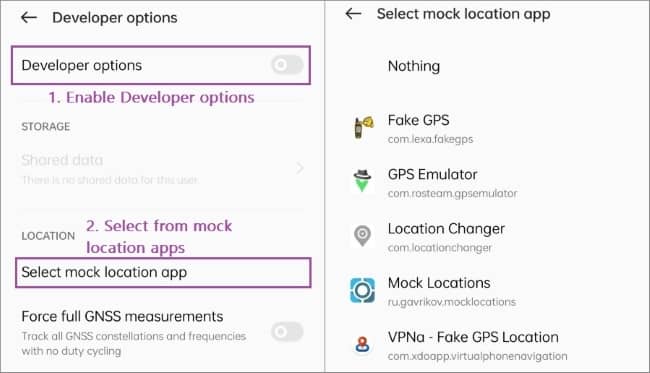 Step 4. Now open the Fake GPS Location app and set your speed and location.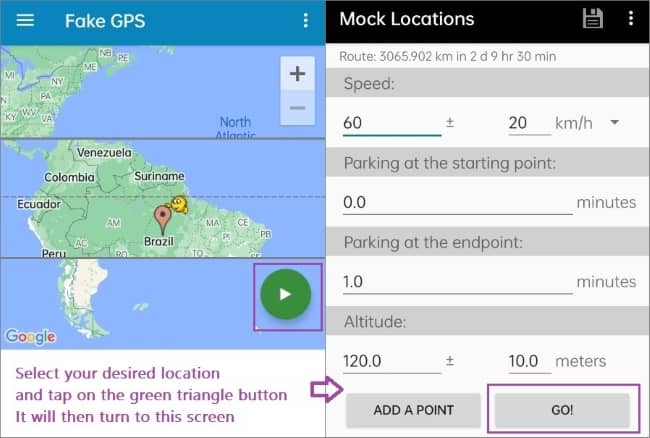 Now, you have successfully spoofed your location on Android. Now open your Pokemon Go app and go to locations with Regional Pokemon.
Method 3. Catch Region-Exclusive Pokemon Using Location Changer [Recommend]
Wondering how to catch region-exclusive Pokemon? To catch Regional Pokemon, you need to travel to that specific location where Pokemon is located, which is a rule set by the game. Note that the Pokemon Go game operates by tracking location through GPS. A GPS is a virtual way of tracking your device's IP address. You can fake your GPS with a good VPN and mock GPS, and it may seem you are traveling. This way, you can trick the game, enabling you to move to regions and catch these geo-restricted Pokemon.
The best way to fake your location and prevent your account from getting a light ban is to use a powerful spoofer software like Location Changer. This is the tool you can rely on since it provides numerous features which come in handy when faking location. With Location Changer, you can, without a doubt, deceive the game into thinking you're in that place where the Regional Pokemon you want to capture is found.
Location Changer is a great tool that's extremely excellent in location spoofing. You can spoof location on Android or iOS devices. It features a virtual joystick to help control your movements manually. Besides, you can choose specific routes on the map to move along as you play the game.
Main Highlights of Location Changer
Change the GPS location on iPhone/Android to any place in 1 click.
Work with applications that use location, such as Snapchat, Tinder, etc.
Joystick for GPS movement simulation while playing Pokemon Go game.
Export or Import GPX files to save favorite routes.
Support Android and iOS devices.
Below are steps on how to change your GPS location and catch region-exclusive Pokemon easily:
01Launch Location Changer on your computer after downloading and installing it. Click on Get Started and connect your phone to the computer.
02Choose the Teleport Mode option in the upper right section. Scroll the mouse to zoom in or out of the map and choose a destination. Also, you may enter your address or GPS coordinates at the top left section to search for the destination location.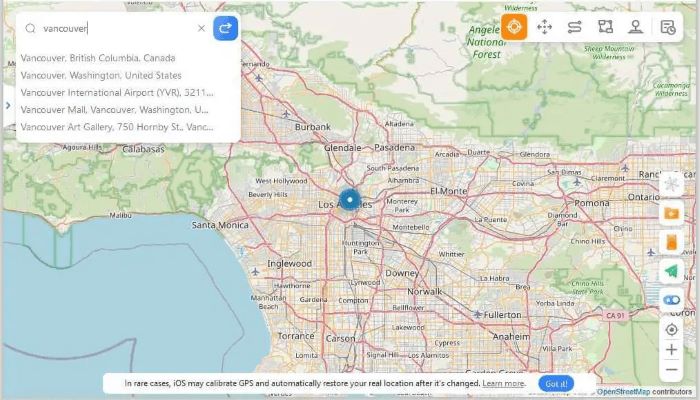 03After choosing a destination, a window on the side will pop up. It will show the destination info, including the location's name, distance, and coordinates. Tap Move to change your location to that place.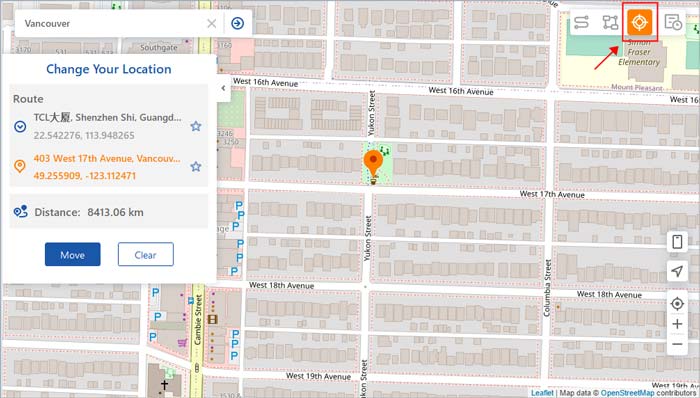 All applications on your phone that use GPS location will switch to that fake location. You can now start getting those Regional Pokemon without traveling.
Extra Tip: Other Tips to Help Catch Regional Pokemon
Catching regional-exclusive Pokemon is just like getting regular Pokemon. Immediately they spawn near your location; just throw a Poke ball to catch it. When you see the Poke ball shaking, it implies that Pokemon is trying to resist and can pop up from the ball in case you throw another ball at it. If you're traveling and have less time or limited spawns, there are tips to improve your chances of landing the catch.
Below are some of the tips that can help:
Practice throwing curveballs - While learning to play the Pokemon Go game, you are taught how throwing curveballs raises the chances to capture. Also, you get many bonus points of up to 17 if you make a successful curveball catch.
Pick up the RazzBerries - Usually, RazzBerries attract the attention of Pokemons, including those region-exclusive Pokemon that pop up after uncovering a good location. Feeding berries to the target highly increases your chances of getting the Regional Pokemon.

Maximize medals - Also, medals increase the performances in Pokemon Go without costing any extra resources such as Great balls or Razz Balls. Therefore, maximize your medals to raise the chances of getting rare exclusive Pokemon.
Use powerful Poke balls - It is also advisable to use powerful Poke balls such as Great Balls, which help maximize the likelihood of catching Regional Pokemon.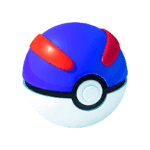 Consistency - Pokemon Go algorithm is complicated, but you'll find a pattern. You'll notice that when you keep on practicing with excellent catches with smaller Pokemon, it increases the chances of getting strong ones that can put up with the fight.
Get Out Nanab Berries - Nanab Berries will also improve the chance of capturing Pokemon. These Berries are made to calm or slow Pokemon, which is useful when encountering a regional beast you can bolt.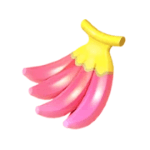 Also read:
Unveiling the Legend: Exploring the Mysteries of Eternatus Pokemon
The Complete Guide to Glaceon in Pokemon Go You Might Need
Conclusion
How to get region-specific Pokemon? This guide has illustrated the best ways to do so. Besides, it is very easy, and all you require is a Pokemon Go spoofer like Location Changer. The app works like a charm in faking your GPS location on Android or iOS devices so that you can virtually travel to places with Regional Pokemon.
Related Articles:
How to Spoof Pokemon Go on Android Safely? (Quick Guide)
[2023] Top 10 Pokemon Go Coordinates You Should Know
Dragonite in Pokemon Go [Everything You Need to Know]
What Is Spoofing in Pokemon Go? How to Spoof Pokemon Go? [Solved]
Go the Distance: Your Guide on How to Get Remote Raid Pass Pokemon Go
Most Reliable Pokemon Go Auto Catcher App on iOS and Android