Pokemon Go has been sweeping the world. With so many people immersed in this game, cheating cases are also rising. While it is true that some players have been successful with their cheats, it is all temporary. Pokemon Go has introduced measures such as Cooldown Time to deter cheating. It prevents the players from repeating their actions in varied locations at a set time.
From this guide, you'll understand everything related to Cooldown Time, how it works, and the Pokemon Go Cooldown chart to help you know when to wait to trigger actions.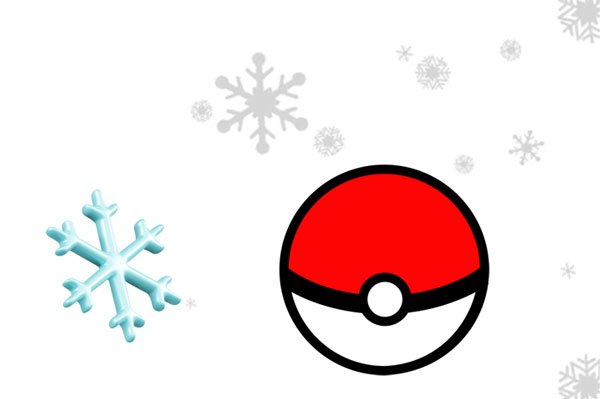 Part 1: What's the Pokemon Go Cooldown Chart?
Are you new to the popular Pokemon Go game and its concepts of Cooldown Time? Cooldown Time is the time you have to wait after an in-game action. The waiting time depends on the distance you travel.
The longer the distance, the longer the time. You must wait for a long time for a cooldown when you go a longer distance. Thus, PoGo Cooldown chart contains all the Cooldown Time of different distances.
Many actions may trigger Cooldown Time, for instance, Gym raids and battles, catching or spinning Pokemons, and more. Still, some actions can't trigger Cooldown Time, like teleporting, hatching eggs, trading Pokemons, etc. As such, it's essential to remember that Cooldown Time isn't based on spoofing apps you use. These apps cannot control or even remove the Cooldown Time.
Part 2: How Does Cooldown Time Work?
As you now know, the Cooldown Time feature is significant in Pokemon Go. It prevents players from cheating when playing the game. This feature uses your phone's GPS, and your chances of getting caught are high when you carry out many actions at a quicker pace.
In order to bypass this set detection, you have to wait for a predefined time between two locations. Generally, this time is based on the distance between those locations; you have to wait 2 hours before you can do anything in your new location. Let's say you've been in a gym fight at location B at 5 PM; you must wait till 7 PM to conduct another action at location C.
Part 3: What Actions Can or Can't Cooldown Pokemon Go?
As mentioned earlier, some actions can trigger Cooldown Time on Pokemon Go. At the same time, others can't affect the Cooldown. Let's see some of these actions so that you know what to do at what time.
3.1 What Actions Can Cool Down Pokemon Go?
If you accidentally drop a Pokeball on the catch screen.
Catching wild Pokemon, specifically those from the Lures, Incense, Mystery, and Melta Boxes.
Feeding the wild Pokemon and raid boss on the screen.
Battling the gym defenders.
Allowing a Pokemon to flee from you.
Healing the gym defender at the gym.
Placing the Pokémon in the gym.
Using the Pokeball or Gotcha to spin Pokestops and catch Pokemon.
Using a Gotcha device to spin and catch.
Spinning the Pokestop when the bag is full.
When you try performing the above activities on Cooldown, the Timer will reset. And if you're not at the exact place when the cooldown count started, you'll get a soft ban.
3.2 What Can't Trigger Pokemon Go Spoofing Cooldown?
Teleporting to a new location.
Treating with berries.
Hatching eggs.
Encountering wild Pokemon.
Auto-Walking without catching or spinning.
Speed raiding.
Sending or opening Gifts.
Claiming tasks/weekly rewards.
Evolve/Trade/Transfer/Power up a Pokemon.
Change Buddy Pokemon.
Take pictures of Pokemons.
Use items on Pokemon.
Unlock secondary moves on the Pokemon.
Transferring Pokemon to Nintendo Switch.
Catching bonus Pokemon.
Getting buddy candy as you walk.
Using incense lucky eggs/stars.
Removing items from the bag.
Player Vs. Player combat.
Leadership training, such as finding Blanche.
Change the avatar's appearance.
Encounter or capture Smeargle.
Placing bait on Pokestop.
learn more:
Top 3 Ways to Fake Location on Zenly [iPhone & Android Supported]
How to Fake Twitter Location Easily | FAQs and Solutions [Proven]
Part 4: Avoid a Soft Ban in Pokemon Go By Using the Cooldown Chart
It's advisable you strictly follow the Cooldown chart to avoid being banned. According to Pokemon Go, you can be banned if you don't wait for the set period between two locations before doing any action.
Cooldown Time relates to distance traveled. This time starts after you carry out an action that marks your last spot, and before you commit any activity in your new location, you have to wait for Cooldown time to expire.
| | |
| --- | --- |
| Distance (KM) | Cooldown Time |
| 1 | 30 secs |
| 5 | 2 Mins |
| 10 | 6 Mins |
| 25 | 11 Mins |
| 30 | 14 Mins |
| 65 | 22 Mins |
| 81 | 25 Mins |
| 100 | 35 Mins |
| 250 | 45 Mins |
| 500 | 1 hr |
| 750 | 1 hr 20 Mins |
| 1000 | 1 hr 30 Mins |
| 1500+ | 2hr |
Part 5: How to Achieve Pokemon Go Spoofing Without Cooldown Time?
When you try to cheat Pokemon Go but cannot do so because of Cooldown time, it's time to ensure that your location is not being traced. You can achieve this by faking your location using a location spoofer tool.
GPS Changer is a location-changing app to fake your GPS location anywhere in the world. Thanks to its powerful GPS faking feature, this application can help you outsmart the system while playing Pokemon Go.
With this program, you can change your location to any place you like and trick any application into believing you're there. You need not worry about getting banned because it is safe to use and protects your privacy.
Key features of this GPS changer:
* Spoof Pokemon Go location easily with no Cooldown Time.
* Allow you to play AR games without going out.
* Easily fake virtual locations on various social platforms.
* Change iPhone GPS location to anywhere instantly without jailbreak.
* Support Android phones as well.
Download this GPS location changer below to avoid Cooldown time on Pokemon Go.
Change location safely to bypass cooldown rules with this software:
01Launch the software on the computer and connect your mobile device, such as an iPhone. Tap Get Started on the interface, and click the Trust option on your mobile device. Then enter the password to finish the process.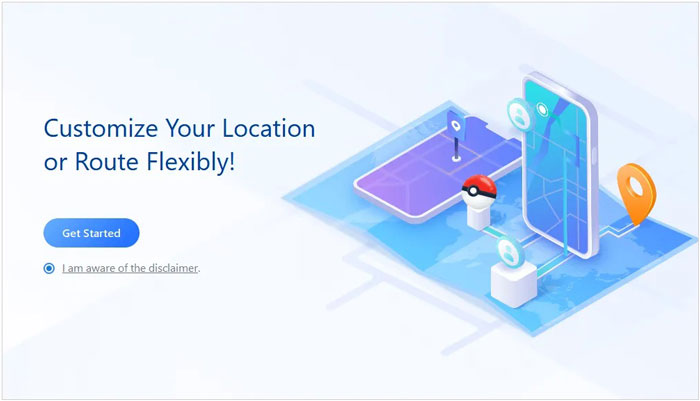 02Choose your smartphone and click OK. Then the software will load the map. Next, Select the Teleport Mode from the top right corner of the screen to customize jumping routes. Also, turn on the Cooling icon from the bottom part of the interface to show the Cooling Timer.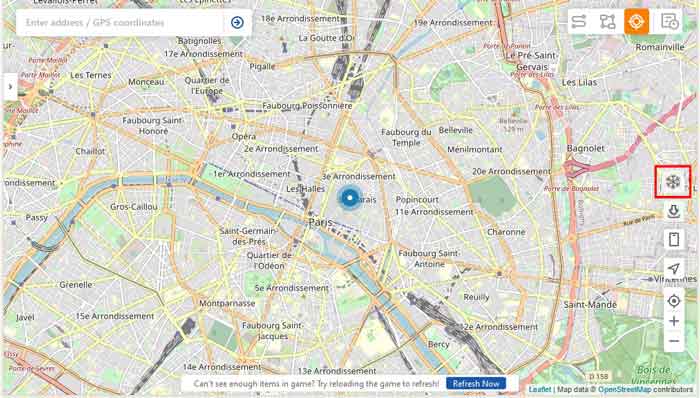 03After choosing the route, tap the Move button to jump to the next point. Besides, you may also switch between previous points and the next the way you want. Remember, the timer calculates the cooling time as per the distance traveled. You should do only 1-9 activities before the countdown completes.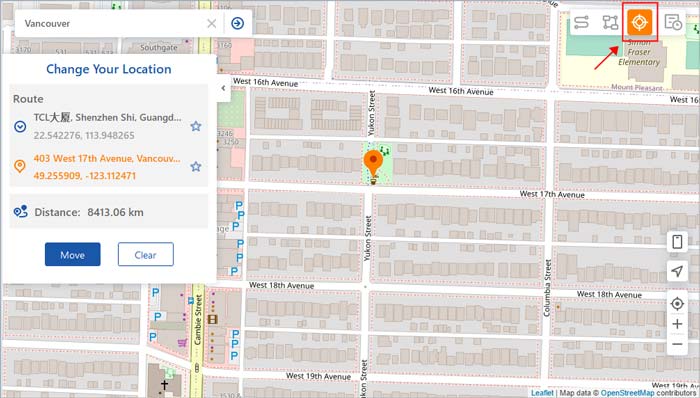 Read more:
How to Change GPS Location on Android in Different Tools (SAFE & FAST)
[Skout Change Location] How to Change Location on Skout in Simple Ways?
Part 6: FAQs About Pokemon Go Cooldown Time
Q1. What happens when I get a Soft Ban?
A soft ban implies that your account is flagged, and you can't interact with other players who haven't had a soft ban. When you try catching Pokemon you find in the wild; they'll flee. Also, you can't loot from the Pokestops. This will lower your activities in the game and inhibit you from exploring the game. The soft ban can last 1 hour to 12 hours.
Q2. Can I raid on Cooldown?
No. You can't raid when on Cooldown time unless you are at the place you were put on Cooldown. When you try battling a raid, you'll be kicked out of the gym and lose Raid Pass.
Conclusion
There's no doubt that Pokemon Go is one of the most popular games in recent times. But, with its recent Cooldown Time feature, it's pretty tricky to play the game the way you want. You now have a clue on what it is and what actions can or can't trigger it. Besides, with the Pokemon go Cooldown Chart, no need to worry about getting soft bans. So far, the GPS changer is the go-to app to avoid getting banned on Pokemon Go, since it has a Cooling Timer in Teleport Mode.
Related Articles:
How to Fake GPS on Android without Mock Location?
How to Transfer Photos from Android to iPhone 14/13? [4 Methods]
Transfer Text Messages from Samsung Phone to Computer | Top 6 Ways
How to Change Your Location on Snapchat for iPhone & Android
Best iOS Downgrade Tools: 8 Options to Downgrade iOS with Ease