Pokemon Go is a popular mobile game that has taken over the world by storm. It allows players to get out of their places and experience real-life activities rather than staring at their screens all day. However, those who wish to play the game face challenges. For instance, moving around the world to capture rare Pokemons can be challenging. This is where Pokemon sniping comes in. It's a technique of finding then catching rare Pokemon that are far from spawn points.
Pokemon Go sniping has been a hot topic since the launch of this AR game. But, most players do not know how to do it correctly and are mostly banned. Fortunately, this article aims to help Pokemon Go enthusiasts learn all about Pokemon Go sniping and how to effectively snipe in this game safely.
Part 1. What Is Pokemon GO Sniping?
When playing Pokemon Go, a mobile phone's GPS will reveal the nearby Pokestops and spawning sites close to you. But, some Pokemon will only be located in the nests, which might be far from your location. Poke snipers are meant to solve this issue.
Snipping will enable users to use the coordinates for location simulation in the app. This way, they can teleport to different locations and capture Pokemons not available in their actual location. The best part is that you can snipe without being banned by Niantic.
Part 2. How to Snipe in Pokemon Go Easily
Pokemon Go sniping is a dream come true for many. Imagine having endless rare Pokemons from the comfort of your home. It's amazing, right? However, there are prominent Poke snipers that work the best. Check them below:
2.1 Location Changer
Location Changer is an intelligent location-changing software to enhance your gaming experience in Pokemon Go. You'll fake location and move to other places to snipe awesome Pokemon in a few minutes in a single click. This tool is remarkable with its unique features that aren't available in other apps. It works without jailbreaking your device.
If you want to change location safely, this is the tool. It's an all-in-one app that lets Pokemon Go players teleport to any place and move virtually without being detected. Location Changer is a feature-rich tool that lets you save historical spots for accessing them later on when in need. It enables you to teleport anywhere globally just by entering the coordinates.
Key features:
Snipe in Pokemon Go in just a click.
Simulate GPS movement to move on a customized route virtually.
Apply to location-based applications like Tinder, Life360, etc.
Support iOS and Android.
Enter the coordinates of the location you wish to be.
High rates of success and fake locations without getting detected.
Here's how to use Location Changer:
01Download and install Location Changer onto the computer. Run the application and tap the "Get Started" option to proceed.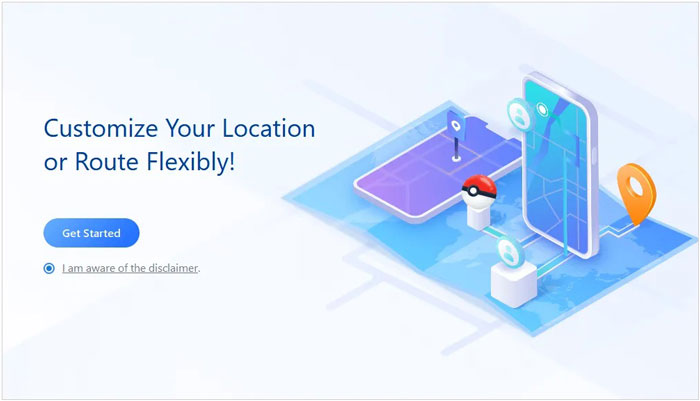 02Enter the "Teleport Mode" from the top right. Zoom in or out of the map using a mouse, then choose a destination. Now, input the coordinates or address at the top left to search for your destination.
03When you choose the location to head to, a sidebar pop-up will appear with your destination information, like the name of the place, distance, and coordinates. Tap on "Move". Now, your location will change immediately to the destination you had set.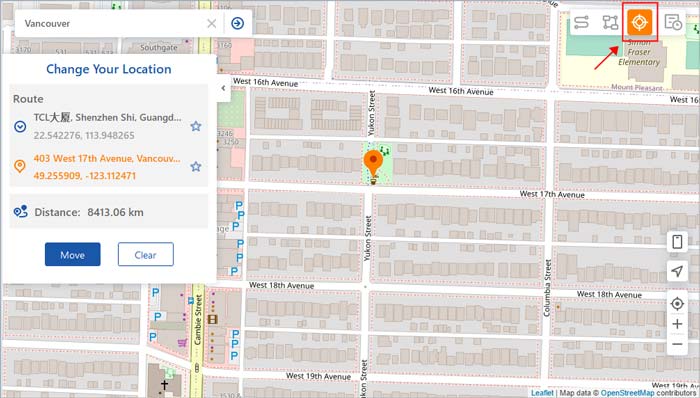 Read More:
Most Reliable Pokemon Go Auto Catcher App on iOS and Android
Pokemon Go Cooldown Chart | What Is it? How Does It Work? [Ultra Guide]
2.2 PokeGo++ 2.0
PokeGo++ 2.0 is a spoofer for mobile games like Pokemon Go. It's a suggested tool for Pokemon Snipe. Installing the app overlays with multiple features to make playing the game fun and easier.
Steps to use PokeGo++ 2.0:
Step 1. Install the tool and expand its menu by clicking on the Pokeball button.
Step 2. Head to "Settings" in the app, then enable the "Fake Location" option.
Step 3. Reset time to save the location to "Forever".
Step 4. Click on the "Snipe" tab, key in the GPS coordinates with the Pokemon you want to capture and hit "Continue".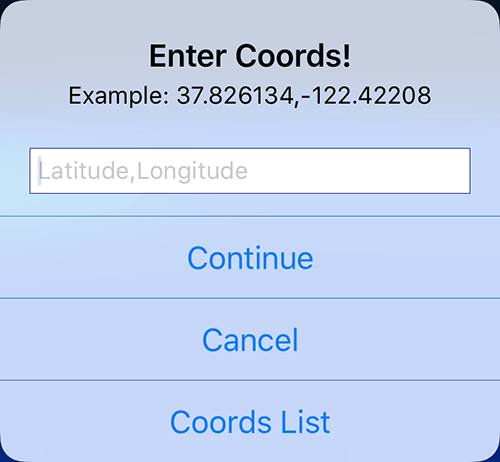 Can't Miss:
How to Spoof Pokemon Go on Android Safely? (Quick Guide)
The Complete Guide to Glaceon in Pokemon Go You Might Need
2.3 3uTools
3uTools is another location faker for iPhone devices that is efficient and helps in location spoofing without a problem. It will allow you to fake location to any location you desire on the iPhone or other iOS devices.
Therefore, you can access geo-restricted content on the iPhone anywhere. This tool has an intuitive interface that enables users to fake their location easily. Here are the steps to use 3uTools:
Step 1. Start by installing 3uTools on the computer.
Step 2. After installing, plug in your iOS to the computer using USB. Choose "Toolbox" then "Virtual Location" on the menu on the screen's left side.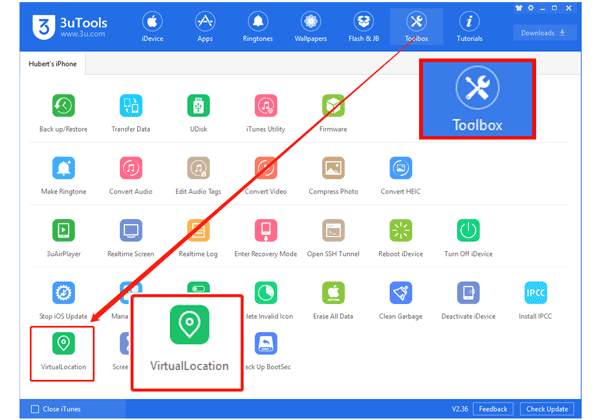 Step 3. Key in the coordinates of the location you wish to relocate to after the shows.
Step 4. Inspect your location settings from the device linked to ensure they're enabled for apps like Pokemon Go. Tap the "Modify Virtual Location" option to instantly change your location.
See Also:
What Is Spoofing in Pokemon Go? How to Spoof Pokemon Go? [Solved]
Uncharted Territory: Uncovering the Best Places to Spoof Pokemon Go
Bonus: What Are Some Locations to Snipe in Pokemon?
If you're a Pokemon Go fan, you should know the best GPS coordinates to snipe Pokemon Go and capture unique Pokemons that are hard to find. With sniping, you can track down Pokemon's location and employ the in-game techniques to increase the chances of capturing. Below are the best locations where you can find the rare Pokemons:
Sydney & Australia - You will find many rare Pokemons on the waterfronts. When you change your location to these places, you will easily find rare Pokemons.
Central Park & New York - This is another optional location to find those rare Pokemons.
Savoy Hotel & London - London is referred to as Pokestop since many Pokemons prefer to reside in the historic buildings of London.
Disneyland California - Disneyland is an important location in the game world. You can find plenty of rare species of Pokemon.
May Like:
The Best Place to Play Pokemon Go: Unleash Your Adventure!
How to Hatch Eggs in Pokemon Go Without Walking [5 Methods You Should Try]
Conclusion
Pokemon sniping is an effective way to catch rare Pokemon. It mainly entails strategically waiting for these creatures in the locations they're more likely to show up and capture them when they appear. In this article, we have outlined some tools to snipe in Pokemon Go and, more importantly, places you can find legendary Pokemon.
However, Pokemon sniping involves risks such as getting banned, which is why a professional tool is needed. Location Changer is the most recommended tool, as it will fake your GPS location and allow you to move virtually without being detected.
Related Articles:
[Solved] How to Evolve Eevee into All Forms in Pokemon Go
How to Get Rare Candy in Pokemon Go? Read This Comprehensive Tutorial Here!
How to Play Pokemon Go Without Moving [Detailed Steps for Android and iOS]
[Solved] How to Use Pokemon Go Spoofer on iOS with No Jailbreak
How to Spoof Pokemon Go Without Suspicion [Workable Solutions]