Pokemon Go is a popular location-based game that has taken the gaming industry by storm. For mobile gaming enthusiasts, this game has become so addictive that they can't do without it. The fun of playing this AR-based game is unrivaled since you explore places to catch Pokemons and do much more. Remember, this game is available almost everywhere, so competition is tough.
The Pokemon Go game largely depends on location as it works according to the current GPS location. But, if you reside in rural places or the outskirts, you'll have a limited choice of capturing legendary and rare Pokemon as the game is location-specific. Luckily, there are Pokemon Go spoofers for Android 2023 to help spoof locations and find Pokemon in various locations without physically being there. This article will aid you in choosing the most secure and reliable Pokemon Go spoofing apps for Android devices so you may freely move around the world and capture rare Pokemon.
Part 1. Do You Need an Android Pokemon Go Spoofer?
Spoofing in mobile gaming is a unique and effective way of changing your location to enhance gameplay. It's a popular option for games such as Pokemon Go, which are dependent on the location to collect Pokemon.
To efficiently and smoothly play Pokemon Go, you need a location spoofer to manipulate your phone's GPS location. This will enable you to move around the Pokemon map virtually without being at those locations physically.
Therefore, Android GPS spoof Pokemon Go is a vital requirement to play Pokemon Go since they help in many things, as stated below:
Create movement without you moving.
Give access to special events.
Help locate gyms and Pokestops in various places.
Get rare Pokemons.
Part 2. What Are the Best GPS Spoofers for Pokemon Go on Android?
Location spoofer apps can allow you to fake your location on your mobile phone and help play Pokemon Go. However, these applications have many requirements. Some need rooting on your phone, which is risky. Whichever the case, prioritize ease of use and simplicity when dealing with location spoofers.
We'll walk you through the 6 best Pokemon Go spoofers for Android designed to assist you in teleporting to any location seamlessly and stealthily hunting the Pokemon you need. Check them below:
1. Location Changer - Excellent
Designed for both Android and iOS, Location Changer is a great location spoofer if you're tired of playing Pokemon Go in one place. With this spoofing app, you'll freely change the GPS location to any place you desire, whether it is countries or cities, in just a click. It's the best Pokemon Go spoofer for Android, available today.
Like other top apps, Location Changer comes with two movement modes, two-spot mode and multi-spot mode, which helps to move easily to any location and hunt rare and legendary Pokemons when sitting in the comfort of your home. There is a cooldown timer that hinders you from changing location frequently, thus helping bypass the soft ban. When choosing a route for movement and getting characters, you'll zoom in/out to plan your route properly.
Moreover, you can customize routes between two places on your map at the speed you want and hide the location to safeguard your privacy. The joystick feature, on the other hand, customizes your movement effectively.
Key features of Location Changer:
Spoof Pokemon Go on Android without jailbreaking.
Virtual joystick to customize moving the route and speed and simulate Pokemon intelligently without moving.
Use geo-specific services on the phone without limitations.
Work well with location-based applications such as Tinder, Snapchat, etc.
How to spoof Pokemon on Android using Location Changer:
01Open Location Changer on the computer and hit "Get Started". Connect your Android phone and ensure USB debugging is enabled.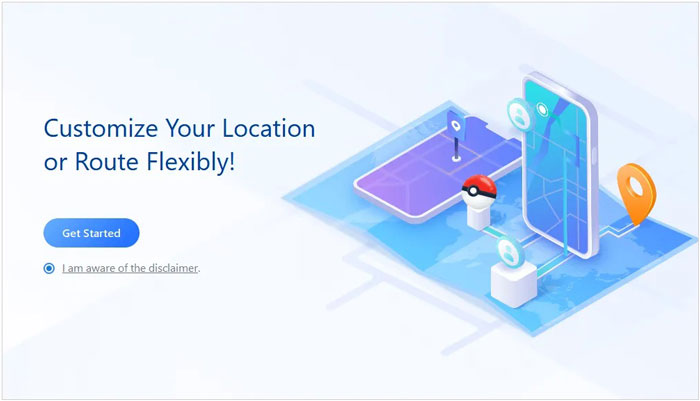 02Select "Teleport Mode", the 3rd button at the top right corner. Enter the address you want to change or zoom in, then drag the map to select a fake location.
03Now tap "Move" to change the location on the map to the new location you selected. After that, open Pokemon Go, and your location will have changed.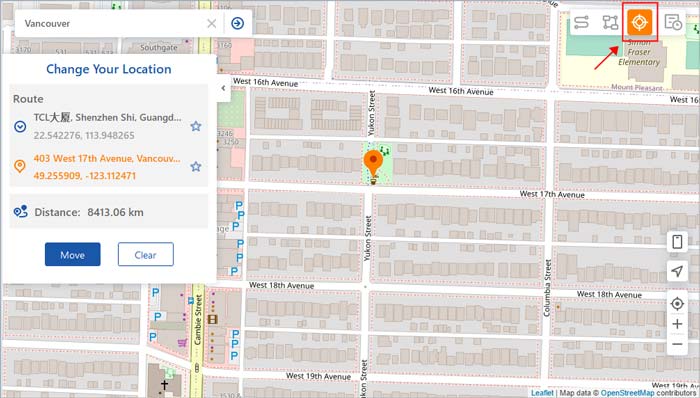 Read More:
Review | Top 6 Pokemon Go Spoofer Apps for Android/iOS
What Is Spoofing in Pokemon Go? How to Spoof Pokemon Go? [Solved]
2. Fake GPS Location
Fake GPS Location is another Pokemon Go spoofer for Android developed by Lexa that still works to allow Pokemon Go enthusiasts to play the game without being restricted to their actual locations. After changing location on the Android phone, any app that works with a GPS location will believe you're there. Most of its features are free, and users will enjoy spoofing without paying anything. However, you have to root your device.
Key features of Fake GPS Location:
Fake GPS location on Android easily.
Need to root the device.
Work well with location-based applications and social platforms.
How to use Fake GPS Location:
Step 1. Launch Fake GPS Location after installing it from the Play Store.
Step 2. Head to Settings on your Android and click "Build number" 7 times to activate "Developer options".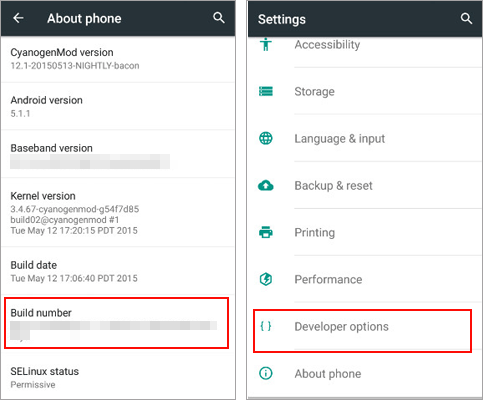 Step 3. Click on the "Developer" option and find the "Select mock location app" option, then select the Fake GPS Location app.
Step 4. Enter the location you wish to change to in the search bar, then tap the "GO" button to change the location. The current location will now be shifted to this location.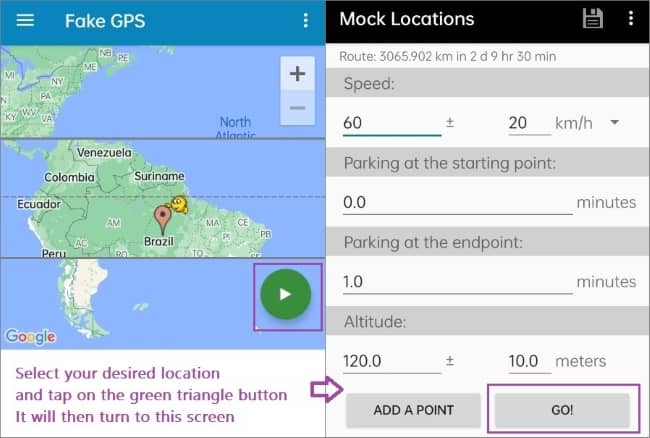 3. Fake GPS
Fake GPS is one of the most used Pokemon Go location spoofers for Android that lets you teleport to a desired location and grab Pokemons from different places. It is designed for Android devices, so you can use it freely on smartphones to change location in Pokemon Go. However, it does not provide many spoofing features, but it can be a great tool as it's free and available in the Play Store.
Key features of Fake GPS:
Change location to any place worldwide.
Come with ads & in-app purchases.
Randomize the location to make it real.
How to use Fake GPS:
Step 1. Install Fake GPS application from Play Store. Head to "Settings" and activate "Developer options".
Step 2. Head to "Select mock location app", then select "Fake GPS".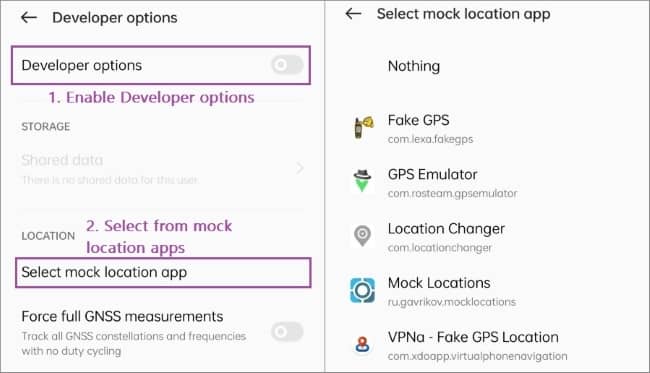 Step 3. Open the Fake GPS application and select the location you wish to change. Then tap on a map location, input the coordinates, and click "CONFIRM".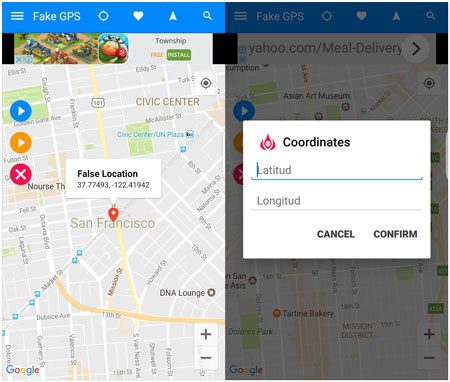 Step 4. Tap on the "Start" icon to move to a new location.
Can't Miss:
[Solved] How to Spoof Location on Android? This One Answers!
Uncharted Territory: Uncovering the Best Places to Spoof Pokemon Go
4. PGSharp
PGSharp is another specialized spoofer application that's made to help gamers play AR games and fake their location anywhere. You should install it as an APK package. It allows you to spoof GPS coordinates and teleport to your desired location. While PGSharp provides many features, it can be risky to use. You have to remove your main account from the device to avoid getting banned.
Key features of PGSharp:
Include a GPS joystick for game movement simulation.
Customize walking speed.
Teleport feature to move from one place to another.
How to use PGSharp:
Step 1. Head to PGSharp's official website and download it.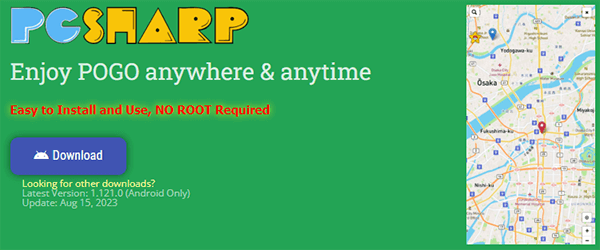 Step 2. Find the app's Beta Key by heading to the official website, scrolling to "Sign Up Now", and getting a free trial. You will also be required to create a password for signing in.
Step 3. Copy & paste your information from the PTC Pokémon GO account and Beta Key provided after signing up for the free trial. The program will now be ready to use on the Android device.
See Also:
How to Play Pokemon Go Without Moving [Detailed Steps for Android and iOS]
Explore the World from Your Device: Introducing Location Changer
5. GPS JoyStick
GPS Joystick is a unique Pokemon Go spoofing for Android app designed to cater to Pokemon Go players' needs when faking their GPS locations and moving to faraway places. If you wish to capture legendary or get to the gym, this application will help you. It can also create and save custom routes on a map.
Key features of GPS JoyStick:
Use a map or a joystick to change GPS location.
Pause and continue moving around with the joystick.
Plan and save a route you take for future use.
How to use GPS Joystick:
Step 1. Download and install the GPS Joystick app on your phone.
Step 2. Launch the app on the phone and enable the Developer Mode by heading to "Settings" > "About Phone" and tapping "Build Number" seven times.
Step 3. Navigate to "Developer options", then select the option for "Select the mock location app" and set it to the "GPS Joystick" app you downloaded.
Step 4. Key in the coordinates of the location you want to create a route on the map. After that, you can see a joystick appear on your phone screen.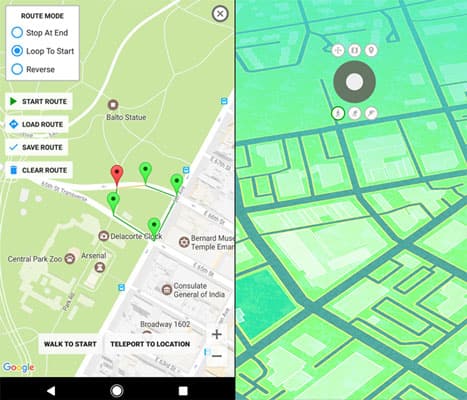 6. Smali Patcher
Designed mainly for tech-savvy individuals, Smali Patcher helps spoof locations in Pokemon Go. However, it can take plenty of effort and time to set it up and use. In such a case, Smali Patcher needs you to root the Android device, which means you require full privileged access to make changes.
Key features of Smali Patcher:
Conceal that you are using mock locations.
Compatible with both ROMS and work fluently.
Change locations to help in catching many legendary Pokemon.
Deactivate all GNSS.
How to use Smali Patcher:
Step 1. Activate "Developer Mode" by clicking on "Build number" below "Software info" seven times. Enable USB debugging in Developer Settings.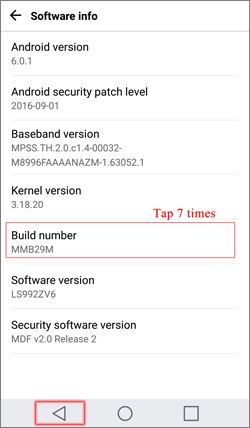 Step 2. Install the Smali Patcher app from the community. From there, plug in your Android to the computer, which should have at least 3GB RAM. You may also get a notification stating that you should authorize USB connections on the phone.
Step 3. Launch "SmaliPatcher.exe" on the computer. Scroll through the patches to specify the one you want.
Step 4. Choose the "Mock Locations" option, and when ready, tap "ADB Patch" to start downloading patches on the Android.
Step 5. From there, the Magisk module will be created. Install the Magisk module, then enable the Smali Patcher module in the Maisk.
Generally, this option is difficult to implement. So, if you aren't tech-savvy, it is better to find a tool that's easier to use.
May Like:
How to Spoof Pokemon Go Without Suspicion [Workable Solutions]
What Is the Best Android Mock Location App? Here Is the Answer
Summary
Pokemon Go is a very popular game played by many around the globe. But, it requires you to capture Pokemon from different locations, which can be tricky if you're playing from the outskirts.
With the Pokemon Go spoofer outline above, you'll change your GPS location and play without moving an inch. These apps will work with AR-based games, including Pokemon Go, to help you teleport to places you want without being noticed. However, no app beats Location Changer in terms of ease of use and convenience. The catch is that it doesn't need rooting of the phone.
Related Articles:
How to Walk in Pokemon Go Without Walking? [Top 5 Ways]
The Best Place to Play Pokemon Go: Unleash Your Adventure!
Best Spoofing Apps for Pokemon Go on iOS and Android
Regional Pokemon Info & How to Get Regional Pokemon Without Traveling
How to Hatch Eggs in Pokemon Go Without Walking [5 Methods You Should Try]
How to Share Location on Android with Your Family and Friends