In today's digitally connected world, our smartphones and other devices have become an integral part of our daily lives. Many apps and services request access to our location data, often for legitimate reasons such as navigation or personalized recommendations. While sharing our location can have its benefits, it's crucial to prioritize our privacy and take control of our personal information. In this article, we'll guide you on how to stop sharing your location, giving you the tools to regain control over your privacy. Stay informed and empowered with the step-by-step instructions provided.
Part 1. Can You Stop Sharing Location Without Them Knowing?
Yes, you can stop sharing your location without someone knowing. When you disable location services on your device or revoke location permissions for specific apps, it does not notify anyone else. These changes are local to your device and do not generate any alerts or notifications for others.
If you were previously sharing your location with someone through a specific app or service, they might notice that your location information is no longer available to them. However, they will not receive any direct notification indicating that you have stopped sharing your location. It's important to note that if you were sharing your location with someone intentionally and they were actively monitoring it, they might notice the absence of updates.
To maintain your privacy and stop sharing your location without anyone knowing, make sure to review and adjust your app permissions and device settings as mentioned in the previous article. This will allow you to take control over your location sharing and protect your privacy without alerting others.
Read More:
How to Stop Parents from Tracking Your Phone | Prevent Monitor
4 Ways to Stop Your Employer from Tracking Your iPhone & Android Phone
Part 2. How to Stop Sharing Your Location Without Them Knowing?
To discreetly protect your privacy and stop sharing your location without others knowing, this section will provide you with a step-by-step guide.
Way 1. How to Unshare Location Without Someone Knowing by iOS Location Changer?
iOS Location Changer offers a comprehensive and user-friendly solution to manipulate and protect your location data. With this intuitive tool, you can easily modify your GPS coordinates and create customized movement paths with minimal effort. By utilizing iOS Location Changer, you gain the ability to seamlessly alter your GPS location to any desired destination. This tool is perfect for enhancing privacy on social media platforms or adding depth to your augmented reality gaming adventures.
iOS Location Changer offers a range of impressive features, including:
Effortlessly explore different paths and routes without physically being present at those locations.
Establish any desired location with ease.
Immerse in various virtual worlds by simulating different locations directly from device.
To learn how to not show location without turning it off, you can follow these steps:
01Install and open the Location Changer software on your computer. To begin the process, simply select the "Start" button.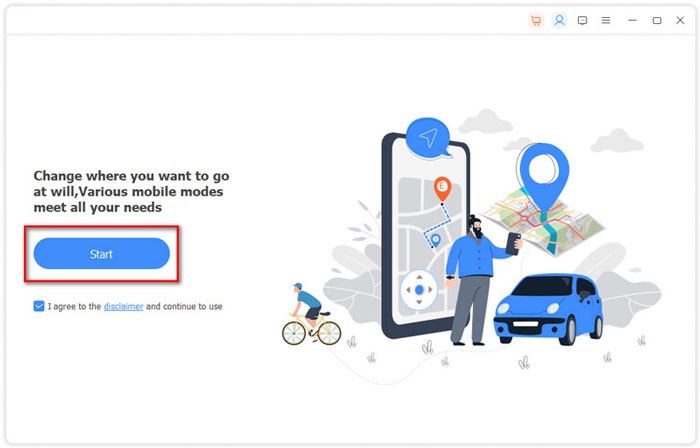 02Choose the "Modify Location" option and wait for the map to load, displaying your current location.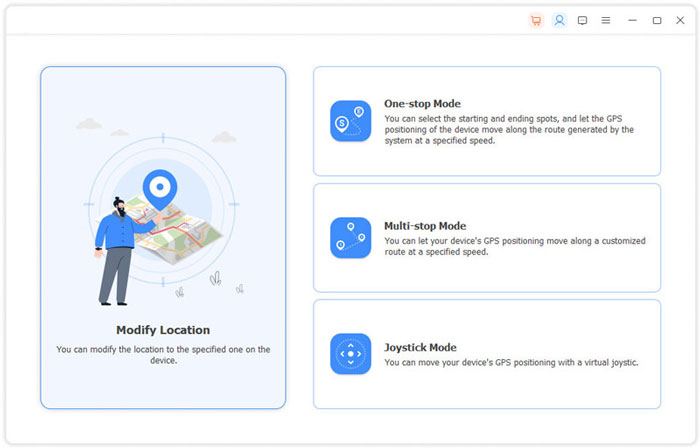 03Input your desired destination in the search bar situated at the top left corner of the window. Once you have located the desired location, click on "Confirm Modify" to assign the new GPS location to your iPhone.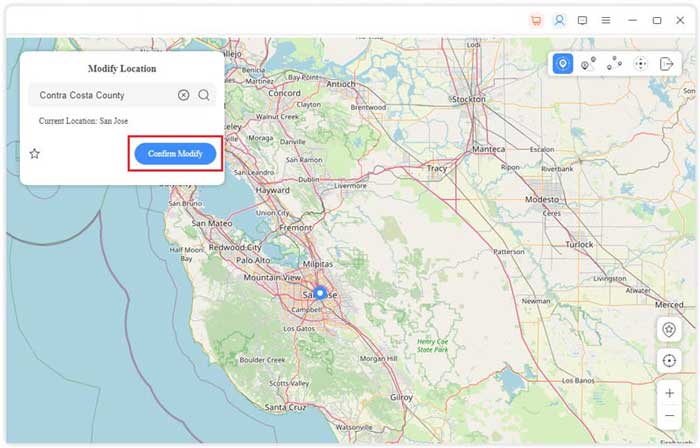 May Like:
How to Check iPhone Location History and Protect You from Being Traced
6 Feasible Ways to Spoof GPS Location on iPhone
Way 2. How to Turn Off Location Without Notifying Through Airplane Mode?
Turning off location services on your device through Airplane Mode will not specifically notify others that you have disabled location sharing. The purpose of Airplane Mode is to deactivate all wireless connectivity, including GPS, Wi-Fi, and cellular data, and it does not generate notifications or alerts for others.
To turn off location without notifying others through Airplane Mode, follow these general steps:
Step 1. Access the quick settings or control center on your device by swiping up from the bottom of the screen.
Step 2. Enable "Airplane Mode" by locating the icon, typically depicted as an airplane symbol, and tapping on it. Enabling Airplane Mode will deactivate all wireless connections, including location services.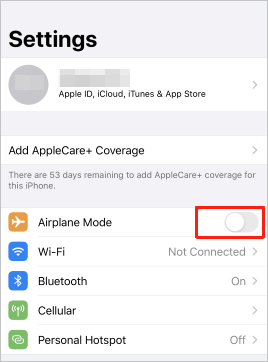 Way 3. How to Stop Location Sharing via Turn Off Location Services?
To stop sharing your location without others knowing by turning off location services, you can follow these steps:
Step 1. Access Device's Settings
Open the settings menu on your device. This process may vary slightly depending on your specific device and operating system.
Step 2. Locate Location Services Settings
Look for the "Location" or "Privacy" section within your device's settings. On iOS devices, you can find it under "Privacy".
Step 3. Disable Location Services
Within the location services settings, you will find an option to enable or disable location services. Toggle the switch to turn off "Location Services", ensuring that your device will no longer share your location with apps or services.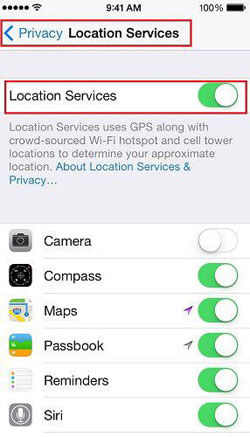 Can't Miss:
Top 3 Ways to Change Location/Country/Region on Netflix Easily
How to Fake Location on Find My iPhone Without Anyone Knowing
Way 4. How to Turn Off Location Sharing Without Notifying Using Another iPhone?
If you possess multiple Apple devices linked to the same Apple ID, you have the option to designate one of them as your location-sharing device. It's possible to select a device that you typically do not carry around, like an old iPhone. By following these steps, you can guarantee that your current location remains undisclosed to others. Here is a detailed guide on how to accomplish this:
Step 1. Access the Settings app on your Apple device. Tap on "your name" or "Apple ID" at the top of the Settings menu.
Step 2. From the options presented, select "Find My".
Step 3. Locate and tap on the "Use This iPhone as My Location" option.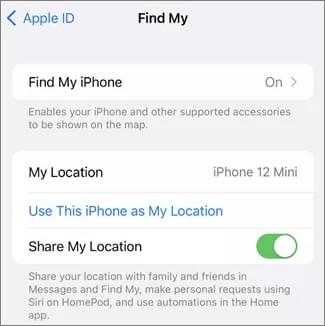 Way 5. How Can You Stop Sharing Location Without Them Knowing from Find My App?
If you want to stop sharing your location without the other person knowing in the Find My app, you can follow these steps:
Step 1. Open the Find My app on your device.
Step 2. Tap on the "People" tab at the bottom of the screen.
Step 3. Find the person you want to stop sharing your location with and tap on their name.
Step 4. You will see the "Stop Sharing My Location" option, then tap on it.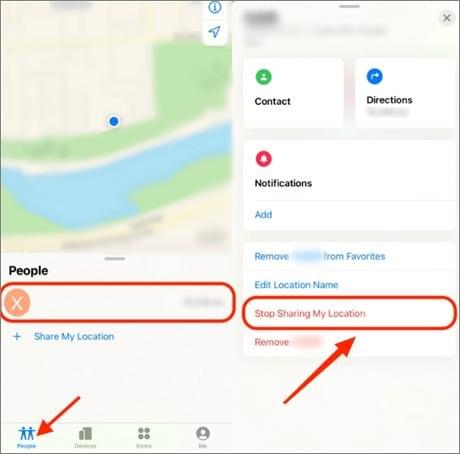 Futher Reading:
How to Find My iPhone Offline Last Known Location [2023 Updated]
Why Is My Location Wrong on My iPhone? (Fixes Included)
Part 3. FAQs About Stop Sharing Location
1.Why did my location stop sharing with someone?
There could be several reasons why your location stopped sharing with someone, like manually turning off location sharing, temporary interruption, privacy settings, or account or device changes.
2.Can iMessages be tracked?
iMessages are generally considered to be secure and encrypted, which means that the content of the messages cannot be easily intercepted or tracked by external parties. iMessage uses end-to-end encryption, ensuring that only the intended recipient can read the messages.
However, it's important to note that while the content of iMessages is secure, certain metadata related to the messages may still be accessible. Metadata can include information such as the date and time a message was sent, the phone numbers or Apple IDs involved, and the IP addresses used for sending and receiving messages.
Conclusion
Sharing your location can provide valuable benefits, allowing your family members and friends to locate you when necessary. This feature can enhance safety, convenience, and peace of mind, ensuring that your loved ones can easily track your whereabouts whenever the need arises. However, in an era of increasing digital connectivity, protecting our privacy and personal information is crucial. By following the steps outlined in this article, you can take control over your location sharing and ensure your privacy remains intact. By the way, iOS Location Changer is a software worth trying out.
Related Articles:
How to Fake Location on iPhone iOS 16/15/14 in 4 Ways? [2023 Updated]
How to Change Location on iPhone Easily?
How to Change iPhone/iPad Location without Jailbreak in 4 Cost-effective Ways?
Top 10 iTools Virtual Location Alternatives for Android and iOS Devices
How to Fake GPS on Android without Mock Location?