"How can I prevent my parents from tracking my device? I have a Samsung Galaxy. I have heard that I can turn off my data, GPS location, or the phone itself, but I would like to be able to keep my phone with me and on at all times and have normal functionality. Is there a way I can route the tracker to a specific location when I want so that I can tell them I am at that location even when I'm not? I'm 17, and I'm getting sick of getting a phone call whenever I leave a friend's house. I am willing to root my device and install any kernel or ROM, whatever it takes."
- StackExchange.com
Feeling overwhelmed by parents holding your whereabouts and activities? Time to keep your parents from tracking your phone! This tutorial shows how to stop parents from tracking your phone in five effective methods. Continue reading the following parts to learn more.
Part 1. How to See if Your Parents Are Tracking Your Phone?
Parents won't tell you that they are tracking your phone. But if you suspect that, you can check the following tips to see whether they are spying on your phone activities:
Unknown search history.
Abruptly increasing data usage.
Battery life drains rapidly.
Background noises when making a telephone call.
Most tracking apps need jailbreak. Check whether your iPhone is jailbroken or not.
Hard to shut down unfamiliar apps on your phone.
Extra monthly bills recently.
Part 2. Why Do You Want to Stop Your Parents from Tracking Your Phone?
Of course, we can understand the concern of our parents for our life and entertainment. But excessive monitoring and control over our phones is a "sweet burden". With the development of technology, many mobile phone monitoring software can accurately obtain our activities, health, sleep, and browsing history.
Besides, there are also other reasons for stopping parents from tracking our phones:
Avoid privacy disclosure.
Break mutual trust between parents and children.
Prevent companies from collecting and selling your confidential information for profit.
See more: It is simple to find those old text messages on your iPhone. Let's take a look at this informative tutorial.
Part 3. How to Keep Your Parents from Tracking Your Phone?
Bothered by the constant surveillance of parents on your Android/iPhone? Below are five practical solutions to get rid of parents tracking your phone.
3.1 Completely Turn Off Location Service on Your iPhone/Android
You can disable locations on your phone to stop disclosing specific locations to your parents, but some apps may not work without location services.
If you don't mind turning off locations for specific apps for a while, continue with the following steps.
How to stop your phone from being tracked by parents?
1. Open Settings > Privacy > Location Services on your smartphone.
2. Choose Location Services and turn off the button.

Learn more: What if an iPhone screen goes black? Don't panic. You can fix it with these useful measures.
3.2 Spoof Location on Your iPhone/Android
Assume you cannot completely disable location services on your phone. You can use a location spoofer to fake GPS locations and continue using all features of your device.
Location Changer is the best app in the market that supports faking GPS on iPhone/Android around the globe. It also supports spoofing locations in various location-based AR games, social platforms, and dating apps.
The highlights of Location Changer:
Fake GPS location on iPhone/Android as you want.
Plan GPS movement with customized speed and routes.
Use a joystick to mock GPS movement freely.
Work with WhatsApp, Facebook Messenger, Snapchat, Tinder, Pokemon Go, and other location-based services.
Support Android 5 to Android 13 & iOS 7 to iOS 16, such as iPhone 14 Pro Max/14 Pro/14/SE (3rd generation)/13 Pro Max/13 Pro/13/13 mini, Samsung Galaxy S23 Ultra/S23+/S23, Sony Xperia 1 V/ Xperia 10 V/Xperia 1 IV/Xperia 5 IV/Xperia 10 IV/Xperia Pro-I, Google, HTC, LG, etc.
Note: Only the windows version supports Android devices.
How to prevent my parents from tracking my Android/iPhone?
01Install and launch the software on your computer and click Get Started to move on.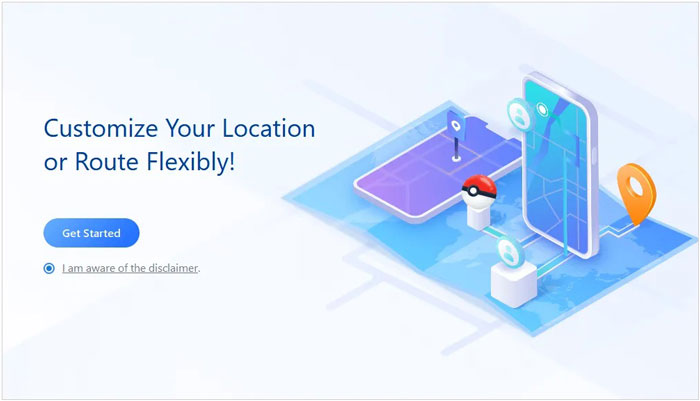 02Connect your phone to the computer via the original USB cable.
03Click Teleport Mode at the upper-right corner, enter any place you wish to fake, and search for the destination.
04Tap Move below to switch to the fake location. Once done, all the location-based apps on your device will change to the virtual location.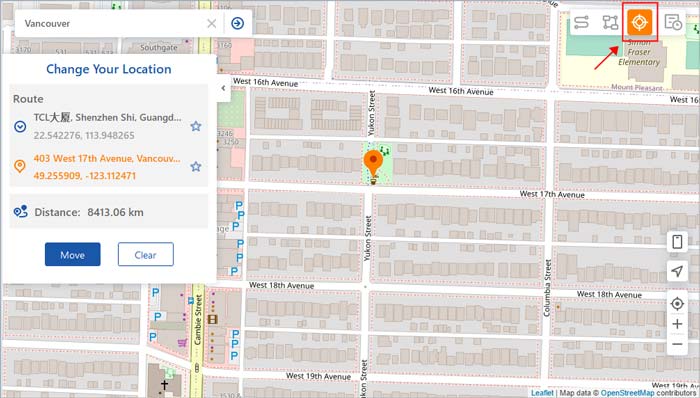 Further reading:
How to Change Home Address on iPhone? 5 Ways You Will Need
Easy Pokemon Go Spoofing on iOS Devices in Top 7 Ways
3.3 Use an Anti-Spyware App
An anti-spyware app can prevent your parents from tracking your phone location and keep your device safe. Phone Guardian is such a highly-spoken app to protect your Android and iOS devices for the following reasons:
Avoid spyware or malware on your phone.
Web protection.
Wi-Fi surveillance.
Protect your device against tracking.
It offers both free and paid versions to safeguard your device. For most users, the free version is enough to eliminate parents spying on your device.
3.4 Use NordVPN
A reliable VPN can also encrypt your internet activities and fake GPS locations. Here, we will use NordVPN to illustrate how to protect your identities and privacy.
How can I stop my parents from tracking my iPhone or Android?
1. Install and run NordVPN on your phone.
2. Sign in to it with the same account you used for the subscription.
3. Click the Quick Connect icon to connect automatically to one of the recommended servers by the app.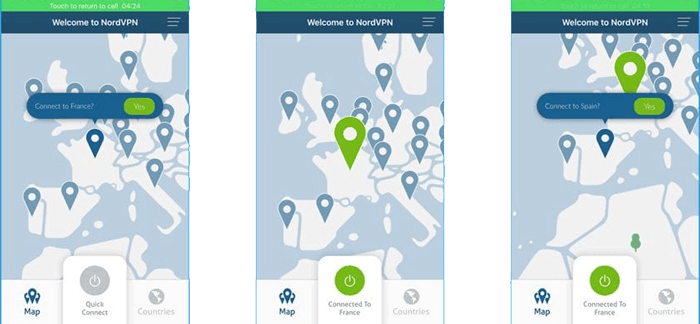 Read also: Open this link if you are eager to make your iPod gotten out of Recovery Mode.
3.5 Use a Private Browser
Most browsers nowadays allow you to privately browse content without reserving the browsing history, cookies, search history, and temp files on the browser. You can use a private browser or enable the private browsing option to erase the browsing history on your device, such as InPrivate in Microsoft Edge, Incognito in Google Chrome, etc.
Moreover, you can also use other third-party browsers like Dolphin and DuckDuckGo to keep the background spyware from tracking your website activities.
You might like: With this guide, you can effortlessly get your Android phone out of Recovery Mode.
Bonus: FAQs on Stopping Parents from Tracking Your Phone
1. Is it okay for my parents to track me?
Yes, it's legal for parents to track your internet activities. However, it's illegal and breaches security terms to track someone's privacy for commercial uses.
2. Can my parents track my phone if it's off?
Yes. Some spyware can pretend your phone to be turned off, although it's not. If you suspect this, hard reset your device to remove it.
Wrapping Up
That's how to stop parents from tracking your phone. You can select any way you trust to protect your private activities. Suppose you want to successfully resolve the problem without affecting your online activity. In that case, Location Changer is the best choice to mock GPS location on all location-based apps.
Also, you need to pay attention to any harmful or unfamiliar apps on your phone and avoid opening them to disturb your life.
Related Articles:
How to Hack Screen Time on iPhone 14/SE(3rd Generation)/13/12/11/XS/XR/X?
How to Change Your Location on Snapchat Map on iPhone and Android?
How to Stop Someone from Spying on My Cell Phone? (With Preventions)
15 Best Pokemon Go Spoofing Apps for iOS & Android Devices
[Huawei Mock Location] How Do I Change My Mock Location on Huawei P60 Pro/P50 Pro/P40 Pro?
How to Fake GPS on Android without Mock Location? (Full Guide)