What Can We Do After Android Rooting?
Rooting is an exciting thing because it can bring us a new phone use world. It alters the Android system of our phones so that we can make full use and enjoy more functions of them. First of all, let's learn what we can do after rooting our Android devices:
Install the latest Operating Systems
Install the latest operating systems updates, even when an update should not be installed on another device. (i.e. ice cream sandwich OS can be downloaded on an older device).
Get rid of Bloatware
A lot of time the original manufacturer of a mobile phone will load all kinds of different software on a new mobile phone. These are software applications and ads that people really do not want or need to use.
Gain access to Free Wi-Fi Hotspot
The cost of Wi-fi hot spots can add up quickly over time. The amount that people pay is normally paid by month. To get rid of these charges, root provides free access.
As I mentioned in this post, there are various risks for rooting Android devices. Therefore, it is all up to you to make your decision. If finally you still wish to root your Android device, it is necessary to choose a secure and reliable Android rooting tool. Last time, we told you how to root Android with Root Explorer and Root Genius. Now, we are going to recommend another rooting tool - KingRoot.
What's KingRoot?
Even though the mobile industry has a lot of great apps that people can use to do all kinds of different functions, some of which are much better and advanced than others. The same is true for those who may be interested in using Kingroot's functionality to root their android device. Presently, KingRoot is highly recommended and well known for being one of the most efficient and fastest root applications available in the industry. There are many benefits to using this root application. Some of the most advantageous that people can take advantage of today are listed below.
> Gives each user administrative rights so that they can install games that require this functionality. Meaning it overrides the normal default settings.
> Provides users with the capability to unlock the phones features (i.e. customizing the interface and other apps that require root to initiate it.)
> Gives users the capability to install a new OS without encountering errors.
> Compatible with HTC, Samsung, LG and others.
> Immediate downloads and free downloads for 4.1 apk
The following contents will show you how to root Android devices by using KingRoot:
How to Use KingRoot to Root Android Devices?
Step 1 - Backup your Android device on computer and visit the KingRoot official site to download the Apk file to your Android device directly. Here, please ensure that you just do it under a reliable yet stable WiFi network and the battery of your Android device is no less than 80%. If you received a message of "Google installation blocked message", you can set it as follows: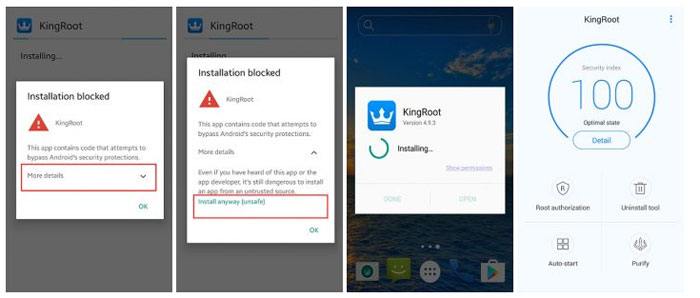 Step 2 - Enable the installation from "Unknown Sources" by launching the stock "Settings" > "Security" > "Unknown Sources". After that, you can locate the downloaded "KingRoot" APK file, tap on it and follow any on-screen instructions provided to install the rooting tool.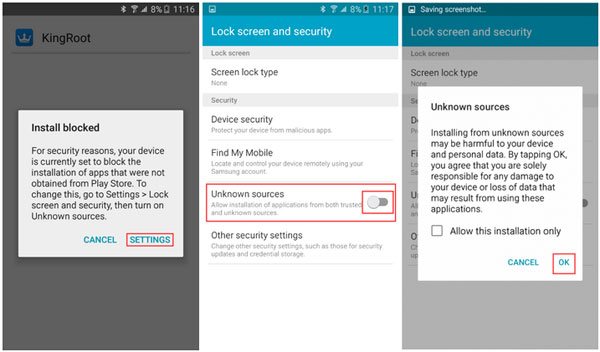 Step 3- Launch the program and when your device is detected, you can click "Get Try It" and "Get Now" button to begin the rooting, then wait for the end of the rooting process.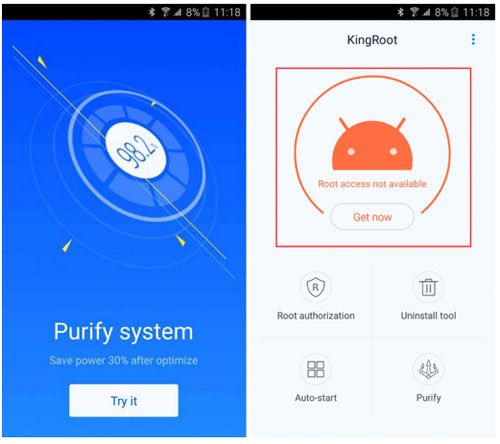 Now, you can check the Android rooting status by yourself.
Related Articles: