Today, there are many situations when Android users need additional help with their Android phones, including accessing Android phone with broken screen. Because a broken screen can cause a wide range of different critical issues, a user may not be able to access their phone until it is repaired. This is especially true when the touch screen feature has been completely destroyed in the process. Since these devices can have problems at any time without any pre-warning, the assistance needed can range from simple to quite complex.
So, if you are one of the ones that's presently experiencing this problem or if you know someone else that does, it is important to note that there are a few ways that can help the user with getting access to their information without a lot of unnecessary difficulties. Here are some examples provided to you below to access Android phone with broken screen.
Part 1. Access Android Phone with Broken Screen via OTG Adapter
Part 2. Access Screen Broken Android Phone With ADB Command App
Part 3. Tips on How to Recover Data from Screen Broken Android Phone
Part 1. Access Android Phone with Broken Screen via OTG Adapter
If you are interested in using this method of accessing the information on your Android via the use of an OTG adapter, you will need to know more about this process and the tools required to implement it. This is the case if you have an android device without a mouse or an OTG adapter. An OTG adapter is not an added luxury to perform this process, it is a necessity for getting into the android phone. For instance, the user is required to use this tool or device when they are expecting to be connected by the phone and the mouse. It is also important to know that there is a reason why these tools are needed, especially since an OTG adapter is a must for becoming the medium between the mouse and the phone. Here are the steps that the user will need to follow.
Step 1: User will need to Connect their OTG adapter to their phone and the mouse that they are using.
Step 2: Once connected, the user will need to Reboot their phone and then wait for the device to recognize their mouse.
Step 3: If the user's connection is successful, they will have an opportunity to draw the pattern of their phone in order to unlock it.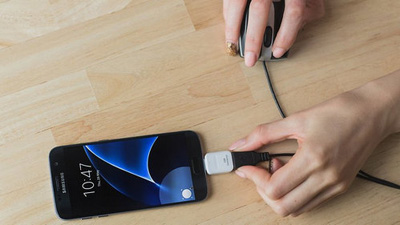 Read Also:
Recover Text Messages from Android with Black Screen
Part 2. Access Screen Broken Android Phone With ADB Command App
If your OTG adapter is not available for you, you may want to try another method of accessing your android with the broken screen. Before getting started with this option, you should think about using the ADP interface to perform these actions. To get started, you need to know that this method does require a certain amount of expertise to complete. Therefore, you may need some assistance to complete it or you can do it yourself. This is because the ADP command interface is an app that can be used to access the device so it can be used to gain access to a broken screen. Here are some of the steps.
Step1: The user will need to install and launch the ADP application on their computer. Once installed and this process is complete, the user will see a command prompt in the form of a window.
Step 2: The user will insert specific code into this prompt window to initiate a command. This can be done by copying and pasting the code.
Step 3: Because these commands are usually for a programmer and not the average user, you may want to seek out a remover program that allows the user to retrieve the password from their android device.
Part 3. Tips on How to Recover Data from Screen Broken Android Phone
Many people concern about how to recover data from an Android phone with broken screen. So, we will introduce you a reliable Android data recovery tool to help you out. Broken Android Data Extraction is what I want to recommend here to help you recover multiple data on Android. It can recover pictures, contacts, messages, message attachments, call logs, WhatsApp, WhatsApp attachments, video, audios, documents, etc. from a dead, broken or damaged Android phone without hassle.
Now, just get the Broken Android Data Extraction installed on your PC by clicking the below icon and then follow the guide in the below to start recovering data from a screen broken Android device.

Can't miss: How to Get Pictures Off a Broken Phone?
Step 1. Run the program and connect Android device to PC
Connect your screen broken Android phone to the computer with USB cable, then launch this recommended Android data recovery software. Go to left sidebar to elect "Broken Android Phone Data Extraction" mode. Then, click "Start" button to get access to your phone's memory.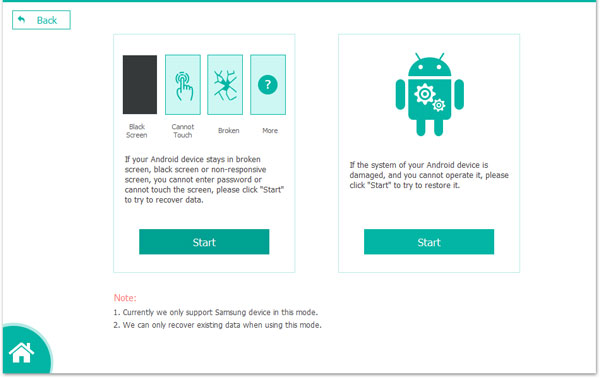 Step 2. Choose the phone model for scanning
The program will guide you to the second step instantly. Here, you need to choose the phone name and model, then click "Confirm" button to confirm your option. After that, you'll guide to enter your Android phone into Download mode.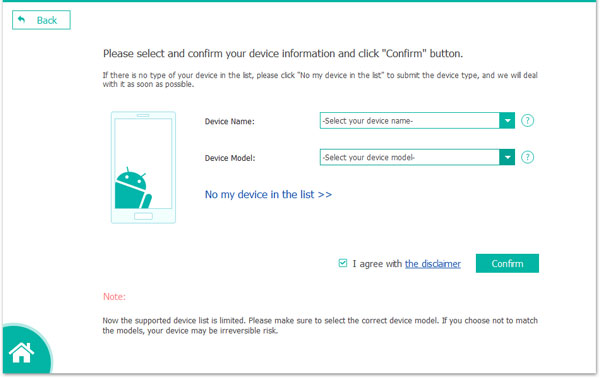 Step 3. Recover data from screen broken Android phone
Click "Next" button and the recovery program will start to scan on your broken Android phone. After the scanning, you can mark the data you want to recover. Then, click on the "Recovery" button to kick off the recovery process. You can also choose a destination to save the recovered Android data.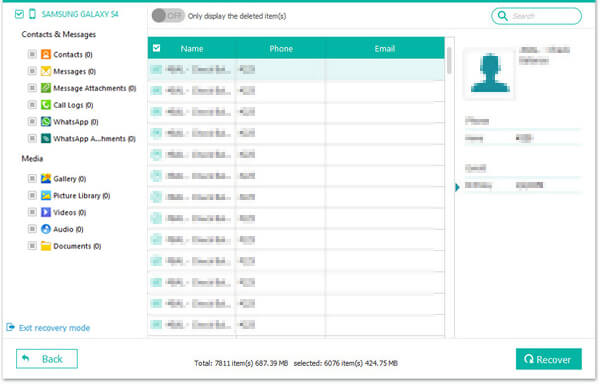 Related Articles:
Dead Phone Data Recovery: How to Recover Data from Dead Phone
Transfer Contacts between LG and Samsung
SMS Recovery for LG Optimus/G2/Viper/Ally
Recover Data from Bricked Android