When it comes to Smartphone, Android is the most popular platforms. It may not be considered a premium platform as iOS, but it definitely offers excellent functionality. For example, being able to take a Screenshot on Android means you can easily share lots of content with your friends. That includes content such as photos, "memos", quotes, and other forms of communication you receive exactly as you see it. If you have no idea on how to stake screenshots on your Android phone, or you want to know about additional methods, then read on.
Way 1: Easiest Way to Take Screenshot on Android with Android Assistant
Way 2: Take Screenshot on Android Using the Power and Volume-Down Buttons
Way 3: Take Screenshot on Android with App for Screenshots
Way 4: Take Screenshot on Android Using Inbuilt Shortcuts
Way 5: Take Screenshot on Android Using SDK Android Developer Tool
Way 6: Take Screenshot on Android with a Gesture on Your Samsung Device
Way 1: Easiest Way to Take Screenshot on Android with Android Assistant
First of all, we would like to introduce a one-click way to take screenshot on Android phone - using a powerful tool called Coolmuster Android Assistant. Its one-click screenshot taking ability works on overall Android devices, including Samsung, LG, Huawei, Xiaomi, HTC, Sony, Motorola and so on. Actually it is an Android data manager that can transfer and manage Android phone contacts, SMS, photos, videos, music, call logs, apps, etc. on computer.
Click on the following buttons to free download the Android Assistant and keep on reading to see how to use it to take screenshot on your Android phone or tablet.
Step 1. Launch Android Assistant
Run the Android Assistant after you have downloaded and installed the program on your computer. Then, you will get the primary interface of the program like below: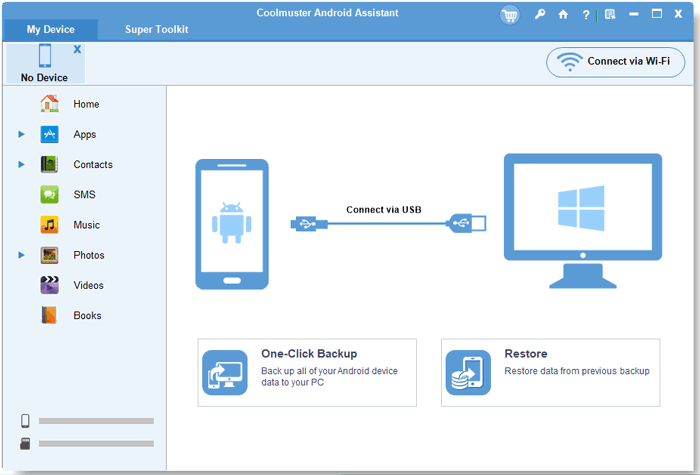 Step 2. Connect your Android phone
Link your Android device to your computer via a USB cable or Wi-Fi. Turn on USB debugging on your Android phone if required. Then, the connected Android device will be detected by the Android Assistant automatically.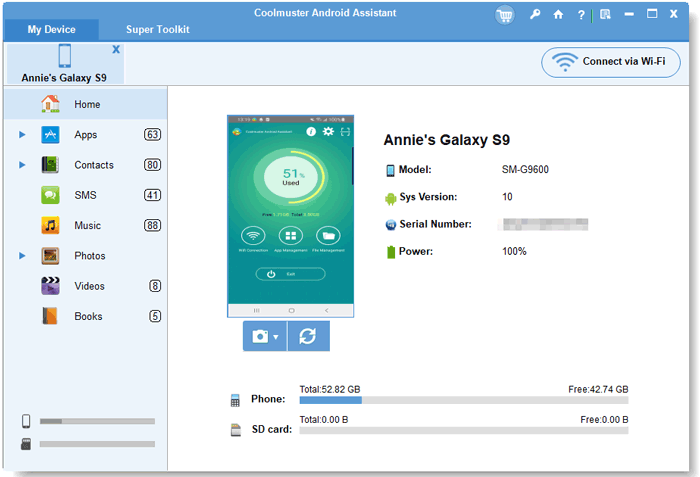 Step 3. Take screenshot on Android phone
On the home screen of the program, you can click the camera-liked icon to take screenshot of your Android phone. After that, you can choose to "Save screenshot to file" or "Copy screenshot to clipboard".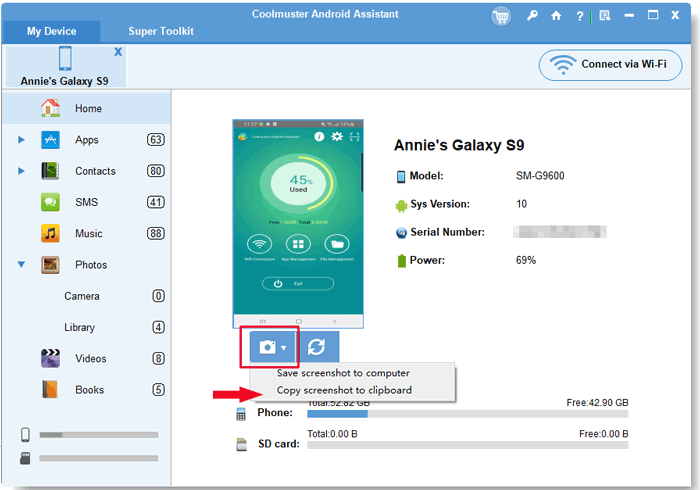 People Also Read:
Top 5 Android Bluetooth Managers
Top 10 Android Restart Apps
Way 2: Take Screenshot on Android Using the Power and Volume-Down Buttons
The Power and Volume-Down works with any smartphone that has Android 4.0 Ice Cream Sandwich and above. This methods isn't restricted to any manufacturer because it takes advantage of the Android software, and the fact that literally all smartphones have a "power" and "volume" keys. Below is how to take a screenshot on Android device with power and volume-down buttons:
Step 1. First, you need to make sure that you are viewing the screen you wish to capture. So if you wish to capture a message in your inbox, navigate to your inbox and tap to display it.
Step 2. While the screen is still ON and the message displayed, press the "Power" and "Volume-down" button at the same time. You should be able to hear a clicking sound or animation of the captured screen image fading away. It may take a few trial and errors before you get it right.
Step 3. Make sure that you hold down the "Power" and "Volume-down" buttons until you hear a click or see the animation. Otherwise, you will see your phone shutting down, or volume getting reduced if you press the buttons briefly.
Step 4. Once the screenshot is taken successfully, you can view it in your photo gallery's screenshot folder.
Way 3: Take Screenshot on Android with App for Screenshots
In the event that your smartphone does not equip with the Android 4.0 and above, the best option is to install an Android App for taking screenshots. However, you may need to root your device in order to install the Screen App. Here, we remind that you get to know the risks of rooting your Android device. In most cases, that opens your device to attacks, because it gives all Apps control of your phone's performance features.
* If that is a concern, you may choose a premium app such as "No Root ScreenShot It." While the app will cost you a few bucks, it makes use of a widget, which means you don't have to tamper with your phone's default security controls.
* If you are okay with rooting your device or it is rooted already, then go for Apps such as "AirDroid" for Android 5.0 and above or "ScreenCap Root Screenshots". Both apps are free, and they are easy to use once you root your device.
Moreover, they have the added advantage of letting you manage your devices from your browser. That makes them handy when you need to take lots of screenshots from your Android device.
Way 4: Take Screenshot on Android Using Inbuilt Shortcuts
If you have a Samsung Galaxy S3 or Note, then you can take advantage of the inbuilt feature that allows you to take a screen shot. To use it, press the Power and Home buttons, and hold until you see the screen flash, which indicates the screenshot has been taken. The screenshot will be automatically saved in your photo gallery.
If you are not sure whether your phone has that feature or not, simply do a search on Google or Play Store. Use a phrase with your phone brand and model names plus the words "take a screenshot." If yours is a Huawei, the search will be: "Huawei Y320 Take a Screenshot".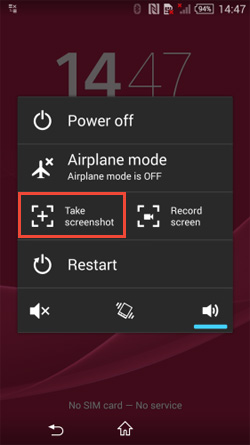 Other terms that you may use to search for device specific screenshot tools include "screen grab," and "screen capture." The benefits of using the apps are that they allow you to delay taking the screenshots, and even modify the screenshots. Since they Apps are made by your phone manufacture, you do not have to worry about compromising your phone's security.
Way 5: Take Screenshot on Android Using SDK Android Developer Tool
You may have heard of Android developer tool that app developers use to create apps for Android phones. Well, that tool has a feature that allows developers to capture screenshots of the any Android device they are working with. That makes it easy for them to share any results and bugs with other colleagues.
The good news is you can also download and use it to take screenshots of your smartphone. The SDK software is provided by Google, and it is therefore safe to install and use on your device. You should make a point of reading their User Agreement terms. As with any such advanced software, you need to be careful when using it because it can alter your phone's functionality. In order to use Android SDK, you need to have Java SE development Kit installed in your PC, as well as USB drivers.
Step 1. To use it, connect your Android smartphone to your PC.
Step 2. Run the Dalvik Debug Monitor that is part of your SDK developer kit.
Step 3. Point your cursor on the Debug Monitor Menu then click on "Device," and finally click on "Screen Capture".
Step 4. That will bring a screen with a view of your smart phone, and you can proceed to take your screenshot.
You will need to navigate to different screens using your phone before you click on "Screen capture" to take screenshot of whatever you wish you capture. The methods works great, but you will agree that it does take time to setup.
Way 6: Take Screenshot on Android with a Gesture on Your Samsung Device
Samsung has done a lot of work with regard to developing phones that take screenshots. If you own the Samsung Galaxy Note smartphone, you can take a screen shot using one of two gestures.
Instructions: The first method is by drawing an "S" with your finger on the screen. The second method is giving the screen a downward with three fingers. The phone has to be used in gesture mode for any of gesture to work. The screenshot images are all saved in whatever default location you have set for saving your images.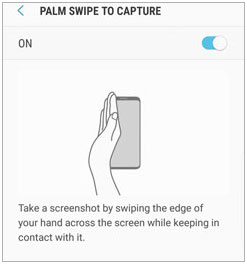 Words in the End:
Whether you want to capture some useful tips or photos for personal reference or to share with your friends, a screenshot is a hand feature you can find in any Android smartphone. Overall, being able to quickly take screenshots can make your social life and even academic life fun. We hope that you found this guide on how to take a Screenshot on Android to be informative, and engaging. If you have any other screenshot tricks, be sure to share them with us, and remember to share the above methods with your friends as well.
Related Articles:
Top 5 Android eBook Readers You Should Know
Transfer Contacts from Android Phone to Computer