Most smartphone users find it easier to contact their families, friends, and colleagues through WhatsApp. The primary reason why users prefer WhatsApp is because it allows them to send pictures, messages and other documents within a short period as long as it is connected to a strong network. However, it is always inconvenient to keep on opening the app now and then to reply to messages especially when one is busy. Currently, good news for all smartphone users is that they can add WhatsApp widget to lock screen of your phone. One can then use the widgets to send and reply texts without opening the application.
To add WhatsApp widget to the lock screen of your Android phone or iPhone, you can refer to the following methods.
Part 1: How to Add WhatsApp Widget on Android Phone
Part 2: How to Add WhatsApp Widget on iPhone
Part 3: The Leading 4 WhatsApp Widget Applications
Part 1: How to Add WhatsApp Widget on Android Phone
If your Android phone version is 4.2 or higher, adding widgets for WhatsApp is straightforward. There are three methods of adding these widgets to your smartphone.
Method one: Adding widget for WhatsApp to your lock screen
This method is ideal for most phone users. Therefore, follow the following steps when adding widget to the lock screen.
Step one: Go to "Settings" module on the home screen of your smartphone.
Step two: Under the settings module, select "lock screen" and click on shortcuts.
Step three: Here, click the "ChatON" button and select WhatsApp from the list of apps.
Afterward, exit the settings module and restart your phone. After restarting your device, the widget for WhatsApp will be on your lock screen.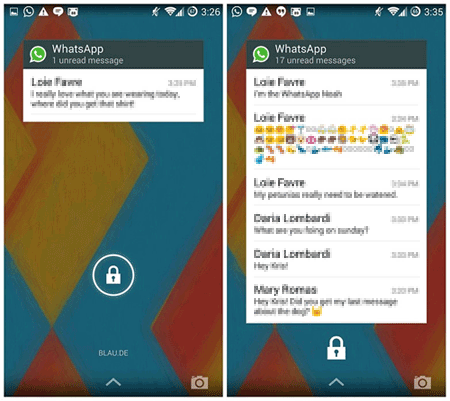 Method two: Adding WhatsApp widget from WhatsApp settings
This method is suitable for almost all Android users because it is carried out in WhatsApp settings as opposed to the phone settings. Here is how one adds widgets via this method:
Step one: Open WhatsApp on your device and go to its "Settings".
Step two: Enable popup notification by going to the message notification panel.
Step three: Here, users opt for options that suit them best.
Now, if you select the "Screen Off" option, a pop-up text will happen to remain in the lock screen until you read or check it out.
Method three: Adding widgets for WhatsApp to lock screen on newer versions of Android
The steps of adding widgets for WhatsApp to newer versions of WhatsApp are:
Step one: Go to the home screen of your smartphone and select "Settings".
Step two: Look for "Enable Custom Widgets" toggle button and turn it ON.
Step three: Lock your phone and wake it up again.
Step four: Maximize the lock screen by swiping down and then swipe left to add a custom widget.
Step five: From the app list, choose WhatsApp.
Step six: Lock your phone screen again, and try accessing your WhatsApp texts easily by swiping to the left.
People Also Read:
Unlock Android Password without Factory Reset
How to Unlock HTC One Bootloader
Part 2: How to Add WhatsApp Widget on iPhone
When adding widgets for WhatsApp on your iPhone device, here are the steps to follow:
Step one: Launch WhatsApp on your iPhone.
Step two: Go to WhatsApp "Settings" option.
Step three: In the message notification category, choose "notification", and enable-pop-up notification.
Step four: From the variety of options on the screen, only select the option according to your needs. The message remains in the lock screen until the user reads it or checks it.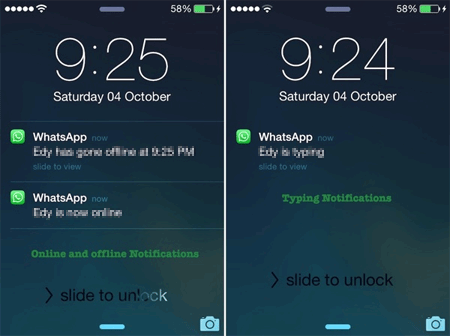 In addition to this one, iPhone users can use WhatsApp Plus app to chat with friends much faster. With this app, iPhone users can quickly and easily read and reply conversations without launching WhatsApp. Also, it is easy to come across the contact that you want to chat with.
Part 3: The Leading 4 WhatsApp Widget Applications
For better management of WhatsApp, valuable WhatsApp widget applications may be required. Here are the best apps to use.
1. Whats-Widget Unlocker
This application is among the best rated in the Google Play Store. Despite the application being a full version unlocker widget for WhatsApp, users will be required to install the primary widgets for WhatsApp apps individually. This program should be installed by those who want to unlock "Widgets for WhatsApp". The good thing is that widgets for WhatsApp are unlocked immediately after installing this unlocker app.
2. Status Downloader for WhatsApp
Download URL: https://play.google.com/store/apps/details?id=com.downlood.sav.whmedia&hl=en_US
This program enables users to save, share video and photo stories. Also, it helps users save their friend's status and share it across other social media channels easily. The latest update from Play Store has some incredible features. Aside from the application helping you save your friend's statuses, it enables you to manage the entire statuses in a single click.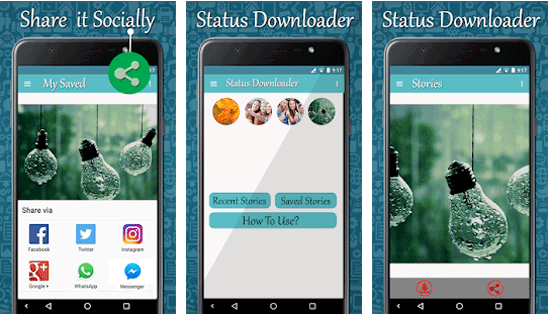 3. Contacts + Widget
Download URL: https://play.google.com/store/apps/details?id=tma.contactwidgetresizable2
This app is free, scrollable, resizable and beautiful. Contacts + Widget enable you to send WhatsApp messages to your contacts with a single click. The Widget incorporates fantastic design, groups selection and a variety of themes.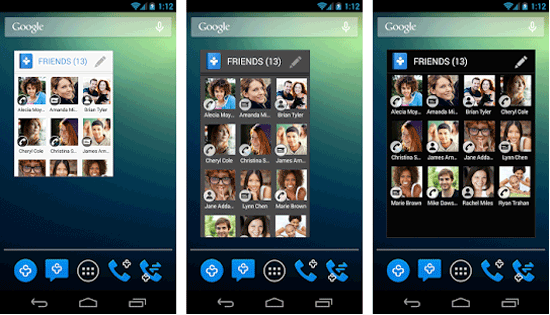 4. WhatsApp Wallpaper
Download URL: https://play.google.com/store/apps/details?id=com.whatsapp.wallpaper
The application from Play Store beautifies your chat wallpaper. You will make your chat screen more appealing by incorporating wallpapers after installing this widget. The various wallpaper options can be accessed by going to the menu options of a contact and then tap find "wallpaper".
Words in the End
I hope that the method of adding WhatsApp widget to the Android phone or iPhone lock screen above is useful for you. You can also choose your favorite WhatsApp widget app from the third part, download and install it on your phone for smart use. If you encounter any issues during this entire process, please let us know through the comments box below and we'll be happy to assist you. Feel free to share this WhatsApp trick with your friends!
Related Articles:
Top 5 Android eBook Readers You Should Know
Transfer Contacts from Android Phone to Computer
Top 5 Free Android Apps on Mac
7 Viable Ways on How to Transfer Photos from Mac to Android