The world has gone digital, and one aspect of that is photography. With the number of cameras and phones today, it was inevitable. In this post, we will talk about a few different apps that you can use to manage your photos on your Android. They range from powerful photo organizers with seamless import to light, fast galleries designed for browsing in minutes.
Whether you're looking for an app for your tablet or phone, this post has something for everyone. These apps can also be used to manage your existing photos, so if you're looking for a way to organize photos from your DSLR or other cameras, we have you covered.
Photo management apps also save you time and space. You can quickly and easily see all your photos together, and delete, move or copy them as you please. In addition, you can use specialized apps to automatically sort, filter, and organize your photos. Below is the best photo manager Android you ought to know.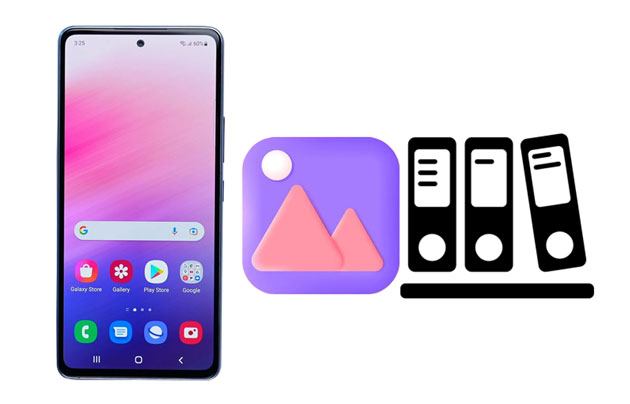 1. Coolmuster Android Assistant
2. Google Photos
3. Flickr
4. Amazon Photos
5. Slidebox
6. Memoria Photo Gallery
7. PhotoSync
8. Piktures
1. Coolmuster Android Assistant
Coolmuster Android Assistant is not an ordinary photo manager. It is a versatile assistant that can help you manage, organize, find and clean up your photos on your phone. This is the recommended app for syncing your pictures from an Android phone to a computer. It guarantees no data loss and with just 1 click. And you'll be able to save all of your photos to your desired folder on your PC/Mac.
Key features:
* Manage your Android photos on a computer with a large screen.
* Organize your pictures by exporting, importing, copying, moving, deleting, etc.
* Allow you to create new albums to sort out your photos and delete unwanted albums.
* Back up all photos from Android to a computer without hassle.
* Restore your backup photos from the computer to your Android phone/tablet.
* Compatible with Windows 8,7,10 and 11 and Mac OS X and later.
Pros:
* Manage photos and other Android files, like contacts, videos, apps, music, and more.
* Display your Android pictures on the interface.
* Interactive and comprehensive user guide.
* 100% safe and secure.
* No data loss.
Cons:
* You cannot manage your photos unless you register the software with a license.
Download this picture manager for Android below.
How to use this Android picture manager on a computer:
Step 1: Launch the Program on the Computer
The first thing to do is download, install then launch Coolmuster Android Assistant. You'll see the toolbox first, where you can enter Android Assistant mode to access this software.
Step 2: Connect Your Android Phone
Use a USB cable to connect your phone to the computer. From there, enable USB debugging on Android. The program will recognize your Android phone. Then the main interface will be displayed.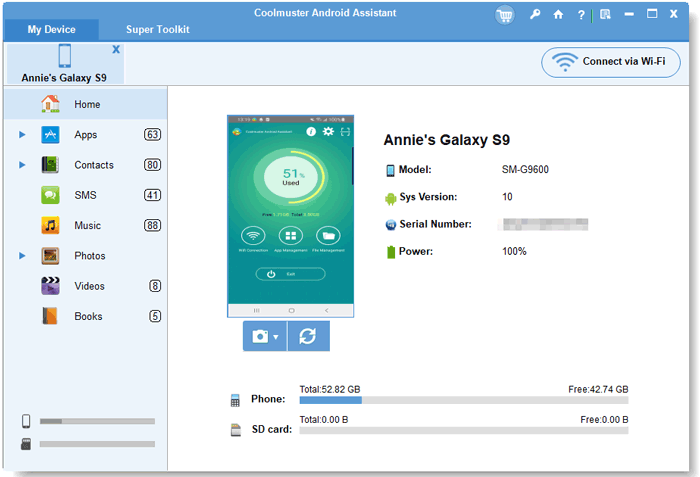 Step 3: Manage Your Android Photos
Tap the Photos category on the left side. Then the software will list your photos on the interface. Now, you can check the photos you want, and use the top menu to manage them.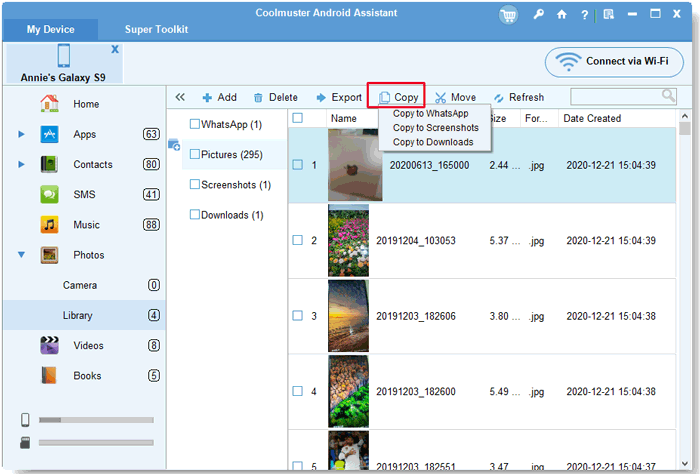 Further reading:
Top 2 Ways to Transfer Data from Pixel to Pixel 6 Pro/6/5/4
7 Viable Ways on How to Transfer Photos from Mac to Android
2. Google Photos
One of the best photo managers on Android is Google Photos. It's an automatic photo backup app that can upload your existing photos as long as they are from your camera or phone to the cloud. You can then access all your files from any device at any time. The interface is easy to use, and it's a great way to keep backups.
Google Photos is a very well-known photo storage service, which can be used for automatic backup. It features an impressive amount of free storage and allows you to make full use of it with the easy-to-use interface.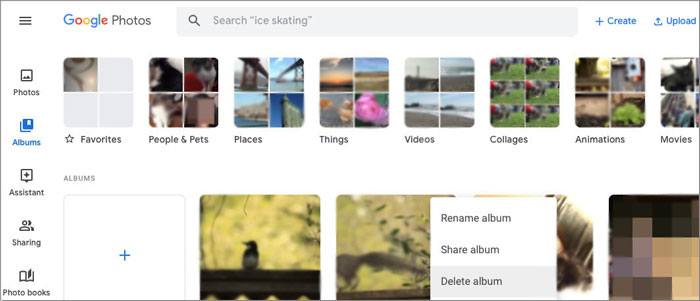 Pros:
* Wirelessly automatic backup.
* Provide 15GB of free storage.
* Share photos and videos with friends and family.
Cons:
* Ended its unlimited free storage for photos and videos.
Learn more: It is important to back up your Android data before rooting, because you cannot guarantee there is no data loss during the rooting process.
3. Flickr
Flickr is a photo-sharing and hosting service, which is also an excellent way to keep backups. It also has a desktop app that you can use to upload your photos from your computer or tablet. You can quickly upload them and make all the changes you want without having to worry about losing any photos.
Flickr is a great backup solution that can be accessed from any device. With this app, you don't have to worry about losing your photos: they will stay saved on your cloud account, which you can access from any device at any time.

Pros:
* Help you group photos.
* Add, edit, and organize all photos.
* Possibility of automatic synchronization between devices.
* Possibility of selecting duplicate photos.
* Easy navigation with a 3D view.
* Offer 200MB of free file storage for photos on the cloud.
Cons:
* No longer offer unlimited storage space for free accounts.
See also: Want to sync Android music to a PC? Then you can click this link.
4. Amazon Photos
Amazon Photos is another useful photo manager, which can be used as a cloud syncing app. You can sync your photos to the cloud and see them across your devices. It's the only app that automatically syncs folders, so you don't have to manually do it yourself.
One of Amazon Photos' best features is an automatic backup. When you connect the app to Amazon Cloud Drive, your photos will instantly be backed up to Amazon Drive and then synchronized with your other storage account at Amazon.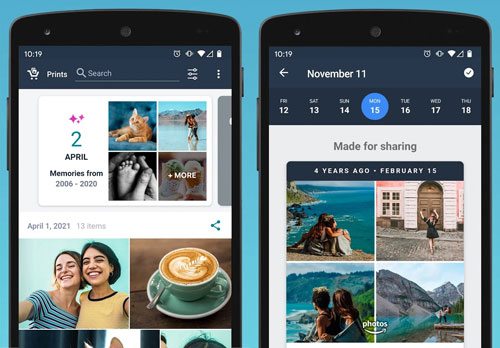 Pros:
* The ability to connect many devices.
* Sync many photos via a network.
* Easily back up photos from Android to the cloud.
* Multiple options to synchronize photos and videos.
* Create a new album from selected photos from an album or library.
Cons:
* Limited storage space (5GB).
You might need: It is simple to transfer Huawei photos to a PC in these 6 ways. Let's check it out.
5. Slidebox
Slidebox is an excellent photo manager which combines a gallery and viewer into one program. It allows you to browse your photos with a basic tree view and features tagging, search, automatic organization by date and location, as well as different views like calendars. You can also access your photos on the go thanks to the built-in viewer.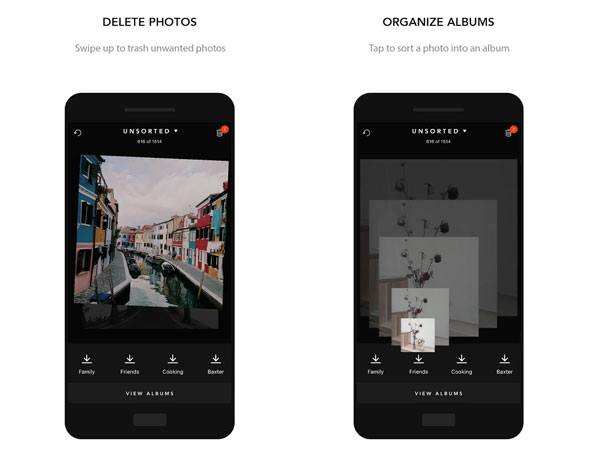 Pros:
* Organize photos by color or time of day.
* Full-screen browsing.
* Help you compare photos.
Cons:
* The interface is not very user-friendly
Maybe you like: When your photos disappear from your Android phone, you can probably recover them if you know these tips.
6. Memoria Photo Gallery
Memoria Photo Gallery is a really simple but very useful and easy-to-use photo manager. It has a very user-friendly interface, and it lets you browse, view, search and organize your photos. You can also easily manage the files on your computer with the file browser.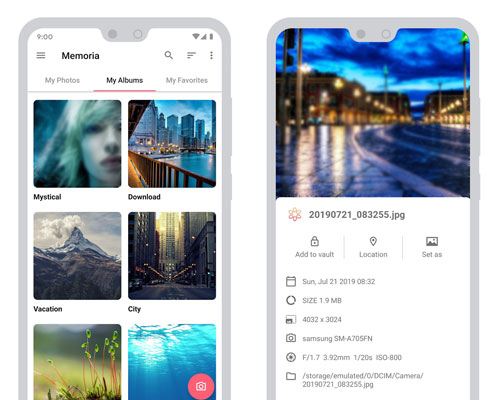 Pros:
* Organized in alphabetic order.
* The ability to arrange pictures in different folders.
* Allow you to zoom in or out to change the size of the layout.
Cons:
* Slowly upload photos to this app.
7. PhotoSync
PhotoSync is a really powerful photo manager with a very simple interface. It's an excellent and easy-to-use way to manage all your photos, organize them in albums, and make adjustments like red-eye removal, cropping, and color correction. It also synchronizes with the rest of your Google services to keep everything in sync between all your devices at once.
What we really like about it is that you can access all your photos right from your computer. Just install this app on your computer, connect them to the same account, and it will automatically copy the pictures from your phone to the computer.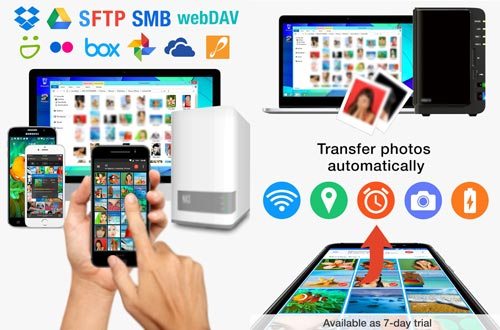 Pros:
* Show the progress of copying files.
* Allow you to browse your pictures in a tree mode.
Cons:
* You can use it for free within 7 days only.
* Although free, it uses so much USB data transfer that you might need a USB OTG cable.
8. Piktures
Piktures is a great photo manager with some really useful features, including the ability to organize photos by location and period, change picture orientation, and crop photos. It also has a great way to easily find duplicate photos.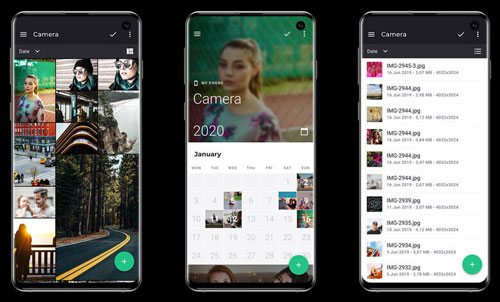 Pros:
* This app lets you organize photos by date, location, and time.
* Set the order for photos.
* View your photos in a calendar view.
Cons:
* The interface is not very user-friendly.
Conclusion
There are many photo management apps on Android that you could choose from, but we have reviewed the efficient and best photo manager Android. If you want to organize your photos without a network and ads, Coolmuster Android Assistant is a nice choice. It also provides different and practical features for you to manage your Android photos. All in all, we hope this article has helped you in making a decision. Enjoy organizing your photos!
Related Articles:
How to Recover Deleted Photos in WhatsApp on Android and iPhone with Ease?
How to Transfer Contacts from LG Phone to Computer without Extra Steps?
How to Install APK on Android from PC [Top 3 Ways]
How to Transfer SIM Card Data to Computer Effortlessly in 2023? (4 Quick Ways)
The Best 12 AirDroid Alternatives You Can't Miss
How to Recover Deleted Videos from SD Card: SD Card Video Recovery (Proven)