Android Photo Manager - Manage Android Photos/Pictures
The most important app on your smartphone besides those for making calls and texts is definitely your camera app. We take and alter so many pictures in our lives when we Instagram to our friends or post on Facebook or Pinterest that it can be hard to keep up. Even better, if you use an Android phone you can customize your camera apps to give you more digital photography options such as organizing your photos and videos by filter or effects. All those pics can add up and use valuable storage space on your phone. This can cause slower phone speeds, a lack of storage space to add any more apps, and a less than optimal smartphone performance. It may be hard for you to manage photo and app data if your are transitioning from one kind of Android phone to that of a different manufacturer.
You need third-party software that can manage photo and app data from any kind of Android phone. This is where Coolmuster software proves it's worth. Coolmuster Android Assistant or Coolmuster Android Assistant for Mac is the best third-party software available on the market to manage Android photos on computer. This software allows users to export videos, photos, music, contacts, SMS, apps and app data from any Android phone or tablet onto any laptop or desktop computer. This enables you to free up space on your Android phone for new apps, music and (of course) more photos and videos. Android Assistant also allows you to install Android apps, send and reply SMS on computer and perform group texting at once and manage your contacts from the convenience of your computer and download them onto your phone.
Android Assistant works on all Android brand phones and tablets including HTC, Samsung, Motorola, Sony, ZTE, LG, HUAWEI and many more. Best of all, it enables you to manage Android photos effortlessly, such as transferring photos from Android to computer, copy pictures from computer to Android and even delete useless photos from your Android. To use Android Assistant to manage your Android photos, first go to download the free trial version of the program via the following button. Then, all you need to do is:
How to Manage & Organize Android Photos with Android Photo Manager?
Step 1. Launch Android photo manager to get ready
Launch the Android Assistant while you have your Android device connected to that same computer via a USB cable. Make sure you have USB debugging enable on your phone before you do anything to it. Once you have done this, Android Assistant will display an icon for your phone in the middle with of it's screen and all of the types of data accessible will be organized by category on the left hand column.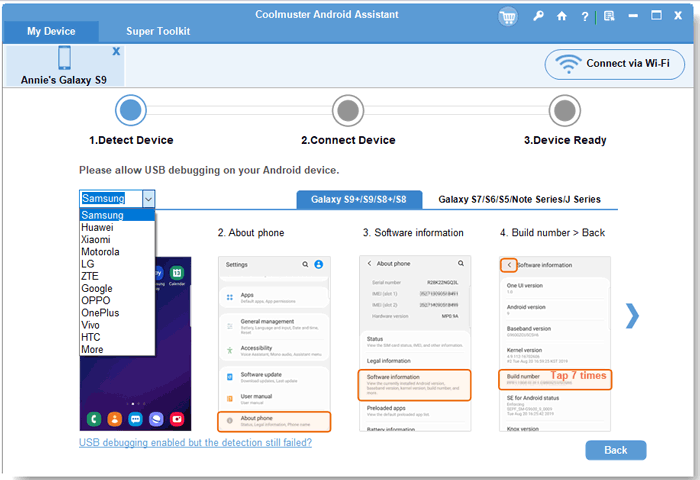 Follow the below instruction to enable USB debugging. If you did it before, you can skip to next step.
1) For Android 2.3 or earlier: Enter "Settings" < Click "Applications" < Click "Development" < Check "USB debugging".
2) For Android 3.0 to 4.1: Enter "Settings" < Click "Developer options" < Check "USB debugging".
3) For Android 4.2 or newer: Enter "Settings" < Click "About Phone" < Tap "Build number" for several times until getting a note "You are under developer mode" < Back to "Settings" < Click "Developer options" < Check "USB debugging".
After you finish the USB debugging, you can go to your device screen to tap the "Allow" option. Then, the parameter information of your device, including phone model, system version and storage space size will be shown in the main interface.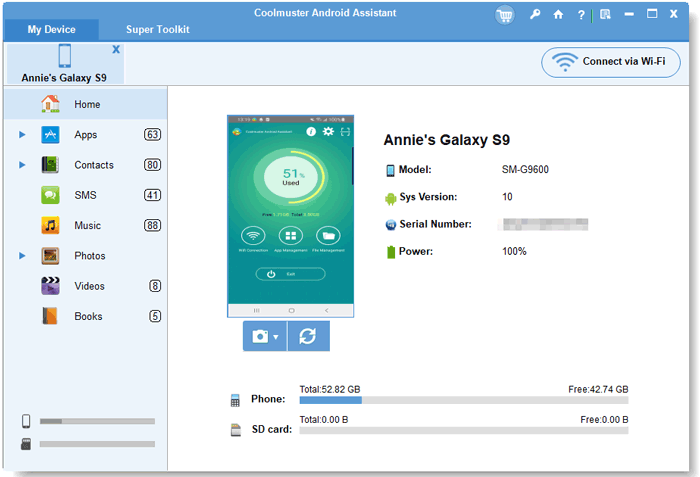 Step 2: Manage Android photos on computer
Click on the icon for "Photos" on the left hand column. It will display a gallery for the photo category and show you all the photos you have stored on your Android phone.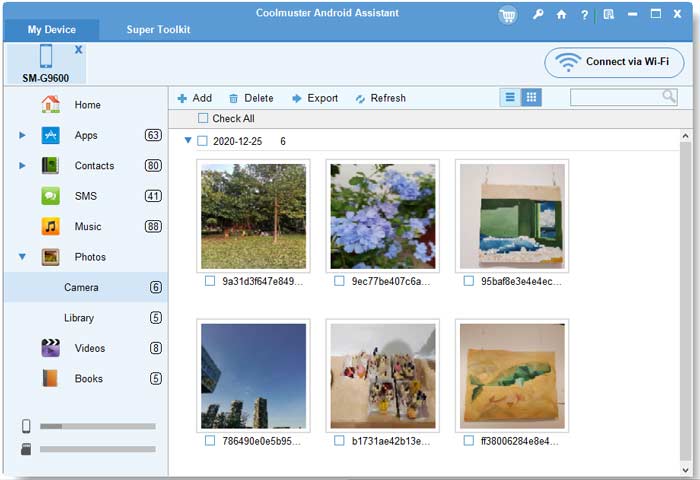 From here, you can:
- Click the "Export" button to save photos from your Android phone to your computer.
- Hit the "Add" button to download and transfer photos from your computer to the Android phone.
- Press the button of "Delete" to erase any photo you wish. Once you have your photos saved onto your computer, you can delete them from your phone to create new storage space on your Android phone!
Video Tutorial
Related Articles:
Top 5 Android eBook Readers You Should Know