Top 5 Android Storage Manager Apps to Free up Android Space
When it comes to data management in Android devices, it is a simple process as all you need to do is delete or format in order to increase space. Problems usually arise when you try to save an important file and your device informs you that there is insufficient disk space. While your device has finite space, you can take different actions in order to improve your storage. Backups, formatting and delete of duplicate files are some of the ways one can manage data and information on their computer.
In order to automate the process, one needs to have Android storage manager apps installed.
Below are 5 Hot Android Storage Manager Apps You Need to Know
Top 1. Coolmuster Android Assistant
Coolmuster Android Assistant (here is the Mac version) is an application that is compatible with both Windows and Mac OS. It is developed to help users manager their Android devices right from their PC or Mac. It has tools and features which are useful in managing different forms of data and information such as messages, contacts and apps.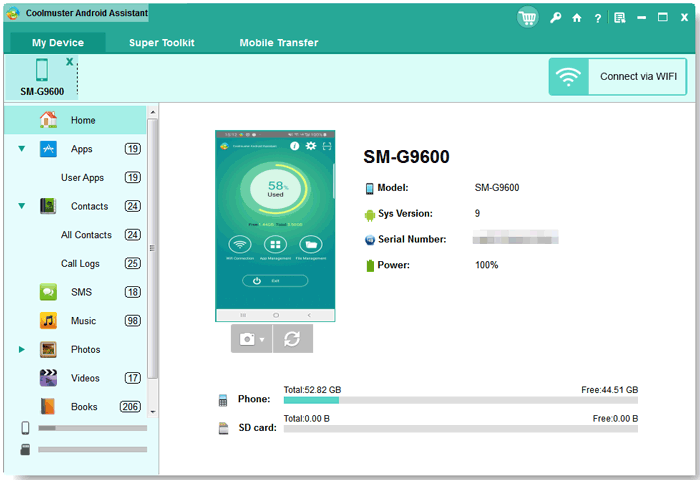 Features:
* Compatible with different brands: The software is designed to be compatible with different brands such as Motorola, Sony, HTC, Huawei, ZTE and Samsung among others.
* 1-Click Backup tool: With the help of this tool, users are able to backup their messages, contacts, videos, music playlist and even apps. This helps to increase space in your device storage.
* Message and contact assistant: If you are looking for a perfect group messaging app, then Coolmuster Android Assistant is the application for you. It not only allows you to group message but it manages your SMS and contacts too. You can even add new contacts,delete contacts and edit existing contacts with ease.
Download the Android storage manager app - Coolmuster Android Assistant from below:
Top 2. Disk Usage and Storage Analyzer
It is designed to display information on sdcard, usb devices, external and internal device storage. The app is offered for free with no ads and viruses. It has several features:
a. Helps one find lost cache files
b. Helps one to manage both internal and external storage
c. Has strong search capabilities
d. Allows one to find big files easily
e. Displays summary statistics about all storage devices.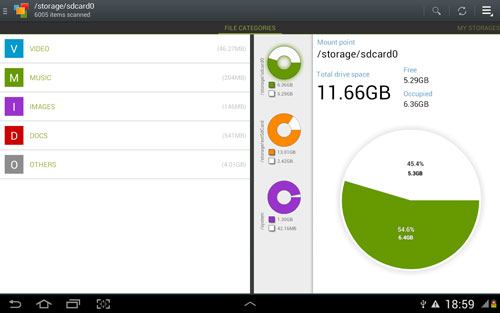 Advantages:
i. Allows the user to search for lost files
ii. It is designed to be a perfect storage manager
iii. It displays different statistics about your storage.
Disadvantages:
i. Lacks a feature to move data to external storage.
Top 3. Mega Storage Manager
The app is designed not only to manage your internal and external storage but also the cloud storage. It has several features:
a. Manages your internal, external and cloud storage
b. Create an auto setup for Camera folder synchronization
c. Allows for file and folder upload and download
d. Supports international languages.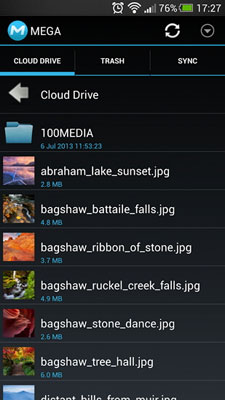 Advantages:
i. Enables the user to manage their internal and external storage
ii. Supports several international languages
iii. Allows the user to manage their cloud storage
Disadvantages:
i. Not all languages are supported
Top 4. Storage Analyzer
This app allows the user to visualize and manage internal and external storage spaces found in Android devices. It has several features:
a. Lists storage areas
b. Scans all storage spaces
c. Its free with no popup or full screen ads.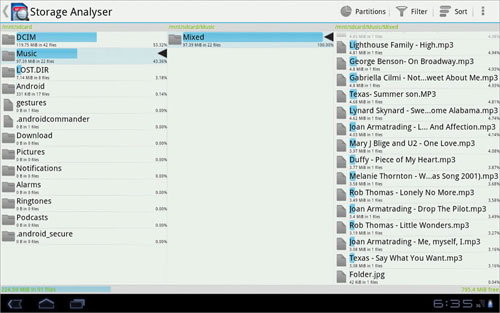 Advantages:
i.The app scans all internal and external storage devices
ii.The app is offered for free with no pop up ads
iii. Easy to use
Disadvantages:
i. Minor bug fixes
Top 5. SD Maid
Although it's a cleaning tool, it helps one to manage their internal and external storage space by increasing the amount of available space. Its features include:
a. Managing your internal and external storage devices
b. Clean up junk files and cache
c. File search
d. App control for resetting, removing and controlling other apps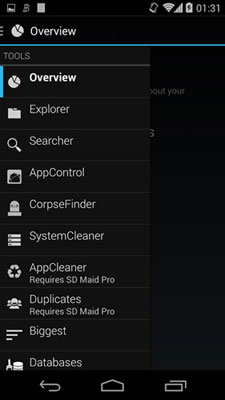 Advantages:
i. Easy to use
ii. Allows for management of internal and external storage
iii. Allows for optimization of database in order to speed up device and free space
Disadvantages:
i. Better features are available in the Pro version
Related Articles:
Top 5 Android eBook Readers You Should Know