There are many different types of software applications available on the market today. While some of these software programs are free for anyone to use in virtually any way that they desire, others can be very costly over a period of time. One of the latest that has been developed in the Android community is Samsung Kies, and just like Android software applications, it is part of the open-source community that addresses certain concerns and privileges of the user. Kies can be used as a backup solution and restore data by connecting to devices via a USB cable.
Therefore, if an individual would like to back up their information before transferring their text messages, and other data so that they do not lose them during a transferring process, Kies can be used to make sure the data is protected. The same is true for those who may lose data for any reason, the data can then be restored.
The following article will show you how to use Kies to back up and restore Samsung devices on the computer, and there are also other third-party applications to help you back up and restore Samsung.
Way 1: Back up & Restore Samsung with Samsung Kies
Way 2: Back up & Restore Samsung with Coolmuster Android Assistant
Way 1: Back up and Restore Samsung Galaxy with Samsung Kies
Step 1: Connect Samsung phone to PC and select "Backup & Restore"
Launch Samsung Kies on your computer and connect your Samsung phone to the same computer via USB. Once successfully connected, choose "Backup & Restore" option and click "Data Backup". Then, Kies will divide the Samsung phone data into two categories: Personal information and Content.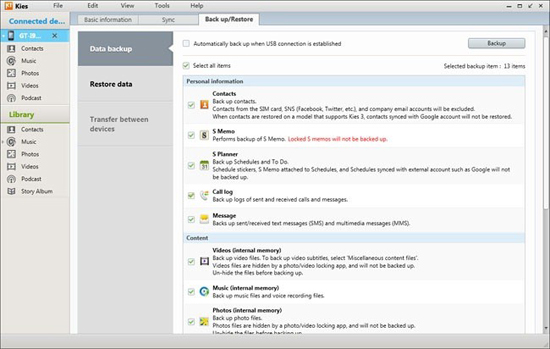 Step 2: Start backing up Samsung phone data
Select the data you need to backup and hit the button of "Backup" at the top-right corner to start the backup process. You can directly choose the media files backup on your computer, but for messages and call logs backup, you have to install additional software to access them.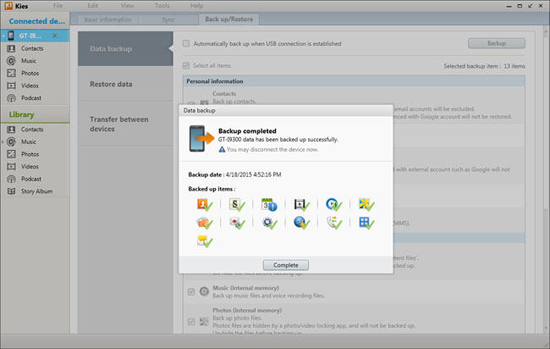 Step 3: Restore Samsung phone data with Kies
Navigate to the option of "Restore Data" and Kies will automatically load the files you have backed up. Browse the loaded files and tick all the content you want to recover. Then, click the "Restore" button to start restoring process.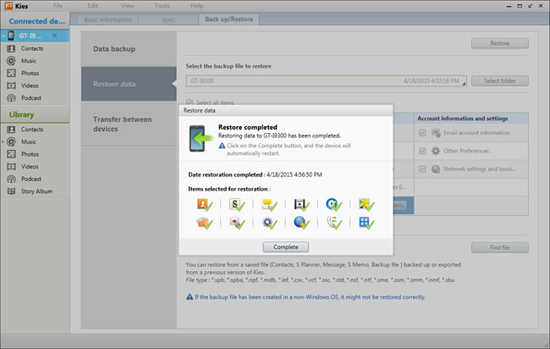 After learning how to backup and restore our Samsung devices with Samsung Kies, there is a problem we should consider about - How to transfer data from Samsung to iPhone? We all know that Kies is only workable for Samsung devices. That's the reason why we tell the other two solutions in the below:
Way 2: How to Back up & Restore Samsung with Coolmuster Android Assistant
Coolmuster Android Assistant is an application that can be used for a number of different essential functions. When a user has access to this kind of software, they will have the capability to: Back up Android phone data on the computer, and restore data that has been lost on their mobile phone. Even you can manage files from one device on their computer or their laptop and much much more.
Step 1: Download, install and run the Coolmuster Android Assistant on your computer. Connect your Samsung phone to the computer and make sure you have enabled USB debugging on your phone first.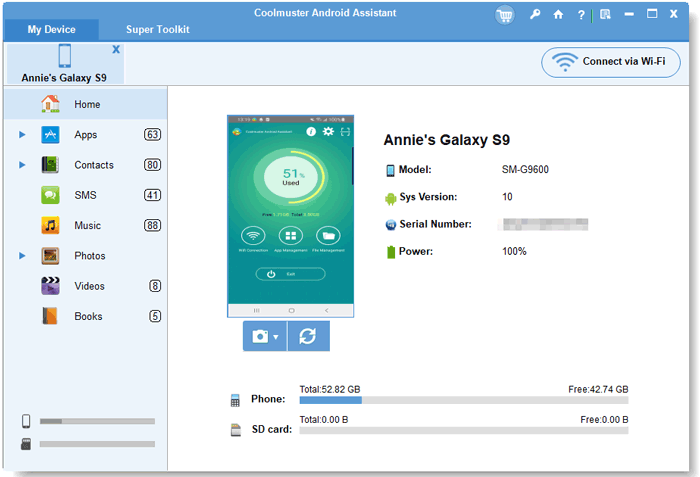 Step 2: Go to click the tab of "Super Toolkit" on the top, click "Backup" option, choose the files you want to backup and click "Back Up" to transfer those selected Samsung phone data on computer.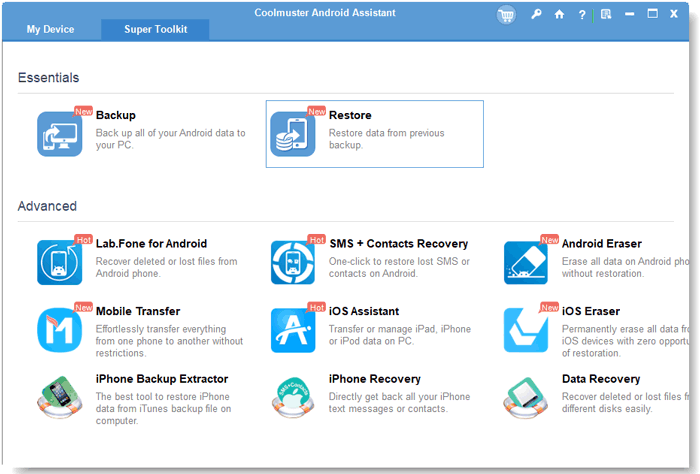 Step 3: To restore data from computer to Samsung phone, you should choose "Restore" option, select the backed up files you want to restore back to your phone and click "Restore" button.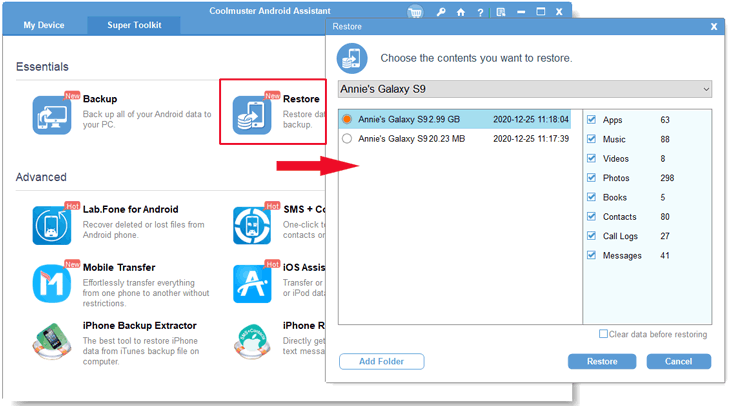 Sum Up
In conclusion, backing up and restoring data on Samsung devices is a critical step in ensuring that important information is not lost during a transferring process or in case of any data loss. While Samsung Kies is a great option for Samsung users, other third-party applications such as Coolmuster Android Assistant can also be used to back up and restore Samsung data on the computer. With these tools, users can easily manage their data and ensure its safety and accessibility across different devices.
Related Articles:
Copy SMS from Motorola Phone to Computer
Transfer Contacts from Android Phone to Computer
Copy SMS from Motorola Phone to Computer