In the ever-evolving landscape of technology, seamless device management has become paramount for users seeking efficient synchronization between their smartphones and computers. Samsung Kies, a software application developed by Samsung Electronics, serves as a bridge between Samsung devices and Windows operating systems, facilitating data transfer, software updates, and back up operations. This article explores the functionalities of Samsung Kies on Windows 10/11, shedding light on how this tool can enhance the user experience and its best alternative.
Part 1. What Is Samsung Kies?
Samsung Kies is a versatile software suite designed to connect Samsung smartphones and tablets with personal computers. It serves as an intermediary platform that allows users to manage, synchronize, and transfer data between their Samsung devices and Windows PCs. With support for both Mac and Windows operating systems, Kies has been a go-to solution for Samsung users looking to streamline their device management processes.
Key Features:
Data Synchronization: Samsung Kies effortlessly syncs contacts, calendars, photos, and multimedia between your Samsung device and Windows 10/11, ensuring up-to-date information on both devices.
Software Updates: Samsung Kies simplifies this process by allowing users to check for and install software updates directly from their computers.
Backup and Restore: Samsung Kies provides a convenient solution by allowing users to back up their important data, including contacts, messages, and multimedia content.
Multimedia Management: Samsung Kies serves as a multimedia hub, enabling users to manage and organize their photos, videos, and music files.
Device Connection: Samsung Kies connects your Samsung device to a Windows 10/11, automatically recognizing compatible devices for stable and efficient data transfer and management.
Read More:
8 Top-notch Samsung Kies Alternatives to Manage Your Android Phone with Ease
6 Best Samsung PC Suites in 2023: Most People Don't Know
Part 2. How to Download Samsung Kies for Windows 10/11
As Samsung Kies continues to be a valuable tool for device management, obtaining and installing it on Windows 10/11 is a straightforward process. But before downloading, you should know some requirements to meet the installation:
Operating system: Windows (32-bit or 64-bit)
Available hard disk space: at least 500 MB
Screen resolution: 1024 x 768 (32-bit or above)
Processor: Intel Core 2 Duo 2.0 GHz or above
Minimum RAM size: 1 GB
Additional software requirements: DirectX 9.0C or above, Net Framework 3.5 SP1 or above, Windows Media Player 10 or above
Here's how to download Samsung Kies for Windows:
Step 1. Visit the Official Samsung Website
Start by navigating to the official Samsung website. The site provides a reliable source for the latest version of Samsung Kies. Ensure that you are on the official Samsung web page to avoid downloading from unofficial sources.
Step 2. Locate the Support Section
Within the Samsung website, find the Support section. This is usually prominently displayed on the main page or in the site's navigation menu. Click on "Support" to access the various resources available.
Step 3. Search for Samsung Kies
Once in the Support section, use the search bar to look for "Samsung Kies". This should direct you to the dedicated page for Samsung Kies free download, where you can find information about the software and its latest version.
Step 4. Choose the Correct Version
Ensure that you select the version of Samsung Kies that is compatible with your Windows operating system. As of Windows 10 and 11, make sure to download the version that corresponds to your system architecture (32-bit or 64-bit).
Step 5. Click on the Download Button
Visit the Samsung Kies page, find the download button, and click to start the download. Confirm the download when prompted by your browser, and the file will be saved to your chosen location.
May Like:
Lost and Found: Expert Tips for How to Recover Samsung Notes
Top 10 Samsung Backup Apps and Software [Selected]
Part 3. How to Install and Uninstall Samsung Kies on Windows 10/11
Following the steps outlined above, we've completed the download process. It's time to move on to the installation phase. And should you ever decide to uninstall, that's a straightforward process as well. Keep reading for a comprehensive guide on both installing and uninstalling the software.
How to Install Samsung Kies on Windows 10/11
Step 1. Locate the Samsung Kies 3 download for Windows 10/11 64-bit file, and double-click to run the installer. Follow the on-screen instructions, accept the terms and conditions, and choose the installation directory. Complete the installation process.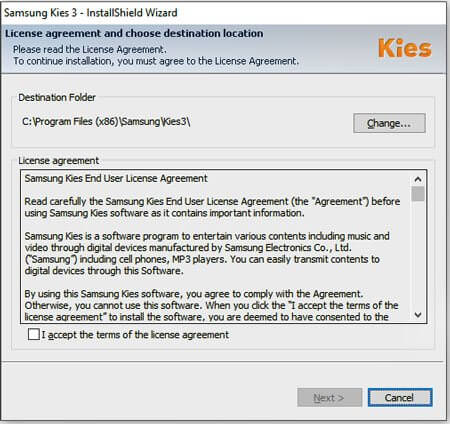 Step 2. After the installation is complete, connect your Samsung device to the computer using a USB cable. Samsung Kies will automatically recognize your device, establishing a seamless connection.
Step 3. Open Samsung Kies and navigate to the settings menu. Adjust synchronization settings for contacts, calendars, photos, and multimedia content according to your preferences. Ensure a tailored and efficient data management experience.
Step 4. Commence the synchronization process to ensure your data stays up-to-date on both your Samsung device and PC. Samsung Kies will manage the transfer of information based on your configured settings.
How to Uninstall Samsung Kies on Windows 10/11
Step 1. To uninstall Samsung Kies, access the Control Panel on your Windows 10/11. You can find it by searching in the Start menu.
Step 2. Within the Control Panel, go to the "Apps" section and select "Apps & features".
Step 3. Scroll through the list of installed programs and find Samsung Kies. Click on it to highlight and select the "Uninstall" option.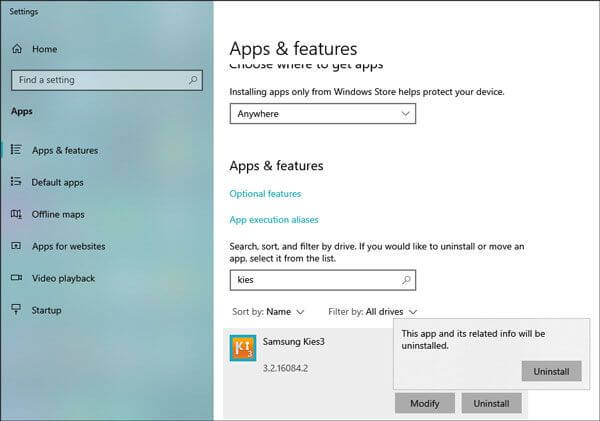 Step 4. An uninstallation wizard will guide you through the process. Follow the prompts to remove Samsung Kies from your computer. Confirm the action when prompted.
See Also:
Samsung File Transfer to PC in 5 Easy Ways [Solved]
4 Useful Ways to Transfer Contacts from Samsung to PC
Part 4. The Best Alternative for Samsung Kies on Windows 10/11
Samsung Kies is a tool crafted to aid Samsung users in data management and transfer. Despite its utility, it comes with certain limitations. As a result, many Samsung users are on the lookout for alternatives to Samsung Kies. Luckily, such alternatives are widespread in the market, and among the most comprehensive options, Coolmuster Android Assistant emerges as the ideal choice for your needs.
Coolmuster Android Assistant is a robust software solution tailored for efficient Android device management on Windows platforms. With a focus on user convenience, this tool offers a suite of features to streamline data handling and enhance overall device control. Coolmuster Android Assistant stands out as a reliable and user-centric solution, providing the tools needed for efficient Android device management on Windows.
Key Features:
Back up and restore all data from your Android phone to your PC with a single click while retaining 100% quality.
Move contacts, SMS, call logs, music, videos, photos, and more between your PC and mobile device.
Install and uninstall applications directly from a computer.
Manage contacts on your computer: add, transfer, delete, and edit with ease.
Effortlessly handle text messages on your computer: send, resend, forward, delete, and copy.
Compatible with most Android models, including Samsung.
How to use Coolmuster Android Assistant:
01After installation, open the software and click "Android Assistant" to access Coolmuster Android Assistant.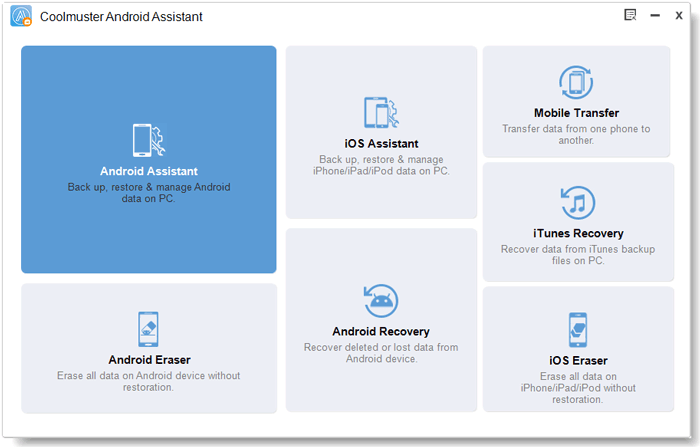 02Link your Android device to your computer using a USB cable and enable USB debugging.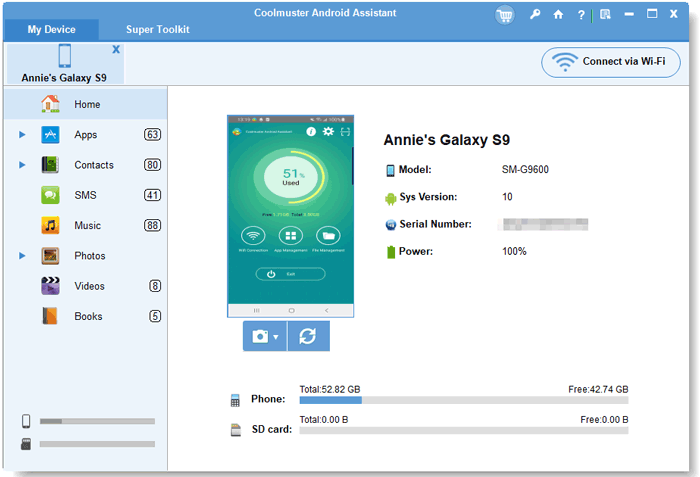 03For a one-click backup of all data, navigate to the "Super Toolkit" tab and select "Backup". Then click the "Back Up" icon in the new window to transfer all Samsung files to the computer.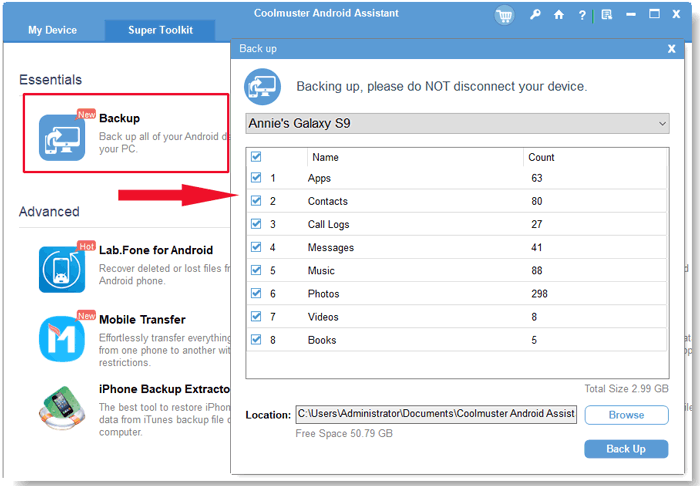 Certainly, you can also choose specific types of files, such as music. Once connected successfully, you can view all the data on your Samsung phone, select "Music", and click "Export" to transfer them to your computer.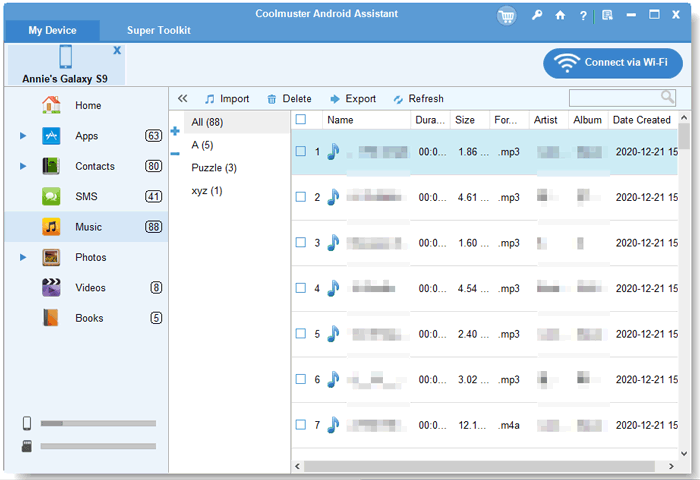 Here's a video tutorial that provides a more intuitive demonstration.
Can't Miss:
Which Is the Best Phone Transfer Software for Android & iOS in 2023?
How to Restore Samsung Kies Backup to Android?
Conclusion
Samsung Kies for Windows 10/11 stands as a comprehensive solution for Samsung device users seeking a user-friendly and efficient way to manage their data. Whether it's syncing contacts, performing software updates, or ensuring that precious memories are safely backed up, Kies offers a range of features that enhance the overall user experience. However, with the continuous advancement of technology, seeking alternatives is a wise decision. In this regard, Coolmuster Android Assistant stands out as a comprehensive and powerful alternative worth considering.
Related Articles:
Samsung Device Manager: Manage Samsung Phone in 7 Considerable Ways
How to Back Up Photos On Samsung [Top 7 Solutions to Try Out]
Transfer Text Messages from Samsung Phone to Computer | Top 6 Ways
How to Create Samsung Contacts Backup? [7 Ways for You]
5 Proven Solutions on Samsung Backup and Restore
Retrieve Photos from Samsung Cloud: The Guide You Should Never Miss