All Android devices come preinstalled with a browser app to access the internet. Any website you want to visit or any video you have to download – you will need a browser for it. Most users seldom venture outside this provided app for their internet needs. But Google Store is full of amazing browser apps that offer more functions and features than the built-in browser, which save more data, offer a smoother browsing experience and give option of add-ons to perform more activities.
Top 6 Browsers for Android Phones
1. Opera Mini – One of the more popular choices even amongAndroid phone browsers is the Opera Mini. The Opera mini scores with its small download size and stability.
Pros:
* Compresses data for fast browsing
* Can save offline pages
Cons:
* Limited customizations compared to other browsers.
2. Mozilla - It's not only in your PC that youuse Mozilla, Firefox is popularas an Android browser too.
Pros:
* Private browsing mode
* Varied options of add-ons
* Syncs with desktop
Cons:
* Takes up a lot of phone memory
* Not very fast
3. Google Chrome - This is perhaps the most common Android browser, as Google has tried to make all its users download it. Plus, it works pretty good too.
Pros:
* Official Android browser and user friendly
* Easy to sync with desktop
Cons:
* Compatible with only Android 4.0 and over
* Probable risk of data leakage
4. Maxthon Mobile Browser - It is one of the lesser known ones, but is known to offer stability and security, two things you need in an Android mobile browser.
Pros:
* Cloud Push feature for effective cloud connectivity
* Option of quick access of frequently visited websites from main interface
Cons:
* Not much option to edit and tweak
* Speed can be a deterrent
5. Puffin - This is one of the more popular alternatives that is well, just known as an Android browser.
Pros:
* Easy to set a search provider
* Simple navigation with square icons
Cons:
* Features ads in app
* Preloaded bookmarks are mostly useless
6. Flynx – You can do a whole lot more than browsing with this one!
Pros:
* Articles can be saved with simple double tap for later reading
* In-built reading mode removes ads and saves memory and data
Cons:
* Asks for permissions that are not necessary
Using browsers you are sure to download songs, videos, movies and other things from internet. Many times we need the feel for something to manage such data easily. We also face phone crashes where files and information stored on browsers are lost. We will talk about 2 such programs which help you out in such cases.
Two Important Tools to Better Use Android Browsers
Coolmuster Android Assistant - You can manage your Android data and media files effectively including contacts, messages, apps and contacts directly from PC and Mac using this powerful and professional software. Files on Android phone can be backed up and exported to PC. The Android phone can also be restored using the backup files in one click. It even features a SMS and contacts manager using which you can send group messages from PC and delete or add contacts. You can also install and run your apps on your Mac or computer.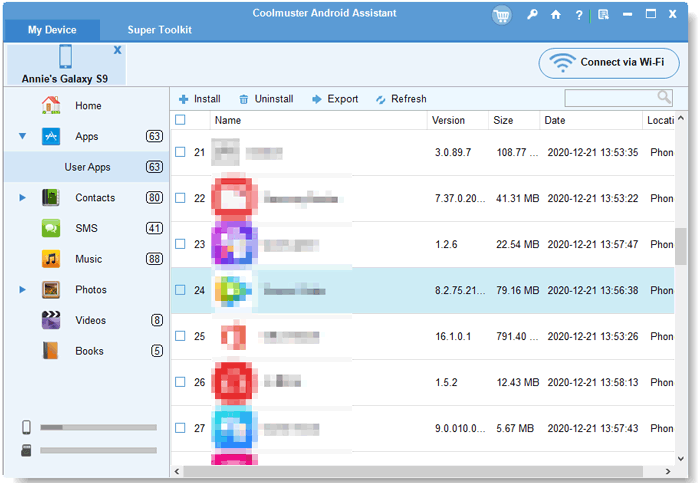 Coolmuster Lab.Fone for Android - Whenever your phone crashes or malfunctions, you can depend on this tool to recover your lost files, browsers, contacts, messages, etc. This functional tool scans the phone's internal memory and SD card for missing files and recovers them in 3 easy steps. It features a deep scan which presents the results in different categories in color coded format. This way you can preview the content and retrieve only what you need. The retrieved files retain the original quality and format of audio, videos and photos.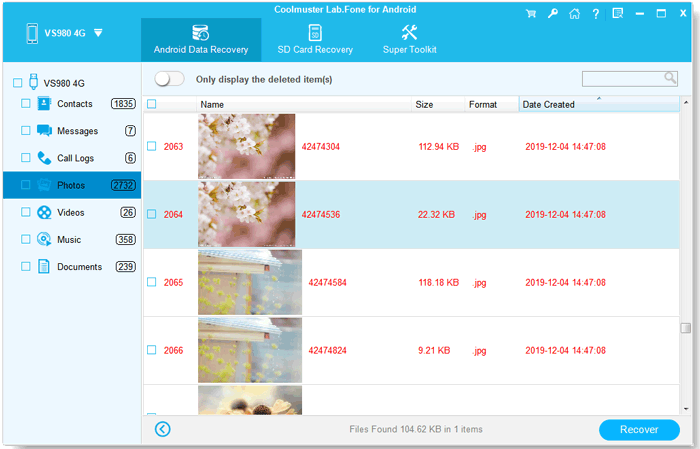 Related Articles:
Best News Apps for Android Phones
Prepare for Android 6.0 Marshmallow
Efficient Ways to Transfer Data from Android to Android