Smartphones play an essential role in our daily lives. A day can't pass without using a smartphone. From chatting with friends to tracking your fitness routine, there is so much you can do with a smartphone. But what happens when your phone gets old and outdated? It's time to switch your phones! However, the main problem comes when moving data from your old to your new phone. If you aren't familiar with the right apps to use, you risk your data getting lost. For HTC users, there is an HTC transfer tool for transferring data between HTC phones. From this post, you'll learn everything about the HTC transfer tool, how to use and the best alternative.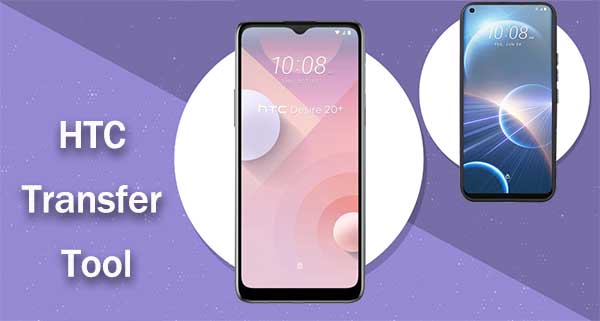 Part 1. What is HTC Transfer Tool?
This HTC transfer tool app was primarily created to transfer data between HTC devices conveniently and efficiently. You only need a reliable Wi-Fi connection to have a seamless transfer process. The application allows the users to move messages, mail, call history, documents, calendars, photos, wallpapers, settings, music, etcetera. Android smartphones above Android 2.3 are compatible with the application. The HTC Transfer Tool is a creation of the HTC Corporation, and the source device can be either iOS/Android. Furthermore, you can transfer data from any smartphone to HTC phones.
Now that you know the HTC Transfer Tool application and its features, you should learn how to use it to transfer data between two HTC devices.
You may like:
HTC Backup and Restore: How to Back Up HTC One M8 to Computer or Cloud?
3 Tested Methods to Transfer Data from LG to HTC [Safe and Updated]
Part 2. How to Transfer Data Using HTC Transfer Tool?
HTC Transfer Tool is mainly made to transfer data like bookmarks, contacts, videos, and pictures between HTC phones. This specially-made tool makes the data transfer process simple and efficient. Furthermore, it is compatible with Android 2.3 phones and above.
Below is a step-by-step guide on how to utilize the HTC Transfer Tool to move data between HTC devices:
Step 1: Open Settings on your old HTC device. Click "Get Content from another phone" and select "HTC Android Phone."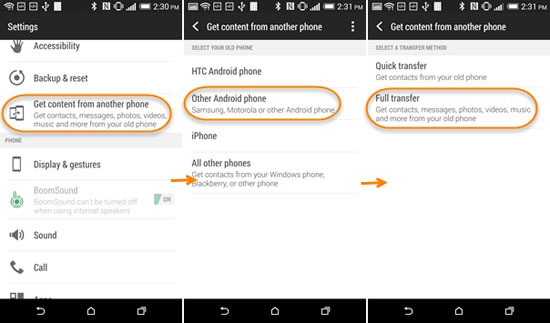 Step 2: Download HTC Transfer Tool on your new HTC phone if it doesn't have the tool.
Step 3: Open the Transfer Tool on your old device and follow the guidelines to link them. If the linking is successful, the pin displayed on both devices' screens will be similar.
Step 4: On your old HTC device, choose the contents you want to transfer and click "Start."
Step 5: Wait patiently for the transfer process to complete. After completion, close the Transfer Tool on both devices and access your data on your new HTC smartphone.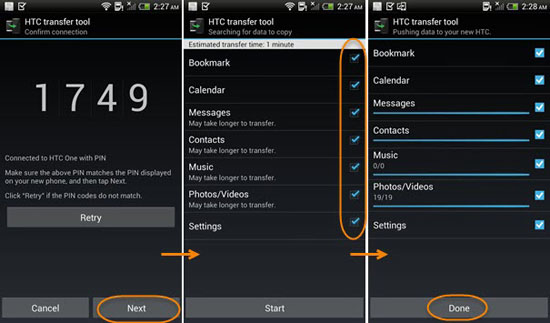 See more:
How to Transfer from HTC to iPhone Effortlessly (7 Effective Ways)
Transfer Photos, Videos, Music, Messages & Contacts from HTC to iPad
Part 3. Top 5 Alternatives to HTC Transfer Tool
This HTC data transfer app is not always smooth. Sometimes, you may encounter some problems while using HTC Transfer Tool. For example, HTC Transfer Tool not transferring messages. At this time, you will need some excellent HTC data transfer app to replace it.
Listed and elaborated below are the top 5 optional alternative tools for HTC Transfer Tool that will simplify data transfer between HTC devices.
1. Coolmuster Mobile Transfer (Best)
If you are seeking the best alternative tool to transfer files between HTC phones, Coolmuster Mobile Transfer tops the list. It provides a simple, secure, and speedy way to move your data between two HTC devices. Coolmuster Mobile Transfer is compatible with thousands of phone brands operating on Symbian, iOS, or Android platforms. The tool can be used to transfer applications, videos, text messages, photos, and contacts between two phones. Coolmuster Mobile Transfer can transfer data between two devices with a single click.
Core Features of Mobile Transfer
* Transfer data between devices that operate on different OS, i.e. Android to iOS.
* Compatible with the most current iOS and Android devices.
* It helps transfer different data types, including messages, videos, photos, contacts, etc.
* Simple, secure, and efficient process.
* Compatible with Mac OS X 10.9 or above and Windows 7/8/10/11.
How to transfer data to HTC using Coolmuster Mobile Transfer
01 Launch the program on your computer
Download, install, then launch the Coolmuster Mobile Transfer on the computer and click "Mobile Transfer" to get started.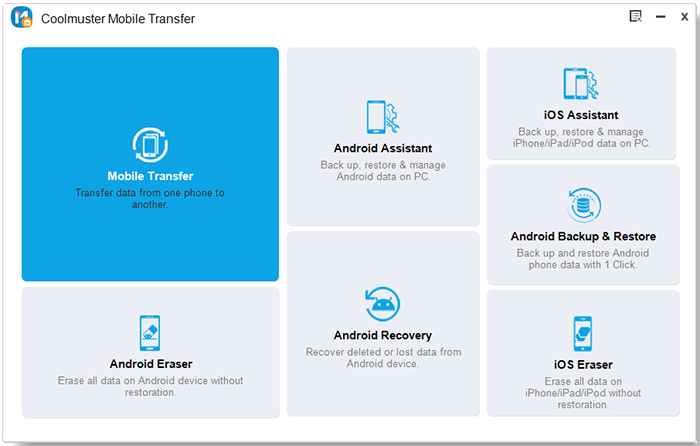 02 Connect your devices to the computer
Use a USB cable to connect the two smartphones to the PC. When the software detects the devices, they will be displayed on the PC's screen showing the Source and Destination device.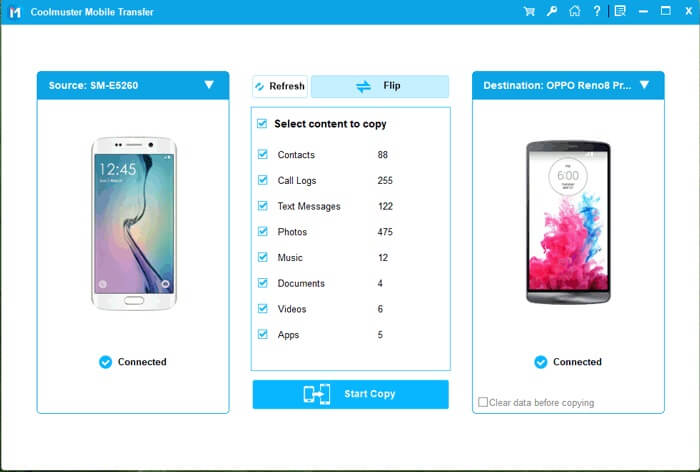 03 Begin to transfer data
Choose the specific files you want to move and tap on the Start Copy icon to begin the process.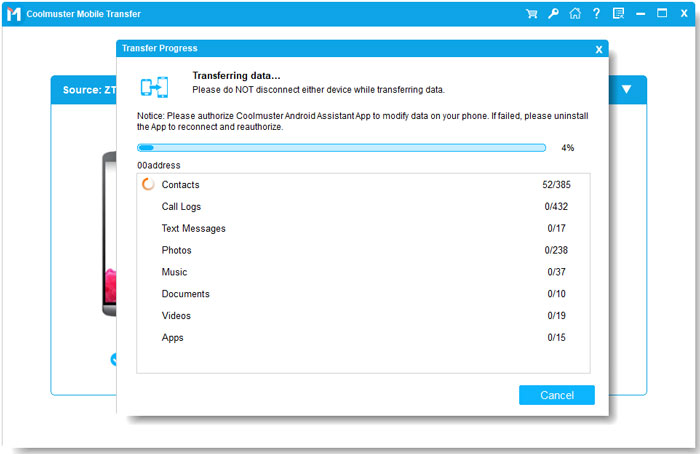 Pros
* The transfer process is speedy data transfer without loss of data.
* Fast to transfer data between devices.
* Compatible with almost all Android and iOS smartphones.
* Allows you to select what you want to transfer.
Cons
* The Demo version has limited features.
2. OneDrive
Microsoft OneDrive is a great alternative to the HTC Transfer Tool. However, just like Google Drive, the interface can be awkward. The advantage is that you can share a lot of data and set permissions for accessing it.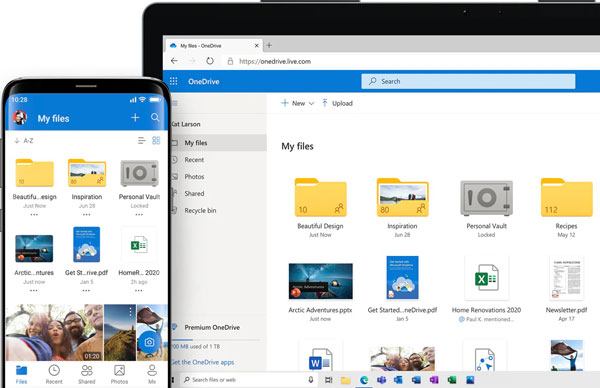 Pros
* You can access your data from anywhere and at any time.
* The security of your data is enhanced.
* Doesn't allow unauthorized access.
* Sharing data between phones is simple.
Cons
* Possible breach of privacy when you use this app
* Non-friendly user interface that's difficult to use
3. Zapya
This is an application used globally to transfer data between two devices instantly. The application is a creation of Dewmobile Inc. Zapya makes the transferring process simple, secure, and efficient. It provides a safe platform to share various data types between two devices, for example, pictures, applications, music, documents, etcetera.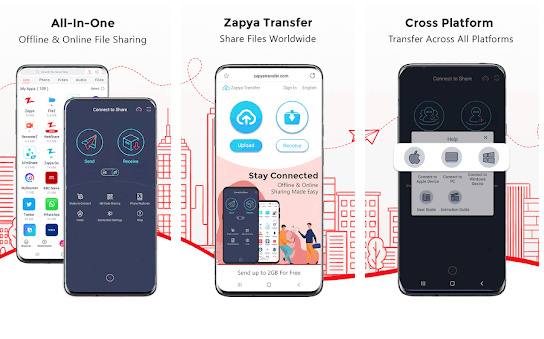 Pros
* The app has a user-friendly interface that's easier to work with.
* It has a built-in gallery and a media player.
* The data transfer is fast.
* Unlimited transfer of data.
* Enables wireless networks to link different phones.
Cons
* It cannot support HD videos.
4. Moborobo
The Moborobo application simplifies the process of managing your Android data and enhances the process of data transfer between a phone and a PC. Furthermore, you can install games and applications on the PC and sync them to the connected Android smartphone. Hence, Moborobo for Android is an ideal option for the HTC Transfer Tool. It does not have any particular issues during data transfer.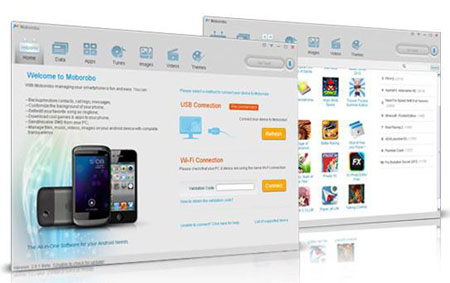 Pros
* It can help you manage data from the computer.
* The app can do screen-mirroring.
* It includes options for backup.
Cons
* The app doesn't work with some devices.
* There is no multilingual support.
* It lacks transparency.
5. SHAREit
SHAREit is a widely used and accepted application that Android users employ to share data between two devices. It is a third-party application that enables users to move data quickly and securely. Moreover, the application supports the transfer of online data, for instance, GIFs, wallpapers, movies, videos, etc. SHAREit ?Transfer & Share has a formidable media player that allows you to listen to music and watch videos.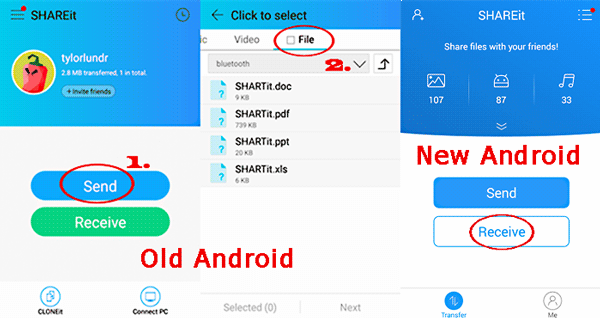 Pros
* User-friendly interface.
* Can transfer files in different formats.
* Secure, and there is no breach of privacy.
* Transfer data while offline.
* Send huge files of data.
Cons
* Vulnerable to malware, bugs, and viruses.
Conclusion
Overall, HTC Transfer Tool is a good app but still has flaws. The HTC transfer app doesn't support other devices apart from HTC devices, limiting Android users. That's why there are alternatives to HTC Transfer Tool like Coolmuster Mobile Transfer, which is the best and most recommendable. Its high compatibility with Android and iOS devices.
Related Articles:
Full Guide on How to Transfer Data from HTC to Samsung
How to Transfer Data from HTC to Huawei P80/P60/P40/P30/P20 without a Hassle? (Full Guide)
How to Transfer Photos from HTC to PC Easily in 6 Ways
Top 3 Ways to Sync HTC Files to Mac OS X
Best HTC Sync Manager Alternatives - Sync HTC Data More Efficiently
How to Transfer Text Messages from HTC to Computer? (4 Practical Methods)