Now the Android world is upgrading itself to Android Marshmallow soon, so if you are still using Android KitKat or JellyBean, you might soon have to let go off your device since your OS version may not be able to support some of Android's newer apps. The yearly revisions of Android offer just some simple changes and easy tweaks here and there. But the latest Android Marshmallow 6.0 is a groundbreaking release packed with brand new features to make Android use an even better experience. It can be undoubtedly called the largest update to the Google's mobile OS in many years. The unique functionality and user experience are the perfect reasons to update your existing Android version to Marshmallow 6.0.
Many manufacturers have installed it in their range of smartphones like Samsung Galaxy S7, Nexus 5, 6, 7, and 9, HTC Desire 826, HTC One E9+, HTC Desire 816, LG G3,2015 Moto X Pure Edition (third-gen) and 2015 Moto X Style. So if you are still considering whether to update or not, let the following features speak for themselves and help you decide:
Main Features of Android 6.0 Marshmallow:
USB Type-C – This new connection technology provides super fast transfer speed and charges up your phone in a short time. It can fully charge a Nexus 6P in two hours.
Now on Tap – Google+ functionality of providing better understanding of location and customized search results in now integrated in every part of Marshmallow.
Fingerprint scanners – This has been on Android phones for some time, but in Marshmallow it gets compatible with other apps and can be used for login.
To name just a few, generally this new OS is much more powerful and functional. Now, you possibly decide to update to this system. But before you proceed with updating your phone, you must create backup of your phone data, or otherwise you may end up losing your data, contacts, music, movies, and messages.
Back up Files before Updating to Android 6.0 Marshmallow
Then you can't miss this Coolmuster Android Assistant, which allows you to back up files from Android phones in an easy way. Along with creating backups, it is a powerful Android management program which can handle media files, apps, contacts and messages. It supports both Windows and Mac and you can export different file types including music, photos, videos, apps, SMS, contacts to your desktop. And actually there are many reasons why you need a phone backup, such as guarding against data losses.
You can now upgrade to Android Marshmallow 6.0 and restore your phone content on the new OS using with this powerful software. The backup and the restore process can be conducted with a single click. You can use your USB cable or use Wifi to connect your Android device with your computer. The interface is user friendly and features step by step wizard process to keep things simple.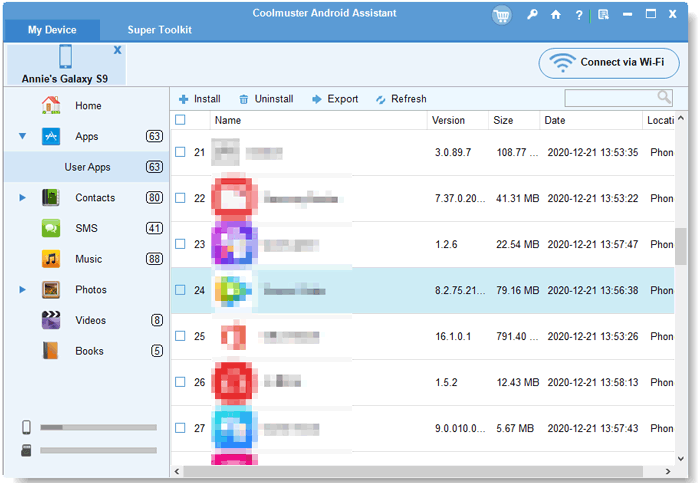 What if Android Files are Lost without Phone Backup?
It can be a frustrating situation if you forgot to backup your phone data before updating to Marshmallow 6.0. You may end up losing valuable content like important contacts, messages, your media files, etc. In such scenarios, Coolmuster Lab Fone for Android is the perfect solution. You can recover the lost files and data from Android device and restore your phone using this program. It performs a thorough scan of your Android device's internal memory and external SD card and comes up with lost and deleted files. You can selectively recover data and preview them before you proceed to restoring them. The scanned data is color coded for your easy understanding.
This software also works for corrupted data or damaged data caused by rooting, restoring factory settings, physical damage, etc. The whole process can be carried out with just 3 clicks. First you need to connect your phone and run the program. Next you have to run the scan and then go ahead with the recovery process.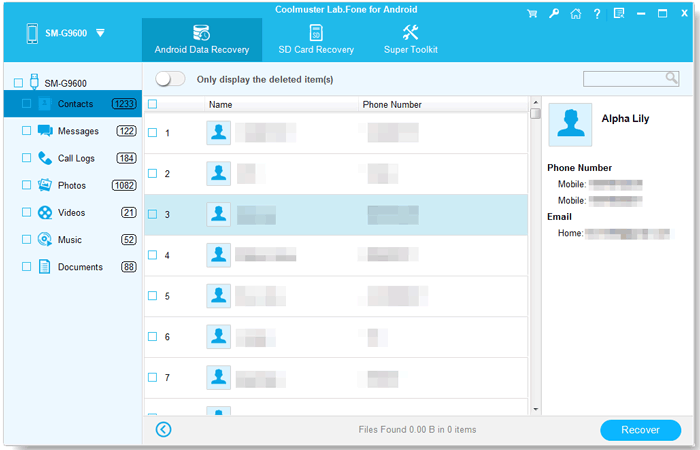 Related Articles:
Best Contacts Editor for Android Phones
Tips to Copy Files between Computer and HTC