Android smartphones help us in various ways, like viewing our documents in PDF. If you are traveling, on breaks, or just relaxing, you can easily read your files in PDF format. But what if you lose these files by accidental deletion? How to recover deleted pdf files on Android?
Losing important PDF files can be incredibly frustrating. And when it comes to recovering them, the challenge is often compounded—not only due to their larger file size but also because they might contain critical information.
If you've ever accidentally deleted a PDF file from your Android device, you know the feeling of hopelessness that can come with it. But don't despair – deleting files on an Android does not mean they are gone forever! We have some tips for you to help recover those precious PDFs and get them back where they belong.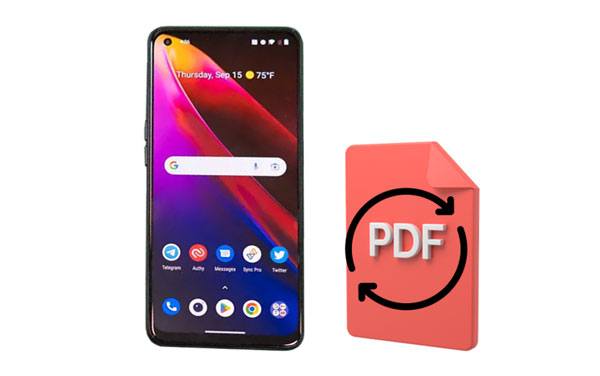 Part 1: Where Do Deleted PDF Files Go?
Android phones let you download, edit or read PDF files on the phone. You can download these files from social media or the internet when you get them. Additionally, when a PDF file is deleted from an Android device, it doesn't necessarily mean it is gone forever.
Even though it's quite hard to find the exact location of the deleted PDF files, you can find them in My Files or File manager application, Google Drive, or PDF reader apps like WPS office or Adobe Acrobat, depending on the specific reader or drive you use.
Part 2: What Causes PDF Files to Get Lost on Android Phones?
There are various reasons why you may lose your PDF files. Some of the possible reasons are as follows:
1. Unscrupulous Antivirus Software Downloaded on Android Device
Antivirus software is an important program that can hinder any malware infections. However, not all software programs are the best, especially the unscrupulous ones. The consequences of using untrustworthy antivirus software can be dire.
Not only does it leave your device vulnerable to attacks from malicious programs, but it can also lead to unintentional data loss. Unscrupulous antivirus programs may delete important PDFs without warning or permission when they detect the PDF files to be malicious.
2. Hazardous Viruses Enter the Android Phone
Virus attack is a serious threat to Android phones and can lead to massive data loss. When you install insecure apps or data, your device becomes the target of malware attacks which can damage the files in the system. These viruses can multiply or delete all files on your phone, including PDFs.
So, to protect your device from such attacks, you need to be vigilant about the apps you get on your device. Ensure all the apps installed on your phone are from a trusted source.
3. Accidental Deletion
This is one of the major causes of PDF file deletion from Android phones. For instance, while reading or moving the file, you can accidentally press the delete button, thus removing the file.
4. Factory Resetting Your Device Unknowingly
As you know, factory resetting erases your phone's data. This operation will automatically wipe all of your Android files, including PDFs. Sometimes it happens without knowing. Maybe your kid was playing with the device and pressed the buttons, which led to your device being factory reset.
Part 3: How to Recover Deleted PDF Files on Android
Android phones are becoming increasingly popular devices for managing and storing PDF files. However, sometimes you can find your files deleted either by accident or due to viruses. Whatever the case, I know you are wondering how to recover it. The good thing is that it's possible to recover any deleted PDF file back to your phone. Here, we'll walk through the different ways to recover deleted pdf files in Android. So, let's go!
3.1 How to Get Deleted PDF Files Back on Android Using Coolmuster Lab.Fone for Android
If you've ever experienced the despair of missing files, then you know how important a reliable data recovery tool can be. Well, lucky for you, Coolmuster Lab.Fone for Android is here to save the day! This powerful tool makes it incredibly easy to recover deleted files from your Android device with just a few clicks, such as PDF files. It can even recover files from your internal storage and SD card, so no matter what kind of data you need to get back, Lab.Fone for Android has got you covered!
Plus, you can be sure that any process performed with this recovery software will be safe and secure. So don't wait any longer: get your deleted PDF files back with this top-notch App. With it, you can recover your Android files without backup.
Major attributes of Coolmuster Lab.Fone for Android:
* Restore deleted PDF files in Android Mobile phones without backup.
* Recover deleted photos, contacts, text messages, and more from Android devices.
* Recover deleted videos, songs, pictures, and documents from SD Cards without rooting.
* Offer quick and deep scan modes to help you sort out your data easily.
* Operate efficiently on most Android devices, such as HTC, Sony, Huawei, Samsung, ZTE, OPPO, etc.
Back up your Android files to your computer to keep them safe.
Download this PDF recovery app for Android.
Easy steps to recover deleted PDF files in an Android mobile phone via this software:
01Launch the software after installing it on the computer. From the primary interface, you'll find the toolbox; choose the "Android Recovery" option.
02Connect the Android phone to the computer using a USB cord. Wait for the program to detect the device. Once recognized, you can select file types on the interface. Please check the "Documents" option, and tap "Next".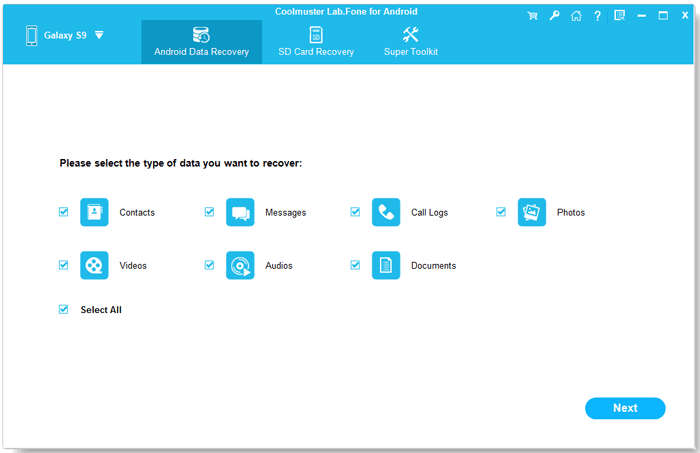 03Choose either "Quick Scan" or "Deep Scan" modes. Once done, hit "Continue" to scan all deleted files from the device. (But if you don't root your Android device, the software cannot scan your deleted files completely.)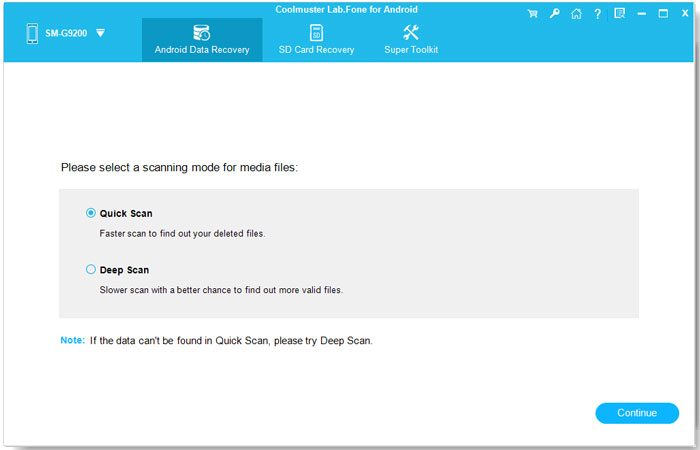 04You'll see the "Documents" folder from the left panel. Open it and choose the deleted PDF files you want. Then press the "Recover" icon to restore the PDF files from your Android device.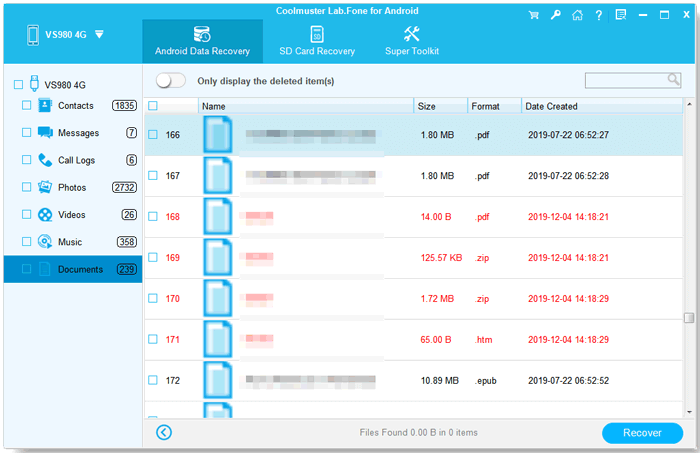 See more:
Powerful 5 Android SMS Recovery Apps You'd Better Know [Tutorials Included]
How to Realize SD Card Recovery for Android (Recommended)
3.2 How to Restore Deleted PDF Files in Mobile Using OneDrive
Some of us prefer using OneDrive instead of Google Drive. If you are a OneDrive user who lost their PDF files, don't worry; you can recover the files hassle free from OneDrive provided you had backed up your files before. This cloud storage allows you to store all your documents in one secure location, so restoring it will be easier. Just head to the OneDrive app, and you'll be ready to get back your PDF files easily.
Below are steps to get PDF files back on Android with OneDrive:
Step 1: Head to the OneDrive page and log into your Microsoft account.
Step 2: Click on the three horizontal lines in the upper left section and choose your PDF files from the "My Files" folder.
Step 3: Press the file for some time, then press on the three dots after the "Share" icon.
Step 4: Choose "Save" and wait for the file to be saved to your Android device's internal storage.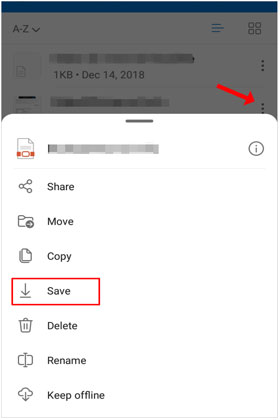 Remember, before using Google Drive or OneDrive to recover your PDF files, you must have already synchronized your Android phone to the Drive, backed up the PDF files in Drive before their deletion, and have enough storage.
Guess you need: [3 Effective Ways] Restore Deleted Contacts on Android Phone & SIM Card
3.3 How to Recover PDF Files in Android Mobile via GT Data Recovery App
GT Data Recovery app is amazing for recovering lost or corrupted PDF files. Its easy-to-use interface and powerful features make it a must-have for anyone who needs to rescue precious data from a disappearing PDF. Whether you've accidentally deleted important documents, experienced a system crash, or just need to recover a few files from a corrupted drive.
Perform PDF file recovery for Android via GT Data Recovery:
Step 1: First, download GT Recovery for Android on your Android phone. Then install it correctly. If your device isn't rooted, you'll be prompted to root it. Also, grant access permissions.
Step 2: The App will now organize the home view and choose what you wish to recover. To restore deleted files, hit the "Recover File" option and choose the "Documents" option.
Step 3: After analyzing the phone, hit the "Scan Device" prompt to start the scanning procedure. The application will then populate all documents to be recovered. After scanning, hit the "Save" icon to save the files to your phone.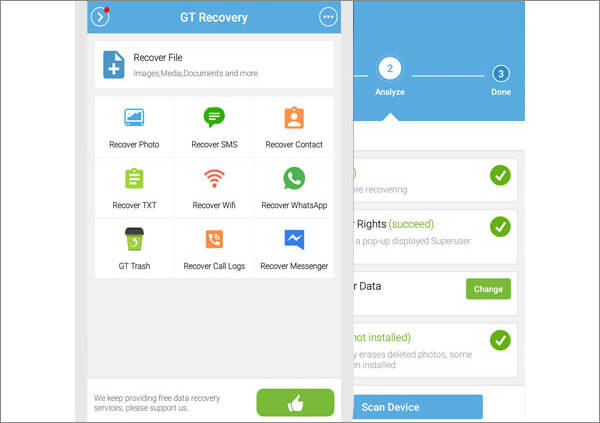 Perhaps you need: If you want to recover your deleted DCIM folder from an Android phone, you can follow this recovery tutorial. It will tell you helpful methods.
3.4 How to Retrieve PDF Files in Android Mobile via Google Drive
If you're a fan of Google Drive, then you know the App is one of the most efficient ways to store, share and access files from anywhere! Google Drive is an amazing and powerful tool that lets you do everything from creating documents to cloud storage, courtesy of its 15 GB free storage. With Google Drive, you can store all your files in one place, access them from anywhere, share them with others, collaborate on projects together, and much more.
But did you know it can also be your go-to for restoring deleted PDFs on Android? That's right, folks - with its powerful search capabilities, you can quickly find those deleted PDFs and restore them easily. So if you're ever in a pinch, just remember - Google Drive to the rescue! It's like having your very own superhero butler at your disposal.
Below are steps to restore PDF files with Google Drive:
Step 1: Head to the Google Drive webpage and enter the correct login credentials.
Step 2: After successfully logging in, you'll see all data backed up in your Google account. Just search for the PDF files you wish to restore.
Step 3: Tick all the files you wish to restore and press the "Download" button.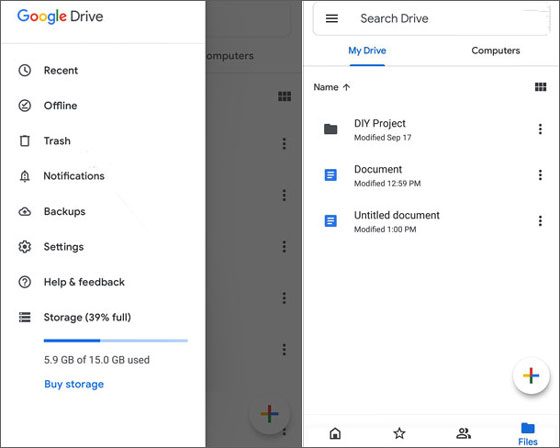 Conclusion
Worried about losing precious PDF files from your Android device? The good news is it's usually possible to retrieve deleted PDFs on an Android. These are the most effective methods for restoring deleted PDF files from Android phones. Among them all, we know Coolmuster Lab.Fone for Android is an incredibly helpful tool for any Android user looking to restore lost or deleted data from the device. It can help you get your deleted PDF files back from your Android device, even though you don't have any backup. So, why not download it to have a try?
Related Articles:
How to Recover Deleted PDF Files from WhatsApp? [4 Effective Ways]
How to Transfer PDF to iPhone without iTunes in 7 Unexpected Ways?
Complete Guide on How to Transfer PDF to iPhone
Dead Phone Data Recovery: How to Recover Data from Dead Phone in 4 Easy Ways
Android Tablet Data Recovery: How to Recover Deleted Files on Android Tablet
How to Recover Deleted Text Messages on Android (7 Effective Ways)