When you need a software application to assist you with making changes to your Samsung phone, you can seek out the use of applications like Samsung Kies. Samsung Kies is considered to be a very powerful software application that can be used for several different purposes and reasons. Some of the more beneficial are provided for you below:
- Designed to not only sync up data but also backup your contacts and other device information.
- Designed to be a front-end software product that can be used for transferring media like music and video between a user's computer and their phone.
- update the device firmware on an android phone.
Even though Samsung Kies is considered to be a coveted solution for transferring, syncing and backing up data, it can also be seen as a software product that has some issues that need to be resolved before it can actually be used. So, for those of you who may not be familiar with issues of concerns that you can encounter, here are some troubleshooting issues that you may just run into.
Issue 1: Phone doesn't Get Recognized by Samsung Kies
Issue 2: Kies' Function Stuck on the "Connecting feature"
Alternative: Manage Android Phone with Android Assistant
Issue 1: Phone doesn't Get Recognized by Samsung Kies
One common issue that many users encounter when they are dealing with certain problems that is related to Samsung kies involves their phones not being detected by this software application. This issue normally appears to be sporadic but there is a fix that can help the user with solving this problem. Fortunately, this solution or trick is very basic, and it includes the following:
Solution 1:
If the user is having this problem, they may have a hardware issue that needs to be addressed. One, in particular, is often directly related to problems with the USB cable working. So, if you know some one who is having these issues, one of the first things that people normally suggest or recommend as a viable fix is using another USB cable to ensure the phone can be detected.
Solution 2:
If the USB cable is not the problem, you may have a connectivity issue that needs to be addressed. So, to solve these issues, you can follow these simple steps:
Step 1: Disconnecting the user's Samsung phone from its source and then reconnecting it again.
Step 2: The user will then reconnect their USB cable from its source so that they can reconnect it to a different port on their computer.
Step 3: After this step is complete, the user will need to connect the USB cable directly to their computer instead of their docking station or their USB hub.
Step 4: When complete, the user will need to go to "Information tab, Check for updates", so that they can update their software to the latest version of Kies, which Kies 3.
Step 5: Once the installation has finished, the user will need to restart Samsung Kies and reboot their computer as well as their phone. Refer to Samsung.com to see If the user is using Kies 3 for their supporting software.
You May Want to Know:
How to Solve Android Stuck on Boot Screen
How to Fix Phone Keep Turning Off Issue
Issue 2: Kies' Function Stuck on the "Connecting feature"
Some users may not have any problem using this software when it comes to detecting their phone, however, they may experience another issue of concern that will need to be resolved. This issue is usually related to the kies software getting stuck in the connecting feature and will not allow the user to come out of this status without some sort of solution.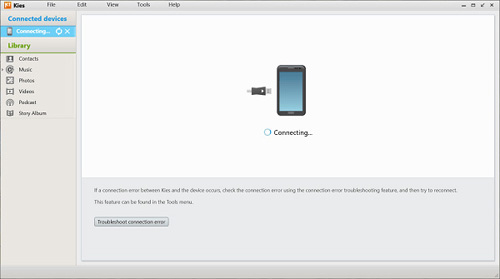 Thankfully, there is a solution to this problem that can be used at virtually any time. With this solution, the user will need to know how to correct a software problem that has occurred for some reason or another. For instance, the user will be required to update their USB drivers so that it can accommodate Samsung Kies for their mobile phones. You can find this solution is directly related to WIN PC.
Here is an example of what you should be looking for when you want to fix the function stuck on connecting feature problem that you are encountering. The first things that the user should do is to follow the steps provided for below:
Step1. The user will need to Open local Disk (C:) on their local computer. This step is essential to start the process of downloading the correct drivers to their computer.
Step 2. When this step is complete, the user should go t their "Program Files (x86)"
Step 3. Type in the commands "Samsung" > "Kies" > "USB Driver"
Step 4. When this step is complete, the user will then double-click on USB Drivers in order to launch SAMSUNG_USB_Driver_for_Mobile_Phones.exe.

When the steps above have been completed, the computer program will have the drivers that it needs and they can proceed to run the Samsung kies software applications successfully without any other unnecessary issues of concern.
Alternative: Manage Android Phone with Android Assistant
If you still have problems in using Samsung Kies, I suggest you give it up and switch to the best alternative tool to Kies - Coolmuster Android Assistant. It is an application that specially designed for Android users to transfer files between Android device and computer, and even manage their Android data on computer. With it, you can:
> Back up Android phone data on computer, and restore data that has been lost on their mobile phone;
> Send/receive text messages from computer;
> Edit/add/delete Android contacts on computer;
> Install/uninstall/backup Android apps on computer and so forth.
For more detailed information, you can keep on reading the following guide:
Step 1: Download, install and run the Coolmuster Android Assistant on your computer. Connect your Android phone to the computer and make sure you have enabled USB debugging on your phone first.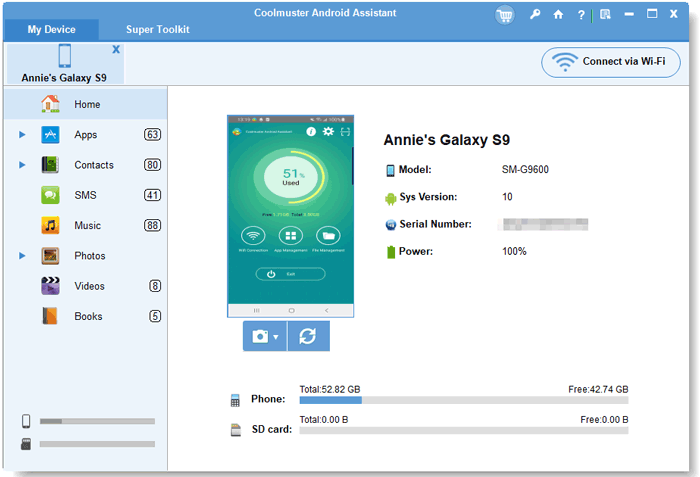 Step 2: Navigate to the left side menu of the software, you can see all the files in your cell phone shows in categories, such as "Apps", "SMS", "Music", "Photo", "Video", "Book", "Files", "Contacts", etc. And there are a series of options displayed on the top, like "import", "export", "backup", "edit", "delete", "add" and so on. Click to choose the desired file types and select the operation you want.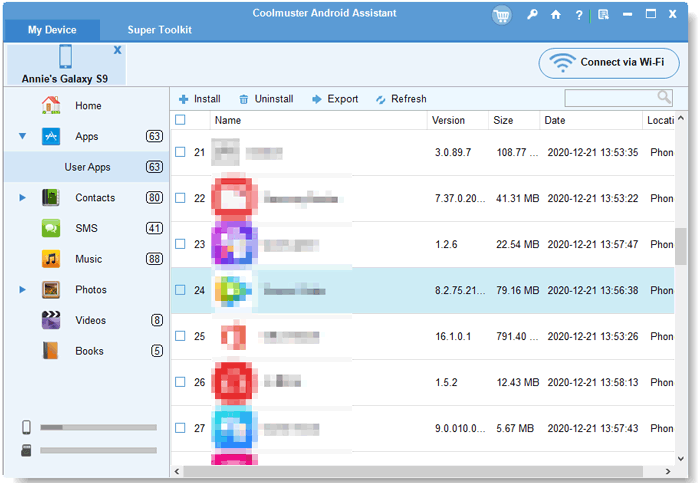 Conclusion
Now you can fix the problem when Samsung Kies cannot detect your device, and replace Kies with a powerful Android data manager - Coolmuster Android Assistant. This software can transfer, back up and restore Samsung data on your computer without any hassle.
Related Articles:
How to Retrieve Deleted Texts on Samsung
Samsung Device Manager: Manage Samsung Phone Easily