Samsung devices are commonly used nowadays so we eagerly need a special Samsung data manager tool to help us manage Samsung devices on computer. That's why Samsung company introduces the Samsung Kies, which is professional in managing Samsung phone data on computer. Specifically, because Samsung Kies has been designed as a liaison of communication between Windows and Mac Operating systems. With the use of a USB cable connection mobile phone, tablet users and others, it's designed to be a more simpler and better communication vehicle. The name of Samsung's software application is called the Key Intuitive Easy System.
The following article will show you how to use Samsung Kies to manage Samsung phone data on computer, and we also introduce another alternative application to Kies to help you manage Samsung devices.
Way 1: Manage Samsung Phone Data with Samsung Kies
Way 2: Manage Samsung Galaxy Data with Android Assistant
Way 1: Manage Samsung Phone Data with Samsung Kies
Section 1: Backup Samsung devices
Launch Samsung Kies on your computer and use a USB cable to connect your Samsung phone to the same computer. Choose "Backup & Restore" option from the main interface and click "Data Backup". Then, Kies will divide the Samsung phone data into two categories: Personal information and Content. Just choose the files you want to backup and click the "Backup" button at the top-right corner.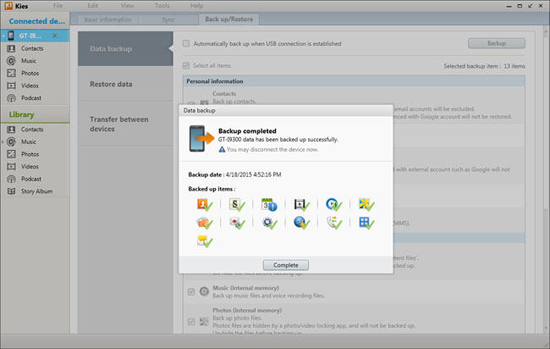 Section 2: Restore Samsung phone data
Change to the option of "Restore Data" and Kies will automatically load the files you have backed up. Browse the loaded files and tick all the content you want to recover. Then, click the "Restore" button from the top right corner to start the restoring process.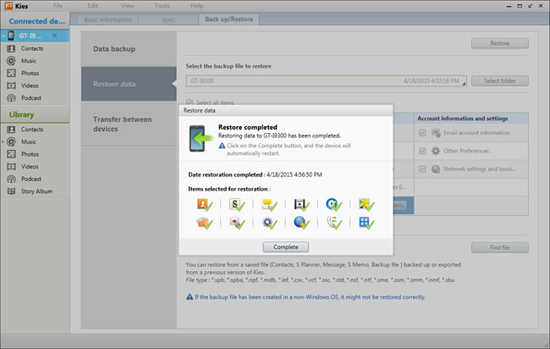 Section 3: Transfer data between Samsung and PC
Launch Samsung Kies and navigate to the bottom of the program. Then, you are allowed to choose "USB cable connection" and "Wireless connection". On your Samsung device, tap on the "Settings" option, followed by "More Settings", and finally tap on "Kies via Wi-Fi". Samsung Kies will immediately detect that your device, prompt you with a notification, from which you should click on the "Yes" button. A code may be required for a stable connection to be acquired. After entering the code, your Samsung device will be connected to the PC successfully and you will then be able to transfer data between them.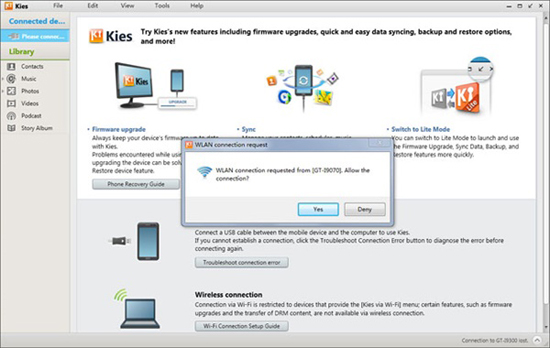 However, users report the Samsung Kies is failing sporadically when trying to connect their Samsung phone to one of their computers or laptops. It also runs slowly so it may take a user forever to detect the files on their phone. And most of all, Samsung Kies only supports Samsung devices. If you use other Android devices, you can keep on reading. Next, we are going to introduce the best Kies alternative tool to help you manage Samsung and more Android devices on computer.
Way 2: Manage Samsung Galaxy Data with Android Assistant
Coolmuster Android Assistant is an application that specially designed for Android users to manage their Android devices on computer. With it, you can: Back up Android phone data on computer, and restore data that has been lost on their mobile phone, send/receive text messages from computer, edit/add/delete Android contacts on computer, install/uninstall/backup Android apps on computer and so forth. For more detailed information, you can keep on reading the following guide:
Step 1: Download, install and run the Coolmuster Android Assistant on your computer. Connect your Samsung phone to the computer and make sure you have enabled USB debugging on your phone first.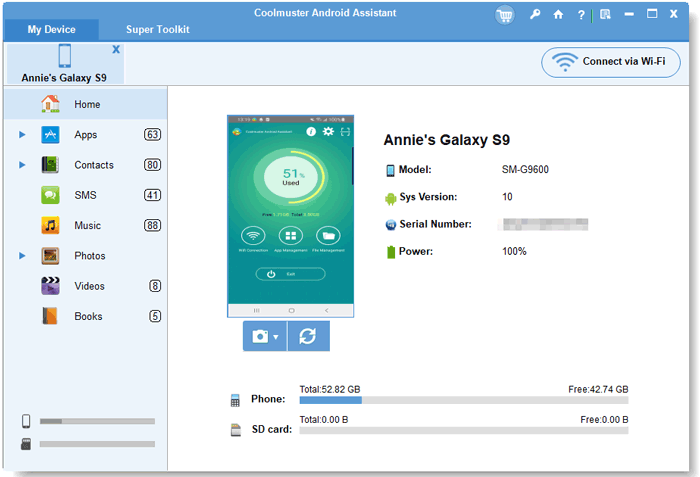 Step 2: Navigate to the left side menu of the software, you can see all the files in your cell phone shows in categories, such as "Apps", "SMS", "Music", "Photo", "Video", "Book", "Files", "Contacts", etc. And there are a series of options displayed on the top, like "import", "export", "backup", "edit", "delete", "add" and so on. Click to choose the desired file types and select the operation you want.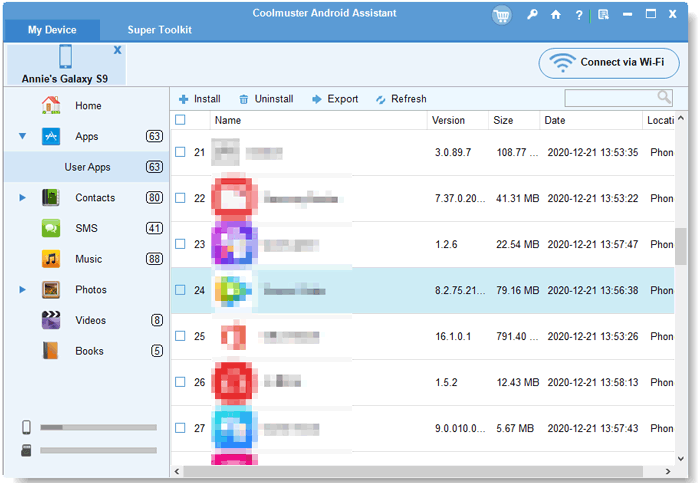 Conclusion
Managing your Samsung devices is made easy with tools like Samsung Kies and Coolmuster Android Assistant. Samsung Kies provides a convenient way to backup and restore data, as well as transfer files between your Samsung device and computer. However, some users may experience connectivity issues and find the software to be slow. Additionally, Samsung Kies is limited to Samsung devices only. So, why not use the robust alternative - Coolmuster Android Assistant?
Related Articles:
Copy SMS from Motorola Phone to Computer
Transfer Contacts from Android Phone to Computer
Top-Rated Approaches in Transferring Files from Android to Mac Effectively