In the present days, voice assistants are becoming more and more popular, and Siri is currently the best digital voice assistant in the world. Voice assistants have rapidly gained popularity among people thanks to Siri's efficiency and integration. Siri is primarily designed for Apple devices such as iPad and iPhone to help users with different tasks, but there are Siri alternative for Android devices as well. Siri for Android application is gaining popularity day by day.
Voice assistants help us a lot in our daily life. For instance, they help us keep track of crucial things as well as make life manageable. In this article, you will learn more about Siri alternative applications for Android. Here are the top 10 apps:
Top 10 Siri Alternative Apps for Android Devices
1. Google Now
Google Now is unquestionably one of the leading personal voice assistant applications on Android platform. It incorporates a wide range of basic and advanced features such as activation from any location, anticipating your requirements, Google Now on Tap and several others. The fact that this application gets regular updates from Google makes it one of the most potent apps in the market. If you have installed Google Play Services in your Android phone, it means that you already have Google Now Application installed. You just need to turn it ON or install the Google Now Launcher to make this application placed at the front screen of your device.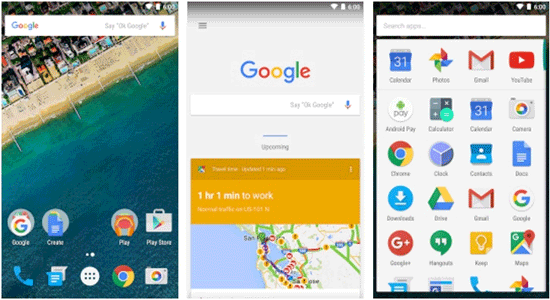 2. Dragon Mobile Assistant
The Dragon Mobile Assistant is another alternative to the Siri app. The Assistant app communicates with you in a desirable conversational manner just like Siri. With this application installed on your Android device, you will feel like you have a virtual assistant. It recognizes voices, sets meetings, and traverses the maps for you quickly and efficiently. You will genuinely fall in love with it due to its astonishing interface.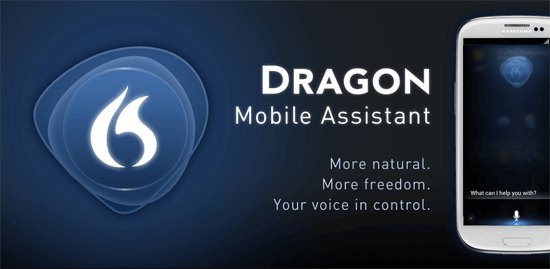 3. Microsoft Cortana
Microsoft's Cortana still requires some polishing, but it still got the huge potential for improvement. This application is relinquished to make things much more comfortable for you and is seen as one of the leading Siri substitutes for Android gadgets. Cortana's incredible features comprise the ability to send email and SMS, call people, track packages, take notes, add stuff to your calendar, tell jokes, and much more. The good thing is that it is available in various languages such as Chinese, English, French, Japanese, Italian, Portuguese, German, and among others.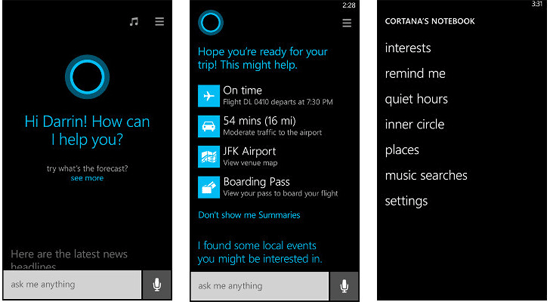 4. Robin
All Android users need a personal assistant who is as smart as Robin. When voice assistant is considered, Robin is a remarkable savior. Robin boots remarkably fast and pops up instantly after tapping its application icon. Its interface is to some extent weird because it does not offer a high effect on the application. Besides, the interface possesses a transparent background making it difficult to recognize the app when using multiple colored launchers. Apart from Robin recognizing various accents, he only understands English.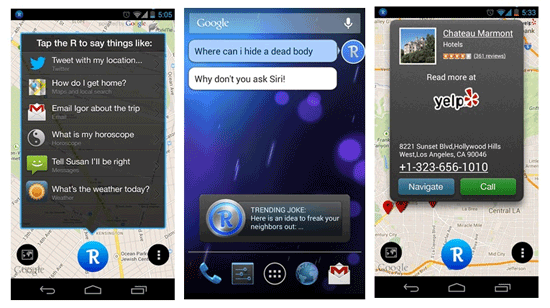 5. Top Assistant
Top Assistant has insignificant resemblance with Siri, and it is not a standard voice assistant application. However, it performs the virtual assistant task very well. Top Assistant is a "giant" in situations where a user requires several multitasking activities regularly. For instance, if you are carrying out some crucial calculations work and utilizing spreadsheets, you may be forced to use a calculator to accomplish the task. In this case, this application performs some quick work by offering you an on-screen button to access the calculator. Thus, the value of having Top Assistant cannot be overlooked.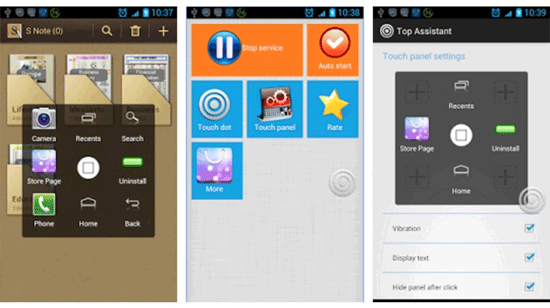 People Also Read:
Top 6 iTunes Alternatives for Android in 2023
Best 5 Android Backup and Restore Software
6. Andy – Voice Assistant
Andy, just like Siri for iPhone is nothing less than an incredible assistant. Andy has a remarkably designed simple assistant. It is seen as the leading companion to scholars across the globe due to its intelligent and fully functional voice assistant. It significantly assists learners when it comes to subjects such as history, religion and even science which are unquestionably extensive topics. Being a fantastic voice assistant, Andy does an incredible job by helping students with their homework, reading out texts to them, and making their life in school much more comfortable. Besides, the application is a guru when it comes to solving mathematical problems, logic, reasoning, and philosophy. The only disadvantage concerning Andy is that the free version of the application has fewer features than the premium version. The premium version quality is matchless and contains no ads. Therefore, Andy may be the best version of the Siri App for Android smartphones.

7. Genie
If you are searching for a substitute of Siri on an Android device, look no further because Genie is a remarkable digital voice assistant application on Android operating systems. Tasks such as dialing, voice texting, and calling are made easy and fast via Genie App if you want to set your alarm clock via voice commands easily, download and install Genie now. For instance, to set a six o'clock alarm, you can just speak the words: "wake me up at six on Tuesday". Genie will understand your commands and then assist you according to your commands. With this info, Genie is among the best applications for the alarm clock. Genie is available in a free version which has limited features as well as a premium version that is sold at $ 3.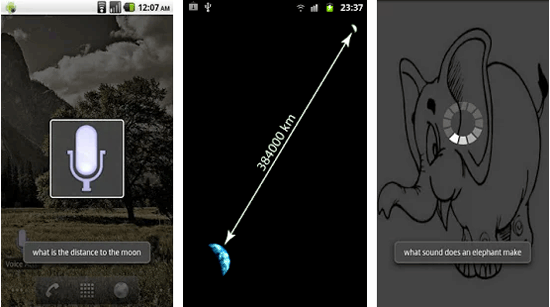 8. Indigo
Another Siri-like Application for Android is the popular Indigo. Apart from Indigo possessing one of the leading user interfaces among its related applications, it offers some remarkable features such as regulating music when one is busy with other activities like kitchen works and exercises. Indigo can also perform the translation for you as long as you have a native accent. Indigo also offers features to connect to social media applications. These extraordinary features make Indigo one of the best choices to become a substitute Siri for Android platform.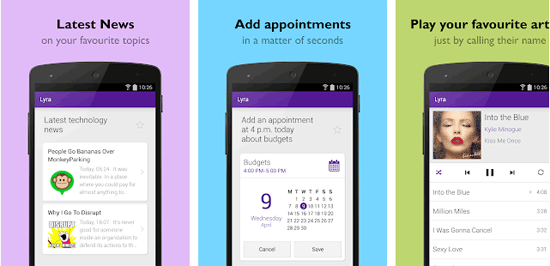 9. Alice (AVC)
Alice is a typical digital assistant that will make sure your tasks are accomplished professionally. It embraces the capability to ask simple things such as weather, time, starting various applications, reminders, calendar, as well as offer solutions to simple mathematical problems. Besides, you can also inquire about more fun facts about stocks, stats and much more from AVC. This program integrates standard features such as sending SMS, calling, alarms, navigation, and translation. AVC may not be as smooth or complex as Google Now but it is an ideal option if you just want a simple application that assists you to keep a record of various things.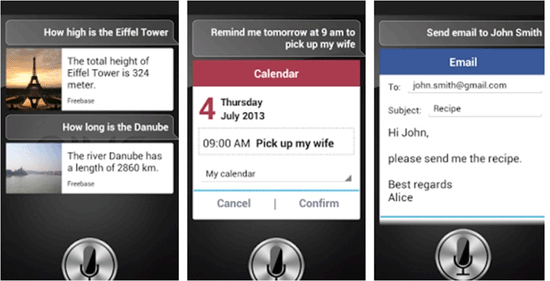 10. Smart Voice Assistant
Some of the applications discussed above may seem outdated. On the other hand, others seem modern but are still out of place. In comparison to the other applications, smart voice assistant can be compared to other apps that run on Android Lollipop. From the beginning, Smart Voice Assistant is not a ready-to-go application. At first, you have to go through the entire list of features that you can activate through the voice commands and then assign custom keywords. In addition, you are required to assign names to specific phone numbers and contacts. Most of you may see this as a tiring process during the earlier stages, but when you are done setting up the commands, you precisely know what the application can achieve.
The fact that this application functions in the background make you issue commands at any time. For example, one can entirely dictate texts and then have them read back by the Smart Voice Assistant. The application is better suited to those users who need more regulation over experience.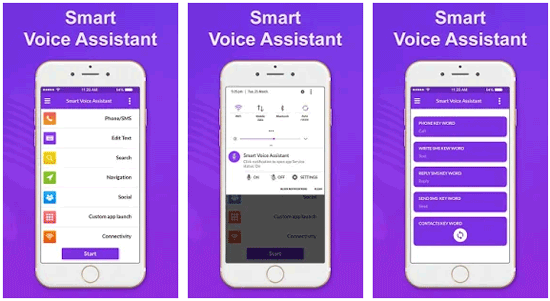 Final Thoughts:
In the modern world where things seem to occur instantly and fast, the invention of digital assistants such as Siri or equivalent Android applications has turned out to be beneficial. These programs have been helpful to the visually impaired, those who are on the run, as well as those who don't have sufficient time to sit down and type everything. Being smart is everything; you will only be required to download or purchase an app that suits your requirements well. Get the best Siri alternative app for Android you like and make full use of your Android device now!
Related Articles:
Top 10 Samsung Transfer Software/Apps
Top 5 Android eBook Readers You Should Know
Transfer Contacts from Android Phone to Computer