With the growth number of cellphone users, more and more people need to face the task of tackling with some problems related with the using of their cellphones. For instance, Sony Ericsson Xperia, a very tremendous products under the brand of world famous Sony, provides people much fun and joy during the using process. No matter how many new functions have been developed fundamental ones such as making phone calls and sending text messages are always essential to people. It is just during the operation of these basic functions when some problems appear. For example, people tend to delete their text messages or contacts by mistake. Such problems can seriously impact people's life. At the same time, technicians are working arduously to develop the technologies in providing helps. (Before getting more info about how to restore deleted SMS or contacts from cellphones, you'd better to know how to back up your cellphone data in the daily life.)
Is it possible to recover deleted text messages/contacts from cellphones such as Sony Ericsson?
Many people doubt about the feasibility of getting their lost text messages or contacts back. This is very natural: in the past, few such technologies were developed. But with the lapse of time, such technologies have become mature. And it is now possible to retrieve data like contacts/ messages from cellphones. But the principle for recovering contacts/messages from cellphones like Sony Ericsson is not the same as the working principle for commonly seen card recovery software, for both contacts and text messages are stored in the phone memory or SIM card. General card recovery will not detect the data saved there. To do such kind of recovery, people must use software that is capable of detecting data in phone memory and SIM card.
What makes it possible to recover lost text messages and contacts from Sony Ericsson?
To successfully retrieve deleted text messages and contacts from Sony Ericsson Xperia/satio/arc/w995/vivia/c902/c510, people need to find a tool that can detect the data remaining in the tracks of the storage space. With the mass use of Coolmuster Lab.Fone for Android, the thing is becoming easier and easier. It is the software developed for recovering contacts and text messages from any Android cellphones. After trying this thing, many people expressed their surprising feeling, saying that they had never thought they would be really successful in getting their lost contacts and messages back and such a tool provided them a lot of conveniences.
Download the free trial version of the recovery software for Android to have a try:
Can't Miss:
How to Transfer Files from Sony Ericsson to Computer
How to Restore Android Phone from Google Backup
How to Undelete SMS Messages & Contacts from Sony Ericsson on PC?
Step 1. Connect Sony Ericsson to PC and run the software
Double-click on the installation package of the program to get it installed on your computer. Here, we take Windows version as an example. Then, launch it directly by double-clicking on the program shortcut icon from the computer desktop. Use a USB cable to connect your Sony Ericsson to the computer and then you will see the software automatically recognize and detect your phone.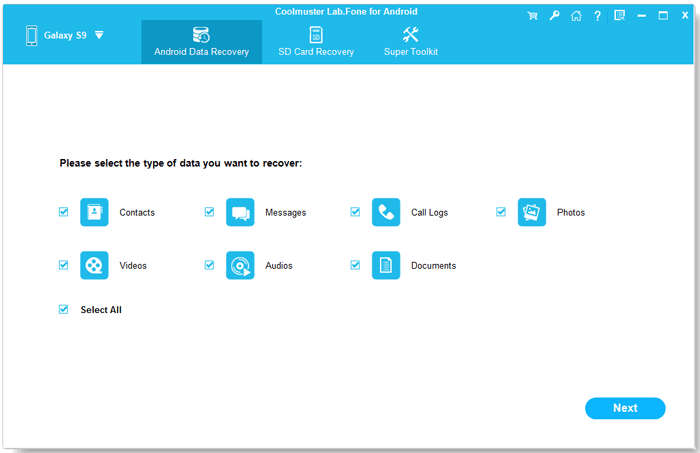 Step 2. Enable USB Debugging Mode on your phone (Optional)
You may need to enable USB debugging on your phone before your perform the recovery. The activated USB debugging is used for synchronizing data between your phone and computer. If you have already opened the USB debugging, you can move to the next step. Or, you need to follow the steps below to enable USB debugging mode on your Android phone.
For Android 2.3 or older, Go: "Settings" < Click "Applications" < Click "Development" < Check "USB debugging".
For Android 3.0 to 4.1: Enter "Settings" < Click "Developer options" < Check "USB debugging".
For Android 4.2 or newer: Enter "Settings" < Click "About Phone" < Tap "Build number" for several times until getting a note "You are under developer mode" < Back to "Settings" < Click "Developer options" < Check "USB debugging"
Step 3. Scan for the lost contacts and text messages
Once the USB debugging is enabled on your phone, click "Allow" on your phone to allow the program super user authorization when an Superuser Request pops up. Then, the recovery program will show the phone along with its parameter information on the main interface. Click the "Start Scan" button to let the software scan the internal phone memory, SD card and SIM card of your Sony phone. When the scan finishes, all existing and lost files in your phone will be displayed in clear categories, including your lost text messages and contacts.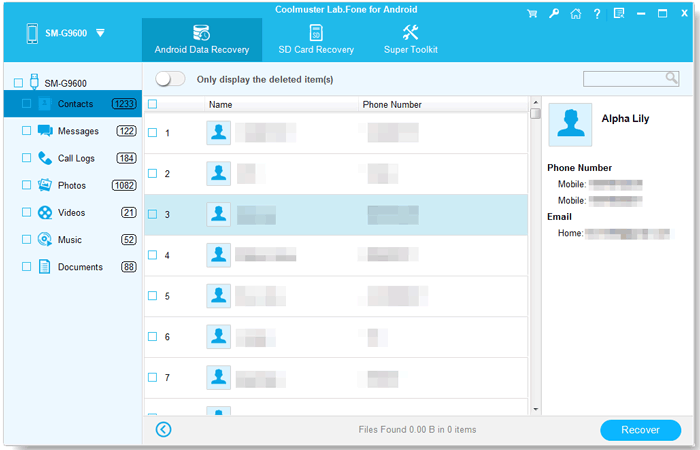 Step 4. Preview and recover the target SMS and contacts
Preview and check those you want to recover and give a click on the "Recover" button to bring out the output location choosing dialog. Just customize an output folder on your computer to save the recovered SMS and contacts here.
Congratulations! You make it! Under the help of Coolmuster Android SMS+Contacts Recovery, the next time you encountering the problems of deleting your contacts or text messages by mistake you will not be as distracted as you used to be. To better avoid troubles brought about by the deletion of messages or contacts, you should also create a habit of making backup for them.
Additional knowledge: Where are my deleted phone contacts and text messages?
Besides, how will it be possible to retrieve data for lost contacts or text messages? Obviously when such things are accidentally deleted, people will not see them in their storing positions. This is because they have been marked with deleting marks in the storage space. But they will not leave the space until new data are written in. So it is pity that many people should have gotten their contacts or text messages back if they had known this. Nevertheless, people will become more and more familiar with the way of recovering such things.
By the way, Android SMS+Contacts Recovery is specially designed to recover lost or deleted contacts and text messages from Android phone.
Video Tutorial
Related Articles:
How to Recover Deleted Text Messages from Motorola
Recover Deleted Text Messages from LG Mobile Phone
Easily Transfer Data from Sony Xperia to iPhone