How to Print Contacts from Android Phone?
Thinking to print contacts from your Android phone? You might want to do it for a number of reasons. Most users change their Android phones every year a two and migrating the contacts from each phone becomes a daunting task. You have probably faced this problem at one point of time or the other yourself. You can always store the contacts in your Gmail account and sync it with your new phone, but would you want all your contact information to be offline and keep them safer? The easier way out for storing contacts is to save them directly on your computer and even print them out for further use.
Then, how you can transfer contacts from your android phone to your computer for printing? Coolmuster Android Assistant (for Windows 8/7/XP/Vista) or Coolmuster Android Assistant for Mac offers an all round solution to the requirement. You can enjoy a new way of transferring contacts from Android phone to computer, adding in new contacts and even editing or deleting useless contacts. In a word, you can manage your contacts database easily right on your computer. Add to it the different other functionalities like texting on computer is available for you as you can send & reply to your messages on your Android phone directly from your computer. You can also message a number of people at once directly from the computer to save the time. Samsung, HTC, Sony, Motorola, Google to LG, Android Assistant supports all Android phones you can call out.
You can use Coolmuster Android assistant in three easy steps to print out your contacts from Android smart phone. It doesn't take a long time to print out your contacts. Just read the tutorial in the below to go through the process of Android contacts printing.
You may also want to know:
How to print LG phone text messages out?
How to Print out SMS messages from HTC mobile?
Guide to Print Android Contacts from Computer Directly
Step 1. Install the program on your computer and run it
Install and launch the Android Assistant on your computer. You will need to connect your Android phone to the same computer with a USB cable or Wi-Fi. After the connection, Android Assistant automatically detects the phone. However, you may need to enable USB debugging on your phone first, if you do not get any automatic detection. You can debug your Android phone easily by following the detailed instructions below.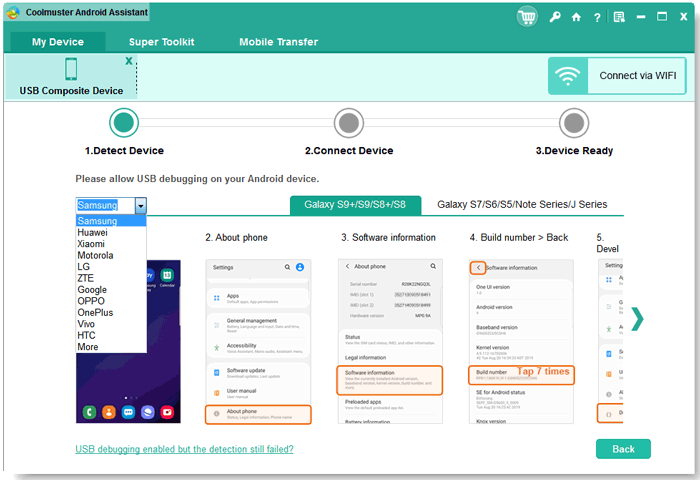 Follow the below instruction to enable USB debugging:
1) For Android 2.3 or earlier: Enter "Settings" < Click "Applications" < Click "Development" < Check "USB debugging".
2) For Android 3.0 to 4.1: Enter "Settings" < Click "Developer options" < Check "USB debugging".
3) For Android 4.2 or newer: Enter "Settings" < Click "About Phone" < Tap "Build number" for several times until getting a note "You are under developer mode" < Back to "Settings" < Click "Developer options" < Check "USB debugging".
Once the USB debugging is enabled, the parameter information of your phone, including phone model, system version and storage space size will be shown in the main interface like below.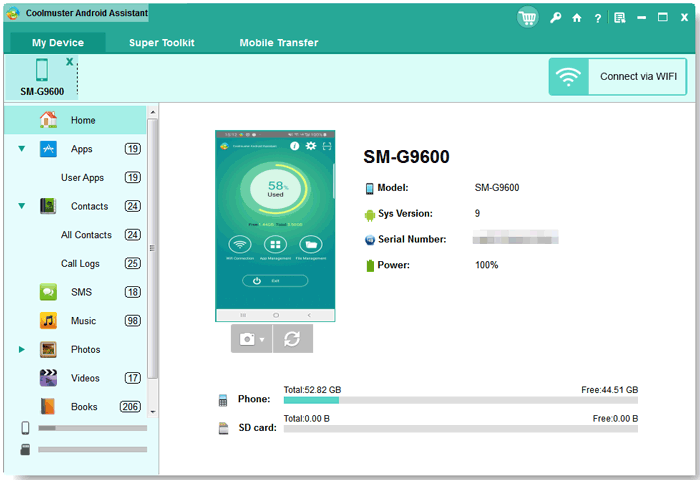 Step 2: Navigate to Contacts and select the ones you need
On the left panel of the application, all files on your Android phone are categorized in different folders. Click on the Contacts option and you can see a list of all your available contacts on your Android phone. Just preview them one by one and choose the ones you want to transfer for printing.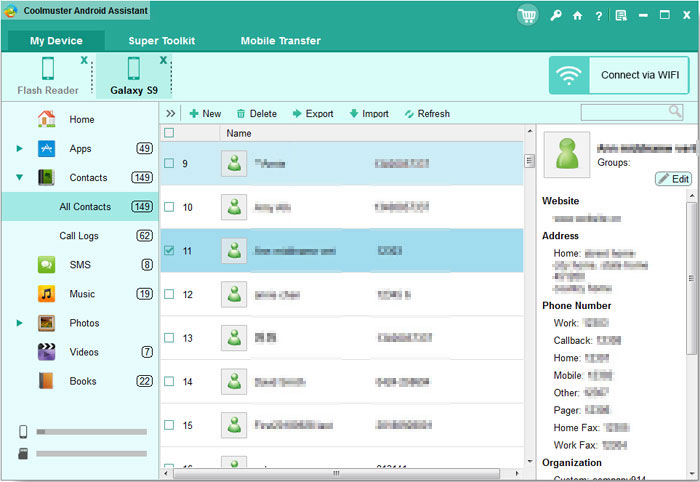 Step 3. Start to export and print Android contacts
Click Export and choose an output location to save the selected contact files. All you will need to do now is wait for a little time while the transfer completes and then you are done with the transfer!
Go to the output location to check the exported Android contacts that are all saved in HTML file now. Just click "File" menu and choose "Print" to print the HTML file with your local printer.
Related Articles:
How to Transfer Photos between Computer and HTC