Made up your mind to switch from Android to Nokia phone? Many people would love to use Nokia due to its long battery life and sleek design. Apart from that, it's also known as one of the most dependable brands. Even though switching from Android to Nokia brings a fun experience, you will have to transfer some of your important files. Your contacts are obviously the priority. But, you might encounter challenges during the process. That's why we've prepared this tutorial on how to transfer contacts from Android to Nokia. Read on to learn the efficient ways to move Android contacts to Nokia devices.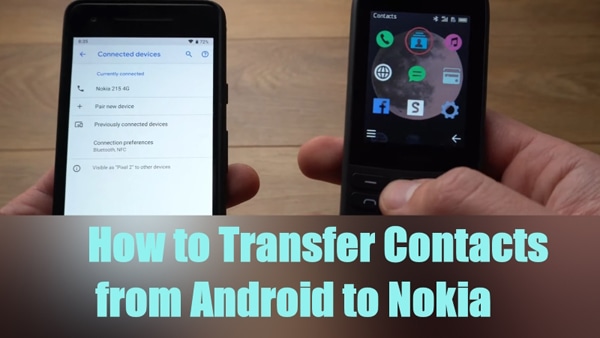 Part 1. How to Transfer Contacts from Android to Nokia via MobieSync
There are various ways of transferring contacts from an Android to a Nokia device, but they may have limitations. You could encounter contact size limitations, the process can be slow, you may find it difficult to get your contacts to a Nokia phone or fail to move all of your contacts. The best app that never fails to move your contacts between Android and Nokia devices is MobieSync.
MobieSync can transfer different types of files, videos, music, images, contacts, and messages in one click between your iOS, Android device, and computer without the need for a third-party application. It is a reliable tool available for Windows and guarantees easier transfer of contacts from Android to Nokia without hiccups.
Its user-friendly interface enhances the user experience. You can count on it for a quick and effective transfer of your contacts. It supports most Android phones and some Nokia such as Nokia 9 PureView/8.1/8 Sirocco/8/7.2/X71/7.1/7 Plus/7/6.2/6.1/6.1/6, etc.
Key Features of MobieSync:
Back up contacts, videos, photos, music, and messages from your phone to your computer.
Manage your data by organizing, deleting, merging, and previewing files.
Supports iOS 16 and Android 10 operating systems.
Follow the instructions below to learn how to share contacts between Android and Nokia using MobieSync:
01Download MobieSync and install it on your PC. Next, connect your Android and Nokia devices to your computer using USB cables. The tool will recognize your devices automatically and show their information on the main interface.
02Allow the Android device to appear in the Device list at the top middle part. If it is not selected, you should click on the dropdown menu.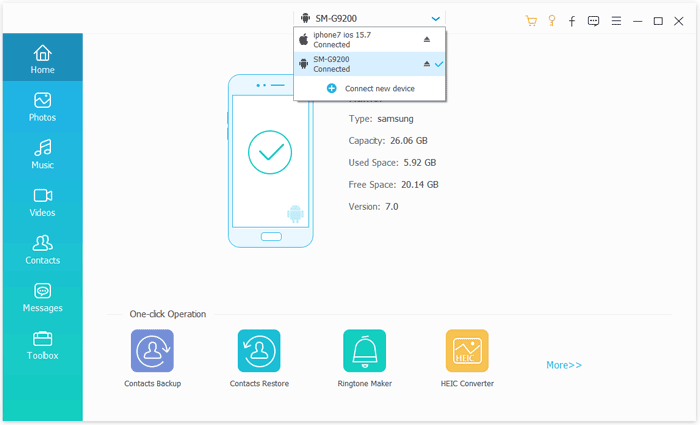 03You will find the files available in the device in the left sidebar of the main interface. Click on the "Contacts" folder and view its detailed information on the right preview window.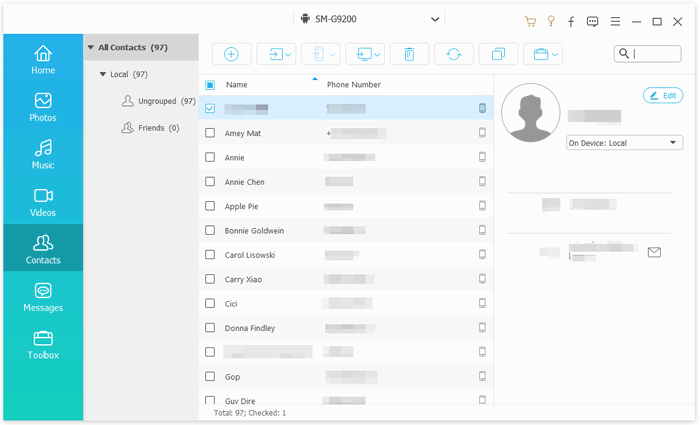 04Choose the contacts to export and click the "Export to Device" tab to sync your contacts between Android and Nokia phone.
Can't miss:
How to Back up SD Card on Android Phone and Tablet?
How to Non-manually Add Contacts to Android Phone in Batch?
Part 2. How to Transfer Contacts from Android to Nokia via Bluetooth
You can also transfer contacts from Android to Nokia through Bluetooth. It is one of the simplest methods. The best thing is that even with a featured Nokia phone, such as Nokia 215 4g, you will have no issue moving your contacts.
Here are the steps to move contacts from an Android to Nokia through Bluetooth:
Step 1. Start by opening the "Main Menu and heading to "Contacts". From there, select the specific contact that you want to send.
Step 2. Next, tap "Options" and choose the "send via" option.
Step 3. Finally, choose "Bluetooth" from the list.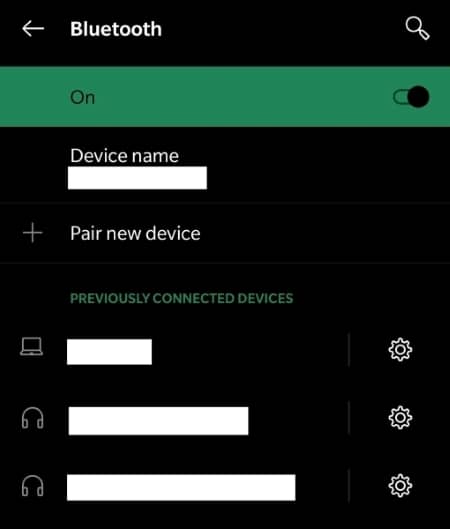 Step 4. Your Android phone will start searching for nearby devices with Bluetooth turned on. Ensure your Nokia has Bluetooth enabled. from the list, choose the one you want and then tap on "Send". After sending the contact, you'll receive a notification and see a progress bar. Wait for the process to finish.
If you have a Featured Nokia phone, here's how to move contacts to it from an Android:
Step 1. First, click "Bluetooth" on your Android phone to turn it on and do the same on your Nokia device.
Step 2. To turn on Bluetooth for a featured Nokia device, head to "Settings > Connectivity > Bluetooth" and enable Bluetooth. Afterward, head to the phone's visibility and choose the "Always" option. After that, select the "Devices" option to find your Android phone.
Step 3. Pair the devices through the code you'll receive. After pairing the two devices, head to "Settings" on Nokia and choose "Sync Android via Bluetooth" to get your contacts to the Nokia device.
Also read:
Sync Android with Mac Effectively: 90% People Don't Know
How to Sync Android Phone to PC? [Best 6 Ways for You!]
Part 3. How to Move Contacts from Android to Nokia via a SIM Card
If you cannot use any of the suggested methods, like Bluetooth, you can transfer your contacts from the internal memory of your Android to the SIM card. After that, insert your SIM into a Nokia phone.
Follow the steps below to move contacts to SIM on an Android phone:
Step 1. Open the phone's main menu and head to "Contacts". You'll be asked to choose "Move Contacts". Choose the contacts you wish to move. Then click on "Move".
Step 2. Choose a destination and click "Move to SIM Card".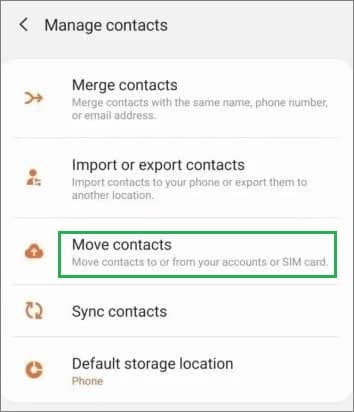 Now insert the SIM into your Nokia phone:
Step 3. Head to Contacts, then select "Settings/Manage Contacts". After that, click on "Import" and choose "Source (SIM)".
Step 4. Lastly, choose the destination where you want the contacts to be saved. It can be a Phone, a SIM card, or a Google account.
These might help you as well:
How to Transfer SIM Card Data to Computer Effortlessly
2 Ways to Recover Deleted Text Messages from Android SIM Card
Part 4. How to Sync Android Contacts with Nokia Phone
When saving contacts on our Android devices, you are given the option to save them to your Google account. It will thus be possible to sync those contacts with your new Nokia device. You just have to add the same Google account to the Nokia device through "Settings".
After adding, you can now sync the Google account in Nokia. You can sync different files such as contacts, photos etc. Here's how to sync your account on a Nokia phone:
Step 1. Open the "Settings" menu. Next, find "Accounts" and click on it. Next, find the "Google" option.
Step 2. You will now see the Google Account name and sync status. Tap on the Account name to change the settings. If you want to sync all contacts or move them from your Google account, select the "Contacts" option in "Sync settings".
Step 3. After syncing contacts from your Google account, open your phone contacts, and you'll see your Google contacts with phone numbers attached.
That's it! You can now access your contacts on the Nokia device without trouble. Be sure to create a backup of your contacts. You can select the storage location while importing or moving your contacts. This will ensure your data is protected and easily accessed if needed.
Conclusion
Transferring contacts from Android to Nokia is a breeze. The above methods are the most efficient. You can use Bluetooth or directly save them to your SIM card and insert them into your Nokia phone. Additionally, you have a professional tool MobieSync to make the process easier and faster. MobieSync guarantees the safe and speedy transfer of contacts. Now you can enjoy the convenience of having your data seamlessly transferred. Feel free to explore this software which will alleviate any concerns you may have about switching from an Android to a Nokia device.
Related Articles:
Top 7 WhatsApp Backup Extractor to Extract WhatsApp Backup File for Android & iPhone
(Full Guide) How to Save WhatsApp Photos on Android Devices
Back Up Calendar on Android: 2 Ways to Back Up Android Calendar with Ease
7 Simple Tricks for Samsung Cloud Backup Failed Problem (Updated)
5 Surprisingly Easy Ways to Transfer Videos from PC to Android
5 Effective Solutions to Transfer Photos from Android to Mac Wirelessly