How to Import Gmail Contacts to Android Mobile Phone?
Technology has improved over the years and today people don't have to memorize tens or hundreds of contacts. This is thanks to the internet and smart devices such as smartphones and tablets. Owning such a device allows you to to store tens and hundreds of contacts. Android phones are widely used today not only to take selfies and videos but to also make calls and check emails. Google engineers have utilized this opportunity to enable syncing of contacts between gmail and android phones. This helps to ease the process of adding contacts as it eliminates the necessity of adding a single contact at a time.
Tips for importing Android contacts as a batch
* Using a Vcard
An android user can import contacts which are in the form of a Vcard from another older phone or from an email application. A Vcard can be generated with a single contact or with multiple contacts which makes it easier to transfer contacts from gmail to android.
* Using your laptop or desktop
Android phones come with a slot for microSD card which can be used to store more information. The microSD card acts as secondary storage for the device and can be used to back up old contacts or contacts from an older phone. This can be useful especially if you are looking to sell the old phone. Once the contacts are backed up to the microSD, they can be stored on the laptop for future importation to a new device.
After we talked about how to import Gmail contacts to Android mobile, we'd like to share a solution to add new contacts to Android mobile phone in a batch without manual input. Below is just the guide to help you create new contacts to your android phone by using the right-hand Android contacts manager - Coolmuster Android Assistant or Coolmuster Android Assistant for Mac.
Pass on Experience to Add Batch Contacts to Android Phone
Step 1: Download Coolmuster Android Assistant tool
You need to start by navigating to the following button and downloading the Android Assistant on your computer. After it has finished downloading and installing, you need to navigate to your computer desktop and double click on the program icon to launch it.
Step 2: Connect your android device to computer
In order to use the Android Assistant tool with your device, you need to connect it to your laptop via the available USB data cable. Once you have made the connection, your android device should indicate so and if not, you need to navigate to settings on your android device and enable USB debugging.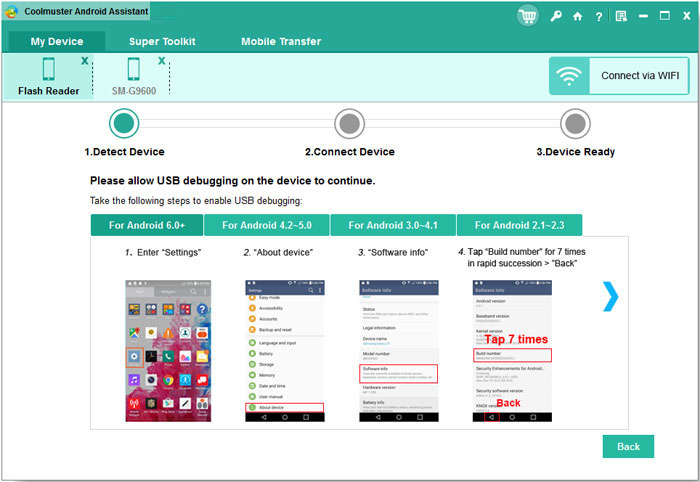 Once you have enabled USB debugging, the Android Assistant will detect your android device and you can get the program interface like the picture in the below.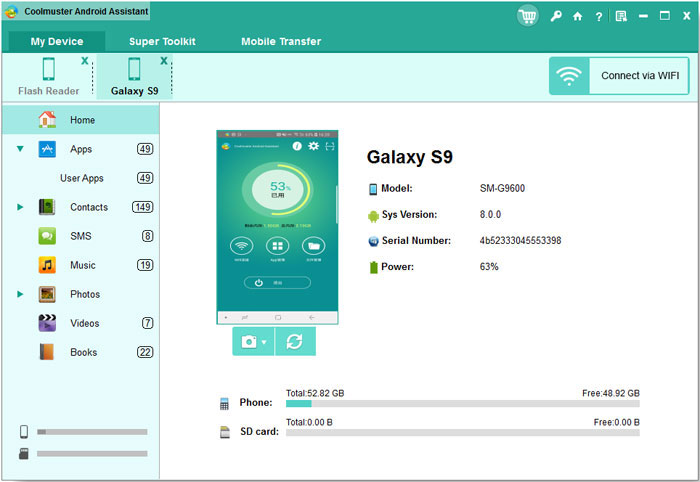 Step 3: Add contacts to Android phone effortlessly
Open the "Contacts" tab on the left panel and click on the small triangle in front of it. Then, choose "All Contacts" to enter and contact managing window. Now, you can choose the "New" option from the top menu and start to add your new contact information in the pop-up window.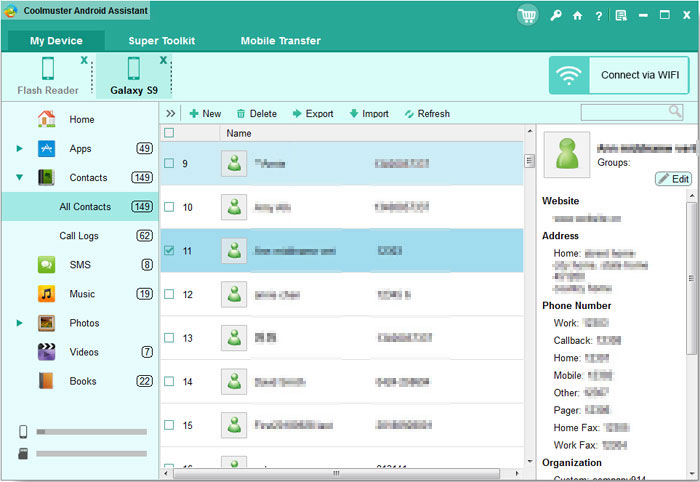 What is Coolmuster android assistant?
This is a windows and Mac compatible application that is designed to help users manage their Android device. As a tool it allows the user to manage their media, contacts, messages and apps among others. All this data and information can get stored on the computer or transferred from computer to Android devices. Today there are thousands of smartphone makers. With the Coolmuster android assistant tool, one can use a wide a variety of brands with ease such as Samsung, LG, HTC and Huawei among others.
Related Articles:
Save Contacts from Samsung Galaxy/Note to Computer