Vivo is a renowned mobile brand that has revolutionized the industry with its innovative smartphone devices and software. Taking their success beyond smartphones, the company offers a secure storage facility through Vivo cloud services that are only accessible to those who register for a Vivo account. So, how can you utilize Vivo cloud backup and restoration on your Vivo phone? Today we'll explain it step by step. Now, read on to learn about it.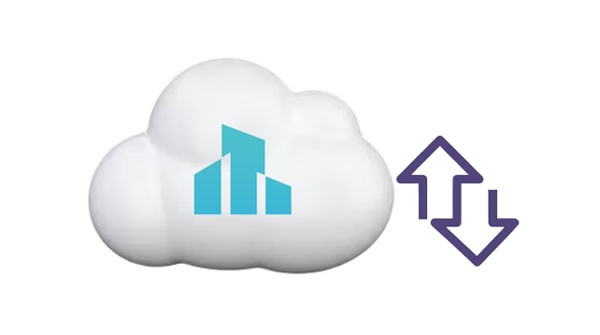 Part 1: What's Vivo Cloud? How Is It of Benefit?
Vivo Cloud account offers you the ultimate peace of mind with safeguarded information, including your Web bookmarks, contact list, SMS, Notes, and blacklist. Moreover, it connects all your other Vivo apps to store their data in the cloud. No matter what happens to your device, you will never have to worry about losing essential memories or documents. Vivo Cloud is the optimal solution for everyone due to its remarkable features. Below are some of the Vivo Cloud's features:
1. Vivo backup lets you store extensive data such as contacts, files, SMS messages, videos, images, etc.
2. Using the EasyShare app, you can easily back up your phone's data on Vivo Cloud backup.
3. Transferring data from your Vivo Cloud storage to other devices is a breeze with the help of the EasyShare app.
4. Vivo users can access Vivo Cloud storage without paying.
Vivo Cloud backup is the perfect choice for those looking for a secure way to store data on the internet. It offers complete safety and protection, and its CCTV surveillance also helps businesses streamline processes by providing custom counting reports. With this cloud storage service, your stored files are always easily accessible at any time from anywhere.
Part 2: How to Do Vivo Backup and Restore with Vivo Cloud?
To make data backup and restoration effortless, Vivo provides a comprehensive cloud-based service known as vivoCloud. For those using a Vivo phone, the free storage for every account is an ideal start. With this app, you can easily back up your contacts, messages, bookmarks, blacklists, and notes on any Vivo device. You can also use other cloud servers to back up your Vivo photos, videos, and other files.
Here is an overview of using the vivoCloud app to back up and restore your data.
2.1 Vivo Cloud Backup
Here are 2 functional methods for Vivo cloud backup.
Method 1: Using vivoCloud App
Unlock the power of Vivo Cloud backup and start safeguarding your contacts, messages, web bookmarks, notes, and blacklist with this step-by-step guide:
Step 1: Get the vivoCloud app onto your phone if you haven't already. It's free and can be downloaded from App Store. To back up your data, sign in with your Vivo account, or sign up for one.
Step 2: Then choose a file category on the screen, and click the Backup option. Then it will transfer your local data to the Vivo cloud storage space. Please keep your network stable during the whole backup process.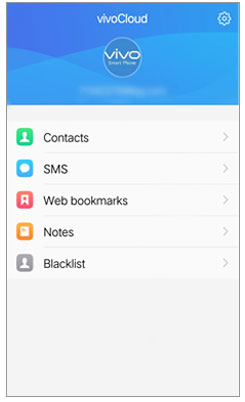 Read more: How to Transfer Data from Vivo to Samsung (New Tips)
Method 2: Using Google Photos
Vivo photo backup is not difficult because you can utilize Google Photos. Also, this app can back up your videos with ease.
Step 1: Install Google Photos on your Vivo phone, and open it to log in with your Gmail account.
Step 2: Click the "Menu" button on the left top corner, and choose "Settings". Then enable "Back up & sync". The app will back up your photos automatically.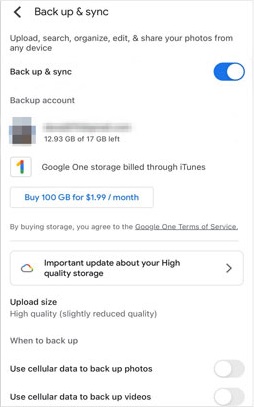 Besides, if you want to back up your documents and other files on your Vivo smartphone, you can download Google Drive. It supports more data types than Google Photos.
Perhaps you need: You can also back up your Android data to Mac with this comprehensive tutorial.
2.2 Vivo Cloud Restore
If you have lost your data or acquired a new Vivo phone, recovering your precious data again is a straightforward process, especially if you have a backup. Follow the below simple steps to restore your data.
Method 1: Using vivoCloud App
Step 1: Launch the vivoCloud application and log in.
Step 2: You can now access your Vivo SMS backup, Vivo notes backup, and more from your account using any Vivo device and anywhere. Select the data you want to recover and click the "Restore" button. Then the app will transfer the data to your Vivo phone.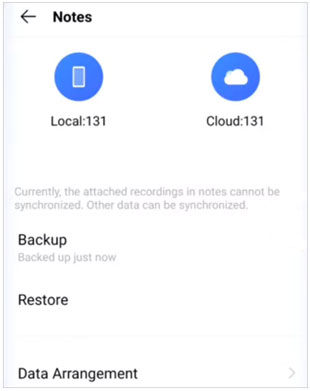 Even though Vivo Cloud is a great service for data backup and restoration, it has some downsides. First, it can only sync essential data types like contacts, messages, blacklists, web bookmarks, and notes. Additionally, its backup-and-restore process is also time-consuming and solely supports Vivo devices (no other smartphone model).
Guess you like: How to Back Up Videos from iPhone to Different Locations (6 Methods)
Method 2: Using Your Google Account
Also, you can restore your backup data from your Google account to a new Vivo phone while setting up the phone.
Step 1: Turn on your new phone, and select a language. When you see the "Copy apps and data" screen, please click the Next icon.
Step 2: Tap "Can't use the old device?" to log in to your Google account. Then choose a backup file, and hit "Next".
Step 3: Now, select the content you want on the "Choose what to restore" screen. Finally, click the "Restore" icon to start it. Once done, your data will be retrieved on your Vivo phone.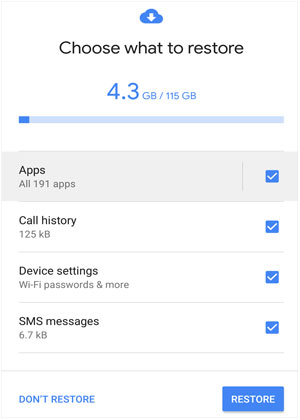 You might need: Want to transfer iPhone data to your Vivo phone? Then you can use these 4 ways.
Part 3: Vivo Cloud Alternative: Back Up and Restore Data without Vivo Cloud Storage Space
At times Vivo cloud or other cloud services may fail to meet your expectations. As a result, using an alternative way of backing up your Vivo phone's data becomes necessary. Coolmuster Android Backup Manager is an ideal backup alternative. It helps you carry out data backup and restoration on Android devices.
Moreover, this software covers a wide range of data types, like messages, documents, music, videos, apps, pictures, etc. And it supports most popular Android brands, such as Vivo, Samsung, HTC, Huawei, Sony, and the like. Thus, you can use it to back up and restore data for many Android phones and tablets. Below are some of Coolmuster Android Backup Manager's features that make it outstanding:
* Back up Vivo data to a computer seamlessly without cloud storage space.
* Restore backup data to any Vivo Android device in 1 click.
* Allow you to select data types before starting the backup.
* Enable you to connect your computer and cell phone via USB/Wi-Fi.
* Support different data types, such as videos, photos, books, apps, music, call logs, contacts, and SMS.
* Work well for almost all generations of Vivo phones as well as other Android mobile devices, including vivo Y90/X Fold/X Note/X90/V27 Pro/Z6/U10/S16/S16 Pro/NEX 3S/iQOO 8 Pro, etc.
* Windows and Mac versions are available.
Download this software to back up and restore Vivo data.
Below are some simple steps on how to use this backup software to back up and restore your Vivo phone's data:
01Install the Application on Your PC
Begin the backing-up process by downloading and installing Coolmuster Android Backup Manager on your computer. Then connect your Vivo phone to the computer via a USB cable, and enable the USB debugging mode on the phone.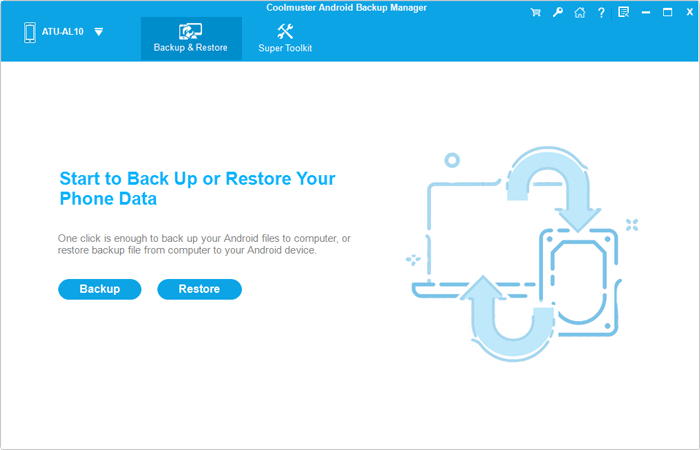 02Back Up Vivo Data to the Computer
Click the "Backup" option, and select the file types on the interface. Then hit the "Browser" icon to choose a folder you like to store your data, and tap "Back Up" to start transferring your data to the computer.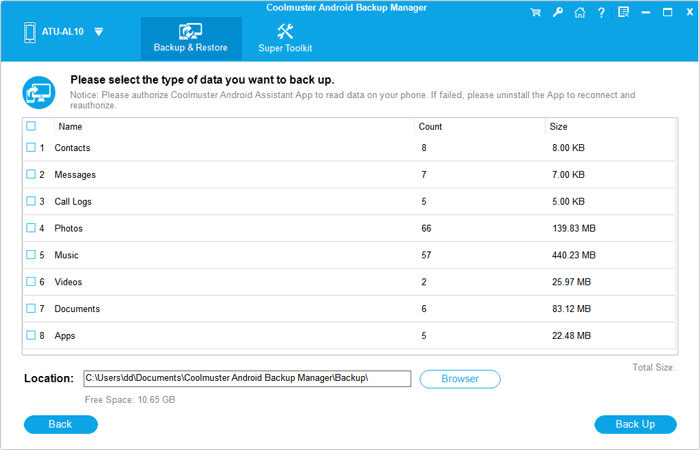 03Restore Data to Smartphone
If you want to get your backup data onto an Android device, please click the "Restore" feature, and opt for a backup file. Next, pick the content you want to restore on the right panel. At last, hit "Restore" to begin the process. After finishing, you can access your data on the phone.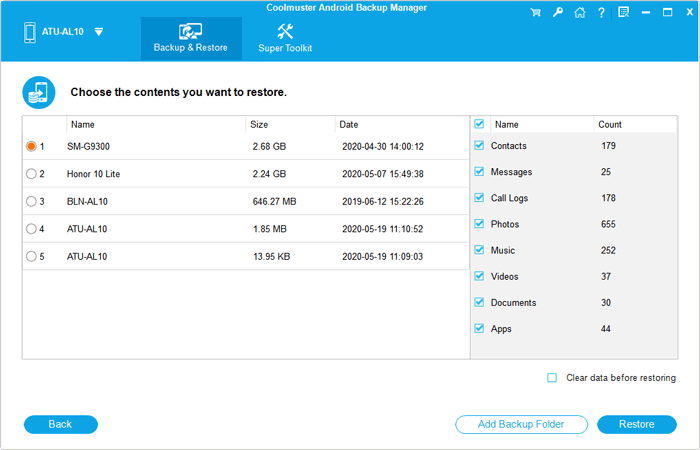 Learn more: How to Make Vivo V9 Contacts Backup [5 Solutions]
Note: FAQs on vivoCloud
Q1. Is vivoCloud safe or not?
Safeguarding your information is non-negotiable, and the vivoCloud backup provides the ultimate security suite. When you store data through the Vivo Cloud backup, rest assured that all your precious memories will remain secure.
Q2. How do I access my vivoCloud?
In general, you can open the vivoCloud app on your Vivo phone, and log in with your Vivo account. However, you cannot access your backup data on it.
Conclusion
Vivo Cloud is an excellent way to back up your data and keep it secure. Like all the other cloud platforms, Vivo Cloud has some limitations. As such, it is prudent to use an alternative way of backing up your Vivo phone's data, such as Coolmuster Android Backup Manager, in case the Vivo Cloud fails to meet your expectations. It allows you to back up and restore your data to and from a PC. More importantly, this software is not only easy to use but also fast and secure.
Related Articles:
How to Backup Android Phone to PC? 4 Methods for You
Back Up Text Messages from Android to PC or New Phone [Full Guide]
iTunes Backup to Android Transfer: How to Restore iPhone Backup to Android Phone?
8 Best Android Backup Software for PC You Can't Miss
How to Back Up Galaxy S8 to Computer or Cloud Storage