WhatsApp is one of the best instant messaging applications, with billions of users. Actually, one of the first things we do when we get a new smartphone is to install a WhatsApp app. The good thing about WhatsApp is that it's free and allows users to send and receive videos, photos, documents, etc. Nevertheless, recently, not a few people have met that they couldn't download videos from WhatsApp on iPhones.
Fortunately, this isn't a problem anymore; we have created this guide to help if you couldn't download video or other media data, like photos and documents from WhatsApp on your iPhone. Even though the situation can be harrowing, rest assured this guide will lessen your worries.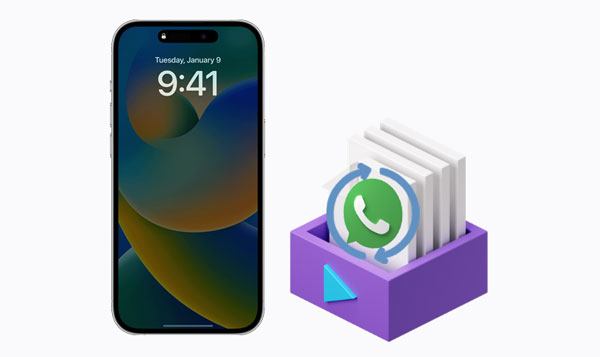 Part 1: Why Can't I Download Media on WhatsApp?
Why isn't WhatsApp downloading images, videos, and documents on an iPhone? Don't worry. This is just a small snag. The usage of WhatsApp has increased significantly since its release in 2009. However, it's not perfect either. Sometimes, you may find WhatsApp not downloading video/image/Doc files and wondering why. There are many reasons that could lead to such issues, such as:
1. Not enough space to accommodate the images. It's a common issue. If your device has insufficient storage space, you need to release some space to make room for the image to download.
2. No internet connection. It's pretty obvious that if you don't have an internet connection, then there is no way for your WhatsApp to download the images.
3. You didn't allow WhatsApp to read and save data on your device. This is the most likely reason, as WhatsApp has a feature to save images. Make sure to permit Whatsapp to read and save the image, or else they won't be downloaded.
4. WhatsApp may be down temporarily. This happens when WhatsApp servers are down, meaning you can't use it for some time.
5. Older WhatsApp version. If you are using an older version, it can fail to download images due to bugs and frequent crashes. Updating your WhatsApp is the solution here.
Learn more: Want to recover your WhatsApp videos from your Android phone or iPhone? There are 8 useful methods in this article. Let's check them out.
Part 2: WhatsApp Couldn't Download Video or Other Media Files? Fix It!
WhatsApp media not downloading can be frustrating. But no more frustrations again, as the solutions here are simple, gradual and easy to follow. We will take you through them, and at the end, you will have a solution to your problem already.
Solution 1. Check Your Internet Connection
When you find the WhatsApp images not downloading issue on your iPhone, you should check your internet connection first. Usually, WhatsApp operates with an internet connection, and then if it's not stable, you may get WhatsApp failing to download file error on your iPhone.
Try checking if other apps are operating well with the same internet connection. Open an app and see if it can access the internet. Also, visit webpages in any browser to check for connectivity. If you find other apps with the same connectivity problems, check if you're connected to the right internet.
If you are using cellular data, switch the data off and then on again. If it doesn't work, switch to airplane mode for some time, then change it back to normal mode. Also, check if you still have data. On the other hand, switch off the Wi-Fi router and turn it on again if you are using Wi-Fi.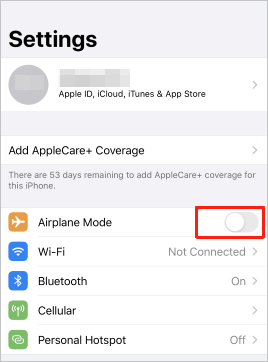 See also: [3 Solutions] How to Transfer WhatsApp Chats from Android to Android
Solution 2. Check Your Device Storage
If your internet connection isn't the problem and works fine for other apps, internal storage may be the issue. Ensure the device has enough storage since insufficient space makes the device freeze. Delete some unwanted files if possible to create more space.
You can only download files from your WhatsApp if there's enough space in your iPhone's internal storage to store the data. Let's say you have a video of 70MB to be downloaded, but the only free space available is 50MB; WhatsApp won't finish downloading the specific video. Try deleting unused apps and files from your iPhone by doing this:
Step 1: Head to Settings on your iPhone and proceed to General.
Step 2: Next, go to iPhone Storage and delete apps, pictures, and other unwanted content.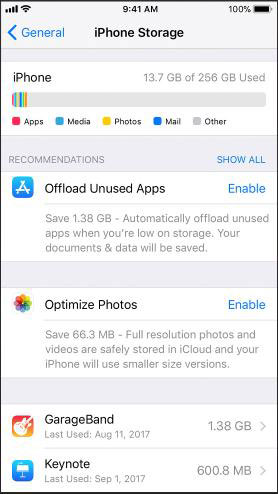 Solution 3. Force WhatsApp to Close
WhatsApp couldn't download images/videos/documents? You'll sometimes find apps freezing up when running in the background, and WhatsApp isn't an exception. This can alter its downloading functionality. So, try to force close the app. To force close an app is a way of removing it from memory so that it doesn't use any of your device resources. It's like interrupting it in the middle of running. You can force the WhatsApp app to close on your iPhone by doing this:
Step 1: Swipe from bottom to up to bring the application switcher.
Step 2: Look for the WhatsApp app by scrolling through the applications horizontally.
Step 3: Swipe up the WhatsApp card to force close it.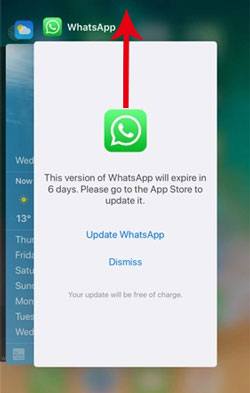 Learn more: What if you want to export your WhatsApp chats to PDF? Actually, it is easy. This guide will tell you how to do it.
Solution 4. Reboot Your iPhone
Restarting your phone will often solve minor problems in your device and might help fix Whatsapp unable to download images. Besides, if the issue is due to a glitch, then a simple restart will clear up any in-memory glitches within the apps. Here is how to restart an iPhone:
iPhone X and above:
Press the Volume Down (or Volume Up) and Side buttons for 10 seconds till you see the power off slider.
Drag the power slider and wait 30 seconds for the device to power off.
Turn it on by long-pressing the Side button and release it when you see the Apple logo.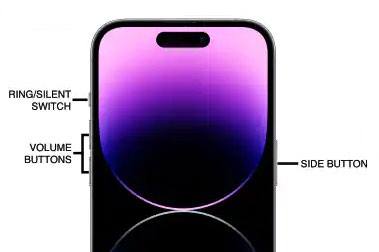 iPhone 6/7/8/SE (2nd and 3rd generation):
Press the Side button until you see the power off slider.
Drag the power slider and wait for 30 sec. You'll see the device turning off.
Switch on your iPhone by pressing the Side button for a few seconds and release it when you see the Apple logo.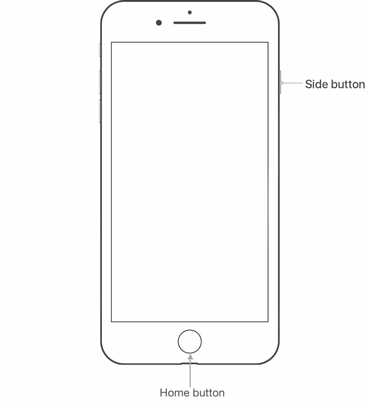 iPhone SE (First Generation)/5 and below:
Press the Top button and release it when you see the power off slider.
Drag the power slider and wait for 30 sec for the phone to turn off.
Power on the device by pressing the Top button and release when the Apple logo shows.
You might need: When the WhatsApp app is stuck on backup, you can fix it fast with these tricks.
Solution 5. Check Media Permissions on Your Device
If you didn't grant WhatsApp permission to access the internal storage of your iPhone, you are likely to get errors when you try to save the media content. In that case, you need to ensure that you have permitted the app to do so.
How to grant permissions:
Step 1: Go to iPhone Settings > Privacy > Photos.
Step 2: In this section, ensure that WhatsApp is allowed access to the storage on your phone.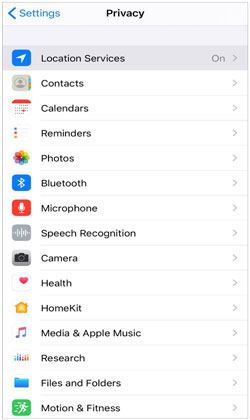 Solution 6. Ensure Your iPhone's Date and Time is Correct
Is WhatsApp unable to download images on your iPhone? If your phone's date and time are incorrect, it can cause problems with WhatsApp, like the app failing to download media content. To fix this, you can go to your phone's Settings, tap General, and look for the Date & Time option. Toggle the Set Automatically button, and your date and time will be set automatically.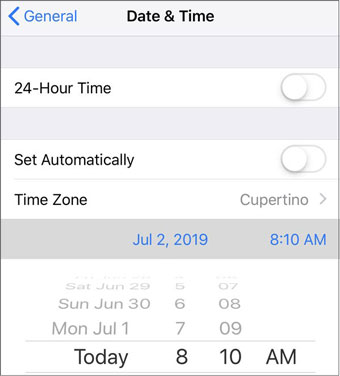 Solution 7. Update Your WhatsApp
Software updates are released for every app, including WhatsApp, and the latest is always the best. There could be bugs in the previous version, like WhatsApp download not working, which will get removed in later updates. It's always a good idea to update your WhatsApp once you see updates.
To update iPhone WhatsApp, head to App Store and tap on the Update button. If your WhatsApp isn't up-to-date, install the latest update.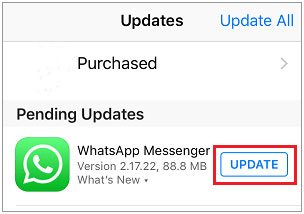 See also: 6 Easy Ways on How to Backup WhatsApp Messages from Android to PC
Bonus: Back Up WhatsApp Videos, Images and Documents on iPhone without Loss
Whenever we start facing issues with our WhatsApp, the very first thing we do is think of our essential files there. After all, WhatsApp is a messaging application that stores all chat information, including images, documents, videos, etc. The only way you can be sure your WhatsApp data will always be secure is to do a backup even before you start fixing the WhatsApp failed-to-download issue.
This is where WhatsApp Transfer comes in. It's a professional and secure WhatsApp backup solution that can transfer WhatsApp messages and media files from an iPhone to your computer. The images, videos, and all chat history will be transferred to your computer with just one click. The tool allows you to preview backup files and export all items selectively. By the way, this software can back up LINE, Viber, WeChat, and Kik Chats effortlessly.
Download this WhatsApp backup software.
Now let's see how you can back up WhatsApp data using this WhatsApp backup tool:
01First, download and install this software on your computer. Launch it and tap on the WhatsApp Transfer option.
02Connect your iPhone to your computer via a lightning cable and choose the Backup WhatsApp messages option.
03The backup process will start immediately after the program recognizes the device. Wait until the process is complete.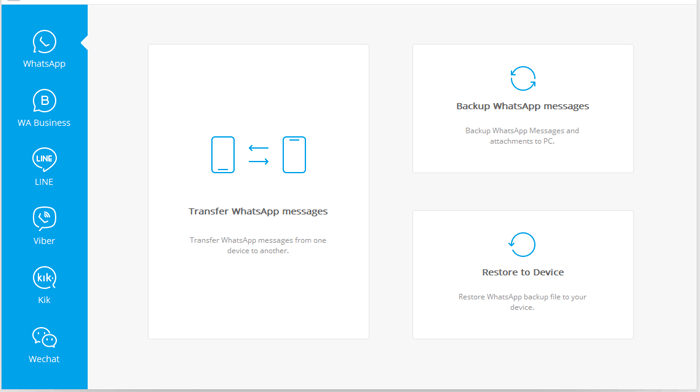 Conclusion
If your WhatsApp couldn't download the video or other files, the solutions we've provided here will help you fix it. Additionally, it is a good idea to back up your data before you start fixing the problem. You can always rely on WhatsApp Transfer to back up your data in the fastest and easiest way possible.
Related Articles:
Top 8 Options of WhatsApp Transfer Software - Handily Move WhatsApp Data
How to Recover Audio Files from WhatsApp on Android in 3 Ways?
How to Recover Deleted WhatsApp Contacts on Android? [Complete Guide]
14 Powerful Tricks to Fix iPhone Contacts Missing Names
How to Fix iTunes/iPhone Stuck on Preparing iPhone for Restore?
How to Transfer Data from Sony Xperia to iPhone 14/13/12 in 6 Seamless Ways