If you have an iPhone 11 or a later version, you may have realized that the pictures taken with its camera are stored as HEIC instead of JPG. Apple introduced the HEIC file format to provide better compression while preserving image quality. The only problem with the HEIC format is that it isn't compatible with most devices or apps. Besides, you may not open the HEIC photo after transferring it to a Windows computer or Android device because HEIC isn't supported on these devices.
So, you must convert the iPhone photos to a widely compatible format like JPEG. This way, you can open the iPhone images on most devices. In this article, you will learn methods to convert photos to JPEG on iPhone. Continue reading to learn how.
Part 1. How to Convert iPhone Pictures to JPEG with Coolmuster HEIC Converter
As said earlier, you can't open a HEIC image after transferring it from an iPhone to a Windows computer because HEIC files are not supported on Windows. You need to convert the file to a widely compatible format like JPEG.
In that case, you will need a high-powered HEIC converter to turn your iPhone photos into JPEG. The most recommended photo converter tool here is Coolmuster HEIC Converter. After transferring your images from your iPhone to your PC, you can use this tool to change them to JPEG.
Coolmuster HEIC Converter is a stellar desktop converter that swiftly converts any HEIC image to JPEG without quality loss. With batch conversion supported, you can convert as many files as possible. It is not only fast to use but also secure and easy. It enables you to convert 10 HEIC images for free, so you can realize how time-saving it is. Since it supports batch conversion, you will easily add and convert your HEIC files simultaneously and customize the output's destination folder. Your files are entirely secure, and only you can access them.
Key features of Coolmuster HEIC Converter:
Quickly convert HEIC to PNG/JPEG on Windows PC without quality loss.
Preview HEIC files on the computer before conversion.
Drag HEIC files to the tool and convert them hassle-free.
Adjust image quality before converting.
Convert multiple HEIC files at once.
Keep EXIF details while converting the HEIC to JPEG.

Free Download for PC
How to convert HEIC files to JPEG on a Windows computer:
01Run the software on the computer after installing it.
02Start adding your HEIC files by clicking the "Add HEIC" tab or dragging the files to the tool. Make sure the HEIC files have been exported to the PC prior.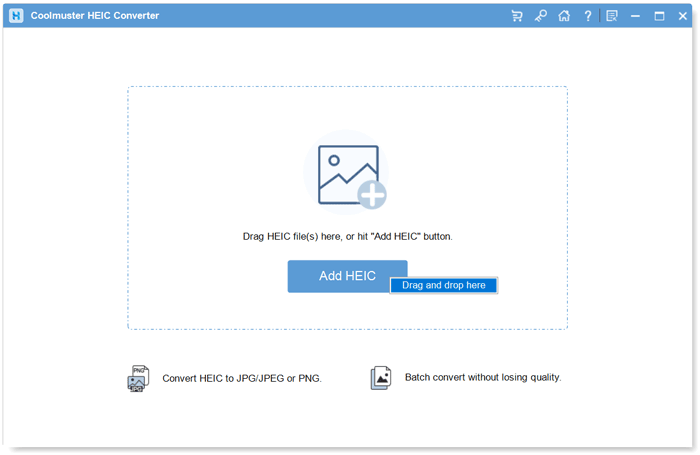 03After importing the photos, select "JPEG/JPG" next to the Output Format. You can also turn on the "Keep Exif Data" option to save the original details on the images. Define the output folder on the PC to keep the converted photos.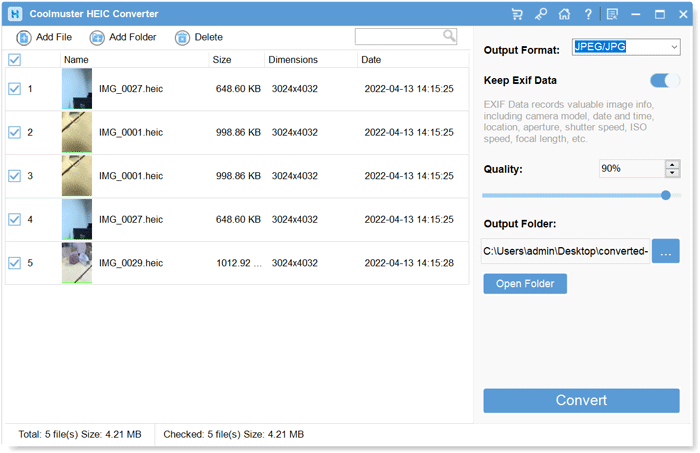 04Press the "Convert" tab to turn the HEIC images into JPEG.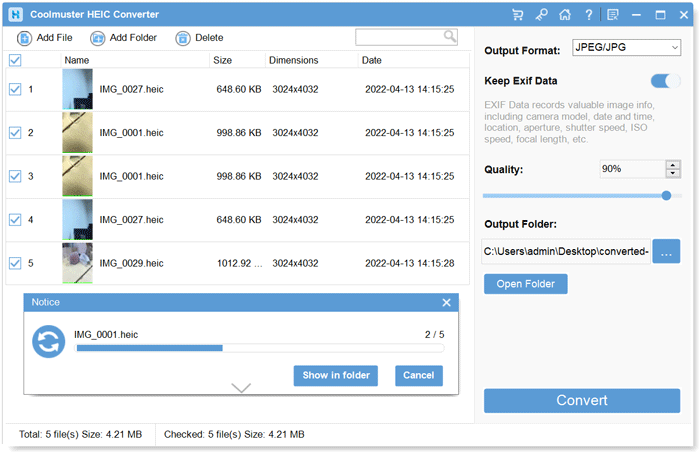 Read More:
HEIC V.S. JPEG: What Is the Difference between HEIC and JPG? (Comprehensive Guide)
Convert Photos from HEIC to JPG on iPhone: Things You Need to Know
Part 2. How to Save iPhone Photo as JPEG Easily
When it comes to turning iPhone pictures into JPEG, there are several options to achieve that. You can directly convert them on an iPhone conveniently. Mobile applications such as Files and third-party converters from the App Store can help change iPhone photos to JPEG. And, with a desktop app, you can surely do more.
Method 1. How to Turn a Photo Into a JPEG on an iPhone by the Files App
Files app is a handy app that does more than just store files. It can also help change HEIC files to formats like JPEG. All it takes is copying the pictures from iPhone's Photos application to the Files app, which'll be immediately saved in JPEG format. It is, without a doubt, one quick way to turn HEIC photos into JPEG on an iPhone. Here is how to save iPhone photo as JPEG:
Step 1. Click the "Photos" application from your iPhone's Home screen, and select the pictures you want to convert.
Step 2. Click the "Share" button at the lower screen and select "Copy Photos".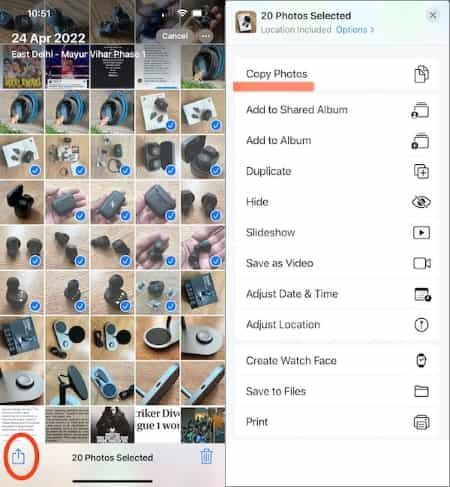 Step 3. Head to the "Files" application and click "Browse". Select "On My iPhone", then select a folder you would like to save JPEG pictures.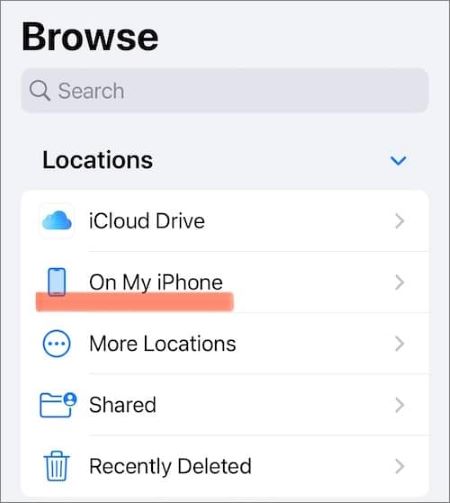 Step 4. Long press on a blank space, then click "Paste", and all your pictures will be saved as JPEG files on the iPhone.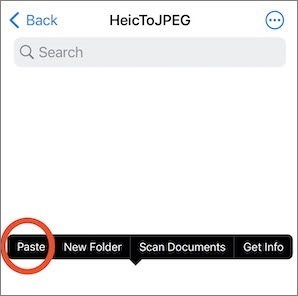 See Also:
5 Ways to Batch Convert HEIC to JPG in 2023
How to Convert HEIC/HEIF Images to JPG/JPEG Format? [Free]
Method 2. How to Make iPhone Photos JPEG Using Email
The Email application can also help you change HEIC to JPEG. When you send HEIC pictures through Email, the Email application automatically converts them to the universal format that will make it easily accessible on any device. Here are steps to convert HEIC to JPEG on iPhone through Email:
Step 1. Open the Photos app on your iPhone. Choose the HEIC files you need to convert and tap the "Share" button, then "Mail" as the sharing option.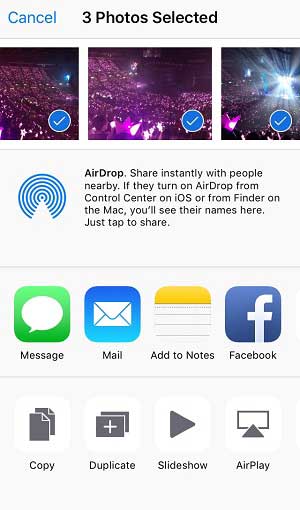 Step 2. Enter your email address on the mail app and send the pictures as attachments.
Step 3. Open the Email you sent the pictures to and download them on your iPhone. The pictures you download should be in JPEG format.
Can't Miss:
Top 3 HEIC/HEIF Encoders: Convert HEIC to JPEG Image [Free]
HEIC Format on iPhone: What Is an HEIC Image?
Method 3. How to Make a Photo a JPEG on iPhone Through an Online Tool
If you have been converting files for some time, you must know Zamzar, a simple yet efficient online converter. It is a clean website that easily turns images, audio, videos, documents, etc online. On the part of photos, this tool lets you convert HEIC to JPEG, PDF, PNG, TIFF, etc. On top of that, Zamzar will also enable you to send pictures to your email address after the conversion procedure is finished.
Step 1. Open a browser on your iPhone and go to the Zamzar website.
Step 2. Click "Choose Files" and select the HEIC images you want to convert to JPEG.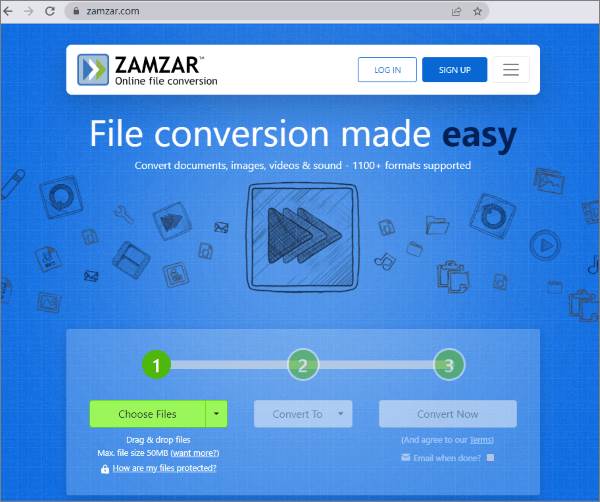 Step 3. Choose "JPEG" as the output format, and press "Convert Now" to turn the HEIC files into JPEG online.
May Like:
How to Convert HEIC to JPG on Windows 11/10/8/7 PC
HEIF vs. HEIC: What Are Them & What You Should Know About Them
Part 3. FAQs on Converting Photo to JPEG on iPhone
Q1. Will there be a quality difference when I convert a HEIC photo to JPEG?
Yes. There's likely to be a difference in quality when you convert HEIC images to JPEG, though it's unnoticeable in most cases. HEIC wins against JPEG in both image quality and compression. So, changing the HEIC file to JPEG means the quality will be lower.
Q2. How to know if a file is in HEIC format or JPEG on iPhone?
The quickest way to learn if an image is in HEIC file format or JPEG is from the Photos application on the iPhone. Since HEIC is a default photo format, most iPhone pictures will be in HEIC. In the Photos application, locate a picture and swipe up on it and see if it is a HEIC or JPEG in the additional information section.
Conclusion
How do I convert iPhone photos to JPEG? There you have your answer. This guide has covered possible ways to convert iPhone photos to JPEG. The most reliable solution will be using Coolmuster HEIC Converter, a Windows HEIC converter tool that converts all iPhone photos without quality loss. Try it out.
Related Articles:
[Solved] How to Open HEIC Files in Android Effortlessly?
Directly Open HEIC File on Windows Computer in 6 Effective Ways
[Solved] 5 Ways to Convert HEIC to JPG in Google Photos
CopyTrans HEIC Review: Is CopyTrans HEIC Safe, Free, and Best to Use?
HEIF/HEIC Image Viewer: How to Open/View HEIC Images on Windows/Mac/Android? [Free]