If you are lucky enough to have the newest iPhone, chances are you will use it as a camera for taking pictures and videos. After all, why lug around a large SLR camera when iPhones boast cameras of such exceptional quality? After capturing your precious memories, you must keep them safe by backing them up. But how to back up videos from an iPhone?
As you know, data backup should be done regularly, yet we seem to forget to do that, or worse, we fail to do it completely. At least with an iPhone, backup happens automatically to the cloud. However, to ensure the maximum safety of your photos and videos, you should back them in different locations such that when one fails for any reason, the other will still be available.
It's also good to save your data on external hard drives. You can save your files on a computer, or cloud services. This article outlines ways to back up iPhone videos safely.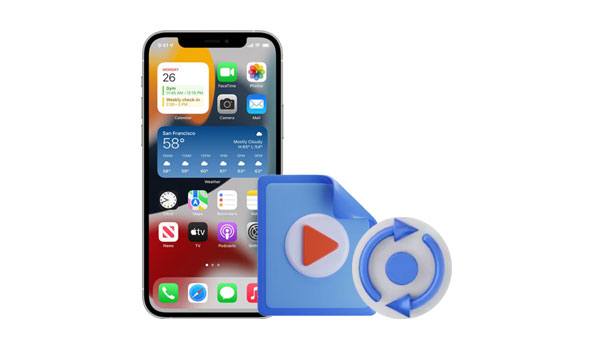 Part 1: Why iPhone Videos Backup is Important?
Taking a proactive approach to safeguard your phone data is always beneficial in the long run. Finding an appropriate storage space for all your videos and making sure it's easily accessible when needed can save you from potential losses such as theft, crashing, or damage. Backing up your data regularly will give you peace of mind knowing that there is a safe place to turn if something goes wrong with your device in the future.
Besides, having a backup of your videos can save you when switching to new devices. You can easily restore your phone data if you have previously backed up, especially in the case of iPhones, where compatibility is essential.
iPhone users frequently seek more efficient ways of backing up their phones. iCloud is one common approach because it's a default option. However, there are many alternative methods available that can make this process much easier. In this guide, you will discover distinctive solutions for your iPhone backup needs.
Part 2: Back Up Videos from iPhone to Computer via Coolmuster iOS Assistant (PC & Mac)
Are you worried about losing hundreds of precious videos stored on your iPhone? Fear not. You can effortlessly move your videos safely to your computer for backup. Coolmuster iOS Assistant is a professional tool to guarantee faster file transfer from your iPhone to your computer without quality loss. It can back up videos as well as contacts, messages, music, books, notes, and more from iOS to a PC or Mac. Also, It lists all your files on the interface in categories allowing you to view all videos and other files you want to back up.
Besides, if you want to import your contacts, notes, bookmarks, ebooks, etc., from your computer to your iPhone. If you want to complete the backup at once, you can use the one-click backup feature, which will copy almost all iOS files to the iTunes default folder or other available locations on your computer.
Furthermore, this software will not change your videos' formats and quality. Thus, you can keep your valuable videos on your computer forever. Whenever you restore the video files to your mobile device, you will get the same files directly.
Feeling overwhelmed with the number of videos on your iPhone? Coolmuster iOS Assistant is just what you need. Here are some incredible features it offers:
* Export videos from iPhone to the computer in 1 click.
* Support almost all data types like messages, photos, videos, contacts, music, and more.
* Easily import content from a computer onto your iPhone.
* Safely back up your iPhone and restore it on a computer.
* User-friendly software offers fast performance with no data loss and high security.
* Compatibility across almost all generations of iPhones.
Download iOS Assistant for video backup.
Here's an easy guide to quickly back up videos from your iPhone onto a computer with iOS Assistant:
01Launch the software on the computer and establish a connection with an iPhone using a data cable.
02 Click the "Trust" button from the pop-up window. Once you've successfully connected, you will be presented with an interface with all your files displayed on the left panel.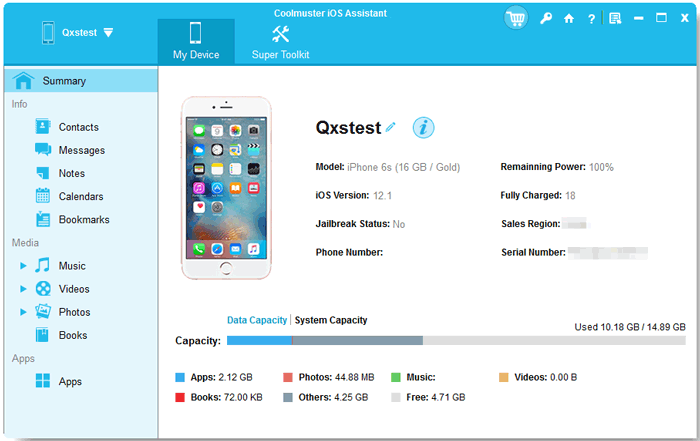 03Choose the "Videos" option from the side panel. Then, pick a folder you want to transfer and preview its details. When ready, select which items you'd like to transfer by ticking them off your list. Finally, press the "Export" button on the top of your menu to transfer the videos to the computer.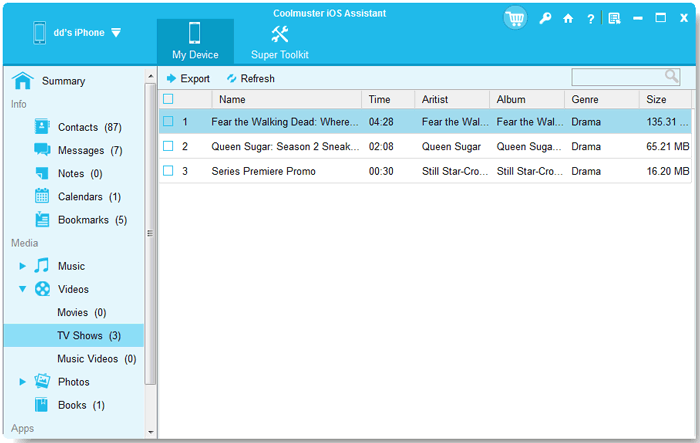 See more: How to Recover Deleted Videos from iPhone 14/13/12 with or without Backup?
Part 3: Back Up Videos from iPhone to iTunes
Another simpler way to back up videos from iPhone is to use iTunes. iTunes is Apple's product, so backing up any files from iPhone is possible and easier. It allows you to sync all your data between your iPhone and computer. It also makes backing up iPhone videos to the computer easier. Here's how:
Step 1: Connect your mobile device to your computer, and if iTunes fails to open automatically, make sure you launch it manually.
Step 2: To access the iPhone panel in iTunes, click on the iPhone icon located in your toolbar.
Step 3: Click on the "Summary" tab and press the "Back Up Now" button. iTunes will check for purchased items on your iPhone not already saved on your computer and ask you to sync them.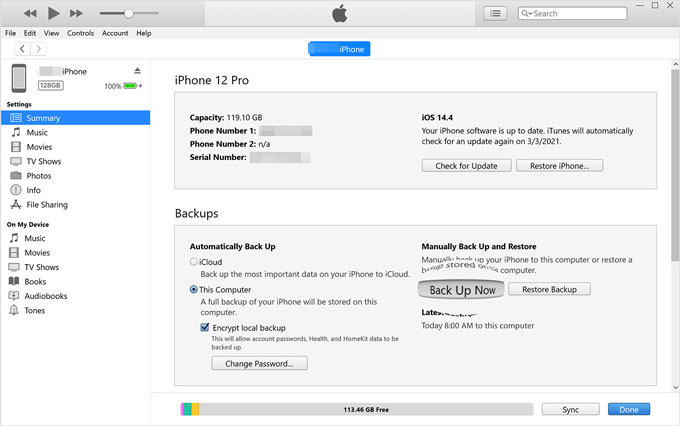 Moreover, you can add extra security to your copied data by encrypting it with a password of your choice.
Backing up your phone can take some time, depending on the data stored there. Therefore, wait for the process to complete.
Part 4: Back Up Videos from iPhone to Mac via Finder
If you are a Mac user, you can use Finder to back up your iPhone videos. It's quite easy since you only have to connect your iPhone to your Mac, and Finder can quickly recognize your device. If you have videos stored in your iPhone that you want to back up on your Mac, follow the steps below.
Step 1: To start, find a working USB cable, then use it to connect the iPhone to Mac. Then, open the Finder app on your Mac and select your connected iPhone at the screen's sidebar.
Step 2: Tap the "General" tab in your top menu and select "Back up all data on your iPhone to this Mac" from the list of items. You can click "Encrypt Local Backup" to make the files more secure.
Step 3: Now click on "Back Up Now". Once done, all your data, including videos, will be saved on your Mac.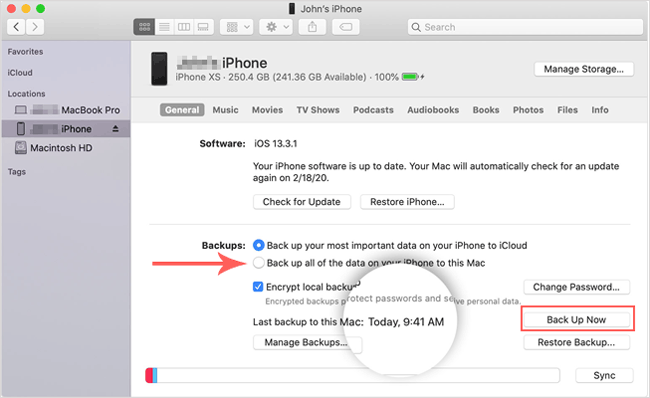 You might need: What if you want to transfer videos from an iPad to a MacBook? Do you have any easy tricks? If not, you can refer to this guide.
Part 5: Back Up iPhone Videos on PC via File Explorer
If your iPhone is recognized by the computer, you can conveniently transfer photos and videos from an iPhone, iPad or iPod touch to a Windows PC using File Explorer.
You will easily transfer videos from your phone or tablet to a computer through this solution. Although it won't sort the items into albums, all videos will be organized by date for convenient searching. File Explorer can only transfer videos and supports data transfer from an iPhone device to a PC. This implies that if you wish to move your videos from a PC to an iPhone, it'll be quite tricky.
Here are the steps to back up videos using File Explorer on a PC:
Step 1: Use a USB cable to connect your iPhone device to Windows PC and ensure it's detected. Then open your iPhone, then hit "Trust".
Step 2: Click on the File Explorer tab and head to "This PC" and "Apple iPhone". Now proceed to "Internal Storage" and "DCIM".
Step 3: You will see all the folders containing your videos. Copy and paste to a folder on the PC.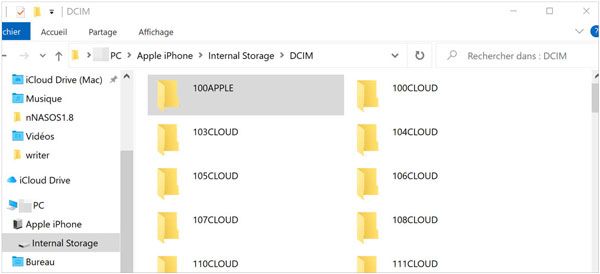 Learn more: How to Recover Deleted TikTok Videos on iPhone/Android/PC?
Part 6: Back Up Videos from iPhone to iCloud
iCloud is one of the most revered apps in the iOS community, and for a good reason. With an iCloud subscription, you can access up to 5GB of free storage space and still get more space at a fee. The iCloud Photo Library is a convenient method for securing videos and photos. It's an automated synchronization feature that lets you easily sync your movies directly to your computer from the iPhone. Follow these simple steps, and your files will be safe.
Step 1: First, download and install the iCloud application for the PC app. Once you've done that, open up the application and log into your account.
Step 2: Then, head to "Options" beside Photos and enable "iCloud Photo Library". To enable iCloud Photo Library on your iPhone, navigate to "Settings".
Step 3: Select "Photos & Camera". Once there, simply toggle the switch for iCloud Photo Library so that it is turned on.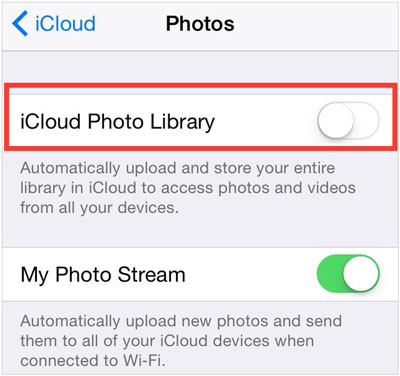 Whenever you're connected to Wi-Fi, all of your videos will be seamlessly synchronized. iCloud and its Photo Library feature are immensely popular yet have storage limitations. Regardless, it is still a viable option for many iPhone users looking for a platform to back up their data.
Part 7: Back Up Videos from iPhone to Google Drive
Google Drive is another cloud service provider and the perfect option for keeping videos from your iPhone. This incredible platform can keep photos and videos secure, so you never miss out on your precious memories, no matter where you are, as long as there is an internet connection. Google Drive offers free 15GB of storage space to keep your important videos. Here's how to back up videos from iPhone to Google Drive:
Step 1: Firstly, install the app on your iPhone. Open it and find the three-dotted menu and click on it.
Step 2: Navigate to "Settings" and select "Backup".
Step 3: Choose the "START BACKUP" option to automatically initiate the backup process in Google Drive.
After you initiate the process, Google Drive will automatically back up your phone data. Be patient and wait for a few minutes while this task is completed.
Conclusion
We have discussed effective methods to back up your videos from an iPhone. Many options are available, such as using Google Drive, Finder for Mac users, and File Explorer for Windows users. However, if you want to back up large amounts of videos without compromising quality, Coolmuster iOS Assistant is your best option. It can transfer your videos to a computer seamlessly. Ultimately, the choice of which method to use for backing up videos from an iPhone will depend on your individual needs and preferences.
Related Articles:
How to Transfer Videos from iPhone to USB Stick with or without a Computer?
How to Transfer Videos from Android to iPad with/without a Computer in 7 Cushy Ways?
17 Optional Methods to Find the Videos Disappeared from iPhone Back
How to Convert iPhone Video to MP4 without Quality Loss in 7 Ways?
How to Recover Photos from iPhone without iCloud [With Tutorial]
How to Transfer Photos from iPhone to External Hard Drive in 5 Effective Ways?