It is important that you backup apps on iPhone and any other useful files you own. Why backup? Well, these days it is hard to imagine what your daily life would be like without your iPhone apps. It helps you to plan your day, keep in touch with your workmates, family, or even business partners. And most importantly, it helps you to access and share useful information with social apps from a single device. That is why you need to find smart and easy backup methods for your smartphone.
Read on to find out how you can easily backup your iPhone apps and files.
Part 1. One Click to Back Up iPhone Apps to Computer or iTunes
Part 2. How to Backup iPhone Apps with iTunes
Part 3. How to Backup iPhone Apps with iCloud
Part 1. One Click to Back Up iPhone Apps to Computer or iTunes
The Coolmuster iOS Assistant is an easy-to-use backup tool for iPhone. It allows you to backup your apps and other data to your computer or iTunes, such as contacts, text messages, call logs, photos, videos, music, documents, books and more. You will need to download the latest version of Coolmuster iOS Assistant, and install it in your computer to use it. Let us look how you can do that in just a few clicks.
Step 1: Connect iPhone to computer
Double click on the Coolmuster iOS Assistant icon on your PC to open it, and then connect the iPhone whose apps and files you want to backup. Once you connect the iPhone to your PC, a pop window in the iPhone asking you to "Trust" the connection will show up. Tap on the "Trust" and then click "Continue" to get to the next step. Failed to connect?
In rare cases, the pop window with the Trust option may not show up. If that happens, click on the "Can't see this popup?" and it will appear.
Notice: Please make sure to install the latest iTunes on your computer for successful connection.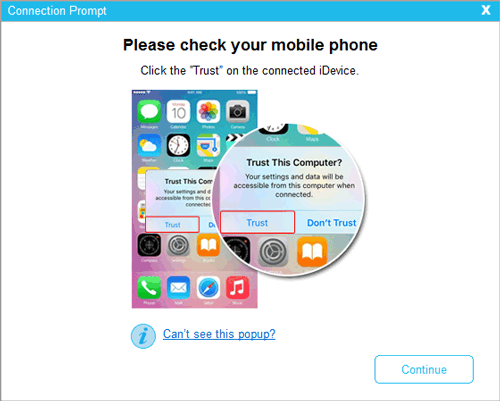 Once you successfully connect your iPhone to your PC, a new interface will appear that lists all files in your iPhone, and the Apps category will be the last one on the list where you can uninstall the apps from your iPhone.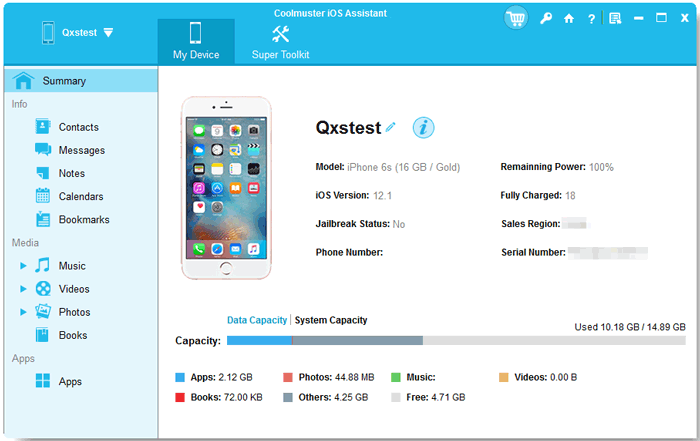 Step 2: Backup Apps on iPhone to computer or iTunes
Switch to "Super Toolkit" section on the top and hit "iTunes Backup & Restore" option. To back up apps on iPhone, please click "Backup" button, choose your iPhone from the drop-down menu. Now please choose the location to store the backup file, either the default iTunes backup location or customized location on computer, and click "OK" to complete it.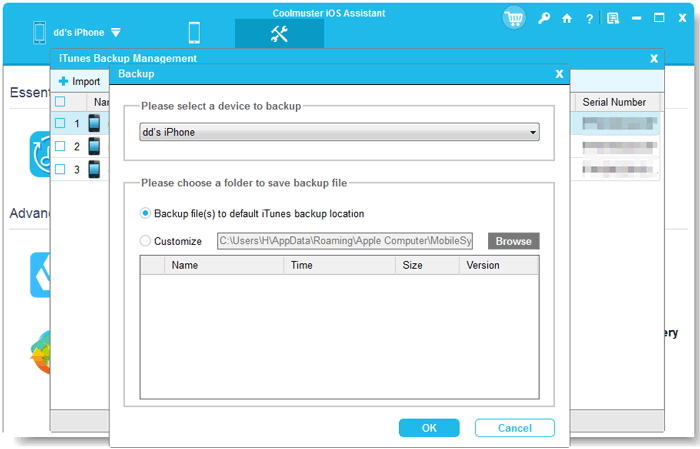 Extra tips: You can uninstall unwanted apps from iPhone with Coolmuster iOS Assistant. Simply go to "Apps" category on "My Device" section, tick off the unwanted applications and click "Uninstall" button to remove apps from iPhone immediately.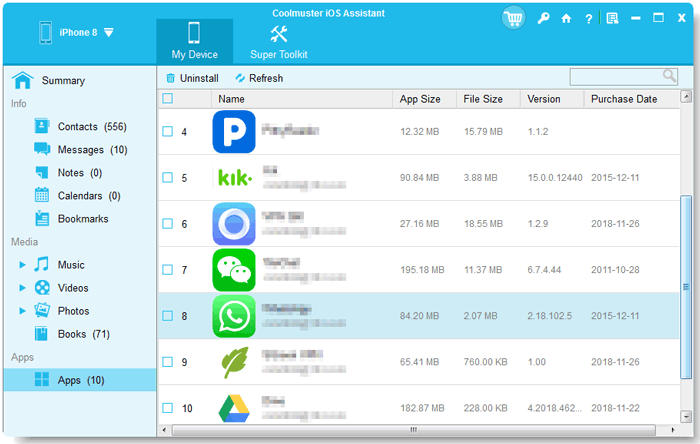 By the way, you can selectively back up other iPhone data on "My Device" section as well.
For example, to backup the contacts, you need to select the contacts folder icon under the Info category. A list of contacts will show up. Your next option is to select the contacts you will want to backup and click on "Export" option. You will get an option to choose the export format, choose CSV, vCards, or XML format. Once you choose the format, you will be asked to choose a location where the files will be saved. Once that choose a location in your PC, the contacts will be automatically saved in that location.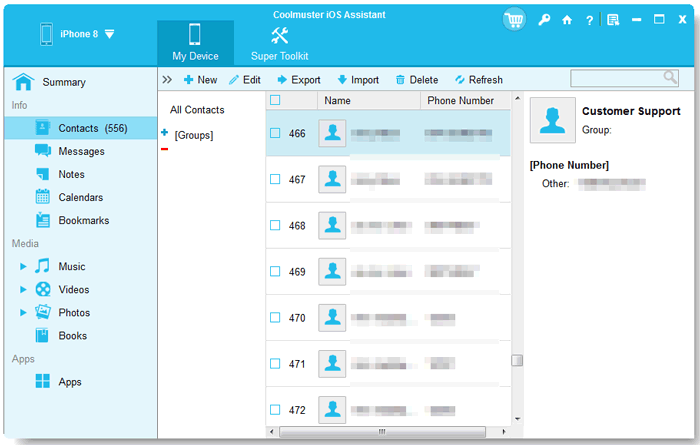 You May Also Like:
iTunes Backup Restore: Back Up & Restore with/without iTunes
How to Install Apps on iPhone without iTunes?
Part 2. How to Backup iPhone Apps with iTunes
You will need to download the latest copy of iTunes and have a copy of Windows 7 and above installed in your PC. Follow the following steps to backup your iPhone apps.
Step 1: Launch the iTunes in your PC after installing it. Make sure your iTunes is the latest version.
Step 2: Connect your iPhone to your PC with a USB cable.
Step 3: When iTunes detects your iPhone, please go to the Menu bar and click "File" > "Devices"> "Transfer from device name". Then you will be able to transfer the apps with iTunes.
Or you can also select the apps you want to back up in the document list, and paste them to a folder location in your PC.
That is all you need to do to save your apps in your Windows PC.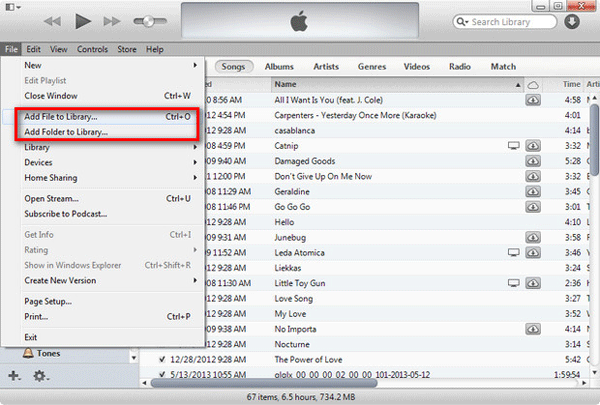 Part 3. How to Backup iPhone Apps with iCloud
You can easily backup your apps to iCloud. However, you will not get to choose which apps you are going to backup as you would with Coolmuster iOS Assistant. Just follow the step below:
Step 1: Connect your iPhone to the internet.
Step 2: Navigate to "Settings", then to your username, then choose "iCloud", and finally to "iCloud Backup".
Step 3: Make sure that the iCloud Backup option is turned ON, if not, turn it ON.
Step 4: Tap on the "Back Up Now" to start back up your app to iCloud. Do not disconnect from the internet until the backup process is complete.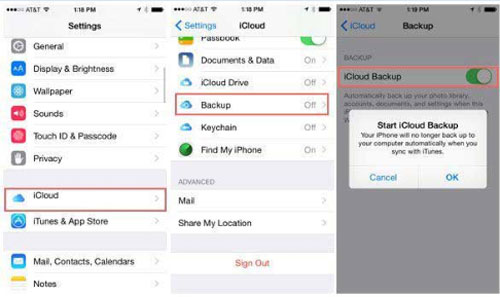 Words in the End:
A backup of your apps and files ensures you have some form of continuity when you lose your phone or upgrade to a new one. As you can see from the above options, only the Coolmuster iOS Assistant offers you multiple options for saving important apps and files. The other backup options such as iCloud save everything, or if you use the iTunes, you have to manually copy media files and app-files that you want to save. We hope that you found this guide to be informative, and you take advantage of the Coolmuster iOS Assistant's easy to use features.
Related Articles:
How to Backup Text Messages from iPhone to Computer (Windows PC or Mac)
Transfer Contacts from iPhone to Computer (PC/Mac) without iTunes?
How Can I Transfer Apps to New iPhone?
How to Sync iPhone Apps to Mac Computer
Fix iPad Black Screen of Death in Minutes via 9 Solutions
[Solved] How to Update iPhone without Wi-Fi? (iOS 16/15/14/13/12/11 Supported)